Aqua Bound Whiskey Fiberglass

#5 in Kayak Paddles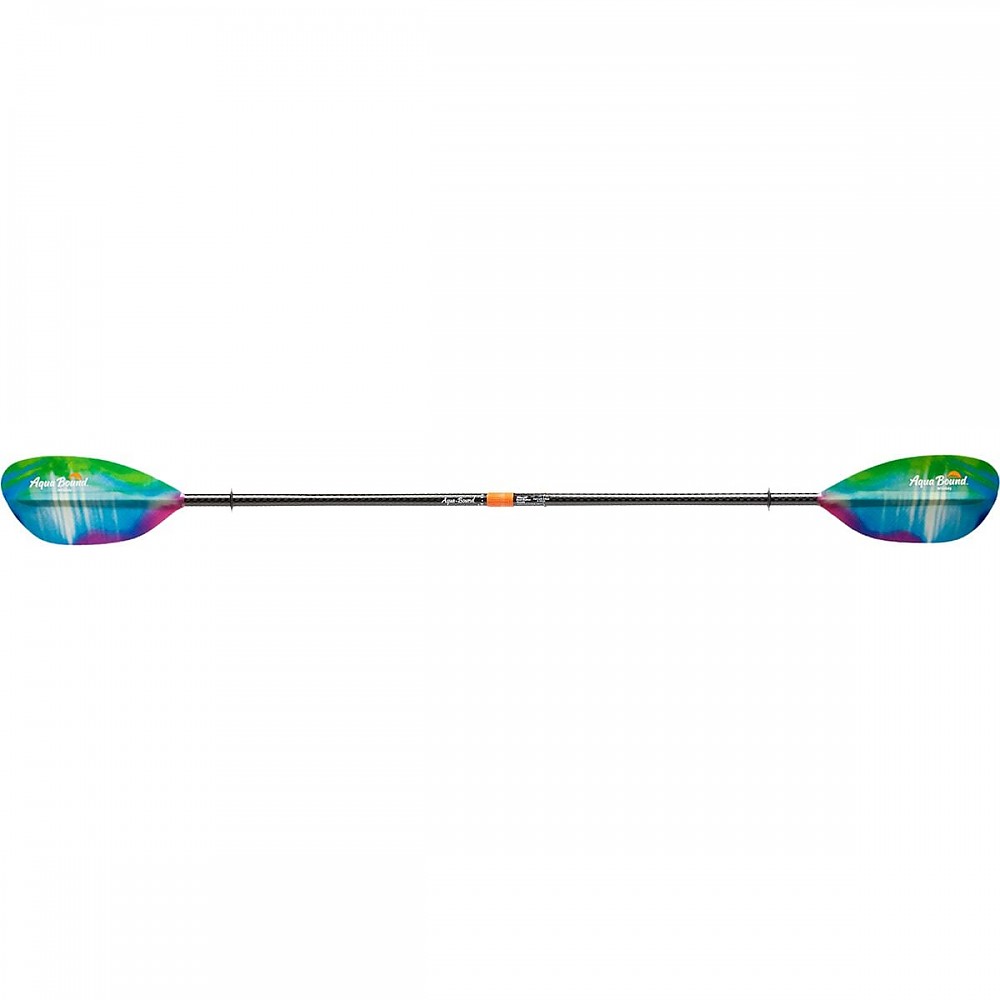 Version reviewed: Whiskey 4-piece 210 cm
The super lightweight paddle for flatwater paddling enthusiasts—with exceptional quality, look, and feel. For some people it'll be psychologically difficult to take this paddle to hardcore adventures, because the blade material is fragile, and the gorgeous look will be lost quickly. It's definitely not for whitewater use, where the blades will degrade inevitably. With a massive 40% discount for the "cosmetic second" label, this paddle offered incredible price-to-weight value to me.
Pros
Super lightweight yet very rigid
High-end workmanship and materials
No wobbling, thanks to individually fitted joints on the factory
"Warm" ovalized carbon shaft
Very portable
Posi-Lok ferrule enables multiple feather angles
Sometimes offered with 40% discount—it makes incredible price-to-weight value
Cons
Not suitable for whitewater!
Quite fragile blade material—the paddle loses its gorgeous look quickly
You'll need avoiding the rock hitting at all costs
The blade size is on the smaller side
Background and First Look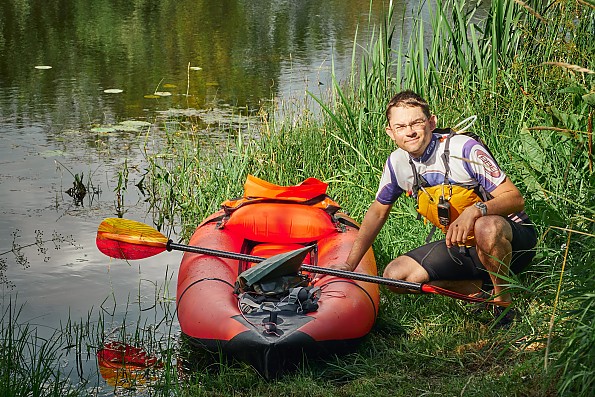 By the moment of writing this, I've been an avid packrafter for two seasons, and after the end of my first season I decided to improve my gear—namely the paddles. Initially I was able to grab the Aqua Bound Manta Ray Hybrid paddle at an extremely attractive price, and while I was largely satisfied with my purchase, my heart was still longing for a more special one.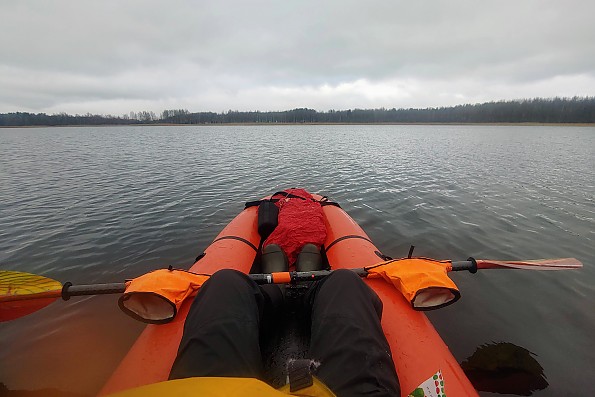 Luckily for me, at the end of 2021 Aqua Bound offered several top-of-the-line paddles at 40% discount due to cosmetic imperfections. So I was able to purchase the Aqua Bound Whiskey 4-piece 210 cm paddle at a crazy attractive price—once again. Just like my Manta Ray paddle, this one is 210 cm in length, equipped with Posi-Lok ferrule, offering the feather angles from 90L to 90R, with 15° steps.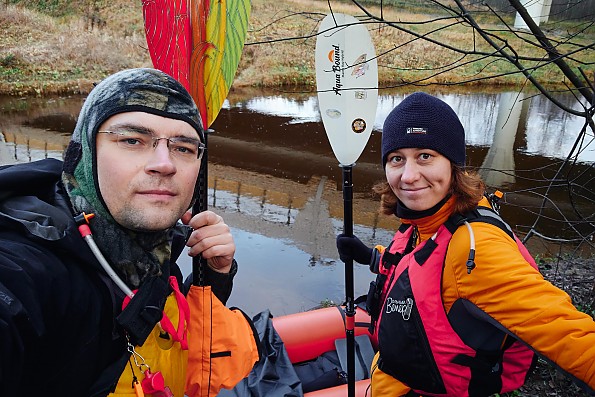 Also, like the Manta Ray, the Whiskey is a high-angle paddle, with short and wide blade shape, although the blade size is on the smaller side, just 613 cm² (versus 676 cm² in Manta Ray, while real whitewater paddles are in 700+ region), which hints at exclusively flatwater usage scenarios.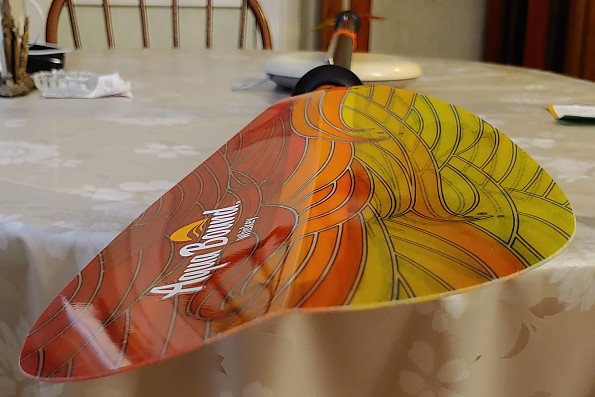 First of all, the brand new paddle looks simply gorgeous! Featherweight carbon shaft and razor-thin translucent fiberglass blades are amazing. Despite the "cosmetic second" label, I haven't found any visible imperfection in my paddle. Looking ahead in this review, after just a single water trip the paddle would look much worse than what is called "cosmetic second" by Aqua Bound, so I haven't lost anything while saving 40% of the paddle price. 
The comparison between various paddles available to me is presented below.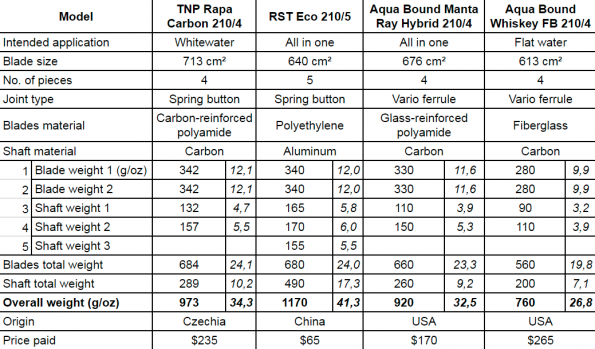 All weight measurements are actual. It's clearly seen that Whiskey is equipped with very lightweight blades and shaft, reducing the fatigue in very long trips.
Overall impressions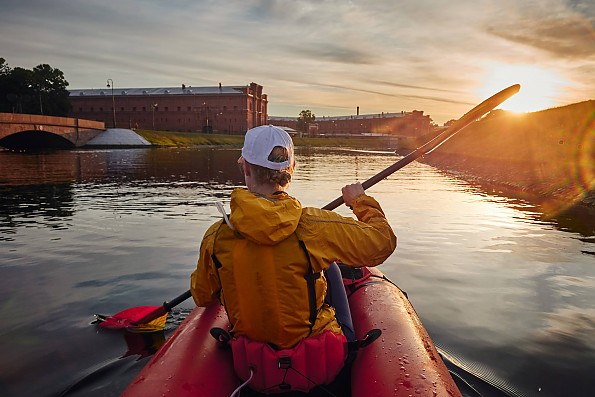 By this time I've extensively used my Whiskey paddle during the entire 2022 season, including the 68 km (42 mi) marathon on Neva river, which took some 9.5 hours of constant paddling. The paddle worked great during that race and many other trips, its low swing weight proved crucial in reducing my fatigue.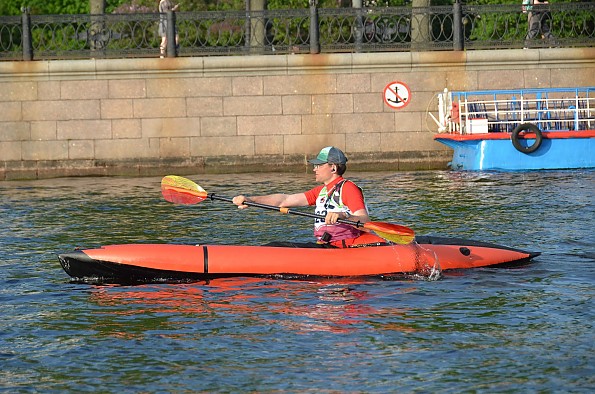 The Whiskey shaft is a bit lighter than that of Manta Ray (both are made of carbon, but the former is more hi-tech). It is equipped with the Posi-Lok adjustable ferrule. In most cases I set the 60°R angle, although one can switch to anything between 0 and 90° (L or R), depending on the wind and paddling style (the bigger the feathering angle, the less wind drag you get, although at 90° the paddling becomes somewhat awkward).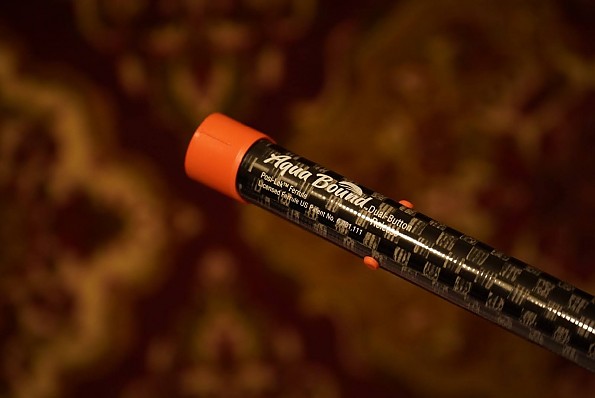 The Posi-Lok ferrule is simple, effective and completely rigid. You need to push two buttons simultaneously to disengage the locking mechanism and pull the paddle halves apart. Unlike many other QR ferrules, there are no sticking handles, which potentially may catch some object and/or disengage on their own.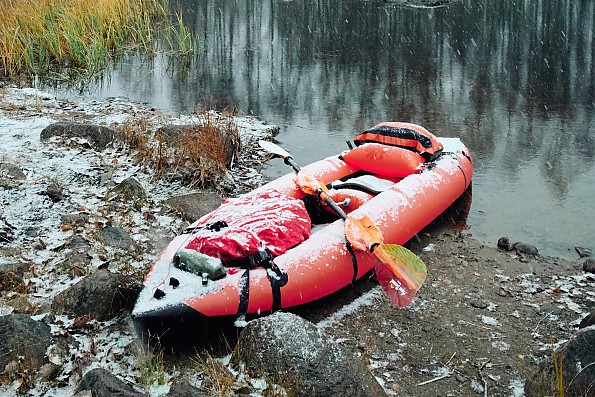 The downside—below freezing temperatures the mechanism has some tendency to freeze and fail to disengage. Luckily, there are no metal parts, and it's quite possible to melt the ice away with your mouth.
While not absolutely necessary, having the ability to set any feathering angle is handy... at times. In real world use I don't switch the angle back and forth, because getting used to a new angle isn't an instant process.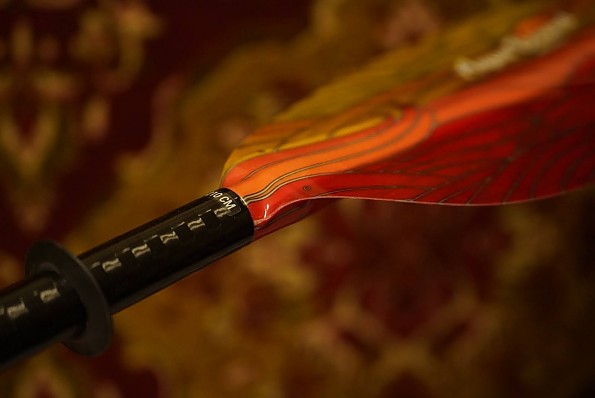 The shaft is ribbed, and following the manufacturer's suggestions, I've polished the surface with fine sandpaper to avoid blisters. In the middle of the shaft I've installed the holder for my Sony RX0 II camera.
In cold weather, the shaft feels warm to hands, being very comfortable even below freezing temperature (with lightweight pull-over mittens). The blades are attached to the shaft using the typical snap button lock. The connection is tight without any wobbling, thanks to individually fitted joints on the factory.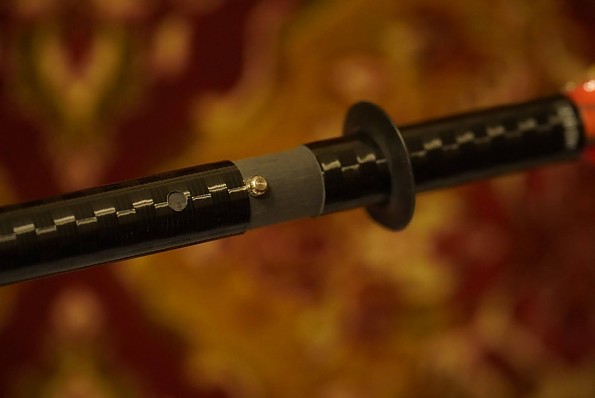 Each shaft portion has a slightly ovalized shape, which allows you to maintain the desired blade position without looking at it. Holding the paddle symmetrically is easier than with Manta Ray, because of spring buttons, which act as a tactile clue.
By the way, in 200-cm and 205-cm Whiskey paddles (mine is 210 cm), these buttons may irritate some people, appearing directly under the palms. In Manta Ray there's no such problem, because the buttons are located closer to the paddle ends.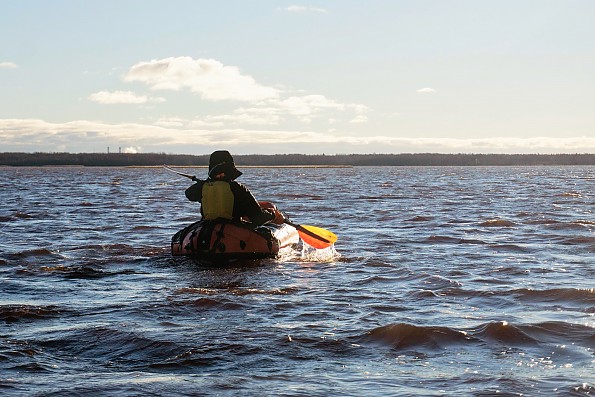 Unlike the Manta Ray, small shaft pieces are integrated into each blade, which makes disassembled paddle pieces more or less similar in length, improving the overall portability.
For flatwater use I'm extremely satisfied with the Whiskey, it's reasonably strong, very lightweight and completely rigid.
Problems with blades vs. rocks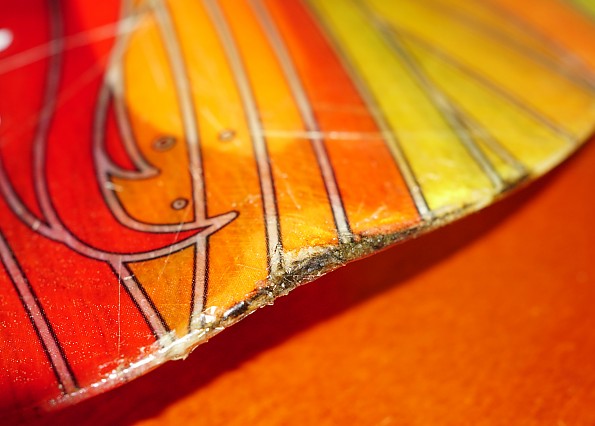 In 2022 I participated in a handful of 1 to 3-day trips, some of which included shallow rivers with rocky beds.  And that's where the problems appeared—the fiberglass blades of Whiskey proved themselves quite fragile, and hitting the underwater rocks led to some splitting of the blade tips. 
While nothing critical, small blade portions (equal to 1-2 thumbnails in size) became softer and visibly different from the undamaged part of the blade. Also several deep scratches appeared here and there on the blades. Compared to this, the Manta Ray blades appear simply bombproof.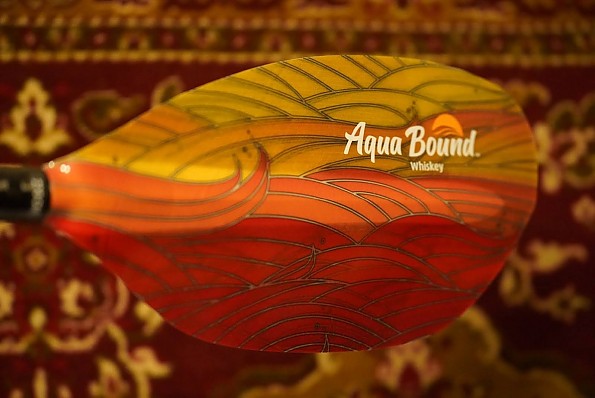 The good news is that minor splitting and scratches can easily be fixed with transparent 2-component epoxy resin glue at home, and while the fixed blade doesn't look as gorgeous as before, its functionality isn't impaired at all. Anyway, any Whiskey owner should avoid the rock hitting at any cost! Unlike the Manta Ray, which has extremely durable blade material, the Whiskey is purely flatwater paddle, and its ultralight weight comes at a certain cost.
Notice: despite the ability to order a short paddle (starting from 200 cm), Whiskey is definitely not for whitewater! Using it as such will inevitably lead to quick blade degradation.
Conclusion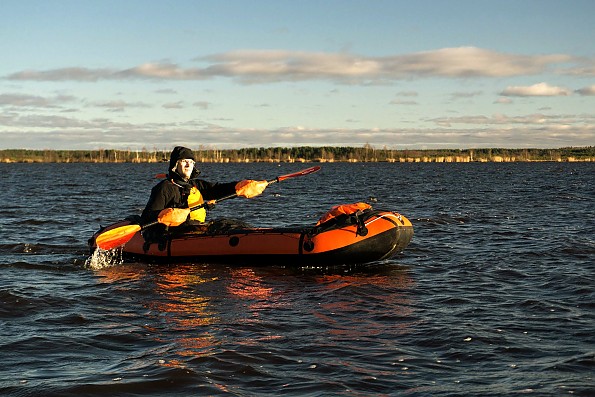 In my Manta Ray review, I described it as a work tool, which will [boringly] transfer your muscle energy to the boat movement. The Whiskey is a completely different story—it's crazy lightweight yet entirely rigid, it benefits from gorgeous look and feel, being quite fragile at the same time. This is a "must have" paddle for exhausting flatwater adventures, where low swing weight will save you lots of energy over time. 
On the other hand, Whiskey cannot act as an only paddle in your collection (unlike Manta Ray), because using the former on rocky streams (and especially on whitewater) will lead to quick blade degradation.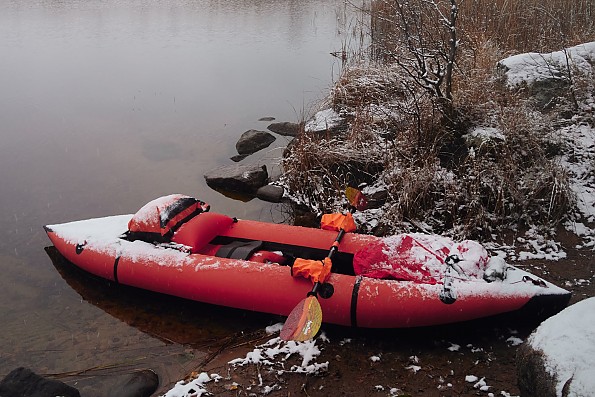 Therefore I'll keep both Manta Ray and Whiskey in my collection, where the former one will be used for streams and swift water and the latter—for big rivers and lakes. I would definitely rate the "cosmetic-second" Whiskey 10 out of 10 for its incredible price-to-weight value.
Experience
This is my third packrafting paddle (and 5th overall), I've extensively used it during the 2022 season—on lakes, big rivers, and shallow streams.
Source: bought it new
Price Paid: $225 (after 40% discount) + $40 overseas delivery

Your Review
Where to Buy
Help support this site by making your next gear purchase through one of the links above. Click a link, buy what you need, and the seller will contribute a portion of the purchase price to support Trailspace's independent gear reviews.
You May Like
Specs
Price
Current Retail: $259.89-$399.95
Historic Range: $259.89-$449.95

Recently on Trailspace