Aqua Quest Trail Map Case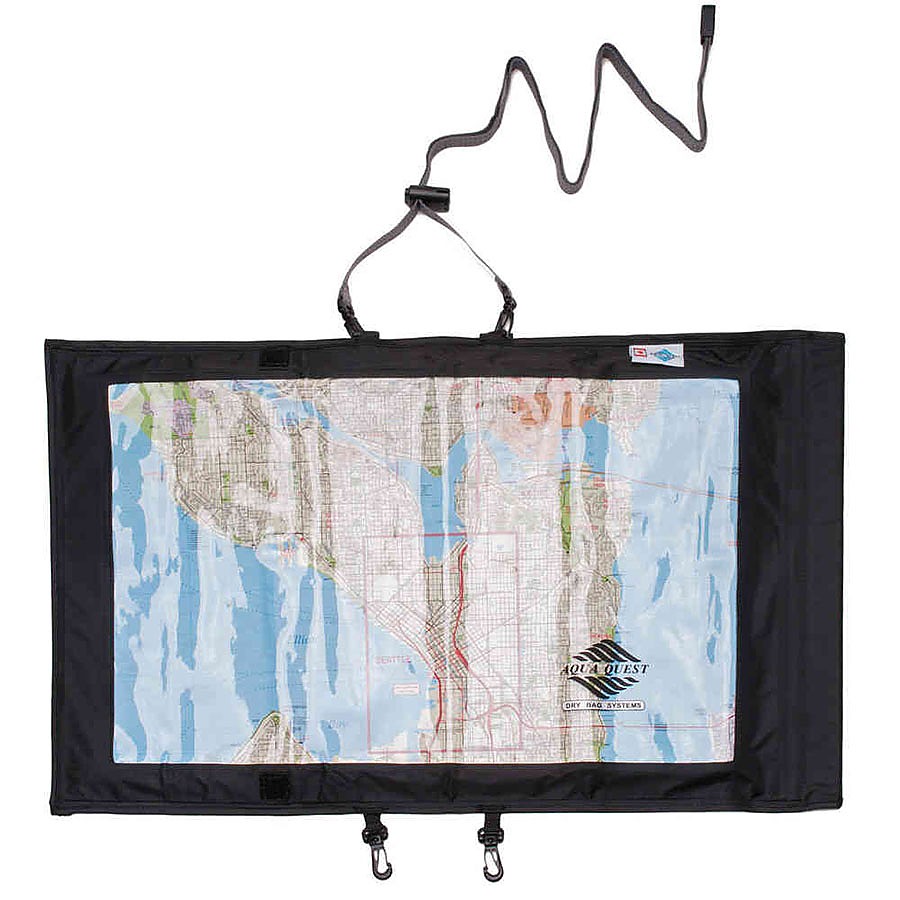 A lightweight relatively durable and excellently waterproof case for your most important navigation aid—a map! It has versatile clip/carry options, large enough for a full trip-worth of maps, and can protect other devices like your phone. A worthy companion for wet weather trips with only some loose threads showing after 9 months of solid use - and Aqua Quest honored the warranty and sent a replacement.
Pros
Rain and snow proof
Submersible for several seconds
Multiple carry options
Large view panel on both sides
Bifold, trifold, or roll
Double zip-lock and Velcro closures
Room enough for phone and multiple maps
Two-year warranty honored
Cons
Long-term durability of seams/threading
Large size can be awkward to carry at first
D-rings and clips not removable
A one minute review...
I was looking for a sturdy map case last year in preparation for a walk across wet and windy Scotland and decided to try the Aqua Quest Trail Map Case. I found it performed admirably in testing and multiple wet (snow and rain) trips—not letting any moisture in and adaptable enough for multiple maps as well as phone, compass etc. It has become a regular companion on my backpacking trips and day hikes where I need to navigate on a regular basis. 
The only real negative to me is the multiple loose threads that are appearing along the edge of the map window. This hasn't compromised the waterproofing yet, but I have worries that it won't last. At the relatively low price I am willing to risk it and buy another as a backup due to its usefulness.
Quick update - I contacted Aqua Quest about the loose threads and they sent me a new one with no questions beyond proof of purchase.  A solid company response!
And now the longer review...

Specs and Features
Aqua Quest provides the following specs for the Trail Map Case vs my measurements:
Specification   Manufacturer              Test Measurement
Weight            3.7 oz (105g)               3.75 oz (108 g)
Dimension       18 x 11.5 in                 18 x 11.75 in
Window          13 x 9 in                      13.75 x 8.9 in
Overall relatively accurate specs, and keep in mind the weight was after 7 months of use so factor in some unseen trail crud.
The Aqua Quest Trail Map Case is made of "resilient" Nylon 66 fabric, thermoplastic polyurethane (TPU) lamination, welded seams, and a double zip-lock seal.
Features include a clear double-sided window,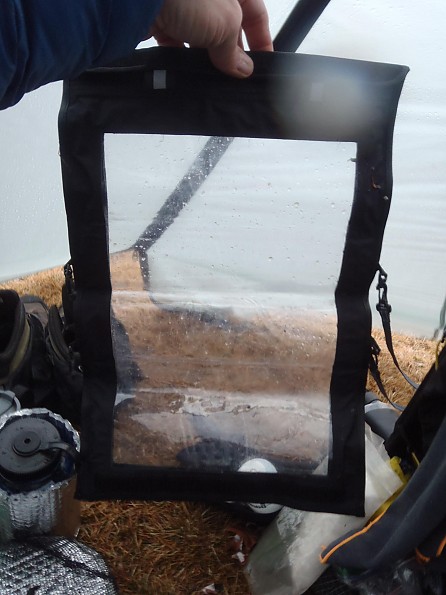 multiple clip options from two D-rings that the lanyard clips onto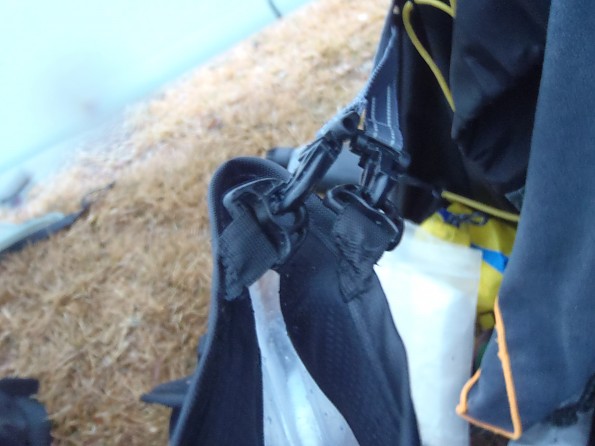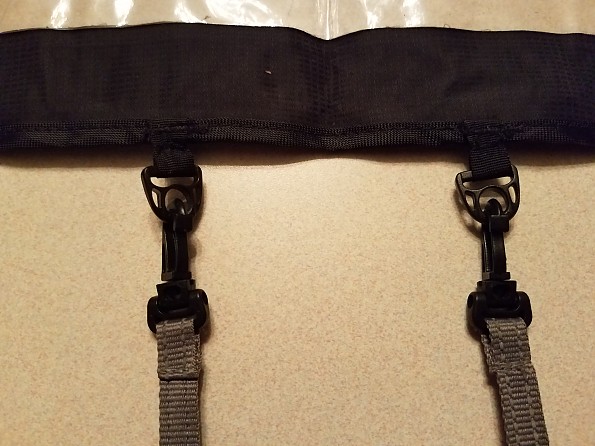 to two clips on the opposite side,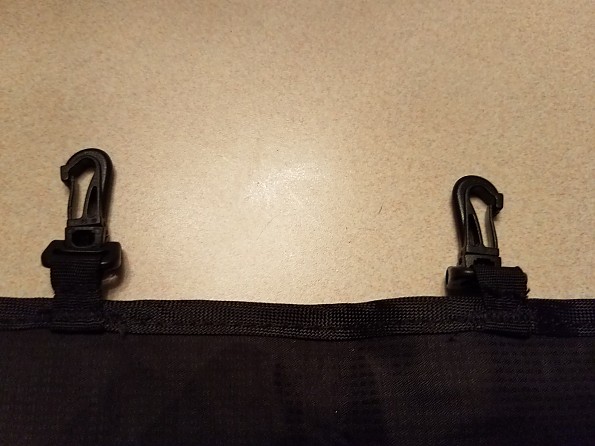 and an adjustable lanyard strap,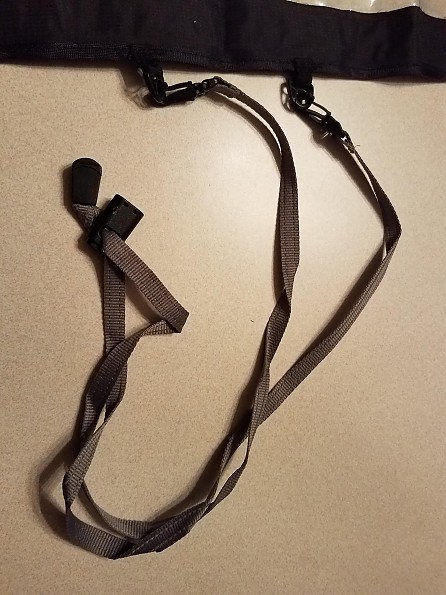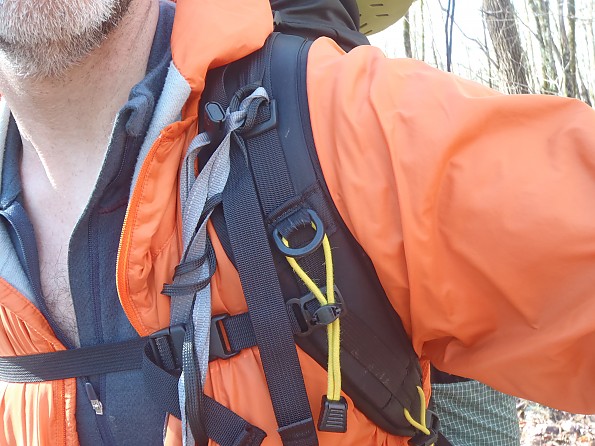 and a double zip-lock closure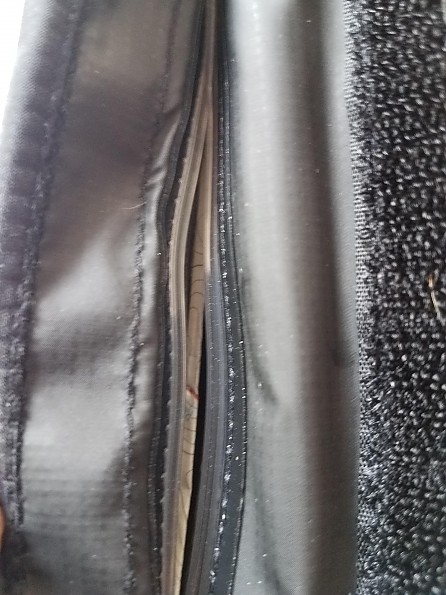 protected by an additional Velcro closure.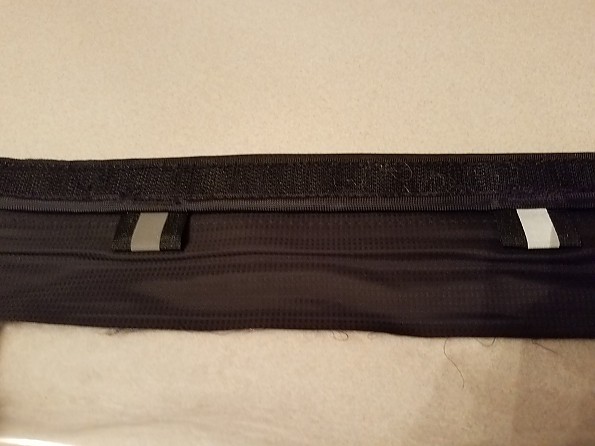 Weatherproofing
Aqua Quest claims that the Trail Map Case "keeps maps and other items safe from any amount of rain, snow, dirt, dust, sand, or even quick temporary submersion". I found this to be true as it was a trusty companion for 9 months of backpacking trips including two winter snowstorms (see if you can spot the map tucked away below),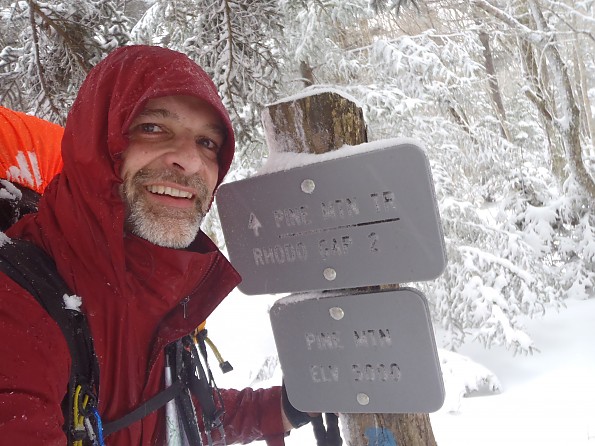 several all day or multi-day rain events, and a two-week relatively dry (three days of rain) walk across Scotland (map case tucked away in the belly of the wind jacket below).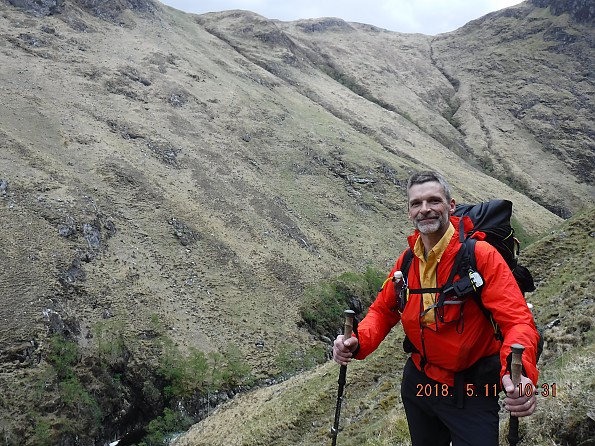 Not once did my maps end up wet. On a rather hot and humid trip in August, the maps did seem to be dampened slightly (didn't take pen writing well) but that was because I hadn't remembered to close the ziplock after lunch! In fact, on one of my rain and snow mix trips, I forgot to do that several times due to the Velcro seal being so easy, and still the maps stayed dry.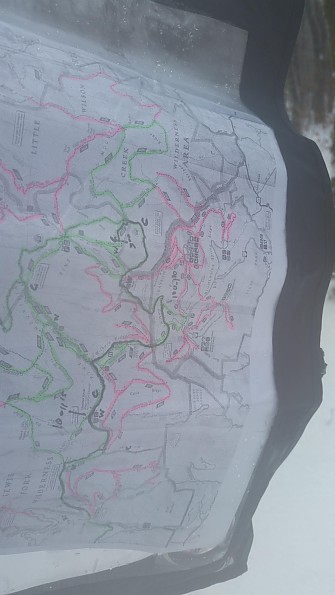 The only thing I didn't test in the field was submersing the map case…I hope you'll forgive me for not taking a dive into a stream or risking my maps while in the wilderness. Therefore, I tested the Trail Map Case at home in the "lab". I used a couple of extra maps (from a White Mountains trip the year before) that were in color and not on waterproof paper so moisture would show right away.
Test 1 was with the zip-lock closure and Velcro closure in place. Submersed for 10 seconds there was evidence of air escaping,

but the map stayed completely dry.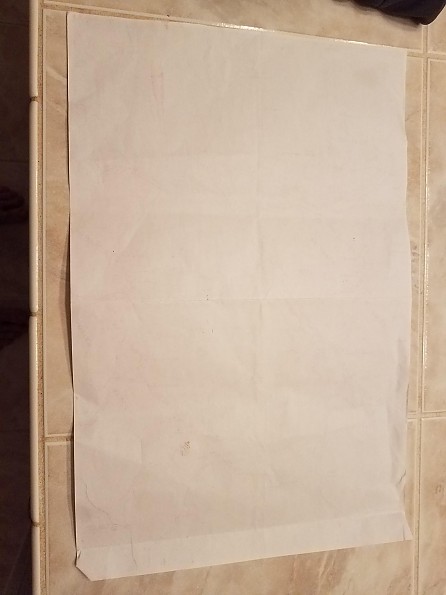 Test 2 was with just the Velcro closure, in case you forgot, like me, to close the zip-lock. After another 10 seconds of submersion, with bubbles showing leaking,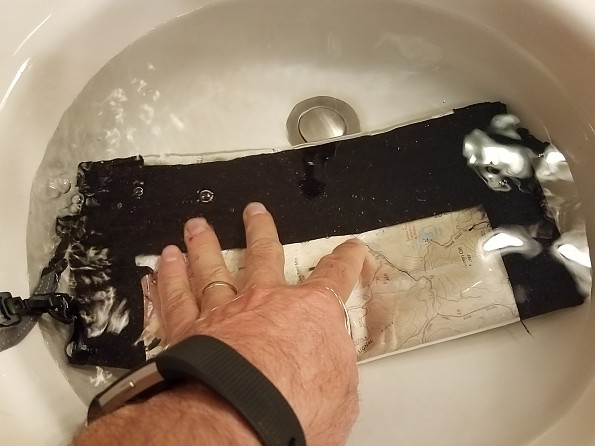 the map edges were damp. But most was still legible and dried out later.
I found using the map case very easy once I decided on a carry position. From various photos you can see my trials of hanging it from a pack strap like at this lunch stop,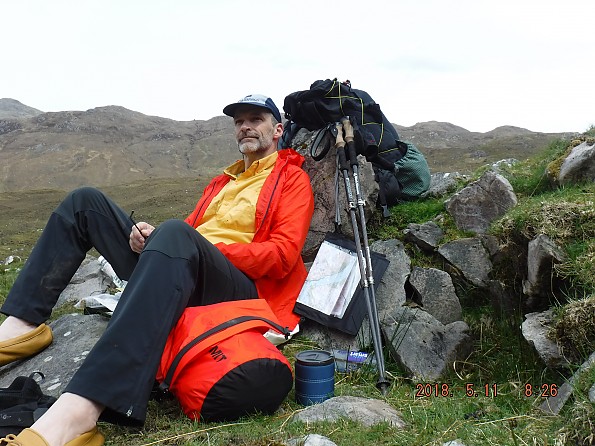 around my neck (not my favorite for several reasons including safety and no photos), stuffing it in a jacket,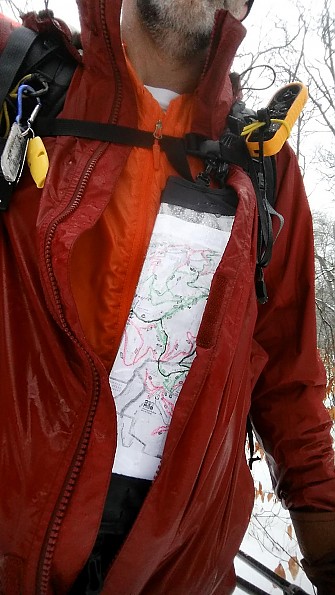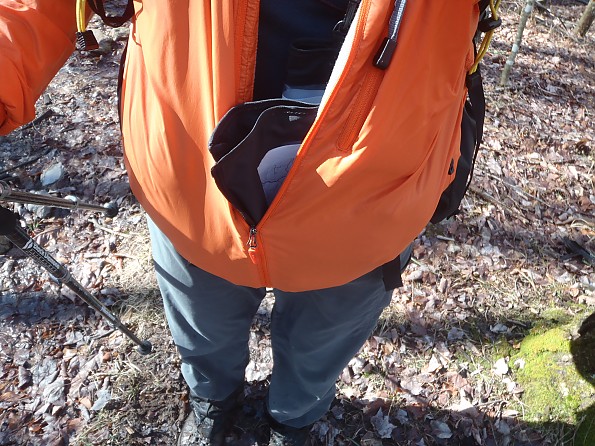 and tucking it into a belt or shoulder strap.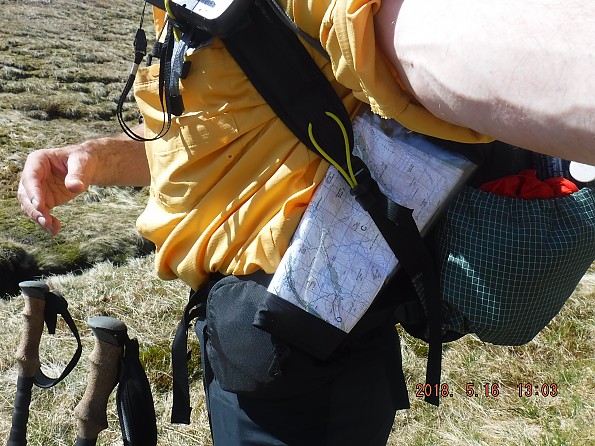 By far my favorite carry was adjusting the lanyard and looping it through the top of my shoulder strap then tucking the map to my side as shown above. This kept it really handy for off-trail navigation frequent glances. If it ever fell out the adjusted strap kept it at the right height not to get in the way or allow it to slide through. 
Keeping it this handy was especially useful navigating my own on and off-trail route across Scotland for 200 miles. I varied between folding it in two or tri-fold, and sometimes rolled it.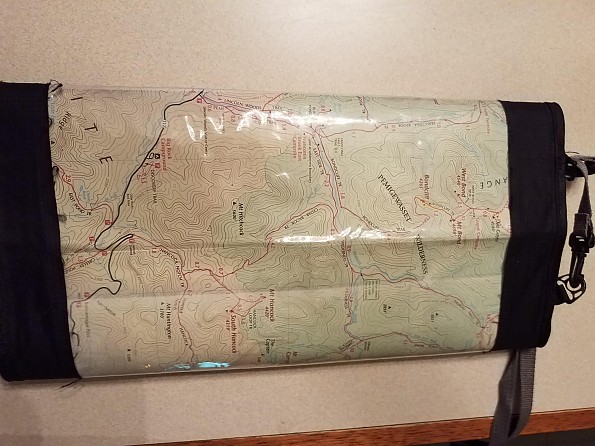 The bi-fold is done with two opposite Velcro strips along the short ends. The tri-fold is done with an intermediate pair of Velcro tabs along the long sides.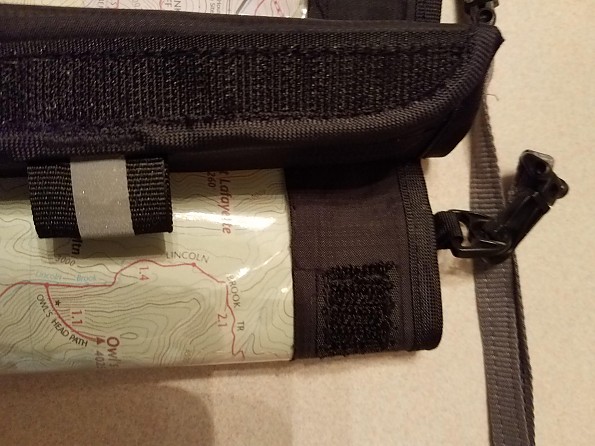 This makes it a little weaker fold than the bi-fold, but holds up well enough. I changed depending on what quick view I needed at the time.
The large window was more than adequate to view most of my 11x17 inch maps on the Scotland trip, and carry two back to back for the longer days without having to open the case. You can carry an unfolded 11 x 17 map with just the Velcro closure, but have to fold it or trim it about a half-inch to zip-lock it closed. Obviously 8.5 x 11 maps fit easily.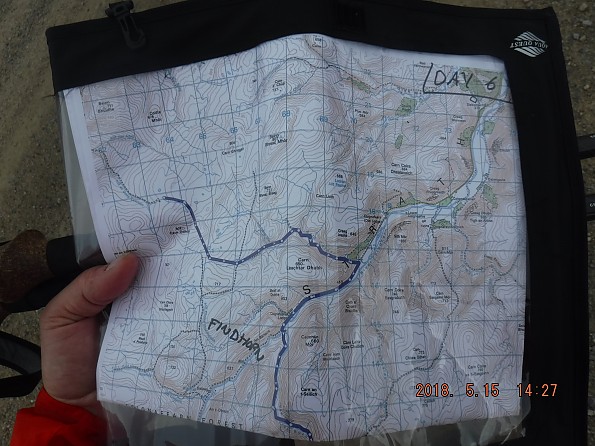 I often kept my compass and phone in the large case (no photos as the phone is my camera most of the time). Never tried the Aqua Quest suggestion to keep your lunch dry in it, though there is room!
I also didn't try writing on it while on the trail, although a dry-erase works well at home (but rubs off too easily for trail use).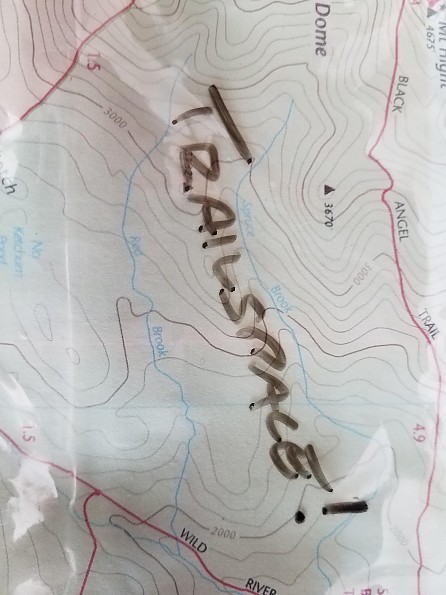 A wax pencil would probably work well, but may take a while to clean up.
Some complaints on-line state that the logo gets in the way of the map, so must be printed on the plastic. Mine is on the nylon fabric and not in the way at all (My replacement one also has the logo on the fabric so I think the ones with plastic are an older version.)
The Trail Map Case rode by my side for 9 months of my typical wanderings including off-trail and through brush. It sat on the ground at stops

and was folded and rolled

and very rarely stuffed into my pack. On a couple of wet day hikes where I hadn't carried alternatives, I used the map case as a dry sit pad at lunch stops (too rainy for photos).
After all this abuse, the waterproofing is not compromised. Several loose threads have appeared over time but not affected performance yet.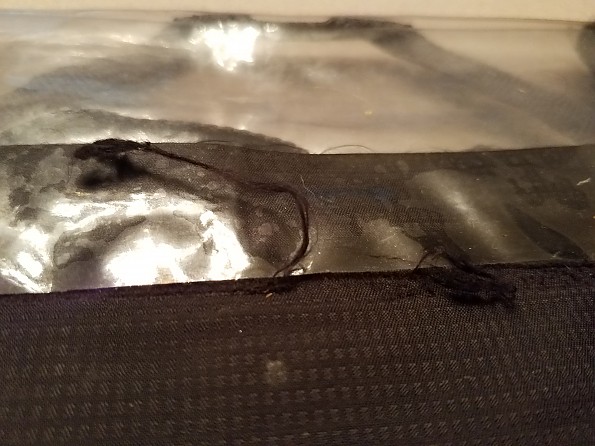 I would have snipped them off but left them until I could get photos for this review. Time will tell if these threads will cause an issue on the functionality of the case—I do have concerns about this and it is the only thing that prevented a 5-star rating. 
9/15/18 Update - I contacted Aqua Quest, and after emailing the photos and proof of purchase I received a free replacement under their warranty with no hassle. A quality company and response backing up their products.

Testing
As mentioned above, I tested this map case from December 2017 to August 2018 in a variety of conditions including 30 days (22 nights) of backpacking over 350 miles, two snowstorms, several day and one multi-day rain events, an approximate 200-mile walk across Scotland (only three rainy days!), and numerous bad weather day hikes in training for my Scotland trip. Temperatures ranged from around 10 degrees F to about 80 degrees F and humid.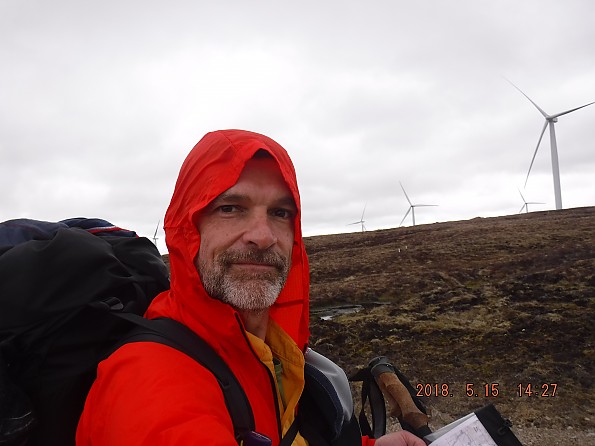 The submersion testing is described in the waterproofing section above.
Recommendation
I highly recommend carrying a map case, and this one in particular, if you are like me and enjoy foul weather trips as much as good weather ones and need to navigate on a regular basis. While a simple Ziploc is a lot lighter for carrying a map, it isn't as able to keep handy to check your whereabouts, and definitely won't take the abuse this one does.
I carry the Aqua Quest Trail Map Case on all my trips now, even just to protect against afternoon storms and dirt getting on my map or phone. The only question mark for me is the long-term durability due to the loose threads, but so far it has held up well to my wanderings.
Source: bought it new
Price Paid: $19.99

Your Review
Where to Buy
Help support this site by making your next gear purchase through one of the links above. Click a link, buy what you need, and the seller will contribute a portion of the purchase price to support Trailspace's independent gear reviews.
You May Like
Specs
Price
MSRP: $34.95
Reviewers Paid: $19.99

Recently on Trailspace