Aquapac Small Stormproof Camera Pouch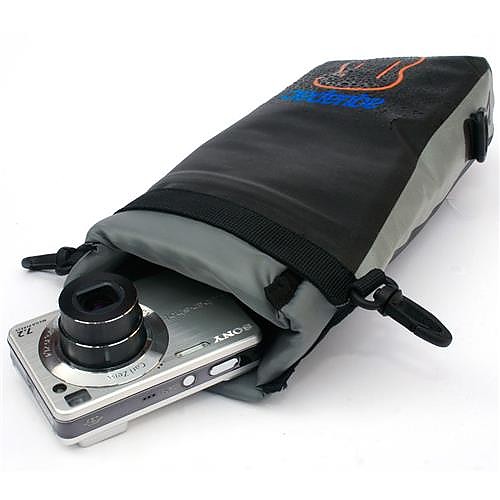 Protects your camera in wet conditions. Highly waterproof thanks to the roll-top, but not as practical as a normal camera pouch.
Pros
Highly waterproof
Lightweight and compact (when rolled shut)
Easy to carry on waist
Cons
Opening and closing the roll-top is a cumbersome two-handed job
Inner pocket can twist sideways, impeding insertion of camera
I wouldn't be me if I didn't constantly stop to take pictures while walking in the outdoors, so I like to have my camera close at hand. I keep it in an excellent little Deuter pouch attached to the shoulder strap of my rucksack. I can unzip the pouch, take out my camera, and put it back in with quick and easy movements using just one hand.
The Deuter pouch has only one disadvantage—it is not waterproof. So if it starts to rain, besides putting on my rain gear I have to take out the camera and put it in my rain jacket pocket, then detach the pouch and stow it in my rucksack. I'm willing to chance photos if the rain is not too heavy, which is why I still keep the camera at hand, but I won't put it in a soaked pouch once the rain stops. This is why I have to stow the pouch in my rucksack while it's raining.
On a day when rain keeps alternating with sunshine, this procedure becomes an energy-sapping chore. I had such a day when I walked the West Highland Way in Scotland in May 2017. Since then I've been looking for a waterproof alternative to my Deuter pouch so I can keep it attached to my rucksack rain or shine. Aquapac's small-size Stormproof Camera Pouch was the best I could find. I wasn't sure it would work for me, but I finally ordered it when I found it available at a heavily discounted price from Aquapac's UK website.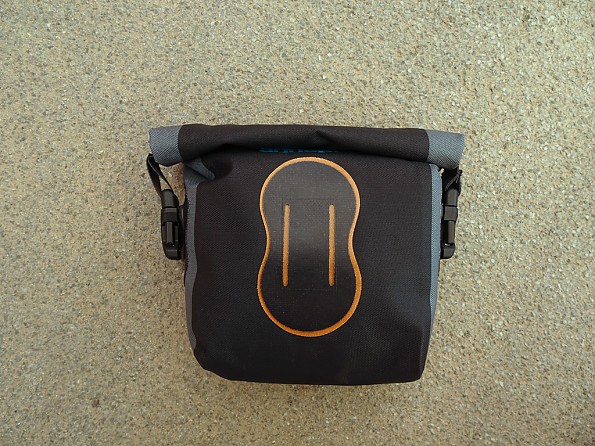 Aquapac Stormproof Pouch front view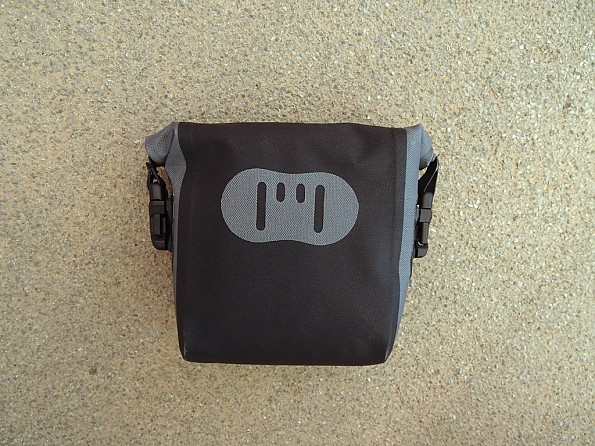 Rear view
The Aquapac Stormproof Pouch is a roll-top device similar to a dry bag, except that it is made of much sturdier material. Also, the buckles on the ends of the roll-top clip to the sides instead of joining together. Furthermore, the pouch has a press seal just below the opening: you're supposed to close the seal before rolling the top shut.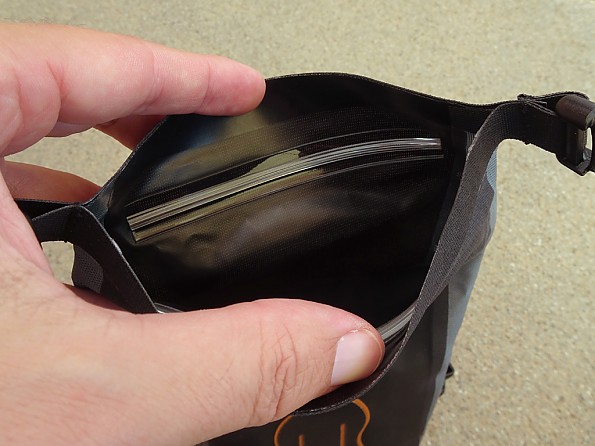 Press seal on the inside
The pouch is compact, measuring six inches by six when rolled shut. Its height increases to 10.5 inches when open. It sits comfortably on your waist and does not impede your arm movements as long as you turn it a little round the side of your hip. It is lightweight too, coming in at just 97 grams (3.4oz) including inner pocket and belt (though the Aquapac website says 69g or 2.4oz).


Aquapac Stormproof Pouch worn on its own belt
According to Aquapac, the pouch can take a camera measuring up to 5 x 4 x 1.75 inches. Mine measures 4 x 2.3 x 1.4 inches and fits easily as long as the inner pocket (see below) keeps its proper shape. Aquapac's Stormproof range includes a somewhat larger pouch for bigger compact cameras and an altogether larger one for digital single-lens reflex cameras.
My Aquapac has welded strips on the front and back with vertical slits through which you can thread a belt. The slits on the front are 40 millimeters long (just over 1.5 inches) while those on the back measure 25mm (1 inch). Unlike my Deuter, the Aquapac cannot be attached to a shoulder strap. But in any case it would be impractical to mount the Aquapac so high because the long roll-top would make access to the camera awkward.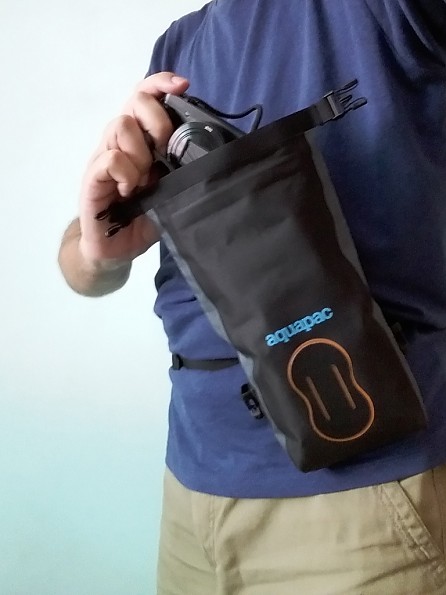 Height of the pouch with roll-top open
The pouch comes with its own belt so you can wear it on your waist independently of your rucksack. You can still wear it in combination with your rucksack as long as you put on the pouch first but you position your rucksack hipbelt beneath it.
The downside of this arrangement, for me, is that if it starts to rain I would have to take off the pouch to put on my rainjacket, then put the pouch on again—the sort of long-winded procedure I want to avoid. So I have tried attaching the pouch to the hipbelt of my rucksack. I can just about thread the hipbelt, buckle and all, through the 40mm front slits on the pouch. This simplifies the job of putting on rain gear, but I'm not happy about the way the pouch with my precious camera inside dangles from the hipbelt when I take off my rucksack.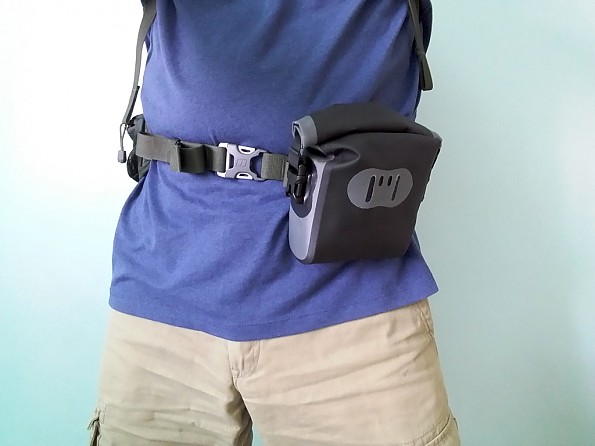 Aquapac pouch reversed and attached to rucksack hipbelt


Dangling from the rucksack when it is taken off
This said, the pouch has a padded inner pocket that offers some protection against impacts. However, the pocket lacks rigidity. If you put any pressure on the pouch the inner pocket can twist sideways, making it difficult to insert the camera.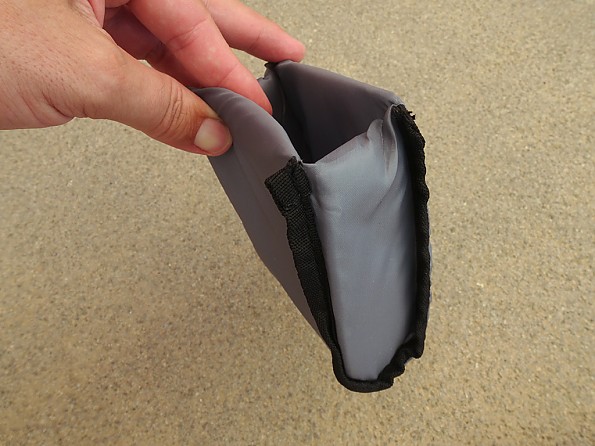 Padded inner pocket
Getting the camera into and out of the Aquapac is less easy than with the Deuter even if the inner pocket keeps its proper shape, but it can be done one-handed. Opening and closing the roll-top is definitely a two-handed job. The seal might come in useful here: if it's not raining, you can leave the top unrolled and just press the seal closed to make certain that the camera won't fall out. The seal might also be useful when taking photos in the rain. Rolling the top closed with camera in one hand is out of the question, but you can close the seal to make sure the pouch stays dry inside while you're taking your shot.
Those are the only uses for the seal that I can think of, because it does not seem to make any difference to how waterproof the pouch is with the top rolled shut. The pouch is rated to IPX6 (proof against water jets from any direction, but not immersion), yet all the same I tested the pouch by holding it under water for three minutes. I did this twice—once with the seal closed and once with it left open. Both times the pouch appeared to leak air from the closed roll-top, but not a drop of water got inside. This has given me confidence in the pouch.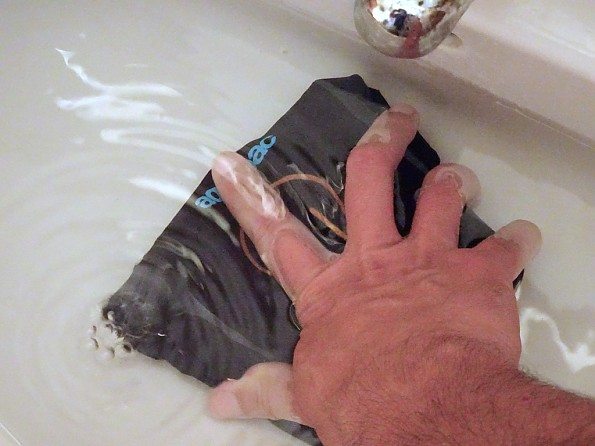 Immersion test (note bubbles)
The Aquapac cannot match the practicality of my Deuter and I will continue using the latter on walks unless there's a likelihood of rain. The ideal waterproof pouch, for me, would be one that I could attach to my shoulder strap like the Deuter and that I could open and close one-handed—perhaps a pouch with an overlapping lid that closes with Velcro. It doesn't have to be immersion-proof, just rainproof.
Until something like this comes along I will get by with the Aquapac. I have not yet used it in earnest: it may be several months before I'm able to put the pouch to a proper test in wet weather. In the meantime a partial review is better than none, so I'm posting my initial impressions. I will update the review when I have more to add.
Update, October 2018
I have used the Aquapac while walking in bad weather. The experience has pretty much confirmed my initial impressions. There is no need to repeat what I've already said and I will limit myself to these points:
The Aquapac stayed bone dry inside even after two hours' walking in steady rain.
If you store your Aquapac with roll-top closed, it will develop a natural curvature as shown below. This means you can take your camera out to get some quick photos in the rain and leave the pouch open while you're at it, safe in the knowledge that rain won't get inside because the opening is pointing downwards.
I will stay on the lookout for something better, but in the meantime I will definitely use the Aquapac in bad weather. Its advantages outweigh its drawbacks. Opening and closing the roll-top is a chore, but you get used to it.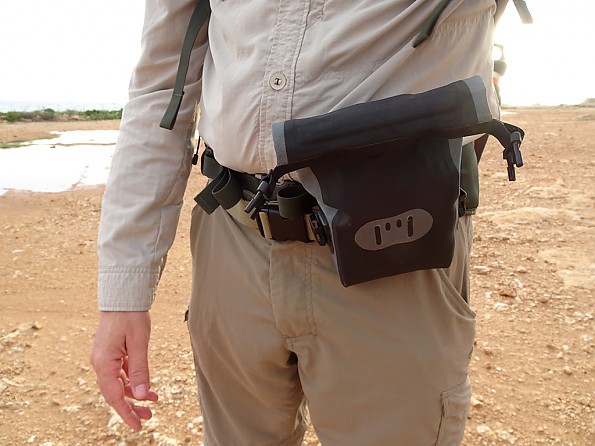 The Aquapac open with roll-top curved downwards
Source: bought it new
Price Paid: £9.99 sterling

Your Review
Where to Buy
Help support this site by making your next gear purchase through one of the links above. Click a link, buy what you need, and the seller will contribute a portion of the purchase price to support Trailspace's independent gear reviews.
You May Like
Specs
Price
MSRP: $35.00
Historic Range: $19.95-$44.95

Recently on Trailspace