Arc'teryx Accomplice Jacket

The Accomplice Jacket has been discontinued. If you're looking for something new, check out the best fleece jackets for 2023.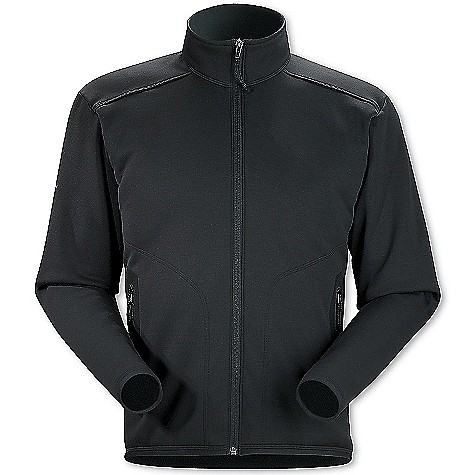 The Arc'teryx Accomplice Jacket is a "hard-faced" (i.e. smooth, non-fleece exterior) mid-weight fleece jacket, or can be considered a highly-breathable/somewhat-protective "softshell". Even though it is listed in the Arc'teryx product line as "casual", the jacket is athletically/trim-cut and is the sibling product to the Arc'teryx Tau Pullover, the key differences being that the Accomplice has a full-length zipper and two traditional hand pockets.
Like the Tau Pullover, the Accomplice is built with "Polartec Wind Pro with Hardface Technology," plus a DWR (Durable Water Repellent) finish. This is a fleece material with a smooth polyester face, woven to reduce wind penetration by ~75% compared to normal fleece. This is achieved without a membrane, so breathability is still ~85% compared to normal fleece.
Aside from the full-length zip, the defining differentiator/highlight of the Accomplice would be its conventional hand pockets. Sure, they're just zippered "internal" pockets (this is to say, if you put your hands in them, they go inside the jacket toward your body, with the fleece over them, aka "handwarmer pockets"; in contrast, consider the welded chest pocket on the Tau Pullover, which puts contents OUTSIDE the fleece), but the trick is that they lie completely flat even when you leave the jacket unzipped. This is due to the large patch of material with which the zippers are welded (not sewn) onto the jacket. This flattens that normally puffy area, which enhances the jacket's clean lines when worn casually.
Aesthetically, I think the Accomplice is flattering to the wearer if you're fit. If you're trim and have a tapered torso (as most climbers do), the athletic/trim-cut shows this off. However, if you have a gut, this jacket will reveal that as well. That said, this jacket is NOT extremely trim (i.e. "technical cut"), and I was able to fit a mid-weight fleece vest underneath it. I think this cut works well for the dual role (casual & technical) the jacket is designed to play, as something that's too trim doesn't wear well casually. I don't know if the primarily-technical Tau Pullover is cut trimmer, but I doubt it.
Like all Arc'teryx products, construction quality is top-notch, from dense stitching to consistently narrow margins.
I had a chance to put this jacket through its paces on a cold-ish day (30-50F, winds ~13-15mph) at a local crag, Castle Rock near Big Bear Lake, CA.
Like most Arc'teryx tops, they're cut with sleeves that at first seem too long and too tight at the forearms, the latter especially puzzling since most of their goods are aimed at rock/ice/alpine climbers who have built forearms. The rationale for this became very clear as I climbed with this, as (1) the tight forearms allow you to search around for holds around without snagging anything, which was otherwise easy to do on the sharp, crystalline granitic rock. (2) the tight forearms immobilize the sleeves there, so as you move your elbows and shoulders, all the fabric motion occurs at your upper arms, which is made possible by the extra length of the sleeves. Moving your arms has little effect on the torso of the garment; it rides up minimally (if at all) as you reach up. I could reach into deep cracks without fear of snagging, although I was concerned then about abrasion. The wash after the cragging day revealed no signs of wear; durability is supposedly an Arc'teryx attribute, which I guess I will comment upon in a follow-up post sometime down-the-line.
The conventional pockets are blocked by a either a backpack's or a harness' waist belt. On the other hand, conventional pockets are very useful for around-the-town use, or just for warming hands. The backpack/harness consideration is why despite all the technical features, Arc'teryx considers this a less-than-purely-technical piece of apparel compared to the Tau Pullover.
The jacket is wind-resistant, but not absolutely. At the same time, the jacket is extremely breathable. Layered as I was, I was overheating on the approach hike up to the crags, but moisture did not stay at all and was very quickly dissipated. On the climb I was feeling perfect, but it did get a little warm as I climbed out of the shadow of the forest and into full sun exposure. On a long belay exposed to the wind, I needed a belay jacket to keep warm. (Does this all seem to say more about how I was layered and less about the Accomplice jacket itself? Well, yeah. Which goes to show that outdoors apparel performance is less about any individual piece of equipment, but more on how you combine them together.)
Personally, I would consider this jacket better described as a warmly-insulated softshell that's biased toward breathability, and less toward protection from the elements. Why see it as a breathable softshell and not a protective fleece? Well, I see this jacket worn 70-90% of the time as the outermost layer, with only a hardshell or additional outer layer added during unusually difficult conditions. This is because I do not envision spending much time in just this during precipitation. Wind-resistance and high breathability are what I'm after. (If you desire a higher degree of environmental protection with a trade-off in breathability, that next step would be the Arc'teryx Gamma MX, and then the Gamma SV.)
The Arc'teryx Accomplice is a great jacket.
Fabric: Polartec Wind Pro w/Hardface Technology
Fill: medium-weight fleece
Price Paid: $140

A sweet fleece, but not really a "jacket" per se. This is a mid-weight fleece with a light wind protective coating, but us is not an all out wind fleece. This is why I love this fleece; it is not a heavy, bulky wind fleece, but it is also not just a plain traditional fleece.
The protective coating does three great things...1) keeps some wind out (not all) that normally cuts through plain fleece...2) sheds light amount of rain (LIGHT amount...don't buy this if you are after a Gore-tex coat only to complain about it later)....3) this coating prevents balling (or piling) of the fleece.
These three things in an article of outerwear that has almost the same weight and feel of a plain fleece! Love this thing.
One other good thing is that this coat is not marred by big logos. Arc'teryx's name actually does not appear on the fleece...the fossil logo does (on right arm), but compared to most the stuff out there, the logos on this thing are really tame. I wish more companies would do that.
Fabric: Polartec Fleece
Price Paid: $160

I bought this jacket thinking that it was going to be somewhat decent...but I was wrong. This is a horrible jacket that isn't worthwhile. I have a North Face jacket that is comparable and it is really good...it is like the Nike of jackets and Arc'teryx is like the Sketcher.
Price Paid: $40

Your Review
You May Like
Specs
Men's
Price
Historic Range: $65.14-$225.00
Reviewers Paid: $40.00-$160.00

Women's
Price
Historic Range: $67.35-$225.00

Recently on Trailspace