Arc'teryx Alpha LT Jacket

The Alpha LT Jacket has been discontinued. If you're looking for something new, check out the best waterproof jackets for 2023.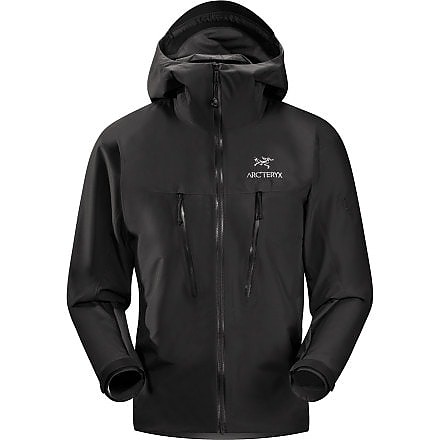 I've had this jacket for right at two years and I could not be happier with it. The jacket is ridiculously lightweight, yet has proven to be extremely durable. I have two friends that have the paclite version and even though it was much cheaper I really couldn't feel comfortable that it would hold up to abuse. I'm very rough on gear. My philosophy is that if I pay this much for it, it better not break.
I've primarily backpacked in this jacket in all types of conditions. Mine beaded water like a champ when I bought it, but the dwr finish did eventually wear off. It doesn't bead anymore, but is still totally waterproof. The jacket is very breathable and doesn't have that 'crinkly' feeling that I've had with other three layer jackets.
I would trust this jacket to take me anywhere. It will stand up to plenty of abuse.
The hood is absolutely the best, most adjustable hood I've ever seen. The hood also doesn't get in the way when you sit down in a chair, or lay down on the ground with it on.
The only consideration that you might have with this jacket is that it is shorter than other parkas I've owned. I had to change the insulation layer I use with this jacket because my Patagonia down sweater hangs out of the bottom by a couple of inches. This is also a consideration if you're planning on using this jacket as a ski jacket because it doesn't have a snow skirt. It really isn't designed to be a ski jacket anyway though, but I use it with a bib when skiing and it does great.
This is by far the best parka I've ever owned, and I've owned a few.
Price Paid: $400

First of all, I have no idea what that guy was talking about, I have the Pro shell version (Fall 07) and it couldn't be more waterproof. To be honest though, I was afraid to wear this jacket after spending so much money on it and feeling how light it is.
That being said, this jacket is pretty damn durable despite its ridiculously low weight. It is as waterproof as can be and while I haven't used it that much yet (I will definitely update my review if anything goes wrong with it) the new Gore-Tex Pro Shell seems amazing.
I was trying to chose between this jacket and the Alpha SL (which is half the cost) and made with the Pac-lite rather than the pro-shell, which after a bunch of research, I found is not as durable over the long term but it depends on your use. I decided to go with this jacket because I want something that was light and that I can beat up and I plan on using it for mountaineering as well as a light, packable rain jacket. The SL is a great jacket, my roommate has one, but consider your uses before you buy.
The only thing you need to be careful about both the Alphas is they are cut short in the front. I am a tall skinny guy and the a L is a little too short for me in the front but I'm keeping it anyway because it will still do the job. Oh yeah, best hood design ever on this jacket. Fits your head snugly yet can fit a helmet, amazing.
Fabric: Gore-Tex Pro Shell
Price Paid: $450

Excellent fit and tough fabric.
Pros
Length (finally a jacket with long enough sleeves!)
Durability
Waterproof
Looks
Cons
Very slim (good for me, but barely)
Hood can be bulky without helmet
As a member of Gore MountainTechs, I have the opportunity to field test GORE-TEX gear in some of the harshest conditions.  
This jacket is seriously top notch. Very high quality outer fabric that has withstood some tough abrasion. Very waterproof, good breathability, and pit zips help in really warm situations.
Hood fits helmets well, but can feel a bit bulky without a helmet (even when cinched down).  Nice zippers all the way around.  A slim fit (which I like) but the waist is just wide enough to fit me...any smaller and it would not go over my hips.  Length is perfect on sleeves and torso (I'm 6', 185 lbs, and have a Medium for this jacket.)  
Less important to some, but the color Dusk is a great choice in my opinion.  
Overall would highly recommend this jacket for moderate to extreme conditions.
Disclosure: The reviewer received a sample of this product from the brand or its representatives in exchange for a review.
Source: tested or reviewed it for the manufacturer (I received a sample of this product from the brand or its representatives in exchange for a review. I kept the product after testing.)

The author of this review is a member of Gore MountainTechs ambassador program.
Phenomenal hood, great fit, very durable.
Pros
Amazing hood
Great fit
Durable
Cons
Makes other brands feel "cheap"
I picked up the Alpha LT through Arc'teryx's LEAF program, so the colour is a bit different then the normal Arc offerings, but it's the same great jacket.
I've been using it the last couple months for everyday wear, and we've had some nasty conditions to test it out in, lots of rain, sleet, and snow and it beads like a champ. As others have said the hood will adjust to anything you need it to do, and the jacket itself fits really well.
Edit 04.Nov.12
Still going strong, used all summer doing geologic field work in the Yukon, lot of cold rainy days, and every day in the woods was bushwacking. Jacket is still going strong. The only reason I even got wet was because I couldn't get the jacket on fast enough.
Recently I've been looking at getting a softshell, and even with all the brands out there I'm still going to go for Arc' because their hood is just so damn good!
Source: bought it new
Price Paid: 385$

Fantastic lightweight waterproof jacket.
I have the women's version which I am stoked with. Unlike many other wet weather jackets this one is cut really well for women meaning you get a great fit and avoid bulk but still have full range of movement.
The breathability is excellent so I don't have the problem of sweating each time I put it on which I have had with other waterproof jackets.
I haven't tested it in constant torrential rain yet, but so far it has stood up in rainstorms with no problems.
The big plus about this jacket is the lightweight packability. This jacket packs down so small compared to other fully waterproof jackets.
The only thing I don't like about it are the pockets. I find the pockets on the front to be a bit inconvenient and uncomfortable, but that's just my opinion, some people may love them.
Overall I have no regrets, definitely pricey, but if you are prepared to pay it, (or can find it a bit cheaper somewhere) it is well worth it.
I took the jacket to India to climb at 13,000 ft. I was soaked in every condition, warm rain, cold rain, cold monsoon rain. No one told me the need to treat the jacket with a DWR revivex product, even though it was brand new. I traded up to the Alpha SV and I have no confidence at all it will work on the Appalachian Trail this winter.
Fabric: Gore-Tex
Price Paid: $425

Your Review
You May Like
Specs
Men's
Price
MSRP: $499.00
Historic Range: $225.00-$579.00
Reviewers Paid: $400.00-$450.00

Sizes
S, M, L, XL, XXL

Weight
365 g / 12.9 oz

Fit
XPD Expedition fit, Hip Length

Materials
320N GORE-TEX® Pro Shell 3L

Women's
Price
MSRP: $499.00
Historic Range: $249.48-$499.00

Sizes
XS, S, M, L, XL

Weight
332 g / 11.7 oz

Fit
XPD Expedition fit, Hip Length

Materials
320N GORE-TEX® Pro Shell 3L