Arc'teryx Altra 48 LT

Top 50 in women's Overnight Packs
The Altra 48 LT has been discontinued. It was replaced by the Arc'teryx Alpha FL 45.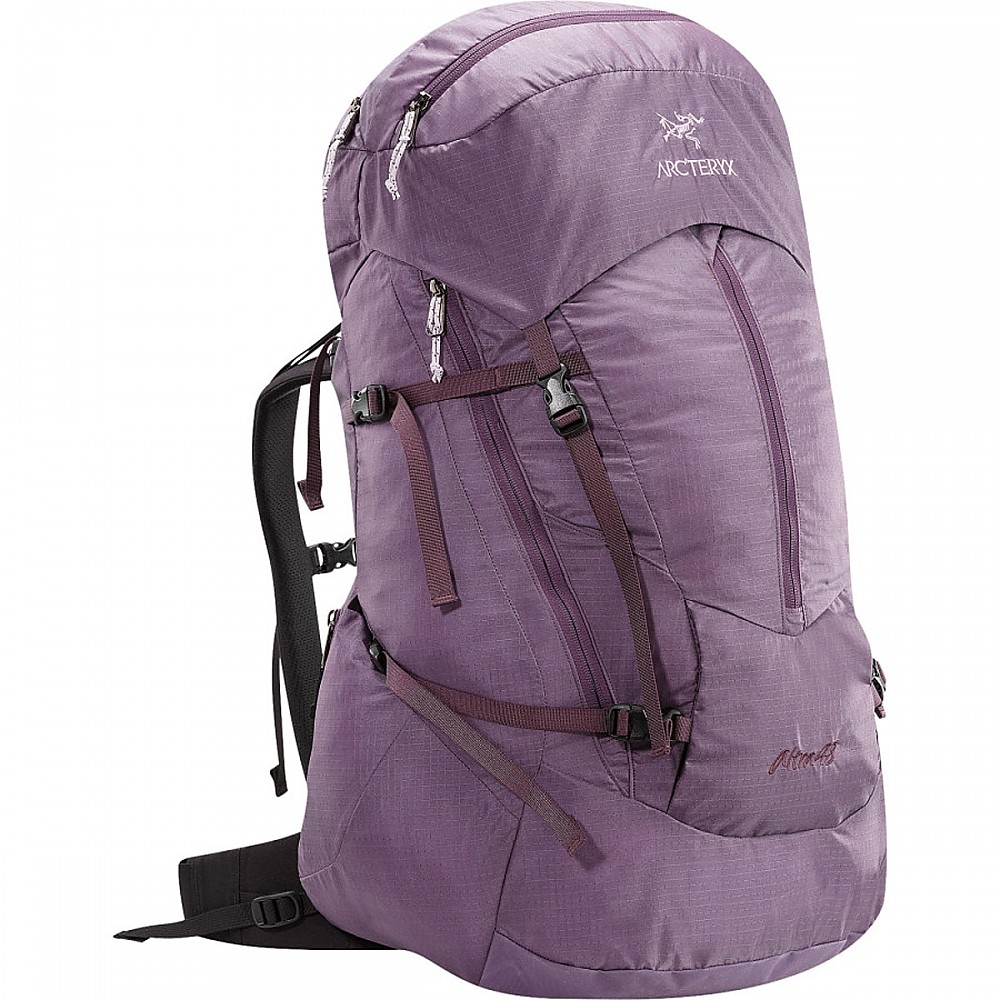 Specs
| | |
| --- | --- |
| Price | Historic Range: $173.37-$289.00 |
Reviews
1

review

5-star:

0

4-star:

0

3-star:

1

2-star:

0

1-star:

0
The three pound Arc'teryx Altra 48 is a highly organized, low-profile, and stable pack that is built for multi-day adventures, yet it is small enough to also be used as a day pack. The most impressive feature I've found with the Altra 48 is that you can access anything in this pack within seconds and you don't have to unpack to get to it.

Since the Altra is a low-profile style pack, it does have very minimal padding on the shoulder straps, hipbelt and back panel, which I found causes discomfort when carrying loads greater than 23 pounds. If you are a comfort-driven backpacker like me, this might not be the pack for you, but if you are a minimalist, it may suit you perfectly.
Pros
Multiple access points /easily accessible
Tons of pockets
Very stable on all terrains tested
Daypack/multi-day pack hybrid
Durable construction on the body
Very wide base that makes packing and unloading easy
Removable double chambered lid
Separate externally accessible hydration compartment
Cons
Poorly constructed hipbelt
Shoulder straps are too thin and narrow
No front pockets on hipbelt
No waterbottle pocket on sides
Can not comfortably carry heavy loads
Poor back ventilation
Expensive
Altra at Eagle Peak, Yosemite National Park
About the tester:
I am a 30-year-old 5'4" female from South Carolina. I have a 17.5" torso and tested the "regular" sized Altra (3lb, 1oz). I typically go on day hikes and overnight hikes in the Southern Appalachians, but during this testing phase I did travel to the Sierras. I do not consider myself an ultra-lighter, but I generally carry between 15-23lb per hike, depending on the temperature and how far I am going between water sources.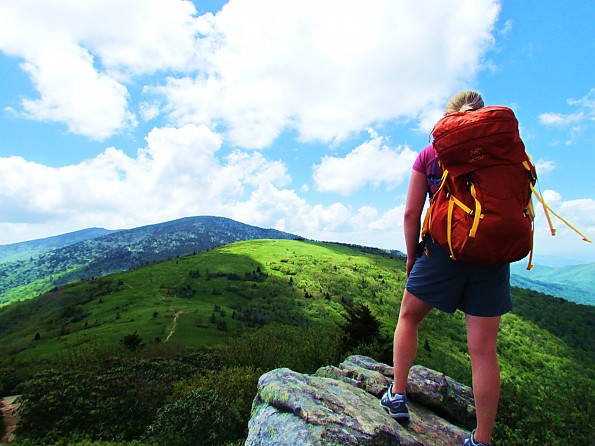 Altra on the Appalachian Trail: Jane Bald, Roan Highlands, NC-TN
Testing Conditions:
I tested the Altra on multiple overnight and day hikes in the Appalachian Mountains and the Sierra Nevada Mountains over a period of about three months. I hiked in everything from dry hot conditions to torrential downpours. The mileage ranged from 5 miles to 15 miles per day and the terrain included flat ground, grassy balds, sand, hard rocky ground, and granite domes.
Pack weights ranged from 10 pounds to 25 pounds.  I flew to California and back twice during the testing period and used the Altra as my carry on luggage.
This pack saw it all this spring/summer: The Atlantic Ocean, The Pacific Ocean, The Appalachian Trail, The Pacific Crest Trail, The John Muir Trail, Yosemite National Park, Kings Canyon National Park, Sequoia National Park, Congaree National Park, Grayson Highlands State Park, The Roan Highlands, Pisgah National Forest, Jefferson National Forest, Sierra National Forest, Sequoia National Forest, Inyo National Forest, and five states (South Carolina, North Carolina, Tennessee, Virginia, and California).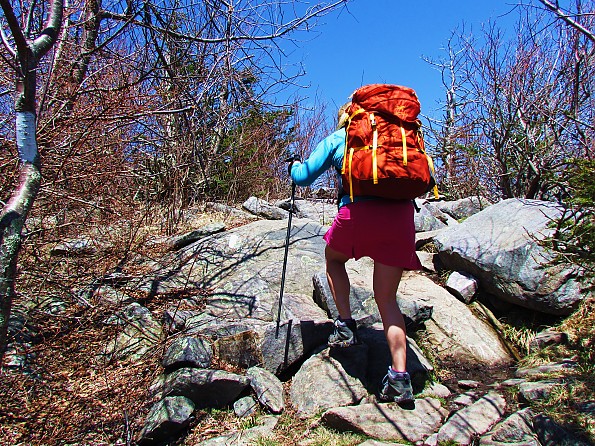 Altra on the Appalachian Trail: Grayson Highlands, VA

Features:
Lid
The double-chambered lid on the Altra is both removable and expandable. The bottom one is larger and can hold items such as a rain shell. The top is smaller and is great for small items, such as a headlamp, map, or snacks. When the lid is removed, it is closed by two drawcords and cinched by a compression strap that goes across the top (for photo, see compression straps section). I did take the lid off occasionally when dayhiking to reduce weight.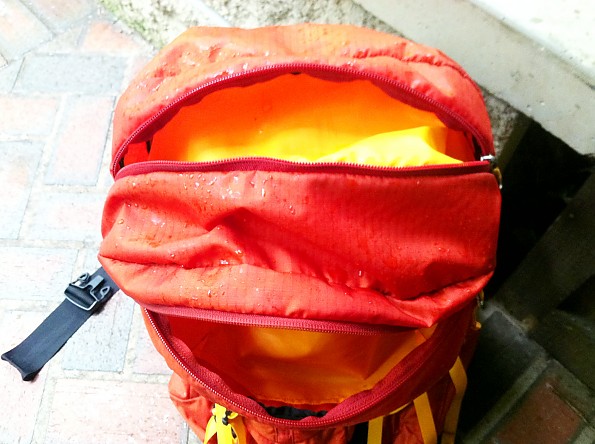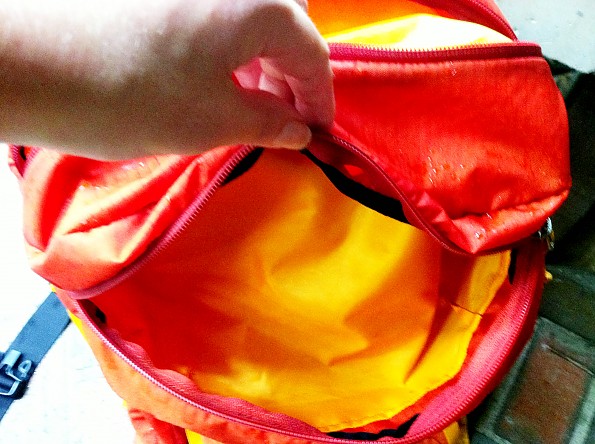 Bottom chamber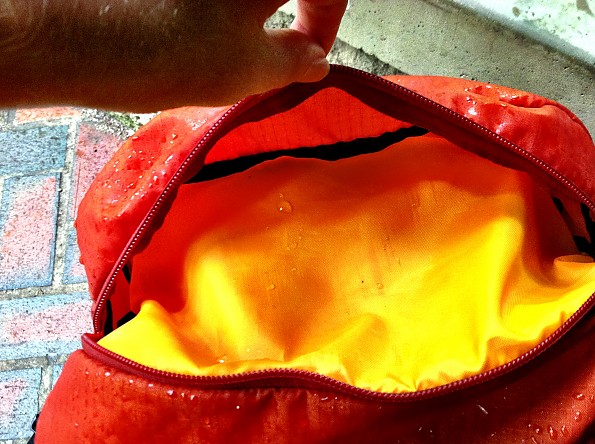 Top chamber
Another great feature of the lid is that it has a third clip that keeps it from falling down and flapping around.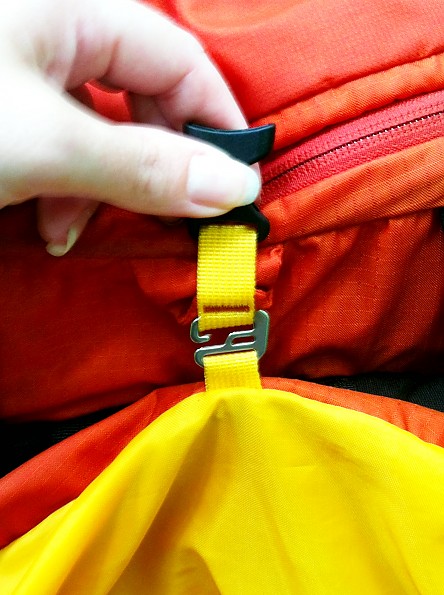 Clip (metal)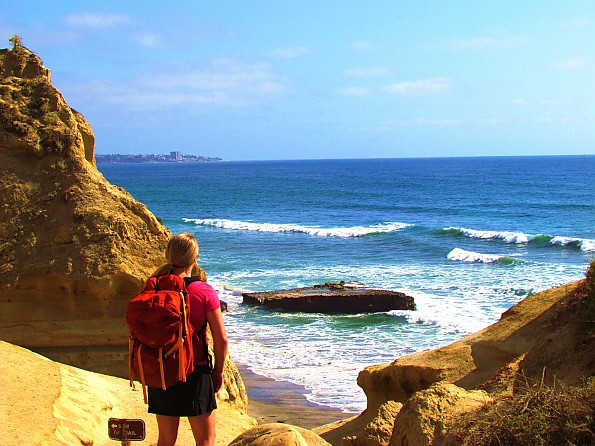 If the clip is not attached, the lid will sag. 
Body
The attention to detail on the body of this pack is unbelievable. The silicone- and polyurethane-coated pack body is made of 100-denier Invista HD Mini Ripstop nylon and 210-denier Ripstorm nylon. This does make it relatively water-resistant, but as with most any pack, when it was caught in a rainstorm the entire thing was soaked. It did effectively keep my gear dry in a light drizzle though.
The pack base is made of 420-denier Invista HD plain weave nylon. I really liked this feature because I never had to worry about where I was sitting the pack down or what I bumped it into. I did some off-trail bushwhacking with it and banged it into all kinds of limbs and branches. It was not phased one bit. 
The 48 liter Altra can hold a ton of gear. It is pear-shaped, so the bottom is very wide. Packing large items is usually a task in other packs when the hydration reservoir is full, but it is no problem at all with the Altra.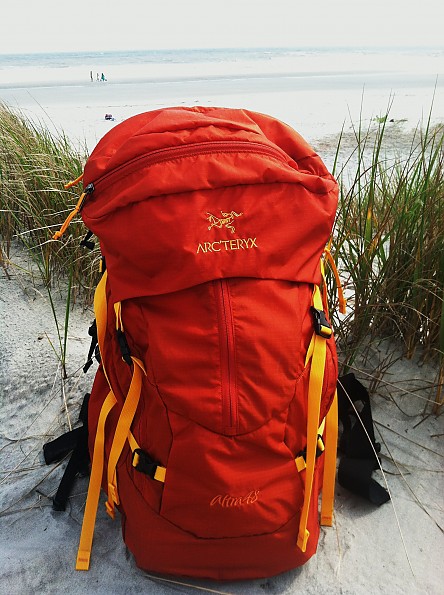 Altra on Folly Beach, Charleston, SC
It also has an extendable collar with two drawcords for additional gear. This is perfect for a bear canister.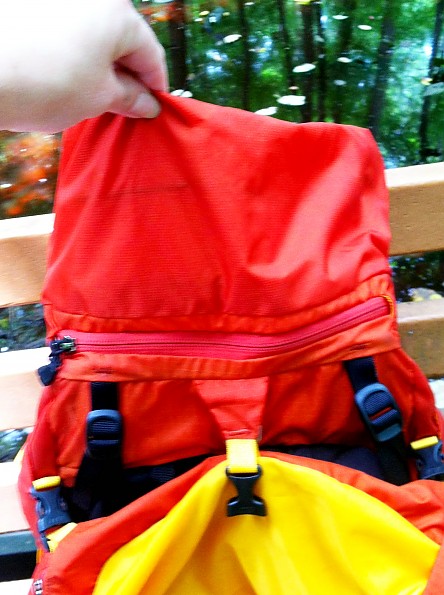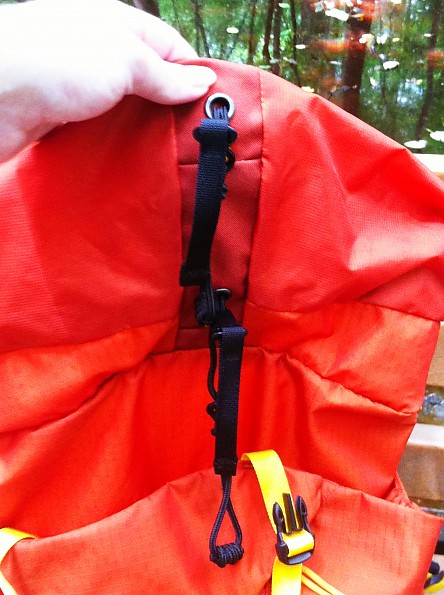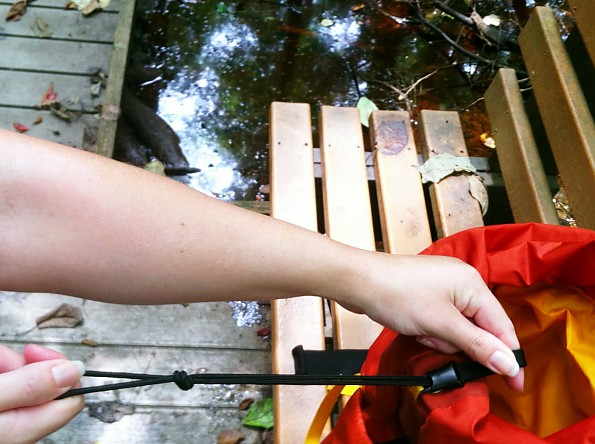 Another feature that I love about the Altra 48 is that it has an external independent hydration sleeve that fits up to a 3L reservoir. This keeps condensation from your reservoir off your other gear and makes the reservoir much more easily accessible. I personally have a Platypus Big Zip, so when filtering water, all I would have to do is unzip the zipper and unzip the Big Zip and I could begin filtering water. This saved a lot of time for me.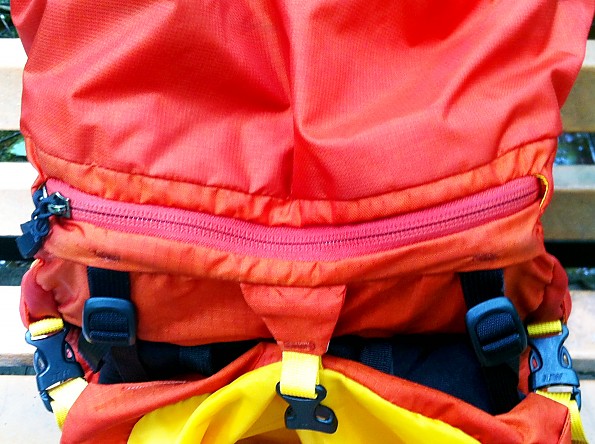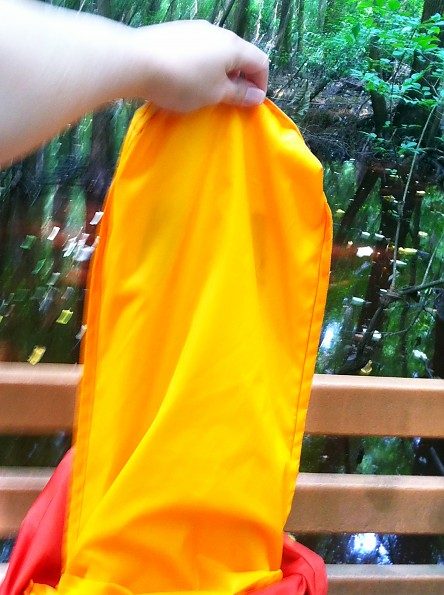 My favorite feature of the Altra is the full length side zippers. I love how easy it is to access anything in this pack anytime that you want it. I specifically really liked it because I could put my bulky camera in the main compartment and easily get to it in a flash. I typically put it in the top lid when carrying other packs so that I can easily get to it, but because it is so bulky and heavy, it sometimes will bump me in the head. As you can imagine, that is a pretty big inconvenience averted!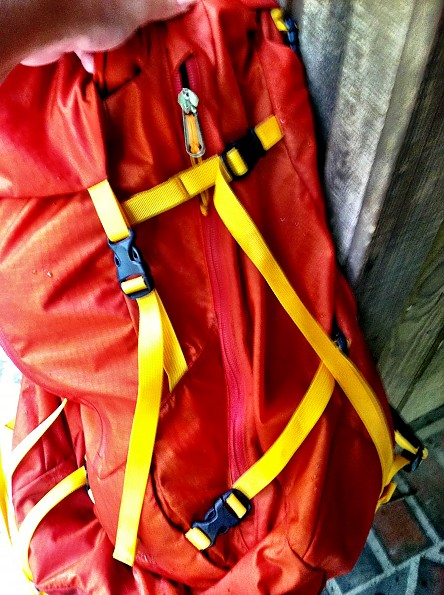 Here, you can also see the ice tool loops.
The Altra has many pockets to help you stay organized. The front of the pack has a large zippered kangaroo stuff pocket. It is very convenient to be able to unzip it when you need to access something in the bottom of it.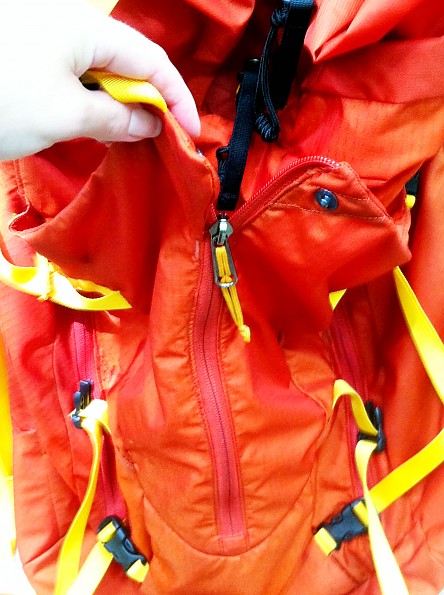 Directly behind the kangaroo pouch is a nice-sized zippered security pocket, which also is very easily accessible.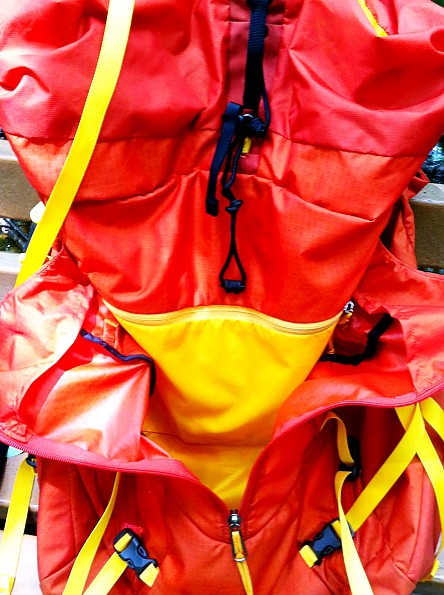 There are also two Wingman pockets that sit on the back of your hips. They are large enough to hold items such as a freeze-dried meal, a sleeping bag liner, or a small puffy. I found these pockets to be very convenient for large items, but I also wish that there were smaller pockets on the front of the hipbelt because it is difficult to find small items in the large pouch. Because it is on the back of your hips, you can not see into them.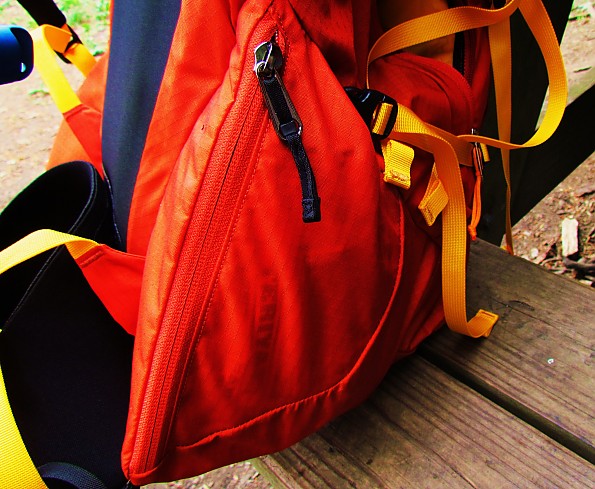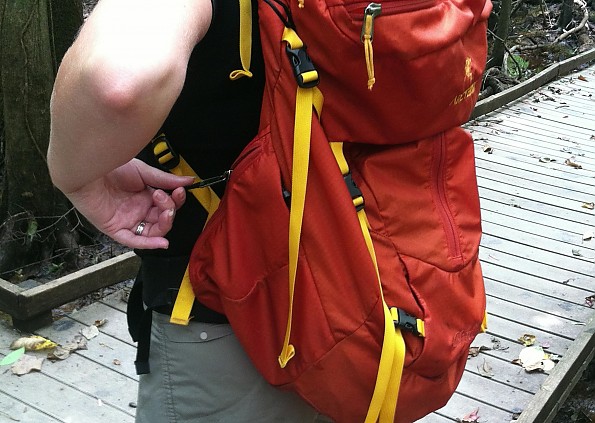 The Wingman pockets are kind of awkward to reach.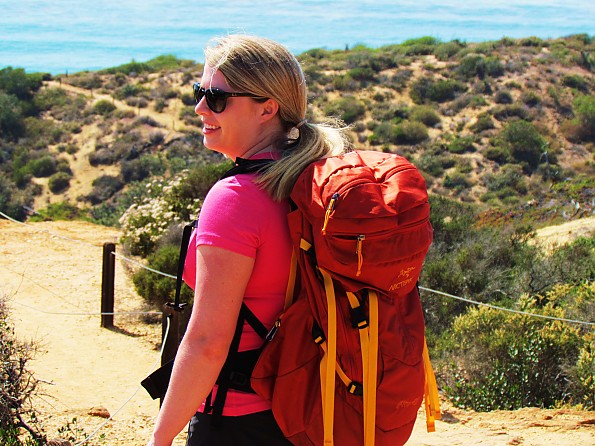 In this photo, you can see what angle my arm would have to make to get to something in the wingman pocket.
There are five compression straps on the Altra (two on each side and one to compress the top of the main compartment), which keep it compact and helps it to stay close to your back.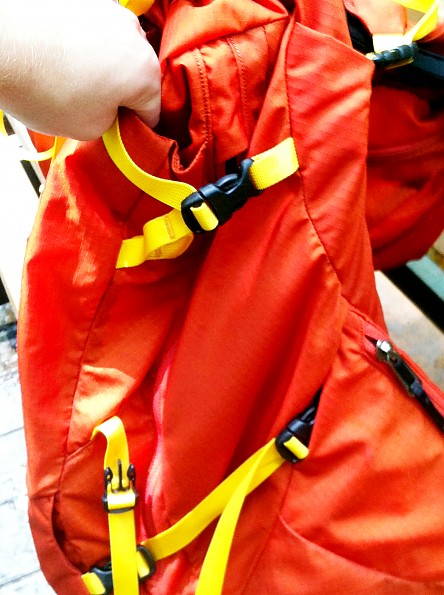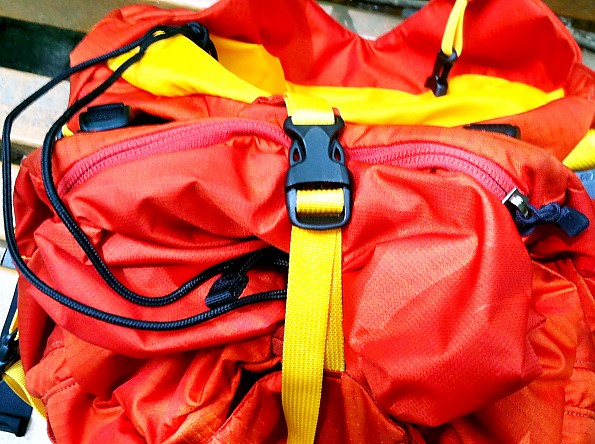 Shoulder Straps
The anatomically shaped shoulder straps are very narrow and thin. The topside is made of rugged canvas and the underside is made of Hypercell foam and Spacermesh lining, which provides airflow.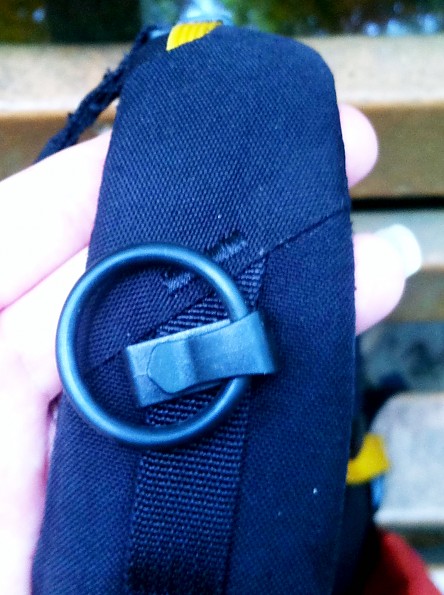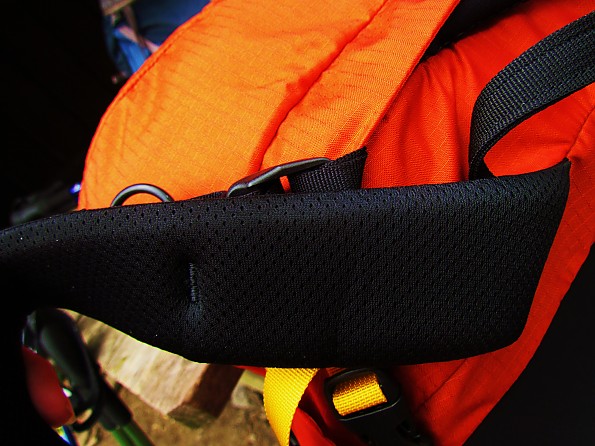 If you squeeze it, it compresses substantially, like memory foam. This also happens when weight is added to the pack.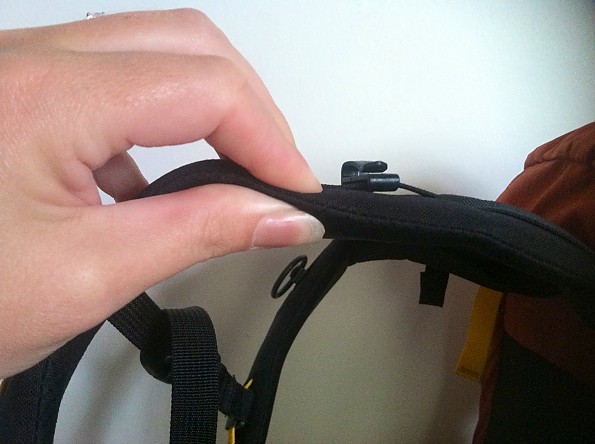 I think the concept is great, but they need to be wider and thicker to be able to carry the weight that this pack should be able to handle. Any time that the pack was loaded with more than 23 pounds, I experienced sore shoulders. I wanted to be fair in my evaluation of this pack, so I had several of my female friends and even some of my male friends try on the pack. Without telling them any of my opinions of the pack, I asked them what they thought. Every single one of them said that the shoulder straps were uncomfortable. 
The removable sternum strap on the shoulder straps has about 7" of adjustability via loops that it can clip into.
Hipbelt
The thermoformed, triple-density hipbelt promotes airflow and evaporative cooling. I found it to be cooler than a typical hipbelt because of its low weight and its moisture-wicking ability.
 As you read earlier, the hipbelt on the Altra lacks front pockets. I would prefer that it did have them; however, without them you have a lot more range of motion in the front. I sometimes bump my wrists on the front pockets when wearing other packs.
It is low-profile, so it only partially covers the hips. I thought initially that this would be a big problem, but it actually did not bother me. I found it to be comfortable. I think that extra padding to cover the hips would certainly benefit the pack, but it does work without it.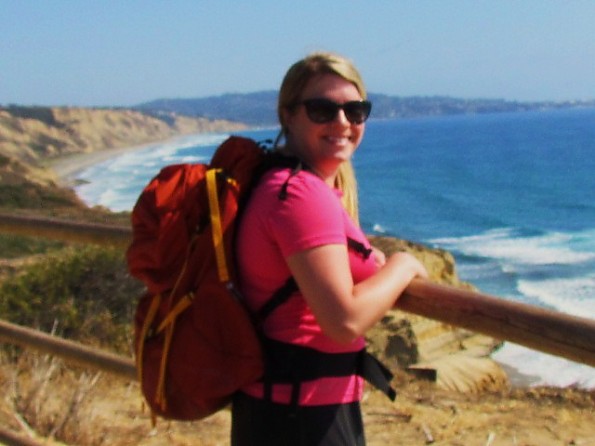 You can see where the padding stops.
The hipbelt is very thin and flimsy. It is simply glued to the frame. I actually had to test two different Altras because on the first one that I tested, the hipbelt was substantially coming unglued from the frame. The hipbelt on the second Altra that I tested did not come unglued, but it looks as if it could.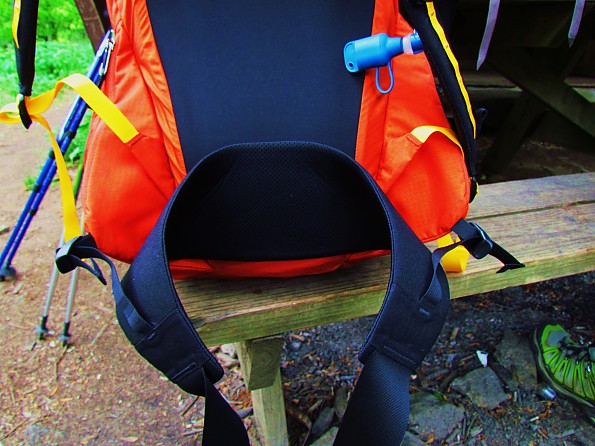 Here, you can see where the hipbelt was coming unglued from the frame: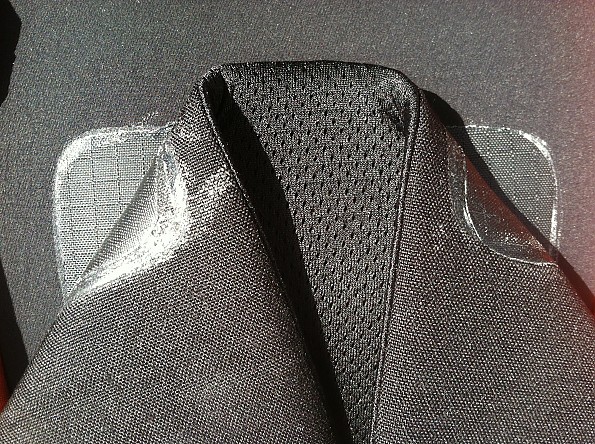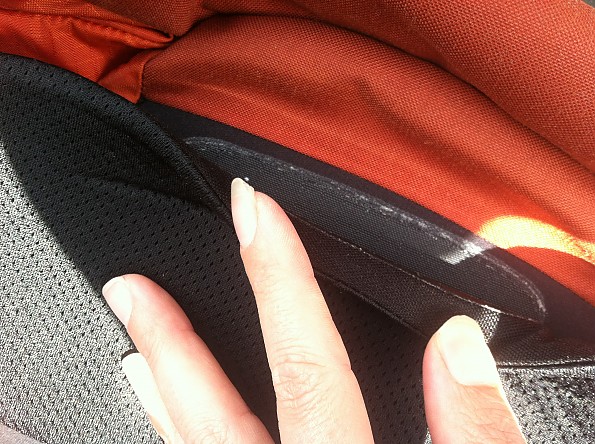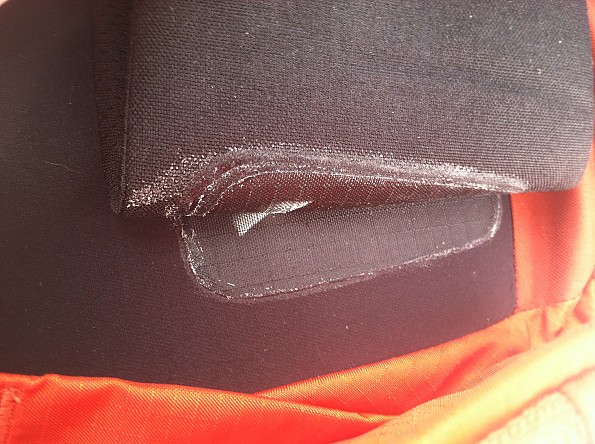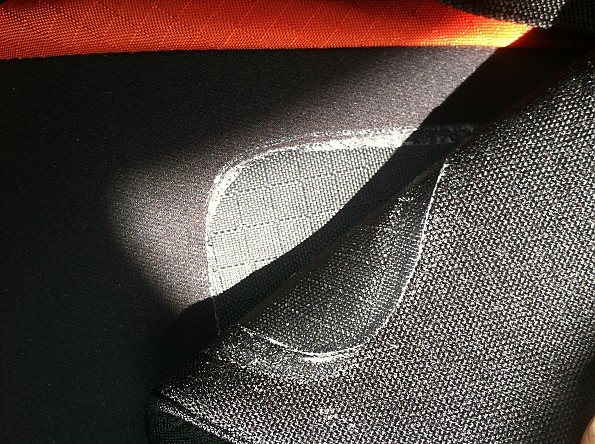 Back
The back of the pack is comprised of two rigid and lightweight aluminum M-bar stays and an HDPE framesheet covered by very thin HD 80 foam. This is all part of the C2 (Composite Construction) system, which eliminates back panel layers to reduce weight. It creates a direct link between spine, suspension and bag and effectively keeps the pack in place no matter what terrain you are on.
I fully expected the back to be uncomfortable with the minimal padding, but it surprisingly is pretty comfortable, unless you have any hard items being pressed up against it. When that was the case, it was pretty uncomfortable.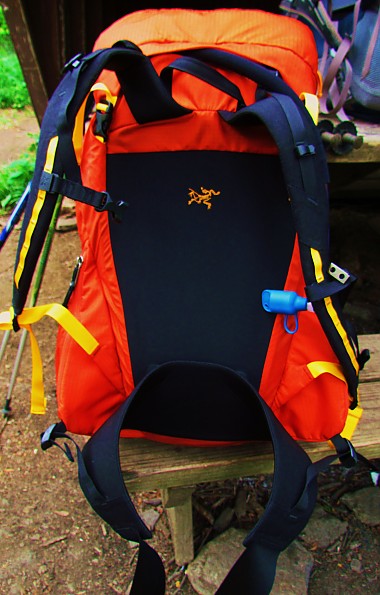 My only gripe about the back panel is that while it is directly on your back there is poor ventilation because there is no room for airflow.  
Ride:
The Altra provides a very smooth ride due to a combination of the effective use of compression straps and the C2 suspension system. Whether I was hiking on flat ground or uneven rocky terrain, the Altra stayed in place. During my testing, I took the Altra to the top of the Half Dome cables and back.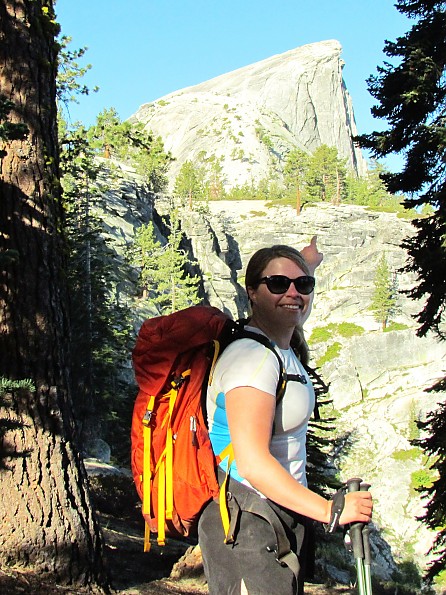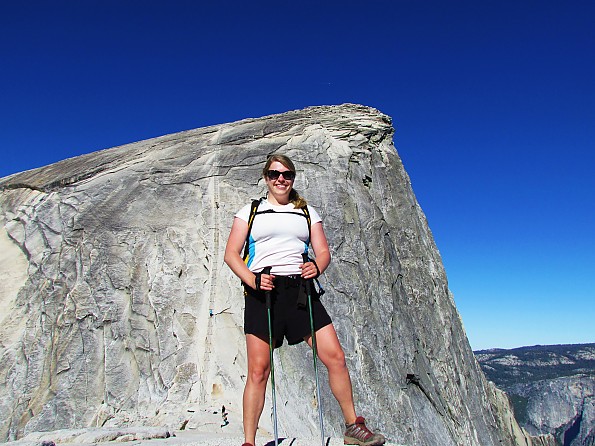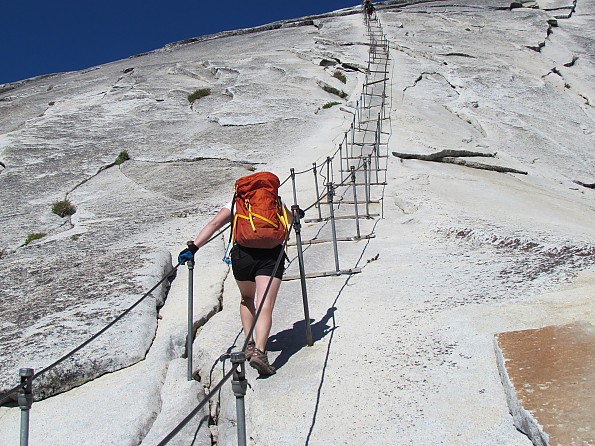 Trust me, I had plenty to worry about while going up and down the cables, but I never worried about the Altra. It stayed in place for a comfortable ride the whole time. While in Yosemite, I hiked the Yosemite Falls Trail, which was the rockiest trail I have ever hiked. I was sure that the Altra would jostle around because the trail was so uneven and rocky, but it did not. I also did some minor scrambling at Grayson Highlands with the Altra on and it stayed perfectly in place.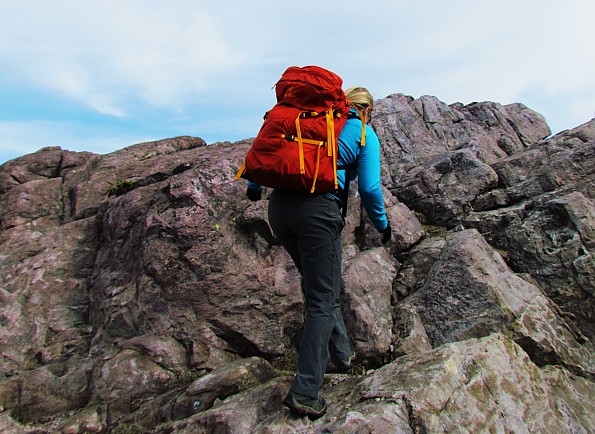 Scrambling in Grayson Highlands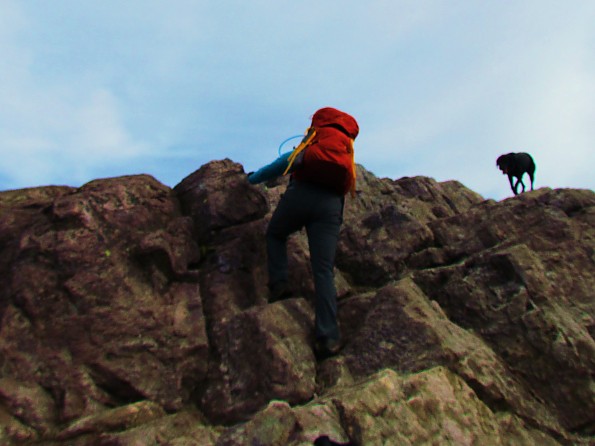 Conclusion:
This pack has so much room and so many pockets that it should be able to haul a ton of gear, but unfortunately the shoulder straps do not provide enough support to be able to carry it. I believe that the padding is sufficient for a 30 L pack, but is unacceptable for a pack of that volume.
The larger sized Altras have wonderful padding and suspension. If I could change out the shoulder straps and hipbelt, I would buy this pack in a heartbeat. Due to the fact that the pack can't comfortably carry more than two days worth of gear and water, I can only recommend it as a day pack and overnight pack. 
I really appreciate you taking the time to read my review! I would also like to thank Arc'teryx and Trailspace for the opportunity to test the Altra. 
Source: received for testing via the Trailspace Review Corps (Sample provided by Arc'teryx for testing and review)

You May Like
Recently on Trailspace