Arc'teryx Atom Hoody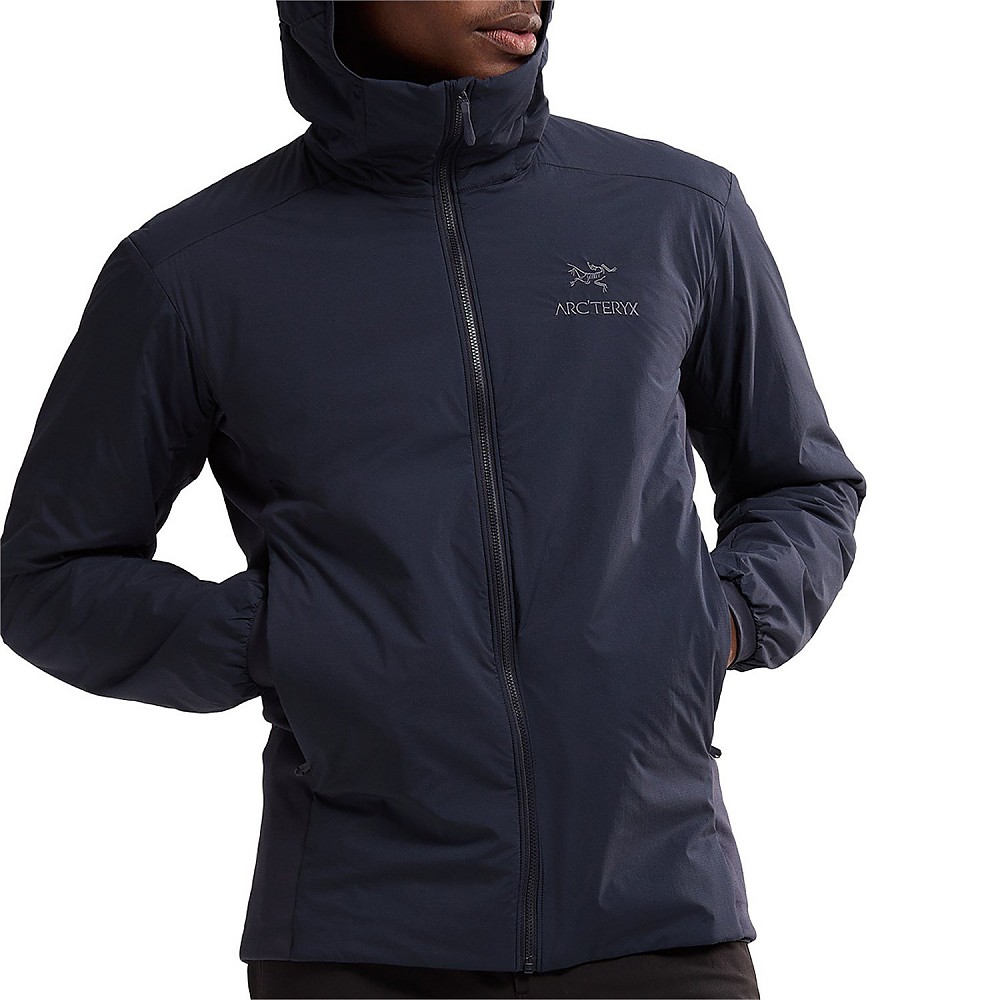 Version reviewed: Atom LT Hoody
Amazing jacket which regulates temperature and moisture, great fit and comfy hood; have used it in winter high-exertion sessions with a T-shirt underneath, and bad weather with a hard-shell over it. Greatly recommended for all winter outings with a harshell in the backpack, or shoulder season.
Pros
Good insulation
Good moisture wicking
Soft
Lightweight
Compressible
Elastic seals the sleeves
Warm pockets
I came into some additional money and was browsing my favorite website to treat myself, and found a great deal on this jacket; price paid 140$ (in late summer for those interested).
The jacket is soft and lightweight, feels amazingly comfortable. For my part the fit is great, I'm 186 cm and 104 kg with relatively long arms.
Last winter, it was a pleasure to get out to walk with a light layer underneath (even a t-shirt at times), and an additional sleeveless fleece jacket on the colder days. When precipitation increased over a drizzle, I would put a hardshell over it just to be sure.
Some reviewers may feel that it is not warm enough, but this jacket is made to provide a certain level of warmth at the same time as wicking moisture. This does not mean that when you stop exercizing you'll get cold, this jacket has a great range of temperature adequacy; however, one should start an outing feeling slightly cold as the body will warm up in contact to cold and as a result of exercise (even simple walking). The jacket responds by keeping in a part of this extra warmth and I believe it actually helped temperature regulation.
I read the other reviews here, and my jacket has a hood with a thin peripheral elastic band, and an elastic cinch cord wich you pull from the back of the head. At neck level, the contour reaches my mouth; not too low, it protects your neck perfectly, and not too high to be an inconvenience. Unde the arms a different material with stretching ability allows for movement comfort and probably increases humidity diffusion. On the bottom of the jacket, an elastic can be tightened to close the gap. Although I haven't tried it, I'm sure a climbing harness would fit over it nicely.
The jacket has two external zipped pockets, which are cleaverly lined with fleece on the out-facing side of the pocket, and thin material on the inner-facing side which allows your body heat to warm up the pocket. An additional internal zipped pocket is located at chest-level on the left, and is great to stash small objects without getting in the way of backpack's belt.
I would by again with no second thought; if you're looking for something warmer, I would say that I'm convinced of Arc'teryx's expertise and would advise to look for a warmer model from their collection. The letter coding has meaning, and you can find explanatory info online (LT - light / AR - All Round / SV - Severe Conditions etc).
To make an informed decision, try one in-store if possible, browse their website for info, and ask yourself if you should invest in complementary inexpensive gear: a merino long sleeve shirt or a sleeveless fleece jacket— both go a long way in making you comfortable, warm, and wicking moisture.
Finally, if you find it expensive, wait for offers, they do come along. Remember that both base layer and external hard shell may be easier to get at a smaller price; I think the mixed job of a medium layer justifies a higher investment, and the fact that it doubles as an external layer in shoulder season and fair winter weather increases the return you get on it.
Experience
I've had many hours of use and a few day outings with this jacket, which is my first shoulder season outer layer / winter outer-intermediate layer. I have not owned other such jackets but would buy again rather than chance it with something else. I have logged many miles and hours, hiking in winter conditions and soulder season, cold / chilly temperatures; raining / snowing conditions were handled great, except for downpours logically requiring a hard-shell. I haven't used it extensively with a backpacking rucksack, but would trust it for mountaineering, snowshoeing etc and only worry about tearing the fabric.
Source: bought it new
Price Paid: 140$

Version reviewed: Atom LT Hoody
Ok so what do you need to know about this jacket? When I first saw this jacket I was at REI in search of the perfect mid-layer/light outer layer. When I picked this jacket off the shelf the first thing I noticed was how light it was, the second thing I noticed it was made by Arc'teryx and the third thing that stopped me dead in my tracks towards possibly buying this jacket was the fact it had "coreloft" as the insulation, I thought to myself "what the hell is coreloft."
Hesitantly I put the jacket on just to see how it fit and was instantly satisfied by the tailored cut and mobility of this jacket, it far surpassed the comfort of any jacket I had tried on that entire day. I knew right then that I had to figure out what this coreloft stuff was if I was going to buy this awesome jacket.
It was hard to find any information regarding "Coreloft" so I emailed Arc'teryx, chatted with online gear experts and posted on backcountry.com, here is what I found out.
.......................................................
Directly from Arc'teryx:
"Coreloft is a fabric that we have made for us. It's similar to Primaloft, but we have tweaked a few things to try to get better performance.
Core Loft is constructed of a double strand of continuous polyester filaments. The finer yarns (1 denier) are "crimped" to help trap air molecules which in turn help trap body heat while the larger yarns (3.5 Denier) provide loft and resilience from compression. The fibers are siliconized to help add resistance to moisture and decrease drying time.
The Atom is a lightweight insulated shell for more active pursuits in cold/wet weather that offers more breathability than a belay jacket while still offering enough wind/water protection."

Posts from backcountry.com:
"The Coreloft is used because it has large and small diameter insulation fibers. This adds durability, and also allows using a face fabric that breathes better, since it isn't as prone to penetrating the fabric because of the larger fibers. This compliments the Luminara which is a 20denier ripstop that has good weather resistance but breathes much better than most other nylon fabrics." By Brandon
"Arc Teryx searches the globe to find new materials that distinguishes them above other outerwear companies. This vigilance also costs more money, but more often than not the result is a product that is the best of class in the category.
Although I don't own an Atom Jacket, I've checked it out pretty thoroughly and am quite impressed. The outer material (Luminara Nylon) is simply a high-tenacity, tightly woven 20D material that has a great hand. It felt like it had enough durability to withstand some backcountry use, although it still needs to be treated fairly nice.
The Coreloft Insulation is something I had never heard of, but I don't think it's proprietary to ArcTeryx. There was a hang tag listing what it's comprised of, but I don't know who is making it? It's essentially a combination of Primaloft (short staple fibers) and Polarguard or Climashield (Continuous Filaments) thus giving it both the softness of down (Primaloft) but giving it the added durability that plagues Primaloft (Polarguard). The jacket also had stretch panels and had an excellent fit including articulated, curved sleeves. For an ultra-light synthetic piece, I haven't seen it's equal (the closest being Montbell's ThermaWrap Jackets)." – By Jason
..........................................................
After all my searching I did buy this jacket and I am very satisfied with it. I would recommend it to anyone as a mid layer or outer layer. It looks great for wearing around town, and stuffs down to nothing when you have to throw it in a pack.
The only remaining thing I have left to say is; The non-hooded version is a bit closer fitting than the hooded version. The chest is about the same but the jacket tapers a bit down towards the bottom, unlike the Hoody which is a more casual cut towards the bottom.
Fabric: •Polartec® Power Stretch® with Hardface® Technology •Luminara™—Nylon weave fabric with wind and water repellant coating
Fill: •60 gm/m² Coreloft™ insulation
Price Paid: $160

Version reviewed: Atom LT Hoody
If you're looking for a synthetic jacket, this one is it. An almost perfect, mid layer for very cold temps, or a good outer jacket during spring/fall.
Pros
Great fit
Useful in wide variety of conditions
Windproof but with ventilating sides
Overall:
This is a great, almost perfect, mid layer for very cold temps, or a good outer jacket during spring/fall. I come from using a minimal down shirt almost daily except during the height of summer. In spring or fall this jacket works great as an outer jacket.
The breathing side panels do make a difference compared to the down shirt I was wearing, the Atom being less clammy feeling. Together with the less 'sticky' outer fabric this just makes me that little bit more comfortable.

Warmth:
I do disagree with people writing how incredibly warm this thing is. I would say it is as warm, or a bit less than the thinnest ultra light 900FP down shirts you can buy. It is as warm or slightly warmer than a lot of Power Stretch Fleeces. The Atom LT will be warmer than the fleece alone, because it is more windproof.
It is a great security item that you can throw on in warmer months. The main reason for synthetic for me is it will be easier to wear under a shell and not worry about it getting compressed or wet as much as with an ultra light high fill power down shirt.
Fit:
I'm 184cm and 72Kg (6.1/160) and I'm often in between a Medium and Large due to broad shoulders. Got a Medium and it fits great. If you want to layer a lot under it, or you like a looser fit, you would probably like a Large.
I have an Atom SV (also Medium) and the two are sized to be worn together (the LT with the tighter fit, the SV looser) so no need to adjust sizing if you are thinking about that route.
There is also a slight stretch to the fabric that makes this jacket easier when moving around. The cut on this jacket is impeccable.
Hood:
The hood is not as bad for me as for some other people that say the hood won't stay on. I've been in stormy winds twice and although the hood wasn't shut tight and let in air, it did stay securely on my head. I feel a cinch cord in a newer model would be well worth the weight though and really make the Atom LT 100% perfect for me.
The remarks about the cuffs are not exaggerated. It's a sign of good design when you get something you never knew you needed. Arc'teryx is expensive but their attention to detail, their fabrics, and their cut (the fit) is the best there is. 
The breathing panels, the fabric, the looks, the cut/fit of the jacket are all incredible. All together I can't help but feel how flexible this jacket is — the features makes this jacket very usable in a wide variety of conditions. If you are looking for a mid layer/thin outer jacket, I think this is one of the best ones. 
Source: bought it new

Version reviewed: Atom LT Hoody
Not the warmest jacket, but breathable, weather resistant, light, and comfortable.
Pros
Light
Weather resistant
Reasonably warm
Great as a mid layer
Great for more active uses in colder temps
Side fleece panels add breathability
Adjustable hood
Cons
Not the warmest (the Atom AR is the warm one), Side fleece panels do allow some wind through
Fit is a little on the small side (I had to size up)
Occasionally snaggy pocket zips
The fit is a little on the small side, but this would suit a climber who wants as little baggy material around a harness as possible. Otherwise you might want to size up. I went for a large and it's spot on for me (5'11", 38" chest). Unlike some belay style jackets the hood is adjustable with a cinch cord at the back. However, this is not a belay jacket...read on.
Weather resistance is very good for a non-waterproof garment, with water beading up nicely on the DWR until it gets really wet (which is what you'd expect). Doesn't wet out quickly and water does not seem to get right through at all in normal rain levels. If it's raining you should have your shell anyway. It's very breathable and comfortable to wear in low-octane activities with a fleece underneath, or just a baselayer for more active pursuits.
With just a baselayer (Rab Aeon LS) under I used it recently on a hike to just over 3000ft in the sun (around 4 or 5 celsius) and found that unzipping was enough for a little extra ventilation, I never felt the need to remove it. I did throw a fleece over it when I stopped, but once moving again I was very comfortable without anything more.
Due to this however it is not the warmest jacket, and certainly nothing like a down jacket (and it's not supposed to be!). It does exactly what it's designed to do extremely well. If you're looking for warmer, try the AR version.
Feature-wise it's a simple zip-up hoody with two chest pockets, which are nicely positioned above harness/pack waist strap height.
I can't say I've really tested the durability, but it's Arc'teryx so that should really say it all. I got it as a price match at a bargain price, not sure I would be willing to pay full retail (but I would say that of almost anything from Arc'teryx).
Source: bought it new
Price Paid: £90 ($130)

Version reviewed: Atom LT Hoody
Very warm for weight. If you can get it cheap, go for it.
Pros
Comfortable
Light
Warm
Compact
Cons
Expensive
Fit is difficult for taller guys
Overall, the Atom fits really well and is so comfortable, you'll forget you're wearing it. As a midlayer, it leaves room while remaining an athletic fit. Although the cuffs and waist don't adjust, they haven't bothered me at all.
The hood of this jacket doesn't tighten, and looking to the left and right with the hood up is annoying because the hood doesn't move with you. Other people have said the zippers come undone easily, but even pulling on the chest fabric doesn't move mine. For light rain, it's very resistant and in general this is a great jacket. 
I'm only focusing on the negatives here because the reviews from this site I've read have been very positive, and they're all spot-on. This is a really great jacket for belaying and hiking as a midlayer, or standing alone over a sweater around town.
It's usually pricey, so it can be a difficult sell. I found it for $155 and I'm very pleased with the purchase.
Source: bought it new
Price Paid: $155

Version reviewed: Atom LT Hoody
This has replaced my fleece jacket. Before, my standard ski gear/cold weather hiking would consist of a wool base layer, a fleece jacket and a shell layer. But I would often overheat, get sweaty, feel clammy and later during the day freeze up. Here I'm talking about in bound skiing where you don't ofter change layers, for hiking and mountaineering you have more time to adapt to different exertion levels.
Have done a lot experimenting with layers, soft shell, down or extra base layer, but nothing parallels the Atom so far. It works great under a hard or soft shell in cold conditions. It provides this airy, soft and non constrictive feeling without being too warm, and still stays warm if damp as compared to down. The hood is great and works well over a helmet.
It is not very wind proof, but still works well as stand alone in cold conditions with light wind. This is mainly due to the ventilation panels under the arms. It also has nice material around the cuffs which is really nice at sealing up glitches between jacket and gloves.
Also it is a very nice jacket to wear in the city. The hood is nice when the wind picks up or there is a light drizzle. The best midlayer/outer layer jacket I have tried so far.
Price Paid: $150

Version reviewed: Atom LT Hoody
Outperforming down.
Pros
Weight
Quality
Packability
Performance
Fit
Material
Cons
Fits small
Price
Fabric is delicate
The Atom LT Hoody has proven very versatile. It is very wind resistant and very light, though rather warm. Have used it as a jacket with the Atom LT Vest under and a thermal top in -20° temps. Surprising for a light more summer-like jacket.
In summer it is the ideal jacket as well. It breathes phenomenally well and isn't burdensome when packed. I have a few colours of this jacket and always found a deal around. Normal pricing seems a bit off to me considering competition. However, the jacket, put many to shame.
Fabric may be torn with rough surfaces, it needs some care. It has become my favorite late fall jacket. 
Experience
Many years using Arc'teryx products
Source: bought it new

Version reviewed: Atom LT Hoody
Good jacket. Arc'teryx fit is among the best (except for their fashionably short, waist-length fleeces).
Hood is nice, fabric is one of the new, stretchy ones used in windproof clothing that I have found to be durable but not any more water resistant. Simple, effective design just like Patagonia used to make before they discovered the ecofashion dollar.
You pay a lot for the name, but it might be worth it if you find that it fits well and you need the weight saving.
Price Paid: GBP 160

Version reviewed: Atom LT Hoody
Amazing.
This jacket is lightweight, windproof excellent midlayer, only 350 grams. Great.
Price Paid: $200

Your Review
Where to Buy
Help support this site by making your next gear purchase through one of the links above. Click a link, buy what you need, and the seller will contribute a portion of the purchase price to support Trailspace's independent gear reviews.
You May Like
The Atom Hoody was previously the Atom LT Hoody.
Specs
Men's
Price
MSRP: $300.00
Current Retail: $181.83-$300.00
Historic Range: $90.61-$300.00
Reviewers Paid: $140.00-$200.00

Previous Name
Atom LT Hoody

Size
XS, S, M, L, XL, XXL, XXXL

Weight
370g / 13.1 oz

Fit
Fitted

Activity
Hiking / Trekking / Ice Climbing / Alpine Climbing / Around Town / Mixed Climbing

Women's
Price
MSRP: $300.00
Current Retail: $259.00-$300.00
Historic Range: $87.58-$300.00

Previous Name
Atom LT Hoody

Size
XXS, XS, S, M, L, XL, XXL

Weight
310g / 10.9 oz

Fit
Fitted

Activity
Hiking / Trekking / Rock Climbing / Alpine Climbing / Around Town

Recently on Trailspace