Arc'teryx Bora 40

Top 50 in men's Overnight Packs
The Bora 40 has been discontinued. It was replaced by the Arc'teryx Bora AR 50.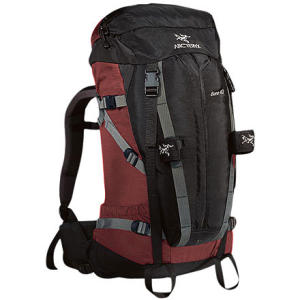 The original Arc'teryx Bora pack series was discontinued in 2014. The newly redesigned Bora AR pack series currently only goes down to a 50-liter size.
Specs
Price
Historic Range: $52.00-$199.00
Reviewers Paid: $40.00-$300.00

Reviews
8

reviews

5-star:

5

4-star:

2

3-star:

0

2-star:

1

1-star:

0
I've had this backpack for as long as I can remember, and it's been my most useful item. It's been to Thailand for month long excursions twice, and to about every backpacking weekend trip in Washington state. This pack is bulletproof. For my Thailand trips, it wasn't quite the capacity I needed, but, I was willing to sacrifice storage capacity for weight and space, and it really made my journey a pleasant experience.
If you are going to be hiking in backcountry with lots of gear, I'd suggest a bigger pack. But, for a weekend mountaineering excursion, this pack is perfect. I typically load it with the following:
Change of clothes
food
first aid kit
2 liters of water (in nalgene bottles)
nesting cook pots/pans
ultralight campstove with fuel (nests inside pots)
miscellaneous camp gear, flashlights, matches, etc
On the outside, I strap down:
lightweight tent
sleeping bag
Therm-a-rest
I feel this configuration is 'slightly' overloaded for this pack, but it works out.
I am 6'2" tall, and really appreciate how well the pack forms to my body and holds the weight near my hips. Very stable. What impresses me most, is the bombproof construction of this unit... it amazes me the weather and force this bag has withstood, barely showing any wear at all.
Design: top loading internal
Size: 40L
Number of Pockets: 2
Max. Load Carried: 35lb
Height of Owner: 6'2
Price Paid: $300

This bag is great for a hike-in, hike-out overnighter, but this thing gets bad after that.
I've traveled all over the place with this bag: 20-mile hikes in the woods, in and out of airports, and I use it as a book bag for school. Although the bag is diverse, it lacks in a few areas of what I like to call "technical performance."
First of all, I've hiked several trails through the West Virginia wilderness, and I'm unpleased with the shape and contour of the internal frame of the pack.
Second, I lug this bag on the jetliners as my cary-on. Well, the straps are in a constant up-right position, that makes the pack hard to stuff into negotiable places.
And finally the bag has lots of room, but the dimensions of the bag make parts of the bag hard to reach, and impractical.
Design: top-loading
Height of Owner: 6'3"

Used this pack for the southern 1,000 miles of the Appalachian Trail (2005). Aside from occasional overnights it sat in my closet for a few years before that. Held up well, except for a blow-out along the seam on the shoulder strap where I pick the pack up from (and holy crap does it smell!). In the hot southern summer, it was fine for carrying what little gear I needed. Only strapped gear on the outside when I had five days of food inside. Lasted longer than most small packs I saw, but definately weighed more. Now that it's been trashed, I am considering a Bora 50.
Design: top-loading internal
Number of Pockets: 3
Max. Load Carried: 35 -> 40 lbs.
Height of Owner: 6' 2"

This is my go to pack for just about every day hike I do. I manage to stuff it with the "ten essentials" of hiking and then some. So far it has stood up well having been to the summits of many mountans in the Cabinet Mountain Wilderness area of northern Montana. The only drawback as far as I am concerned are the worthless sidepockets. I lost a few Nalgene bottles before I got wise and stopped carrying them in that location.
Size: 40 liters
Number of Pockets: 3
Max. Load Carried: 25 pounds
Height of Owner: 5' 11"
Price Paid: $40 (Ebay)

Great pack for the first eight times I used it, then the hip belt pulled out of the squash pods, didn't have it for two months. MEC wouldn't warranty it, didn't have replacement belts. Talking to two reps from MEC, two different stories on warranty. Don't buy this pack until they reinforce the squash pod to the nylon belt. The pack won't even hold a down jacket, nylon shell, headlamp and binoculars without breaking down. I was worried about the attachment point when I bought it MEC said they've never had that problem, yeah I'm the sucker.
Design: top loading
Size: 40 litre
Max. Load Carried: 15 lbs
Height of Owner: 5'11''
Price Paid: $200 cdn

This bag is my dream goddess. I've carried it everywhere, for school and mountaineering in Washington state. It was well worth getting the long version for a tall person, and two side clutter-sacks to attach to side straps usually get it as full as i need it. You know the saying about filling up every little bit of space you have...this is just the right size for anything, really, and nice daisy chains on the outside allow you to pretty much strap on anything you can think of. I love this backpack. if I had the next size bigger i would just carry more useless stuff.
Only complaints are that the under-top and top pocket cinch straps are a little bit too wussy. It would have worked better as a floating lid pack, but we can't have everything in life, can we?
The point of life.....is to be totally aware of it
-y-
Design: internal alpine
Size: 40 litres, i think
Number of Pockets: 1 big 1 med 2 top
Max. Load Carried: lots and lots
Height of Owner: 6'1
Price Paid: $210 CND

I've had this pack for about eight months and have used it several times. It's made out of 1000den cordura nylon packcloth and has a suspension system that's fit for kings. The hipbelt is nicely padded and makes sure that the weight is not only concentrated on your hips, but your lumbar area as well. I bought a long, when I should have bought a medium but my back is still well supported when the load is big. Arc'Teryx packs are Super Strong and are worth every single penny, eventhough they're a tiny bit expensive. Primo packs for real bush wackers and I've been told many times that they are prefered to The North Face packs any day.
Design: Internal
Size: 40 litres (around 2900)
Number of Pockets: 2 large, 2 with minimal capacity
Max. Load Carried: 30lbs tops
Height of Owner: 5,8
Price Paid: $189 (cdn)

Arc'Teryx have really got it sorted out with this pack. It's got an internal closed cell frame backed with a PVC sheetplus single aluminium stay. Really contoured molded hipbelt (they are good for this ) and the back stays away for ventilation too. A great fit and enuff straps for technical alpine assault sack (OK, mebbe a bit small ). After reading a good review on its 60 litre brother in Rock and Ice, this little pack does the job well. May get the 60-litre version when I retire my existing alpine sack.
Design: internal
Size: 40 litres/2500cu?
Number of Pockets: top lid
Max. Load Carried: 15kg/35lbs
Height of Owner: 5'8"
Price Paid: $80 on a sale

You May Like
Recently on Trailspace