Arc'teryx Bora 65

The Bora 65 has been discontinued. It was replaced by the Arc'teryx Bora AR 63.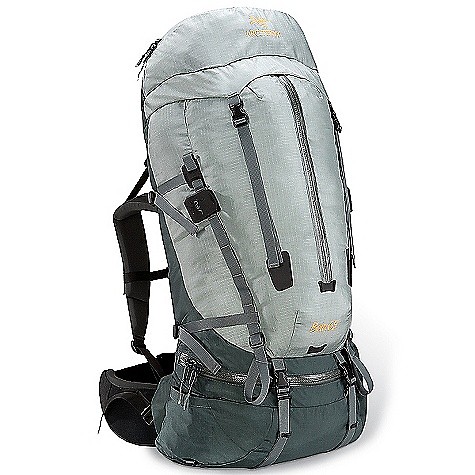 Specs
Price
Historic Range: $141.89-$350.00
Reviewers Paid: $225.00-$365.00

Reviews
9

reviews

5-star:

5

4-star:

2

3-star:

1

2-star:

1

1-star:

0
Long range comfort and durability with one issue.
Pros
Excellent design and capacity of all storage compartments
Tough pack materials and high quality manufacturing
Comfort when loaded and adjusted properly
Cons
Degradation and sloughing of inner coating
Read that this pack is the shizzzz, but with one big issue.
The pack's main body is made of two different nylon fabrics. There's rip-stop of the main color and plain weave nylon panels of the sides, back and bottom. Both were urethane coated for waterproofing, but only the rip-stop coating remains intact and looks clear and shiny as when new. The coating on the plain weave nylon that consists of half or more of the pack has yellowed and is sloughing off; completely degraded, so it's no longer a waterproof pack.
I'm quite disappointed in this, so am in communication with Arc'Teryx about the issue to find a remedy. I will update, if and when there is one.
Source: gifted

The Bomb — indestructible, comfortable, and capable.
Pros
Suspension system
Durability
Adjustability
Pretty much waterproof
Looks great
Awesome multiday backpack can carry it all anywhere almost effortlessly due to the suspension system which transfers the load to where it should be.
Originally bought a lower quality pack, but it was so uncomfortable because it was not really designed to carry loads. I'm glad I had that bad experience because it made me spend a little more so I wouldn't have to suffer again.
Great accessibility through side zip and zippered pouch, has all the attachment points you can need. Detachable top cover with zippered compartments which converts to day pack is a nice feature. I actually remove this in order to knock off about some weight (about 16 ounces I'm guessing). Some consider it a little heavy but you cant get durability and a great suspension system for free... plus you can mod it a bit to remove some weight if you are particular.
The high initial cost is worth it because its the best and you simply wont need to replace it... unless you want a different colour!
Source: bought it new
Price Paid: $350

This pack is great for an overnight or two. I have used it on an overnight and was impressed. Had a heavy load and held the weight in perfect place. Plenty of the straps to tighten and loosen the load.
A little heavy @ 6 lbs but very well made. I loved the sleeping bag compartment and the top comes off and dubs for a very nice fanny pack for climbing and hiking. Overall a great product and would recommend for the serious hiker.
Design: internal
Size: regular
Number of Pockets: 2
Max. Load Carried: 45+ lbs
Height of Owner: 6'2"
Price Paid: $230

This is my first backpack...and the only one I will ever need. No discomfort whatsoever and did not feel like the bag lead me around. I'm 5'4" and had no problems with the weight of this bag. Lots of head room( no problems looking up).
Design: Bora
Size: 65
Number of Pockets: 4
Max. Load Carried: 40lb
Height of Owner: 5.4
Price Paid: $225

I received this pack from my dad as a gift. I have taken it backpacking through Italy, as well as Australia and New Zealand. I have had difficulty with the fit, and am now just discovering that it was designed more for the body of a woman. I am 6'3" and about 190lbs.
It is a sturdy pack and wears well through tough trekking, but I am going to trade it in for a lighter "male" version, that will be easier on the back. Because of the padding, I would imagine it to be a great fit for a woman, providing more cushion for hip bones.
Size: Large
Max. Load Carried: 40 lbs.
Height of Owner: 5' 3"
Price Paid: $300+

Absolutely indestructible construction. Superb adjustable suspension, pivoting amply padded and contoured hipbelt (incredible ride). Floating detachable top pocket coverts to fanny pack for side trips. Vertical zippered main compartment access, zippered Kangaroo vertical front pocket w/drain hole perfect for wet things or hydration bag (ever have a water bag leak inside your bag?). Separate divided sleeping bag compartment w/zip access. Wand pockets on each side for poles, snow anchors, water bottles or whatever. This pack compresses to whatever size you need for rock solid control, and moves w/you like a second skin.
I use it for anything from a 2 day to 6 day trip (avg 3 days). Every single time I use it, I appreciate some design feature of it. It is a joy to wear. The minuses might be it's upper end weight (6lb 2 oz) and price, but it's worth every penny. I average 250 miles a summer in Glacier Park and wouldn't trade it for anything. Four years and 1000 miles later, I've yet to have a problem.
Design: Top loading w/side zip
Size: 4328 cu in (tall)
Number of Pockets: 3 + 2 wand pockets
Max. Load Carried: 56#...38# avg.
Height of Owner: 6'0"
Price Paid: $305

6lbs, 12 oz
I truely loved this pack. Excellent tough contruction, good design, excellent simple suspension. A bit heavy but so well made it should last years of hard use.
Hipbelt attaches by sliding the stays into two nylon webbing slots. As a result the pack easily pivots with you, personally I loved this. Despite the simple suspension the pack could be compressed down to handle a minimum load very well. The kangaroo pocket--the external vertical pocket roomy enough to hold most anything you'd want to throw in there is very handy. Excellent all around pack.
Nit Picks:
Arc'Teryx thinks of the Bora series as a technical pack, as a result some parts of the pack were specialized for this purposes. The side wand pockets are small and can only hold a Nalgene bottle lengthwise, not standing up. The bottom of the pack compression straps are not large enough to accommodate a sleeping pad (the daisy chain allows you to add straps to attach a pad). The sleeping compartment zipper is a straight cut around the pack making it hard to use when the pack is loaded, the side zipper is usually fine for getting to most of the interior of the pack. The pack is a bit on the heavy side but I trusted it completely and the excellent suspension meant I could really carry alot of in it when the need arised.
I stripped the pack of the sleeping bag compartment divider and top lid to fanny pack belt.
Design: Top loader w/ side zip
Size: 4330/4940cu in
Number of Pockets: 3
Max. Load Carried: 50lbs (aprox)
Height of Owner: 5' 10"
Price Paid: paid around $350

A very comfortable capable pack. Construction quality and materials are top notch (made in Canada). Adjustable suspension is excellent, and has the most balanced feel between hip load and shoulders. Shoulders are some of the softest I've come across. Hip belt is the same. Hybrid top/side loading is becoming the norm. Classic design with innovations such as the kangaroo pocket, additional side composite stays, and pivoting hip belt. Compact shorter design.
Design: Hybrid top/panel loader
Size: 4500
Number of Pockets: 5
Max. Load Carried: 40 lbs
Height of Owner: 5' 9"
Price Paid: 325 CDN

I chose this bag over the REI brand pack that was of similar capacity, because I felt like it had much better weight balance. I use the pack for my frequent moves, and I always have it packed to capacity. It holds the weight well despite average of 30 kg loads, and has had no signs of wear over the past 4 years. Still, I hate this pack, and I would hesitate before recommending it.
I particularly dislike the straps, which are extremely padded, and nearly cylindrical due to their "girl sized" narrowness. The result is that the strap twists and the also-unnecessary chest strap flips over, gouging holes in my armpit (even through a jacket!)
My other problem is that with a full capacity load it is totally impossible to walk upright, because the top pouch hangs over the head and I end up walking with my entire back bent over.
I do have to say that this pack supported the weight well, and that it traveled well. Most people obviously don't use backpacks to transport all their belongings, and when full to half capacity I presume these defects would be irrelevant. Nonetheless, for this price I expected nirvana.
Design: top loading, with zipper access
Size: 69 L
Number of Pockets: 4, plus 2 side pockets with elastic
Max. Load Carried: 32 kg
Height of Owner: 165 cm
Price Paid: $365

You May Like
Recently on Trailspace