Arc'teryx Bora 80

The Bora 80 has been discontinued. It was replaced by the Arc'teryx Bora AR 63.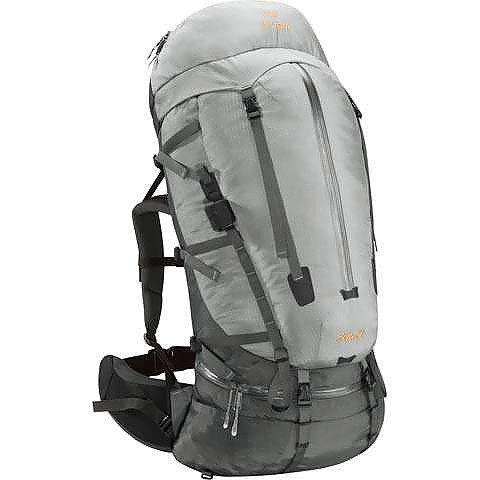 Arc'teryx left no stone unturned.
Pros
Comfortable
Great suspension
Gear loops and straps galore
Nearly waterproof
Will outlive me
Cons
Heavy
Almost too many straps
I picked up a Bora 80 on end of season closeout, and apparently they aren't making them anymore. I feel lucky to get one, but at the same time, it's older technology, hence the phase out to focus on Arc'teryx's newer packs.  
Fit:  I'm about 5'9.5" 165 lbs, normal build with slightly longer than average legs and shorter torso. I went with the short version of the pack, after measuring my torso. I could have gone with either a short or a regular, decided on the short for a few reasons.  
First and most important, the short was on sale, the regular was not. Second, 80 liters is a huge pack. The short is a bit smaller, and I figured I'd be fine with smaller (less weight, less bulk). The fit is good, but not great.  Based on my torso measurement, I should have fit in the short with about an inch to go. I have the thing maxed out, it can't go ANY bigger, and it just barely fits me.  If I were to grow an inch, I would be out of luck.  Good thing I won't.
Comfort:  Both good and bad here. Overall, very good. The hip belt is AMAZING. It's huge, thick, ultra supportive, but not overly mushy. Hands down my favorite feature of this pack, especially since a huge part of the weight is riding here. I've looked at newer hip belts on the Altra and other models, and I think that the weight penalty would be worth it to have this hip belt on any pack I own.  
The shoulder pads are similar, very nice foam, not mush, very supportive, and thick. You get what you pay for here. I recently did a 10 to 15 mile trip over 2 days, with about 60lbs in the pack (rapelling gear, photo equipment, etc), and it felt like much less. However, after miles with the pack, there is a plastic part of the frame that sits just behind the shoulder straps that digs into my shoulder blades. Hopefully it will get softer over time, and eventually I get used to it, but it's a weird little anomaly.  
Overall, amazingly comfortable pack.
Capacity:  It's huge. 80 liters. Pretty much big enough for a week or more.  
Organization: I really like how it's organized. 3 main areas to put stuff. The very bottom pocket, about the right size for a compressed sleeping back and pillow or some clothes or something. Massive main area, and then the top area, which is pretty big as well. Very few side pockets or places to store small things. I like it like it is, I don't like small pockets that much, they aren't an efficient use of space IMO.
Ride: It's great. 60lbs feels much lighter, the hip belt is fantastic. I'm sore for a few days on my hips after using it, but to be expected, I have bony hips.
Compression:  This pack is the king of compression. There are 3 straps on either side for compression. Two across the bottom.  A few across the top.  Shoulder and hip load lifter straps.  Straps errywhere.
Ease of use: Pretty good. Huge pack, very few pockets. Sometimes the straps can be an annoyance, but they are there for a reason, obviously. Bottom zipper compartment can be a pain to get into when there's stuff in the compartment above it.  
Features: Not too much out of the ordinary. Good simple backpack.
Durability: Great, no complaints, will last for a good while.  
Great backpack, super comfortable, does it all. However, it's heavy. But comfortable.
Source: bought it new
Price Paid: $200

This is a very durable backpack that will never let you down. It's surprising how much you can fit into it.
Pros
Extremely durable
Very spacious
Plenty of different adjustments to change the size and shape of it
Detachable top compartment
Ergonomic - Feels way lighter than it is when it's on your back
Cons
It doesn't repel water very well
The main compartment can be difficult to organize
This is a fantastic backpack that I bough 3 years ago. At first I was just using it as a backpacker, staying at hostels. But over the last year and a half I've been doing cartography in Ecuador i.e. trekking weeks on end, mostly in the Amazon jungle. Needless to say, I've put this bag through some tough tests! 
Fit: I'm 1,79/5'10" and this bag fits me perfectly. 
Comfort: Belts and straps are all adjustable, and they are all very comfortable. It often feels like I'm carrying way less than I actually am. I think it vents well, but where I use it, it's always hot and humid, so nothing every stays cool and fresh.
Capacity: I haven't done any exact measurements regarding the capacity of the bag, but I think you can fit way more than the 80 liters advertised, at some loss of comfort though.
Organization and Accessibility: The equipment is always securely stored, but it can be a little bit difficult to access at times. For example to open up the back compartment, you need to unhook at least one strap from the top compartment in order to access the zipper.
Ride: It's a very stable and well-distributed backpack. After filling up the main compartment, I always give it a good shake before tightening the side straps. I think I've managed to jam in about 100-110 liters in the pack. The top compartment got a bit annoying though, so I moved it a bit further back, making the pack a little unstable. At 90 liters and less it handles perfectly though.
Compression: When trekking mountainous parts of the jungle, it's very important to not pack heavy. In these circumstances the side straps are amazing, because it flattens the pack drastically,  making it way more stable and appears a lot lighter than it is.
Ease of Use: Everything works as expected and it has never let me down.
Features: This is the reason why I didn't give the pack 5 stars. It gets wet fairly easy. Where I use it, the rain pours every day, and the top compartment gets wet inside pretty often. A feature with a waterproof cap to pull out to cover at least the top would've been fantastic.
Construction and Durability: Wow! Despite spines scratching me to pieces all the time in the jungle, there's not a single scratch or hole in my pack. It appears to indestructible!
All in all, this is an amazing backpack that makes my job a lot easier.
Source: bought it new
Price Paid: $400 I think

This pack is the best. I bought mine ten years ago and use it a lot and it has never let me down. Its one problem is that it isn't waterproof and doesn't come with a rain cover because it is supposed to be waterproof. In my opinion the pros of this pack outweigh this one issue.
Pros
Comfort
Durability
Versatility
Massive capacity
Cons
It is advertised as waterproof, but it's not
Doesn't come with a rain cover
I've had this bag now for ten years. It's the best! I traveled for work in northern BC and Alberta for a few years using it as my main bag, hiked with it on multi-day jungle treks, day hikes in BC, had it strapped to the top of a car for a three-month road trip from Vancouver to Belize.
The list goes on and on but basically, I use it extensively and it shows no signs of aging. It is incredibly comfortable with excellent weight distribution and the capacity to carry way more than 80 Litres and has lots of straps for added capacity.
I like the configuration of the compartments and their accessibility (not too easy, so I don't need to worry about having a would-be thief stealing from it while I stand there unaware, but not too difficult that I need to undo more than a strap or two to access any of the main compartments)
Also, the lid doubles as a single strap day pack. Very handy. Unfortunately I lost mine :( no big deal though, as I phoned Arc'teryx and they sent me a replacement lid for just $20 CAD (not the same though as by then they no longer made or carried stock of this pack but the correct size and almost the same color and they switched out the clips so it worked on my pack)
It has never let me down except that one time when I found out after driving with it on my roof rack for two days of heavy rain in the Yucatan (so it was also hot) that it isn't waterproof. It is advertised as waterproof so it didn't come with a rain cover and of course it isn't waterproof. All my clothes needed several washes to vanquish the musty smell.
Source: bought it new
Price Paid: About $500 CAD

'07 Bora 80. Let me start by saying that after thoroughly reviewing several packs Arc'teryx has some of the finest equipment out there. Expensive, but well worth the investment if you backpack a lot.
The pack is very comfortable, and it is obvious that some careful research went into the design of this pack. I tested this pack in a near worst-case scenario setup:
1) 4-season tent
2) 3 liters water
3) 400 cu. inch bear canister
4) Larger, and heavier duty cooking stove and mess kit
5) Plenty of cold weather clothes
The proportions and dimensions of the main, sleeping bag, and top lid compartment are perfect for trips involving a lot of gear. The dual daisy chains are well placed to accommodate ice axes, shovels, or trekking poles. The kangaroo pouch is the perfect size and place to store a fleece top and pants, and the center zip offers quick access when the temps suddenly drop. The drain hole at the bottom also makes it a safe place to store things that might leak (white gas, insect repellent, etc). The interior is a light color (good in the dark), double-walled (low friction), and water resistant. A zipper has been installed for access between the layers separating the main and kangaroo compartments, which is a large enough to drop in a thin magazine or other reading material for camp.
The top pouch, which can be removed and used for day trips, can carry all of your rain gear, first aid kit, and other essentials for day hikes. The new model also houses a large water bladder. Detach the top lid, slide a T-shirt over it, and now it becomes your water pillow for the night, with a convenient source of drinking water. The side zip is also an awesome thing to have for getting to things after you've packed the whole bag.
Cool features of the new pack:
1) Large hydration pocket in top lid
2) Flip out water bottle holders
3) Compression straps that all unclip
4) Good placement of tougher fabrics around bottom
5) Compression straps are very strongly anchored into pack body, especially for the very important center strap, attached to the top of the kangaroo pouch. This one bears a high load when hauling rope, pickets, etc.
Existing coolnesses are:
1) Overall quality of materials and workmanship
2) Excellent suspension
3) Well-placed zippers, compartments, etc.
Wish list for next model:
1) Make the pack as waterproof as possible, while keeping the user friendly features it has now.
a) Use a material similar to either the '06 Bora, or better yet, what is on the '06 Needle.
b) Add covered storage bays for zipper pulls, like on the Needle, for keeping out water.
2) Make the top lid wearable like a backpack somehow. Or, better yet, offer a separately purchased compression stuffsack (for sleeping bag) that can be converted into a day pack, and will also allow the top lid to of a Bora to clip to it. This would save overall weight, save prep time, and remain comfortable.
3) Add attachment points to shoulder straps. Just one simple D-ring on each strap would be nice.
I think anyone who wants a comfortable and very tough pack that will last for years, and can carry larger loads when needed, will be very happy with the Bora 80.
Design: front-loading internal
Size: 80 liters
Number of Pockets: 4 + 2
Max. Load Carried: 55 lbs
Height of Owner: 6'2"
Price Paid: $375

I travelled with this on my back for just under three years, lived out of it every day.
I spent 6 weeks in Nepal at altitude with 16kg and was comfortable, many weeks in Borneo in the jungle in torrential rain and nothing got wet.
The removable top pocket was convenient to store valuables and remove while travelling on buses in developing countries with the main pack on the roof.
The side pockets are convenient to have water bottles and trekking necessaries readily available.
The distribution of weight in your waist is perfect, I can't fault it.
I have had multiple other packs through my life all had minor issues to deal with or they finally broke, not a stitch is out of place on mine now but if it ever does break I will buy another.
It is now 8 years old, I can't think of how to put it through more punishment. Australian outback, Borneo jungle, Himalayas, Mongolian steppe and many more destinations it has coped without issue.
I love this pack, I can't say enough good things about it.
Design: internal frame backpack
Size: 80 litres
Number of Pockets: 5
Max. Load Carried: 19kg
Height of Owner: 187cm
Price Paid: $395

Heavy hauler — can take everything you throw at it. Excellent design=feels like less weight with more support.
Pros
Great design for stability, comfort, and load-handling.
Cons
No dedicated hydration-pack sleeve (but not a big deal-improvise w/top or back pocket)
Pretty heavy by itself. However, feels lighter than comparable "lighter" packs with inferior design.
First time I saw this pack, some guy was doing mountain-goat style on Aasgard Pass with it (if you're familiar with the route to the Enchantments of WA State you know what I mean — lots of elevation gain in short, rough mileage). Heavy load-handling but must be stable enough for scrambling, etc.  Once I saw it in action I knew it was the pack for me.
I carry a heavy load — 50-70 pounds of gear, yet I like to scramble and get myself into trouble. This pack handles the weight and balances the load, too. It's old-skool (but not as old skool as an external frame) and it does its job.  I was able to strap my tripod on with the ample "daisy chain" loops provided, no problem.  If you're carrying less, it cinches down nicely.
In summation, this pack handles 50-70 lb loads and balances the load to provide stability (never throws you out of balance) when scrambling and doing moderate rock-climbing and is impressively water-resistant, due in part to serious waterproof zippers, fabric and construction (though I always line the inside with a garbage bag, as I do with all packs).
There is a weight penalty and those of you who like mega-compartments for everything and a sleeve for a hydration pack will probably be disappointed.  For those of us who like a serious, bombproof pack that works this is it. Too bad they don't make them anymore.
Source: bought it new
Price Paid: Don't remember - $300?

Had the original canvas Bora 80 and took it to Europe and the Middle-east for a year among many hikes back home. Loved it! Comfortable and solid. Owned it for seven years or so. Took it back to Mountain Equipment Co-op (MEC) for some repairs after my zipper was slightly worn and some stitching had undone on the shoulder strap padding. They told me instead of repairing it, they would just refund my money 100%! I was excited at this and exchanged it for a credit which I put towards the newest model with watertight zippers.
I've owned this new model for two years now and have taken it around the world on another trip for 15 months. Same comfortable bag but now the material is not as durable as the old canvas and has worn and torn a few small holes. Stitching coming undone from shoulder strap load buckles but what does one expect after such extensive travelling? The new secret pocket in the drainage pocket has come un-glued also.
I am not unhappy with the bag though I do wish I had my old canvas one. Having a durable bag is more important to me than a waterproof one that is susceptible to friction, flame and general wear. I can put waterproof drybags inside the canvas bag to keep things dry, though the bag will get heavier with rain. It is a difficult trade-off! I know I can take it back to MEC and they will refund my money no questions asked, but I haven't had time. I haven't had much experience with other multi-day backpacks but I am pretty sure for comfort and warranty, this one takes the cake!
(Arc'teryx, please bring back your faithful old canvas bags!)
Design: front-loading internal
Size: Long
Number of Pockets: 5 plus main storage area that can be split in two
Max. Load Carried: approx. 40 kg
Height of Owner: 5' 11''
Price Paid: $450 Cdn. approx

Even in the shop this bag was the winner. I've tried them all but this was the one. The shoulder and hipbelt are FENOMINAL. Adjustment is very good and easy. Materials are tops. The bag is big enough to stuf in a big sleeping bag and I liked the kangaroo pocket. Very easy for a camelbag.
I walked with the bag for three days and I didn't even feel my shoulders and my back.
Easy is the removable hipbelt for traveling by car or plane.
Okay...it's a lot of money but hey...this bag is worth every penny.
Design: internal
Size: 80L
Number of Pockets: 1
Max. Load Carried: 16 kg
Height of Owner: 1.83 meter
Price Paid: fl 720,-

Version reviewed: revised
Just bought revised Bora 80. Haven;t even took it out and I think it's going to be best pack I have used. I wanted to buy one a few years back but wasn't sure about the pricey investment so I wore my other pack till it almost screamed for mercy.
So I went to Black Dome in Asheville, N.C., and bought a closeout on a Lowe Alpine special expedition 70+15. Got it home and opened it up, the most horrific odor like a skunk it just filled the house within minutes. This thing stunk so bad my wife made me take it outside.
So I took it back and was going to exchange it for the same one because I did like the model, and guess what, same smell. So I broke down and bought the Bora, and when I got this thing home loaded it with my normal gear I found all this space for the extras I usually couldn't fit.
I got it fitted the way I wanted it and it's more comfortable than I ever would have thought, shoulder straps aren't a hassle and are comfortable as well. My opinion is if you want comfortable, durable, and efficient with lots of space sometimes it's better to spend the extra money for the qualities that you deserve on every trip.
Height of Owner: 6.2''
Price Paid: $375

Great extended trip backpack, when you're the replacement for the pack animal. This pack distributes weight very well, no sore spots, and keeps things dry.
Pros
Protects gear from the elements
Weight distribution
Durability
I bought this pack to last forever, and I think it will.  It's about six years old, and going very strong.  It keeps all of my climbing gear, and I take most of that out for 50-milers and such.
I live and play in the PNW, so moisture control is an omnipresent issue. This pack has never let my gear get wet, even on multiple trips in the Hoh rain forest (200 inches a year). The pack is strong, reliable and has great accessibility with the side zips. I use the top, removable "fanny" as my fast and light pack.  
I have let people borrow this, I have strapped and thrown and pushed it but I have not found its limit.  Thank you, Arc'teryx.  
Note: I like Arc'teryx a lot. I have most everything they have ever made.
Source: bought it used
Price Paid: $140

I got back into backpacking a couple years ago after a long hiatus. This was the first pack I purchased to use for overnight hikes and multi-day trips. While I really like this pack it is not the one I pull out as my first choice any longer due mostly to its near seven pounds of weight. I've got two other packs that carry as much that are three to four pounds lighter.
That having been said I still use this pack frequently. Features I really like are the separate sleeping bag compartment. I squash in a sleeping bag and a tent into that compartment and can access it without opening the rest of the pack. It also has a side zipper allowing me access to the entire pack without having to dig down from the top. The kangaroo pouch is great for carrying a hydration bag and my rain gear. The top pouch is detachable and is a nice little waist pack for a short jaunt out of base camp. I find the side pockets a bit on the small side and a tad hard to reach when the pack is on my back.
All in all this is a very comfortable pack under full load with lots of adjustments to get the balance just right.
Design: internal frame
Size: 80 liters
Number of Pockets: five
Max. Load Carried: 50 lbs
Height of Owner: 5' 11"
Price Paid: $349 (REI)

I purchased this pack after falling in love with my Arc'Teryx Arro day pack--the quality, design, materials and features are excellent. I checked some reviews on the internet and by far the Bora 80 was the pack of choice in the range i wanted...better reviews than many gregory, dana and the north face, and a better price.
The suspension is very comfortable, but the hip belt is the real bonus--so sweet. its molded cupped foam takes the pressure off the illiac crest and totally distributes it. until now i had thought that bruised hips were a fact of life for chronic overpackers like myself.
The pocket on the front is huge, with a top opening and a front zip. also a drainage hole--great for wet fly or jacket. top pocket comes off easily and is a substantial padded fanny pack. side access zipper to main compartment means you don't have to think too much about how you pack--you can always get at everything. there's a molded head cavity so you can lean your head back and look up... great in the mountains! i could go on...
all this with bomb-proof canadian construction and good looks. if you're in the market for a new pack, this is definately one worth checking out.
Design: internal frame
Size: 4800
Number of Pockets: 2
Max. Load Carried: 55 lb
Height of Owner: 5'10"
Price Paid: $320 canadian

Okay, what are you buying a pack for--durability, dependability, and purpose. These fit it all except for the weight, but you can't have it all, but when you gotta carry everything but the kitchen sink, buy this one you can thank me later.
Price Paid: $320

Long time ago my Rainier guides had advised me on advantage of a bigger pack (it's much easier to find things in a bigger pack without taking out things in bad weather). After that I bought older model of Bora 80 in 1998.
Now I use it for ALL my hikes (longest 3 days 40lb, shortest day hike 15-20lb). This has been most comfortable packs. I have been tempted several times to try other lighter packs (I also own Deuter 45 which is 3lb lighter but less comfortable)and have gone back to this pack..even as a day pack. You just don't feel the extra weight, its so comfortable.
I have also taken this pack on month long India trip couple of times where it goes on bus top and trains with all my luggage and doesn't have single scratch. It's so tough. And I have used its top lid (fanny pack) for everything from summit attempts, jogging to grocery getting. Its so versatile. Best 400+ $ paid 10 years ago.
Mine is not water proof (it's older model) but I use garbage bag for all my clothing/sleeping bag inside the pack anyway therefore its not an issue for me (have survived 24 hr downpour on Shasta).

I've been supper happy with this pack. I bought the pack two months ago, and I've used it on 3 trips. The pack can fit my medium format gear (mamiya 7ii w/3 lens's) not large format gear though, and all my gear for 5 days. It carries the weight better than my a Osprey Crescent 110.
One of my favorite things about is it has plenty of straps on the outside to holds things on like my tripod, snowshoes, gaitors, or whatever. My Osprey 110 only has one set of straps right on the back and it's hard too lash multiple things on the pack. Also the water proof fabric and zippers do a good job of keeping moisture out. My osprey EASILY gets soaked out!
This pack has turned out better that I had expected, it's made in Canada and has better construction than my Osprey, which is made in Vitenam.
Sorry if I sound a little sour on Osprey, But I have not had a good experience with their Crescent 110 pack. And for the money I don't think their packs stack up! So I soon plan to get rid of the Crescent 110 and replace it with the Bora 95!
Price Paid: $225

In this world of ultralight BPing gear is there still a place for this 7-lb beast?

Answer, "Oh hell yeah!"
Pros
Rugged, as in serious expedition rated
Comfortable with heavy loads
Streamlined design
I bought this pack when they were still made in Canada. It is not made of the lighter waterproof materials that I've read about in some reviews. So what? That's why they make dry bags and pack covers.
The benefits of the older Bora 80s is they are virtually indestructible. Let me put it to you like this and I'll let you ponder the implications of having something that weighs a couple of pounds lighter. If you are in Alaska, the Himalaya, the Karakoram, the Tien Shen, the Andes, or any of the out-of the-way places in between and that lightweight stuff (no matter who made it) fails you, what are you going to do? 
Source: bought it new
Price Paid: $300+ 15 years ago

Bought this used on eBay size medium, and it took some tweaking to get it right, but you could tell it's made with serious love.
Pros
Bomb proof
Comfortable harness/hipbelt
Smart features
Cons
A little difficult to size it right.
Used this beast on a 4-day trip in the Red River Gorge, and all the features were very intuitive. The kangaroo pouch came in handy when my rainfly and footprint were soggy. The pack rode well and handled all my gear with room to spare, and I'm no ultralighter.
It's super easy to use, not "overfeatured," just the right amount of pockets. Some of the fabric on the inside of the zipper is fraying, but the stitches are all in place. Still trying to fit just right, but with some tweaking I'm sure it will get there.
Source: bought it used
Price Paid: $200

I took this pack out for the first time on my hike through the Grand Tetons. With the permits for camping areas being taken early every day was dawn till dusk hike and this pack was a cadillac.
In rugged country like the Tetons I would expect scuffs or some fabric ware. But there wasn't, the pack looks like it was brand new. Functionally it is the best pack I have ever owned. Easy access zippers and compression straps make unpacking and repacking a breeze.
Gone are the days of pulling everything out of your pack to find that one item. The side access zipper and compressions straps keeps everything in place while you get into your pack.
I have heard of complaints about the size of the side pockets being to big and not a good fit for nalgene water bottles. I found these complaints unwarranted. You can actually slide the bottle on its side and then tighten the pocket. You will never lose a bottle while boulder hopping or rummaging through underbrush.
Price = Comfort, durability, functionality. Don't think twice. Buy!!!
Design: Top and side loading internal
Size: regular 70L to 80L
Number of Pockets: 4 pockets 2 main compartments
Max. Load Carried: 57lb
Height of Owner: 5'8''
Price Paid: $275

After years of getting by with an external frame Jansport I broke down and, after much research, purchased the Bora 80 for some hiking on the AT. I had some reservations about an internal frame pack but those fell away after the first day on the trail. The Bora 80 suspension was more than up to the task of handling the load (45lbs) that I was carrying and, as I'm sure you will read in other reviews, the molded hip belt and comfortable shoulder straps eliminated a lot of upper body fatigue. The construction is very high quality from seams to zippers. I really liked the front pouch to store quick access items and the detachable top pouch can be used as a fanny pack.
Things I didn't like: Side pockets were to small and shallow to use for Nalgene water bottles.
Note: If you do decide on this pack you need to check with MEC Co-Op before you buy in the states. At the time I bought I saved about $100 US by purcasing from MEC! Allow for about 10-15 days shipping.
Design: Internal
Size: Large
Max. Load Carried: 45 lbs
Height of Owner: 6' 5"
Price Paid: 320 Cdn

I bought this pack for 3 main reasons. 
1. 50 lbs feels like 30 lbs (it really does)
2. The wet gear pouch on the back of the pack that drains out wet tent flys and wet gear while you pack on down the trail. For a one nighter it makes little difference for a extended stay..it means no wet gear in pack.
3. Day pack is part of the backpack. 
I use it with the strap over one shoulder and under the other arm.  It does slip around a bit but with out a waist to keep it up that is my main way of carrying it.  It would be nice to have some suspenders to keep it at my waist...  that is what you get for having a belly and a little behind.
I was so satisfied I bought my 17 year old son one. His is the grey color.
Pack is holding up nicely with over 20 packing trips with it. It's always a joy to put it on. Even when it's really loaded heavy. 
Price Paid: $399.99

06' Model. Like everyone else says, this pack is bomb proof and water tight. It is extremely easy to adjust the suspension, it uses a Velcro system to adjust shoulder strap height. My 3rd adjustment was a charm. After I found the sweet spot, the pack perfectly contoured to my back, best fit I've ever had.
I took this pack on a 4 day trek into the Sierras. I had about 45+ lbs in the pack, but the pack performs so well that the hiking was easy with all that weight. The sleeping bag storage compartment is huge, so is the kangaroo pocket which I used to keep my Capilene top and bottom base layers and my Mountain Hardwear soft shells, quick easy access for when it got cold!
This pack has another awesome feature, the top of the pack un-clips and turns into a fanny pack! I used it the whole trip to put my most used items, and to keep my tackle as I fished with it.
Size: Regular
Max. Load Carried: 45 lbs
Height of Owner: 6'0
Price Paid: $225

I have to say, thank you REI for having your 50 percent off already on sale items...Ordered a small because that's all that was left in stock.
Brought it home and was thrilled with the amount of adjustment available in the suspension. Shoulder straps cold be moved about 3 inches in total for a perfect fit and some minor hip belt adjustments.
Everyone has pretty much said all the great things about it, so I'll comment on 1 thing no one has said, the hydration system. I love it because the holder for your reservior can fold up to about 2 inches wide to get it out of the way like it's not even there or you can unravel it to add a bladder if you want.
Overall even if you can't get this for a steal, well worth every penny of retail price. After you get it you'll know you'll have it for plenty of years.
Size: small, 4390 cu inches
Height of Owner: 5'10"
Price Paid: $129.83

Bought the pack in June 2007. It's a 2006 closeout model from REI. I've taken it on mostly two-day hikes in Arkansas, and I took it up in the Chisos Mountains in Big Bend National Park overnight.
I'm not an ultra-lighter, and if you are, don't even consider this pack. It's heavy, but it's very well made. I always have at least 40 pounds, and feel that I could easily carry more if I had to. It carries well, and everything is accessible.
While you're carrying the pack, it's hard to get a Nalgene out of one of those side pockets. I use the little bungees on the pockets, but I have lost a bottle before. That's the only negative that I can think of.
I don't think that I would have paid full price for it just because it's not my nature.
Design: Internal
Size: 80 Liters
Number of Pockets: 2 side
Max. Load Carried: About 50 lbs.
Height of Owner: 6' 2"
Price Paid: $265

I was 50 years old when I purchased my Bora 80 backpack. I am going on 52 now and have backpacked approximately 110 miles on three separate treks from the Appalachian Mountains to Philmont Scout Ranch in northeastern New Mexico.
I based my decision to purchase the Bora 80 backpack on its solid construction and the superior suspension system. After carrying loads of up to 50 pounds on a 60-mile trek at Philmont Scout Ranch, I was convinced that the Bora 80 was worth the $290 that I paid for it at REI.
The Bora 80 has a hydration sleeve inside. However, I like to use the external kangaroo pouch for my hydration bladder and this makes for extra storage in the main compartment.
The Bora 80 backpack is my backpack of choice and I am looking forward to my next backpacking trip. My Arc'teryx Bora 80 backpack makes backpacking fun!
Price Paid: $290 on sale at REI

This pack is the best that I have carried. The Lowe Alpine packs I tried in the past are nothing compared to this. The Bora 80 transfers the load to your hips and carries very very comfortably. Stability is also very good. I think the best materials are in this pack. The sleeping bag compartment is very convenient to use. I never had problems with putting in and getting my "unpackable" sleeping bag. The top lid converts into a fanny pack but my only complaint about it, is that I found the small lumbar pad a little too thin. The one on the main back panel is perfect. The shoulder straps, too, move out of arms way and is very comfortable. I'm sure this pack will last many years. Arc'Teryx is also a very supportive company.
Design: internal
Size: 4,800
Number of Pockets: 2
Max. Load Carried: 55 lbs.
Height of Owner: 5'8
Price Paid: $325

Great pack! Hands down the best pack of its size i have had!
The 80 liter is a large bag, beware, but i bring a good bit of climbing gear, and comfort items when i head out.. i spend most of my time in the Olympic NP here in the Pacific Northwest. This pack sheds all the water that the rainforest can throw at me.
This bag carries hella loads and takes the abuse of climbing old growth trees all the time.
I find it's a bit big for shorter hikes as i have gotten new gear that's micro size and weight so filling it out truly takes a good bit of comfort gear. I will be purchasing a smaller Arc'teryx around 50 or 60 liters some time soon... cheers!
Price Paid: $120

Simply the best pack on the market. Construction is bombproof. The shoulder straps are really well made and VERY comfortable. No other pack has a better suspension system. The large kangaroo pocket is very usefull; perfect for a shell, wet gear or a water bottle. it's easy to carry skis with the two pockets on the side of the pack. The side zipper for the main compartment and the occipital cavity between tops of stays are other features that make this pack so functional. The only thing i don't like is that the hip belt is hard to fold and takes a lot of space in the car or for air travel.
Design: internal
Size: 80l
Max. Load Carried: 65lbs
Height of Owner: 5'8
Price Paid: $320 canadian

Purchased this pack after researching several months. I did a 4 day trek through the James Peak Wilderness, CO carrying about 47 pounds. The pack held up very well. We were rained on every day, and the pack kept everything dry.
The suspension is very easy to adjust, compared to the Gregory's. One thing I do not like are the two side pockets that are designed to hold your Nalgene water bottles. Kinda hard to get to when your pack is on. The fabric, build, and comfort are very good. My first pack since Boy Scouts though, so I can't compare it against other modern packs.
Max. Load Carried: 47 Pounds
Height of Owner: 5 '9
Price Paid: $325

I have never actually owned this backpack, but the first time I went backpacking, this was the pack I used. I used it on a 40-mile Outward Bound trip through Pisgah National Forest in North Carolina, and it was excellent. It is a really solid pack. Let me say you could beat the crap out of this thing and it will serve you well, it's comfortable and sturdy.
I disliked the small side pockets, although they were big enough for my nalgenes. I also disliked the lack of external pockets. Otherwise this pack is awesome, definitely the best buy for a hardcore backpacker.
Design: top/ side loader
Size: 6000 cu
Number of Pockets: 5 I think?
Max. Load Carried: 70 pounds
Height of Owner: 5'3"
Price Paid: $260

My only complaint is I wish it had more pockets on the outside of the pack for quick access. The top which can be used as a "fanny" day pack is the most comfy detachable fanny pack I've used, and the clips are the same size on the day pack as they are on the main pack so if you break your clips in the field ... no worries. It holds every thing I need and then some, and has plaenty of attachment points to clip on extra gear. This pack made my 50 pounds of gear (I only weigh 140) feel like nothing ...
Design: Bora 80
Max. Load Carried: 50
Height of Owner: 5'8"
Price Paid: $309

Recently took this bag on a five-day hike in Glacier Park. Encountered all kinds of terrain and weather and the pack functioned beautifully.
The inside stayed bone-dry throughout and the outer kangaroo pocket served as the perfect place to store wet jackets and Tevas (after fording a river). Comfortable, sturdy ,and cool looking (I'll admit it), the Bora 80 was clearly the standout pack among the five-person group.
Buy the best, have no regrets later. It's that simple.
Price Paid: $350

Arc'teryx is a contraction of archeopteryx, a prehistoric bird (hence the logo). I just had a feeling, but one day i had them on the phone and asked, she said 'yes! and you're the first person to ask!'
I have a couple jackets and a pack and some other stuff from them; great great gear. as you know.
I actually have the 'old' bora 80, which rocks quite hard as well.
I've worn and worn out many backpacks. Above them all stands the Bora 80. After being on the trail for several days this is one pack I don't mind putting on my back and slogging another dozen miles.
The "V-Stay" suspension system provides a balance to the pack when hiking an area where footing is not sure. All components are tough. I anticipate this pack will stay around for a while.
Design: Internal Frame
Size: 5130 cu. in.
Number of Pockets: 3
Max. Load Carried: ~40 lbs.
Height of Owner: 6'-1"
Price Paid: $320

I went through the Atlas Mountains of North Africa with this pack and almost forgot it was on my back. The cost is great but well worth the extra dime. Great side pockets for water bottles that tuck away if you're not using them. Very sleek design, I never got hung up. I've tried other packs before and now I'm a Bora 80 fan for life!
Size: M
Max. Load Carried: 55 lbs
Height of Owner: 5'9"
Price Paid: $375

This backpack is excellent. In 16 days we trekked for 180 miles. It is very comfortable and can really manage heavy loads. My only complaints are after a while the hip belt clips somehow started to sag and give. I'll have to get a smaller hipbelt but that's a small price to pay. This is probably the last pack I will ever get.
Design: Internal
Size: 4,800
Number of Pockets: 3
Max. Load Carried: 70 lbs
Height of Owner: 5'8"
Price Paid: $325

This is a fantastic backpack. Lots and lots of room, very comfortable fit, it is made to last for many years of use, and I have no doubt that it will.
Some may consider it to be a little heavy. I think the added weight is because it is made with slightly heavier materials for durability reasons.
Price Paid: $375

Bombproof pack. Love the kangaroo pocket--great for rain gear or water bottle. Nice roomy sleeping bag compartment. Only downside are those rather small side pockets. I'm not quite sure what function they serve. Would have liked to have them large enough to accommodate a Nalgene bottle.
Size: 5000
Max. Load Carried: 45 lbs.
Height of Owner: 6'0''
Price Paid: $245 on sale REI

Amazingly comfortable! A week-long trek on the Benton Mackaye in Georgia and my back never ached. The shoulder straps and hip belts are works of art. Definitely a top-quality pack. Quality equal to if not better than Dana Design, and a little more affordable.
Design: BORA 80
Size: 5100
Number of Pockets: 1
Max. Load Carried: 50+ lbs.
Height of Owner: 6' 2"
Price Paid: $325

One of the best backpacking packs ever made. Very handy detachable compression pocket used as fanny pack. Separate sleeping bag compartment (Very water resistant). Outside pocket to put wet gear and/or crampons (tough cordura). An all-around excellent pack. MADE IN CANADA.
Design: BORA 80
Size: 80 litres
Number of Pockets: 3
Max. Load Carried: 50-plus
Height of Owner: 6 foot
Price Paid: $350 cnd.

This is a great pack -- comfortable and well-made, although that comes with a price of being a little heavier than packs of similar size. Would definitely recommend it.
Design: internal
Size: 4800
Number of Pockets: 2
Max. Load Carried: 45
Height of Owner: 6'
Price Paid: ??

Your Review
You May Like
The original Arc'teryx Bora pack series was discontinued in 2014. The newly redesigned Bora AR pack series currently only goes up to a 63-liter size.
Specs
Short
Regular
Tall
Price
MSRP: $399.00
Historic Range: $125.00-$399.00
Reviewers Paid: $120.00-$400.00

Weight
3 kg / 106 oz
3.1 kg / 109 oz
3.2 kg / 113 oz
Capacity
72 L / 4394 cu in, extends to 81 L / 4943 cu in
77 L / 4699 cu in, extends to 86 L / 5248 cu in
82L / 5004 cu in, extends to 92 L / 5614 cu in
Material
210D Invista HT Ripstorm Lining, 420D Invista HT Ripstorm, 630D Invista HT Superpack Nylon Reinforcement, Hypalon Trim, 6061 Aluminum Stays, HDPE Framesheet

Recently on Trailspace