Arc'teryx Gamma SV Jacket

The Gamma SV Jacket has been discontinued. If you're looking for something new, check out the best soft shell jackets for 2023.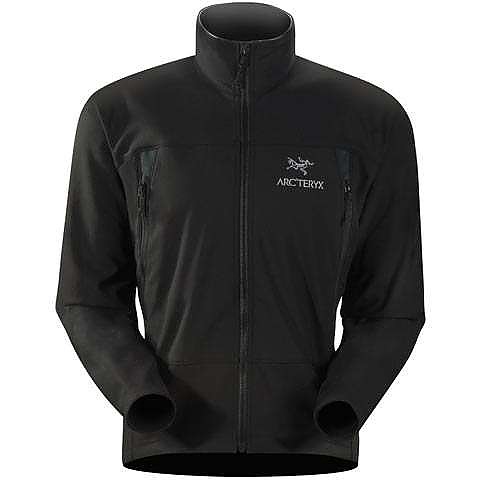 Four things you should know about this jacket:
1 - Try it on before you buy it! The bottom is cut at the hip, making it look a little short on tall people. I usually take a L, but bought XL for this reason once I tried it on.
2 - It isn't very warm. In case you're new to softshells, they are a 'shell'! This jacket does have a thin liner, but does not have the warmth of a fleece! Make sure you can fit a fleece underneath before you buy if you intend to wear this jacket in sub-freezing temperatures.
3 - It is extremely versatile. By far the most versatile piece of equipment I own. I have never worm something that can ensure comfort in the same range of temperatures as the SV does. It is not waterproof, but will keep you fairly dry in a rain storm for the first ten or so minutes. It is clean and simple enough to be a stylish urban piece as well as a hardcore outdoor piece.
4 - The SV is durable. I took this jacket out tree planting with me, and wore it in mud, sun, rain, hail, etc. It was so beat up I was sure it would show scars. Some days I left it just lying on the ground in the sun all day. However, when I washed it, no scars, no fading. It looked like new. The only wound my jacket has suffered since I bought it is a small puncture hole in the back, and it is only exposed when I stretch the fabric around it.
If you can swallow the steep price, it's a remarkable piece.
Price Paid: $160 CDN (sale)

My fourth zipper in this jacket has just failed. The first one failed the first time I wore the jacket. After talking to three different people at Arc'teryx, someone finally agreed, that yes, I could return it for repair consideration.
Once returned, at my expense, options were discussed on how the zipper might be made to work. Yup, me the lowly consumer of their products was consulted as to what to what option I thought might solve the problem. I thought that maybe they would have an R&D team that might figure this kind of stuff out or a quality control team to ensure that it does work before the crap hits the store shelves.
The second one failed on the first day of a week long backcountry ski trip before I even put my skis on! I had noticed that this zipper worked fine up to the half way point and then was real stiff the rest of the way up. I made the mistake of doing it all the way up.
I sent it back for the third zipper. After waiting six weeks I finally called and asked if I might ever see my expensive jacket back again. I did eventually get it, and now that zipper has failed too.
Price Paid: approx 400 CDN

Approximately two years ago I brought my first piece of equipment from Arc'Teryx. It started up as a second choice. I was looking for a windstopper and was fond of a TNF Pamir Jacket. I had recently had my birthday and my parents had given me a gift certificate to an outdoor shop, so the excitement was big. But it turned out that there were no more Pamir Jackets left. The only type left in the shop was a black Arc'Teryx Gamma SV Jacket. It was a whole lot more than I had planned to give. But what the heck. I still think that it was the best buy ever.
It has the quality and design to be used both in the field and at a street café, it works even in the Royal Theater, in the summer and in the winter. It hasn't been off me much since then. I later bought both a Anabatic Jacket and a Theta AR, both nice products of extremely high quality and workmanship, but still my Gamma is my favorite, the jacket for multipurpose use.
Warning: you will become addicted to this piece of equipment, it is then nice that it is so well designed.
Later on I was going to give my girlfriend a Gamma—But the female jacket is unfortunately designed for girls with a lot bigger breasts than my girlfriend, so no Arc for her at this time.
Price Paid: $350

Super comfortable. It's still my go-to fleece for park walks and even to the (relaxed dress) office.
The fabric has begun pilling around the cuffs and collar. The hem and front has slight abrasion marks. If heading into the elements this is still my most reliable piece. Zips and fastenings all immaculate.
Tough? I bought mine for around in 1999 :-)
It's likely my most worn item of clothing.
Source: bought it new
Price Paid: £190

Big bucks? Yet bet. But big performance as well. Actually, the two other close competitors I even considered were Mountain Hardwear's Alchemy and North Face's Vector 2. Both the latter are good in their own right, except I did have some considerations with the Vector being made in Bangladesh. Still, the MH was great for pure functionality and the Vector's big plus was the core venting available (no venting for Gamma nor Alchemy). But in the end, I wanted something smooth and elegant as well as functional...the Gamma SV fit this perfectly. Even the laminated fleece was of noticeably better quality than any other. As a sidenote, I made a trip to MEC as well to check out a good bang for my buch soft shell; not even close. For ppl on the budget (and I do mean BUDGET), MEC is pretty decent. But their soft shells just not in the same league so I didn't mind paying the extra. Gamma SV very comfortable and stretches easily for those times when needed. May not have a collar cinch-cord, but not really needed. By far the sharpest. Great looking on the side of a mountain, nice and elegant downtown or at dinner.
Fabric: Polartec PowerShield
Fill: laminated fleece
Price Paid: $350 CDN

It was a sheer miracle that I found this at the St. Vincent's in Madison, one of the local thrift shops.
It looked like new when I got it, but after 6 months of almost constant wear, it still looks like new. Awesomely warm for how lightweight it is. Very windproof. I often wear this bicycling or motorcycling to class in the morning, and it cuts down almost all the wind. Two big pockets on the front of the jacket can easily hold two bottles of beer each. They are opening is kind of in an awkward spot if you were looking for a place to keep your hand warm. The inside pocket it good of valuables.
Sheds rain well, but is not water proof. Material doesn't seem to wrinkle, so I don't mind shoving it into a pack when traveling. Kind of dense for it to really compress down, tho.
If you can get one for $10 (or 10x that), I would suggest going for it. Most versatile jacket I've ever owned.
Price Paid: $10

This is a wonderfully made, warm, stylish jacket. BUT I sent it back. Let me explain...
For the life of me I could not wear this thing over anything but a T-shirt. The sleeves are so snug, you look like a stuffed sausage if you wear a long-sleeve shirt underneath. The fit looks great--like a motorcycle jacket, but it really limits what you can do with it.
I suppose I could have tried a size larger, but the sleeves were already borderline long. I guess if you want to wear it like a fleece with a very thin shirt underneath, it is great. But as a jacket, I was confused. No way you could get it over a sweatshirt or sweater.
Then again, maybe I just spend too much time in the gym :)
Price Paid: $159

Version reviewed: soft shell
This jacket is one of the new soft shells. It drastically cuts wind penetration while still breathing very well, and repels moisture very well. It cuts the wind much better than the schoeller fabrics, but breathes much better than any of the gore windproof barriers. The fit is outstanding, very close fitting and stretchy, not boxy, so it looks better on the street than any other jacket out there. It is hot for steep climbing, so I don't usually put it on till I hit treeline, but I often wear it all the way back down. I still use a gore-tex shell for the most brutal wind, but having the Gamma SV under the shell is an unbeatable combination.
Fabric: Malden Powersheild
Price Paid: $239

This jacket is probably the most versatile piece of outdoor clothing I own. Its windblocking capabilities easily compare to a Gore windstopper material, but the polartec powershield construction breathes much better. The shell is not quite waterproof but will resist light to moderate rain/snow with no leaking. It stretches to allow an un-paralleled freedom of movement and I have found it to be an ideal outerlayer for alpine climbing. The fit is cut a bit short at the waist and works well while wearing a harness. An excellent layer! Rock and roll, Zeppelin rules, distortion
Fabric: Polartec Powershield
Fill: 100 wt Polartec Fleece Lining
Price Paid: $195 US

A modern classic -- a true performer.
The Gamma SV does it all. It repels rain and sleet and snow
(not waterproof), cuts the wind and fits like a glove. It is much more useful than a regular fleece, or even windbloc/windstopper fleece garments. It breathes somewhat, and the outer powershield fabric is very durable.
Without question, this is a must have piece.
Fabric: Malden Mills POWERSHIELD
Price Paid: $160 US

Simply the most versatile piece you will ever own. can wear it from 30 to 60 degrees comfortably, depending on what base layer you use.
I never imagined spending that much moola on a light jacket, but it was worth every penny. It is my workhorse garment.
Fabric: polartec powershield
Price Paid: $275

Great jacket, great fit, more athletic than most. Use it most of the winter. Works well except for really heavy rains that are blowing almost sideways. In really cold weather, -10C, I use it as a midlayer.
Price Paid: $160

The finest soft-shell out there. Superior quality from the athletic fit to the smooth zippers. After about a year it still looks brand new. Be prepared for plenty of compliments...The blue color rocks!
Price Paid: $200

Your Review
You May Like
Specs
Men's
Price
Historic Range: $99.00-$259.00
Reviewers Paid: $159.00-$350.00

Women's
Price
Historic Range: $65.42-$259.00

Recently on Trailspace