Arc'teryx Maverick AR Jacket

The Maverick AR Jacket has been discontinued. If you're looking for something new, check out the best fleece jackets for 2023.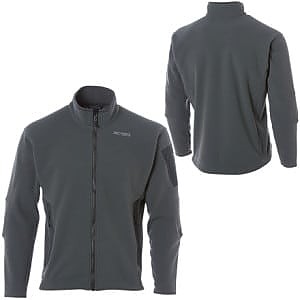 One of the best jackets I've ever owned. Highly recommend to anyone.
I was about to start a trip, Alaska to Argentina by land, and I needed a fleece to last me the entire way. Many different climates, environments, tons of wear and tear, it would be worn almost everyday... When I put it on at the Anchorage REI the articulation sold me immediately. It fits very well. I bought the Arc'Teryx Beta SL Waterproof Shell (lightest waterproof shell) due to identical fit/articulation.
So, after a year 1/2, 18 countries, extremely harsh environments, how did the jacket hold? Amazingly well, actually. Whether I was climbing 15,000ft. peaks, or scrambling to the top of a sand dune in the early morning, I was wearing this jacket. I worked at REI for years, and the number of jackets I own and have tried on is ridiculous.
I have never left a review of a jacket before, ever, and deliberately searched out this site to leave this review. I hope this review has proved helpful.
Just to summarize:
1. Zippers - Indestructible
2. Fleece Material - Highest Quality
3. Articulation/Fit - Best (in my opinion)
4. Weight/Compressibility - Best
5. Design - Minimalist at its best
Price Paid: $200

Probably the most expensive fleece I've put my money on, I liked this fleece a lot initially. Good fit, good looks, warm, etc.
However, exactly like other reviewer "Mac", I am extremely disappointed with the durability of this product. It pilled like crazy, is an absolute magnet for every imaginable bit of dust, hair... And therefore looks like hell just a year after purchase. The wind flap also didn't hold its shape: it rolled or folded.
As "Mac" pointed out, this is especially ironic considering that this "Nailhead" Thermal Pro fabric was intended and marqueted as very durable against pilling!
I am about to return it to Arc-teryx.
Fabric: Polartec Thermal Pro with "Nailhead" (supposedly more durable: BS)
Fill: N/A
Price Paid: 184 CAD +tx (20% off)

Great looking, form fitting fleecy jacket. Was looking for something that was more flattering than the North Face Denali Jacket and found it in this jacket. It's hard to find something that cuts nicely for women and Arc'teryx makes it just right.
But note that it is not windproof. It's ok as a shell over a tee-shirt on spring and fall days but if it gets windy and blustery, you will still need an outer coat. Still, it's great as a lounge jacket or base layer.
I love it more and more. Thinking of taking the plunge and getting an Arc'teryx jacket to go with it.
Price Paid: $104

This jacket is well made, good looking, warm, and tough. Not water or wind resistant, have a shell along. As a fleece jacket, it rules. Great collar, really nice sleeve, and wrist comfort. The Nailhead fleece is pretty smooth on the outside, pill resistant, quite thick, yet weighs less than the Mt. Hardwear Ozone. Right at a pound. The wind flap at the zipper is like thin rubber and pretty neat too. Tightens at waist. It's the best of the non-windproof fleece jackets I've seen.
Fabric: polartec nailhead fleece
Price Paid: $125

I have had experience with two Arc'Teryx fleece jackets the Delta Shearling Jacket and the Maverick AR. Both are lightweight, tough, goodlooking and WARM. The Maverick AR is warm almost to a fault. In fact, I have never needed to pair a waterproof shell with my Maverick except on one occasion with 40 mph winds in below-freezing weather. It is not water resistant, and it lacks in functional pocket design...but if you are after an incredibly warm, light and goodlooking jacket...this is it.
Fabric: 500 g. Polartech fleece
Price Paid: $160

This is by far the best fleece I have ever owned! It is warm, soft, comfy. No, it's not wind or waterproof, but the comfort it provides makes those little nuances go away. If you have an athletic build it seems to fit like a glove. I wear it over all other fleeces for everyday wear and highly recommend this to any one looking for a great looking great feeling jacket just to tool around in or as a very warm baselayer.
Price Paid: $148

This is probably the most expensive fleece I've ever purchased. It looks great when you buy it and it fit me REALLY well.
The ironic part of this fleece is that Arc'teryx says they used the finish they did to prevent piling (or balling) that happens to fleece. But...this fleece piles (or balls) MORE THAN ANY FLEECE I HAVE EVER SEEN. It's to the point that I feel silly wearing it.
I would not recommend this fleece.
Price Paid: $99

I love this jacket. Yesterday I braved mid-30 degree weather with 20-30mph wind in a cotton shirt and this jacket and was only midly cold standing around outside. I'm always cold, so that's a compliment. After working out in a gym and going back outside, I was fine.
It isn't windproof and the fleece material is light and thin, so it's a good layer underneath a hard shell or a good stand-alone fleece with a heavy baselayer.
Price Paid: $109

Your Review
You May Like
Specs
(no Gender)
Price
Reviewers Paid: $109.00

Men's
Price
Historic Range: $56.32-$199.00
Reviewers Paid: $99.00-$200.00

Women's
Price
Historic Range: $40.93-$199.00
Reviewers Paid: $104.00

Recently on Trailspace