Arc'teryx Men's Minuteman SV Jacket

The Men's Minuteman SV Jacket has been discontinued. If you're looking for something new, check out the best waterproof jackets for 2020.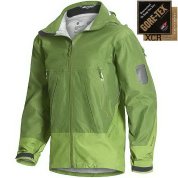 Specs
Price
Historic Range: $275.00
Reviewers Paid: $400.00

Reviews
2

reviews

5-star:

2

4-star:

0

3-star:

0

2-star:

0

1-star:

0
After several years of use and travel... this thing has been to from Alaska to the top of Killington, VT, in ablizzard, I've worn it through rainstorms and a hurricane!!! I love this jacket! I almost never leave home without it!
When people hear how much I paid they all think it's high, but when I tell them what I've done in this jacket and what it can do they all think it's worth the dough!

THE BEST JACKET MONEY CAN BUY!!
Fabric: gore-tex
Price Paid: $400+

Simply awesome is the only thing I can think of when I see this jacket. Amazingly, this feeling never goes a way; even after owning this jacket for a year. I find myself yearning for bad weather so I can give this jacket the abuse it deserves. Construction is typical Arc'Teryx: deliciously tight, and with function to boot.
FEATURES:
Built as a snowboard jacket, the fit is not as trim as Arcteryx's other offerings such as their Alpha SV. As always this jacket comes with the standard Arcteryx flair of water resistent zippers, Gore-Tex XCR, microfleece chin guard, and much more (gosh...just go to their website). Special snowboard features include the dandy radio pocket (great for cellphones in urban use), and the powder skirt. This jacket is also amazingly light, thanks to the small seam tape and minimalistic design. Mine weighed in about 630 grams; which is amazing for full on Gore-Tex jacket. I found that the jacket is very compressible. By rolling really tight, the jacket only consumes around a litre of space from your bag.
Pockets:
Pocket wise, there are less than the offerings coming from Burton or TNF. Two main chest pockets and two interior pockets is all this baby has got. I find that the amount of pockets are just enough. The two front chest pockets are huge; you can easily place a 500mL bottle into one of them with space to spare. The two interior pockets are smaller, but they hold their own. The radio pocket has a transparent cover over it, but the cover has all these criss cross lines on it so its kinda hard to see the display of your radio or cellphone; thus, essentially, defeating the purpose of a transparent cover. But damn does it look fly. This is one of the few functional hiccups I found.
Hood:
Hood is pretty basic but it is very functional. Its a bit small so wearing it with a helmet is tight, almost restricting. The performance is much better without a helmet. It has a simple shock cord cinch system. The cord runs around your head, you cinch it down with one hand, and the good is locked to your head. This makes you and the hood move as one. I've seen this system before in other jackets but Arcteryx really locked this design down. Head movement is so natural sometimes I forget I'm wearing the hood.
Those Sexy Zippers:
I've narrowed down why Arcteryx jackets look so darn sexy. Its the zippers. Remember jackets from other companies few years back? No matter how nice the design of the jacket was, there were these tank-like square storm flaps to keep water from seeping into the jacket. These zippers have been around for a few years so their nothing radically new, but they still look tech. They add a streamlined quality to which ever jacket these zippers are installed on. Implementation of these zippers by Arcteryx are the best in the industry (not surprising since they were the first to use these zippers). From my outdoor excursions and fending off Vancouver drizzles, the zippers have not leaked once. Strange cause if you look at the zippers when they are closed, you will see a small gap in the middle. I won't break my brain on why the water isn't coming in, but all I know is that it works, and works marvelously. As we all know, there is an issue of zipper stiffness. A word of the wise, "Stop whining you sissies!!" I have read a review where someone said that he finds that it is impossible to open and close the radio zipper. Humans greatest asset is to adapt. Adapt damn it!! I hold my left sleeve with my fingers so that the jacket won't climb with the zipper. It's as simple as that. It took about a week to get used to the zippers and by now, opening and closing of the zippers is instintive. The performance and aesthetic gains of these zippers over weigh any grudges about its stiffness. Zipper stiffness is a definite non-issue. Stupid to even bring it up.
PERFORMANCE:
The moment you notice how great this jacket is, is when you stop noticing it. Its like a great pair of slippers, you just put it on and you forget about it, and it keeps performing as it should. The Gore-Tex XCR definitely breathes better than the normal Gore-Tex. The jacket breathes good enough that I use it for backpacking as well. When it does get too hot though, the generous two-way pit zips allow for adjustable ventalation. To keep this short, I can just sum up this jacket as in that it works as it should. Keep water and snow and wind out. Simple as that. Arcteryx also provides a great cut. I wouldn't say that the Arcteryx definition of relaxed cut is as loose as other snowboard jackets. Compared other snowboard jackets, this jacket is still considered slim. It is relaxed enough to have a decent amount of layering without looking like the Michelin Man. The fabric of this jacket is very very durable. After a respectable amount of snowboard weekends and backpacking trips, I have found not one raised thread, tear or scuff. Quite remarkable due to the fact that I treat my jacket like shit. Once I used my jacket as tarp to slide down this hill after a drunken night out with the boys (...long story), and still not a scratch. Snow, rocks, twigs, and even skateboard grip tape does not affect this jacket. Even after a year the jacket still looks just as stunning as it did on the showroom floor. When I'm not in the outdoors, I wear my jacket in an urban setting. A nice plus about this jacket is that it is designed in the future... or at least it seems that way. I do notice a lot more people look my way when I wear it out; I find that my jacket is more popular than me. Sad...but I can take it. There is definitely a timeless look to the jacket. I'm positive that this jacket will just as be upbeat five years from now.
QUALMS:
As you can see, I'm totally stoked on this jacket. So if i start sounding like a Arcteryx sales rep on a litre of jolt cola, I can assure you that I do have some qualms about this jacket. First and foremost, somehow my DWR didn't last all that long on my jacket; only about three months. This isn't a huge problem (thanks Nikwax), but I would have expected a much more durable DWR from such an expensive jacket. When the DWR is gone the jacket soaks up water pretty darn fast. Five minutes in the rain with out the water repellancy can soak the jacket pretty good. Rest assured, no water ever comes in. Apparently, there are some reports about water soaking through a jacket when a jacket gets older. I have always wondered if Gore-Tex would deteriorate. No such leaking has ever happened to me but after seeing the reports it is definitely an aspect of the jacket I will closely monitor. But for now, no water in, happy owner.
Second small qualm is the lack of articulated shoulders. This is a snowboard jacket mind and not for climbing, but still would have liked to have this feature. When performing jumps on my snowboard, I would naturally stick my arms out and slightly up to maintain balance, which, as a result of not having articulated shoulders, causes the jacket to climb up about three inches. This is enough to jar the powder skirt up above the pants a tiny bit. And if i don't land the jump, I will find snow closely entering my pants. This is not a serious issue, not because I can land my jumps, but the fact that I'm more of a freerider than a freestyler when it comes to snowboarding. Jumps not frequent, so I don't have too much of a problem.
CONCLUSION:
People usually don't buy Arcteryx products due to their seemingly insane pricing schemes. But with products that display amazing design and technological implementation, the insane price becomes logical and almost agreeable. I would buy the jacket for the full retail price of $650, but luckily a sale came my way. Along with the price also comes durability of an ox. Don't look at this jacket as firey one night stand but more of a life long companion. My last jacket from TNF broke down within 6 months.
One remarkable feature not discussed is that it is made in Vancouver, Canada. Lots of companies rush their product sketches over to Asia for a more profit consious sales plan. However, with so much technology and such strict tolerances, Arcteryx is, in a lack of a better word, forced to place production in house. This is Arcteryx greatest and weakest point. They create the most amazing products but have the one of the lowest profit per item ratio than other companies, even with their "ridiculous" prices. The waterproof zippers are worth 10 bucks a foot, and thats wholesale pricing. Another little known fact is that, despite Arcteryx being a small company, they are the largest consumers of waterproof zippers in the world. Just thought you'd like to know...Buying this jacket you are supporting good local Canadian business.
The jacket is great despite the cons described earlier. Light, bombproof, functional, and durable; this jacket is all you really need. If you're a snowboarder or just looking for a roomier fit than their classic climbing shells, this is the perfect jacket. This is a very versatile jacket; as I have said earlier, I have no trouble hiking in this jacket. Urban goers will nod at the jacket for its tech yet elegant looks, outdoors man will nod at it for its superior performance, and snowboarders will nod at it for both those reasons. I cannot think of a better shell out there on the market today. Get it, love it, and go home happy.
Note: I recently found out that Arcteryx doesn't make this jacket any more. So their only full Gore-Tex XCR snowboard is the Sidewinder, which is basically the minute man with a curved front zipper. That is essentially the only difference between the two.
Fabric: Gore-Tex XCR
Price Paid: $350 Cdn

You May Like
Recently on Trailspace