Arc'teryx Naos 55

The Naos 55 has been discontinued. If you're looking for something new, check out the best weekend packs for 2021.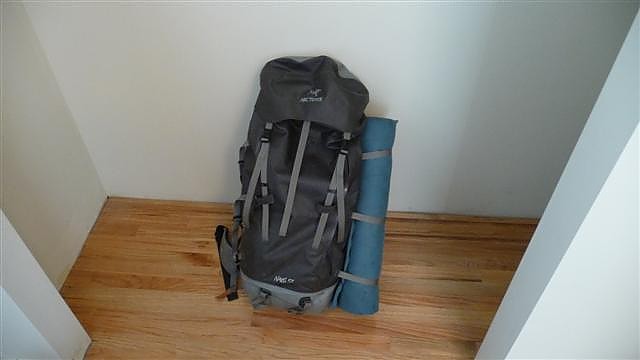 Specs
Price
Historic Range: $299.37-$499.00
Reviewers Paid: $299.00-$500.00

Reviews
6

reviews

5-star:

5

4-star:

0

3-star:

1

2-star:

0

1-star:

0
Most rugged, waterproof, reliable backpack I've ever seen.
Pros
Completely waterproof
Well padded, comfortable waistband
Doesn't seem to wear out
Holds plenty of stuff
I hate to write a review on a backpack that isn't made anymore by Arc'teryx (2013). However, I feel the need to get the information out there that these were excellent packs and if you come across one used or in the discount section of an outfitter somewhere, buy it immediately. 
This backpack was the pack of the year in some magazine back in 2005. I was thinking about hiking the AT back then and after reading the article, I went online and bought one. The expense hit my wallet hard (these packs were in the $500 range back then), but I have never regretted the decision. 
My Naos 55 was used on both my Appalachian Trail (2007) and Pacific Crest Trail (2009) thru hikes. Yes, this pack has well over 4000 miles on it and it still looks good and needs no repair.
The Naos 55 has a simple dry bag construction with a roll top closure. Simple, but effective. It does take planning to get everything packed correctly due to the difficulty of getting stuff from the bottom of the pack. However, that is a small price to pay for the ability to be totally waterproof. There is a single opening for a water hose that comes through the top of the pack. This opening has a small stopper that closes the hole and with this opening closed, you can actually close the top and throw this pack in a river, it'll float. 
The pack has a torpedo like construction that looks different than most packs out there. However, the torpedo construction carries most of the weight higher on your body and enables you to carry more weight comfortably.
Another interesting feature of the Naos 55 is the removable and rotating waist belt. The waist belt is attached to the pack through a round plastic bearing of sorts that enables the belt to rotate with your hips. This actually works better than it sounds.
It is a weak point however, I have had occasions where the belt snapped off the bearing when I was picking the pack up off the ground and was unaware I was stepping on a strap. Although the belt snapped off the pack, it has always been easy to snap it back on and I have been amazed by how well the bearing was engineered.
I have dragged this pack over rocks, thrown it in rivers, dropped it off cliffs, and it just goes and goes.
I am beginning to think this backpack will outlast me.
It's too bad Arc'teryx doesn't make this pack anymore. They appear to make a bigger Naos 85 version, however the Naos 85 appears to be made with cheaper materials and is not waterproof (they say "water resistant").
So, if you are looking for an excellent, bombproof and waterproof backpack that will carry all you would ever need on a long distance hike; and not have to throw it away after the hike, look for an Arc'teryx Naos 55 somewhere.  They might pop up on Ebay on occasion.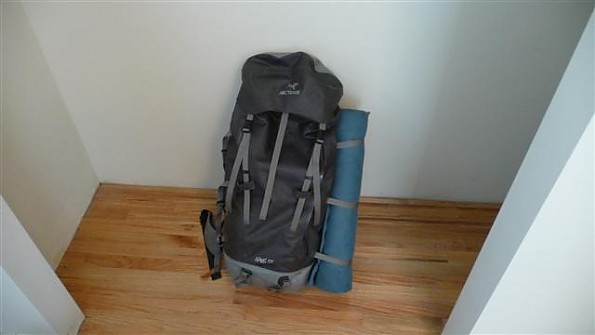 Source: bought it new
Price Paid: $500

Beautifully waterproof and definitely minimalist in nature but I have a problem with all of the molded components. I wore this pack around the city just to get used to carrying it and the first day out one of the clips on the shoulder harness broke.
Design: Internal
Max. Load Carried: 30 lbs.
Height of Owner: 5'8"

Yes, it's all correct (September 2013). The best of the best in packs ever made! For a lifetime. Waterproof, bear proof for PCT and JMT.
Owed this pack since 2006 and fiddled with many other UL's but rendered to be a waste of time. You can still get it at TentandTrails  for 299.- down from 500.- not about any personal interest but to save you time on ebay and craigslist.
Don't bother with the Arrakis 50, I found it doesn't carry as smooth, a bit bulky somehow. As a girl I enjoy the little zip pockets of the Naos, the 3 l hydration sleeve and the detachable daypack. My pack came in short size (4.5 lbs, torso 16-19 inches) with the transfer load disk allowing extra light performance. But tell me about a pack you can stand up straight while stuffing your gear in, this one does it.
Best used if you have a compressible tent like the Sierra Designs Mojo and WM sleeping bag. Than the bear sack will fit in nicely with all the extra layers.
Source: bought it new
Price Paid: $299 REI garage sale

I owned many back-packs and mostly ended up hating them. It's one piece of equipment that really annoys you if it doesn't work well. Either they are stiff, feel heavy, get you're back all sweaty, rip in the worst moments or wet everything inside when it's raining and you forgot to bring some plastic bags.
This was until I went with this, rather expensive bag. But by now, I own this back-pack for longer then any of the others and have to say that I really, profoundly love it. It just never ever let me down in any situation. It weighs a surprisingly light 4 pounds and is tough as nails. Nothing breaks, nothing rips and after much abuse, it's just as water-tight as on the first day.
On canoe trips you can throw it into the stream together with the plastic barrels and fish it out after the falls so you don't need to portage it all. Or if you're in a clinch, you can make it you're mattress so you don't have to sleep on the humid soil. 
As a backpack it feels great to me, but that varies with each person. (Different brands fit different persons). For me it's just perfect. The swiveling support system keeps your back free of moisture and is great when you are hiking. Once you go vertical, you simply strap the pack tight and it wont ever unbalance you with some unexpected weight-shifting like many other backpacks do.
On the downside, I would say that the exterior zippers are pretty much useless when you're all packed. They are big, but there's not much fitting into it and they are not 100% watertight. The top pack is roomy and sometimes useful, but I leave it mostly at home.
It folds a bit oddly over the pack when it's not full and it's also not 100% watertight. If you leave it at home, you don't put anything inside it that actually needed to survive a capsizing. Rain and pools of water on the other hand are no problem.
This pack is without doubt the most dependable piece of equipment you ever own and it seems that they just made it better with the new Arrakis line. It's expensive, yes, but also 100% satisfying and probably the last back-pack you'll ever buy. 
I bought the Arc'Teryx Naos 55 on sale for $350 in November for a trip to the Rwenzori Mountains in Uganda. Everything about it is awesome...materials, size, and all the innovations built into the pack.
As many descriptions say, the pack is watertight. Believe me, this is true. In the Rwenzoris it rains...hard. During many downpours, nothing inside got wet, which is also helped by the drybag-like design. And, there's no need to worry about anything leaking in through the zippers...they're waterproof, too. If you're heading to a wet environment, this is the bag you want so you don't need to fiddle with wrapping everything in plastic bags.
On several occasions during my trek, I had to slide on my butt across rocky terrain. The bottom of the pack, therefore, got dragged across the rock. Any damage? Nope...just some dirt (I bought the Gold Rush color, which does not hide dirty easily).
Unlike other packs, the pack is very slim. It can make the bag seem rather tall and unmanageable at times. But, honestly, you won't even notice it when it is strapped to your back thanks to the amazing swivel hip belt. Basically, instead of the hip belt being fixed to the bag, and moving your hips around when the pack shifts, the swivel hip belt allows the pack to shift without shifting your hips. During my 7-day hike, this feature helped my back get sore a grand total of zero times. As an added plus, the hip belt is removable, which is nice when checking the bag and not worrying about straps getting caught in an airport baggage system (it's happened to me before).
If you have a water bladder, the pack has a special opening to allow you to feed the tube from the inside of the pack to the outside. When you don't use this opening, the pack has a watertight cap for the bladder tube opening, so no water gets inside of the bag.
The bag is also very light...only about 4 pounds.
The top pouch is removable, which can help shed off some weight if needed. The pouch, though, can store lots of gear. In my pouch I kept a guidebook, map, first aid kit, toiletries kit, eating utensils, batteries, camera, and Nalgene bottle. On the main pack are two kangaroo pockets; one big and one small. The small one can store a few items (I crammed in a towel and winter hat). The larger pocket, though appearing to be small, is actually very deep. I kept winter gloves, gaiters, waterproof pants, a waterproof jacket, and bandanna inside it.
I used the bag to carry a sleeping bag, sleeping pad, sleeping bag liner, 7 days worth of food, 3 changes of clothes, titanium pots, shoes, first aid kit, jackets, pants, and a million other things. It holds a lot, and keeps it all dry. It is a great investment, and will probably/hopefully last a long time. I would take this bag anywhere I go that requires a night in the elements.
Bottom line: this bag stores a lot, stores it comfortably, is rugged, and (most importantly) keeps it all dry.
Design: top-loading
Size: regular - 55 liters
Number of Pockets: 2 kangaroo on main pack, 2 on removeable top pouch
Max. Load Carried: 40 pounds
Height of Owner: 5'8"
Price Paid: $350

Brought from Snow and Rock London June 2006 for hiking. OK expensive but what attracted me to the pack was simplicity, slim, bombproof, watertight, the rotating hip belt thing, size colour and the fit was ideal.
Simplicity - I don't like side pockets. It hasn't got them. Also it's made from just two pieces of fabric. Great.
Slim - no side pockets. (Have I said I don't like them)?
Bomb proof. Well it looked it in the shop and hiking 20 miles a day around Mt Hood USA in the summer (hot and sandy) and Dartmoor UK in autumn (wet and windy) it proved it was.
Water tight - Horizontal rain for hours on Dartmoor and leaving it out in rain overnight, no worries.
Hip belt - I really like this load transfer thing. Swivels as you walk. Pack and contents up to 16kg no problem. Moulding of hip belt and shoulder straps is good too.
Size - When hiking 55 Litres is fine for me. Tent, sleeping bag, cooker, food for 4 days at a time plus other stuff.
Colour - Red. Great.
Fit - I am just under 6ft and slim build. A medium pack fits me.
I try to minimise on content weight but want confidence in my pack. I would not consider another pack for hiking with. Wish I was so happy about footwear.
Design: top loading
Size: 55 litres
Number of Pockets: no
Max. Load Carried: 20kg plus
Height of Owner: 5 11
Price Paid: 280 quid

You May Like
Recently on Trailspace