Arc'teryx RT 45

The RT 45 has been discontinued. It was replaced by the Arc'teryx Alpha FL 45.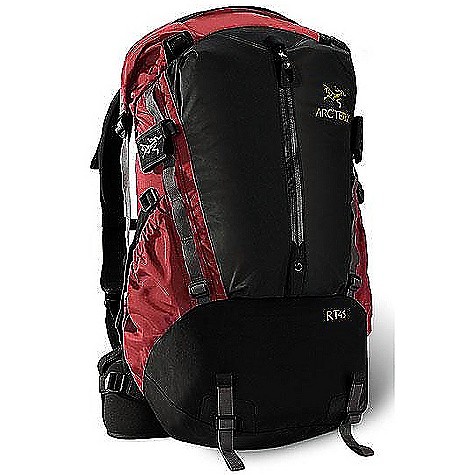 Specs
Price
Historic Range: $82.72-$200.00
Reviewers Paid: $150.00-$188.00

Reviews
6

reviews

5-star:

3

4-star:

2

3-star:

1

2-star:

0

1-star:

0
Another Arc'Teryx pack, another Good, Bad & Ugly review. Having fallen in love with my Naos 70 (https://www.trailspace.com/gear/arcteryx/naos-70/#review10820) I needed something smaller for weekend and short trip usage. The smaller Naos I felt was overkill, so I picked up a black RT45 at Paragon Sports in NYC* when I passed through the other day. Comments in no particular order:
The Good
- The curved lumbar section and waist strap adjusters make the pack stick to my back like glue. No rubbing, no awkward rolling - whether climbing up or walking along, the balance is perfect. Remember the scene in Spiderman 2 where Dr Octo bolts on the tentacles? That's what the RT45 feels like to me - bolted in to my lumbar region.
- The rolltop. Arc'Teryx have obviously taken a leaf out of their Naos series book. The sack loads from the top and seals with a 2 fold rollover, which is then secured by straps leading down the side. With no top-pocket or drawstring, access is **fast** and watertight.
- Whether by accident or design, I find I can adjust every strap on the pack while it is still on my back. I can open and close the top (with a little mental dexterity required to get the rollover just right), the compression straps, and the hip-strap adjusters (of which there are several for the perfect fit). I can jam my camera in the top of the sack, confident that it is well protected from the weather and accidental bumps, and yet still access it as quickly, or faster, than I can from a top-pocket.
- The kangaroo pocket (with watertight zipper) and small zip-pocket are well placed and well designed. I don't feel (as I have with other kangaroo pockets) that the sack's centre of gravity is shifted too far when the pocket is stuffed full, and the drainage hole at the bottom is great when you have wet clothes or a flysheet stuffed in there. The small zip-pocket on top is great, and I find myself using it much more than I thought I would - just the right size for a compass, whistle, keys and suncream, thing which otherwise get easily lost.
- The workmanship and materials are, as to be expected from Arc'Teryx, first class. I was concerned that the black might show wear quickly, especially the rubberised kangaroo pocket, but after 3 weeks of being dragged over rocks and subjected to blistering sunlight in the Arizona desert it still looks as good as new. I threw it down 50 feet of slickrock and it emerged none the worse apart from some slight pulling to the embroidered logo.
- Two nice sized axe velcro loops, daisy chains on both sides going down the front of the sack, 6 buckles for extra webbing (2 pieces supplied with the sack) and 2 small waist level pockets offer the potential to haul a lot more gear than the 45 capacity might imply.
The Bad
- Single compression straps. This seems to be getting more common on smaller sacks - a single Z-shaped strap on each side, which anchors and compresses to 2 points. Granted it makes operation easier (and allows for on-back adjustment - see above) but I like the precision that 2 or 3 straps gives. Not a deal-breaker, but it does mean I can't compress quite as much or as accurately as I like.
- Headroom. With no top-pocket, the sack seems like it should have enough headroom for a pterodactyl. In practice however the roll-top closure forms a hard band just above the small of the neck, which means that your upward visibility is slightly compromised (and more so with a helmet on). Arc'Teryx have obviously thought about this, and the roll-top is bowed away from the head in its centre, but this is largely negated by the carrying handle which bows up at the same point. That handle is useful though.. Again not a dealbreaker, and still among the better sacks out there on this point.
The Ugly
- Unusually for Arc'Teryx gear, the RT45 does have an Ugly. The internal bladder pocket is just too narrow. My 3 litre CamelBak bladder just about goes in if I more than half empty it, and even then makes the otherwise perfect back panel bulge out a little too much. Full, it doesn't go in *at all*. Given that I use this sack for lighter (i.e. summer) routes when I need to pack a lot of water, this presents a problem. The mid-shoulder outlet for the bladder hose is also not optimal - I prefer a side outlet, which keeps the hose from getting tangled with the shoulder straps when I am putting it on. Nothing worse than forgetting about it, shouldering the pack and then finding that the hose is stuck neatly in the small of your back... with the nozzle open!
Overall
The RT45 is a well-designed mid-size sack with great balance and stability and some unique Arc'Teryx features. Just make sure the bladder pocket works for your needs.
Also be careful with sizing. Another reviewer mentioned that, at 188cm tall, the medium size worked for him. I'm a skinny 180cm, and (having tried both the medium and large sacks) I chose the large. The lumbar curve means that getting the right fit is vital if you want it to really stick to your back properly. For preference I wouldn't order this sack over the internet unless you had tried it first in person - it's too good to compromise like that.
---------------------------------
*For reasons I don't understand, Arc'Teryx is not readily available outside North America and the UK - many internet vendors will not even ship Arc'Teryx gear overseas (although they will for other brands). In Japan, where I am, they finally opened an Arc'Teryx store in Tokyo but that is about the only place you can find their gear - and it's not cheap..
This is my everyday pack. I use it as an overnight pack both on and off the trail. It hauls my books to class, my clothes home for the weekend, my rock climbing gear and rope, my paddling clothes and my daytrip 10 E's. I use it for everything except extended trips. It even doubles as a small weekender backpack for easy trips.
I've dropped it down short falls (20-30ft) and it bounces back. I've gotten it covered in thick Georgia clay and still had the zipper work -- it evens cleans up back to its original color. I love the roll-top and I can open it just as fast as any other bag. I have become kind of a snob about this bag and the rest of my Arc'teryx gear because it works so well and never breaks.
I love this pack. It has tons of room and yet can be carried daily for school. Iv'e used it for trips back home from college, traveling, and school and it has performed flawlessly. The rolltop is so easy to run and works great; I will never do a snaptop again. Get this pack; the craftsmanship is second to none.
Design: rolltop
Size: Medium/Medium 3450cc
Number of Pockets: 3+main
Height of Owner: 6'2"
Price Paid: $188

I originally purchased this pack for trad climbing and all the gear that it can handle. But just this last summer I used it backpacking for a week int the Porcupine Mts. in the U.P.and it worked great. There was plenty of space within the pack to handle all of my food, clothing, tent, and stove. My only complaint is the size of the bladder pouch inside the pack is a little small for my 4 liter MSR bladder, but other than that the pack worked out great. The hip belt is very nice, and had no problem supporting 33 lbs.
Design: Top Loading w/ front pocket
Size: 2400 Cubes
Number of Pockets: two, front and on the lid
Max. Load Carried: 33 lbs.
Height of Owner: 5'9"
Price Paid: $150

Own both a RT 25 and a RT 45. RT 45: The best fit of any sack I have tried, though test your size carefully before buying. I am 188 cm and opted for LARGE, but soon found out that MEDIUM gave a better fit when fully loaded. Well made, but careful not to put too much into the external pockets -- the small hole in the bottom of these pockets may become clogged hindering rain from escaping -- resulting in some wetness inside the sack. Five stars if it had been waterproof for eight hours of continuous rain in the Norwegian mountains!
Max. Load Carried: 15 kg
Height of Owner: 188 cm
Price Paid: NOK 2190

I love the roll top. It is very easy to open and close. The pack is beefy, but you pay a little in weight - weighs 4 lbs. I would have dealt with the weight factor, had it not been for the plastic sheet inside. It would jab me in the back in all but one position. That's fine for short approaches, but I used this pack to climb the Grand Teton. I could not adust the shoulder straps and hipbelt for comfort. Be sure you try this pack fully loaded in multiple positions before you buy it.
Design: Top loading - roll top
Size: 2400
Number of Pockets: 2
Max. Load Carried: 35 lbs.
Height of Owner: 5'8.5"
Price Paid: $169

You May Like
Recently on Trailspace