Arc'teryx Stinger Jacket

The Stinger Jacket has been discontinued. If you're looking for something new, check out the best waterproof jackets for 2022.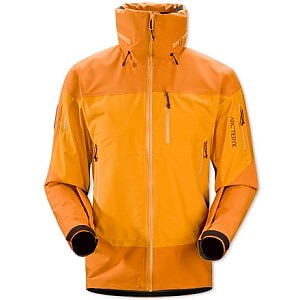 Specs
Men's
Price
Historic Range: $280.42-$575.00
Reviewers Paid: $515.00

Women's
Price
Historic Range: $136.95-$575.00

Reviews
2

reviews

5-star:

2

4-star:

0

3-star:

0

2-star:

0

1-star:

0
I think John's review before mine is perfect so I really don't need to try to top that. The jacket is simply the best piece of clothing one could own for skiing. I ski the Northeast where Mother Nature can throw the worst of the worst on you.  
The Gore tex Pro Shell material is unbelievable. I do wish the chest pocket was a little bigger but other than that it's near perfection.
I've had other products from Marmot, Patagonia, North Face, but this jacket tops. The collar speaks for itself. So valuable when the winds pick up and you need to cover your face.  
Price Paid: $500?

I used to design for Marmot in the 1990's. Along with Marmot's "Tough Collection", I designed the Marmot Alpinist Gore-Tex Climbing Jacket III which at the time was the best designed jacket- and their best selling jacket of all time.
I designed the first laminated powder skirt to 3 layer Gore-Tex. and lots of other features... like a mesh goggle pocket- forearm outer zip pocket, chin guard piece, dual pit zips, and fantastic pocket management- so you could choose to load things in front for belay or to the sides for climbing. Ski patrollers loved it for its huge pockets for shooting avalanches. It also had a neoprene seal on the hood for sealing out snow- as well as waist elastic pulls and bottom elastic pulls for sealing out driving rain and occasional falls into water. I read reviews where people fell behind frozen waterfalls into water pouring down on them and into waist deep water and it kept them dry and alive.
But The Marmot Climbing Jacket III was heavy at nearly 5lbs. yet super durable with NTS 330 all over the wear areas. But now nearly 15 years later- I see tons of them at ski resorts despite it being the most expensive jacket at the time $575. The resale value is good too as it still sells used for about $250. It was a jacket that climbed well even in driving sleet and rain and skied excellently too- and with its longer length- lent itself to snowboarding as well.
This replaces that..
This Arc'teryx Stinger is Gore-tex Pro shell. Its longer length makes it their best jacket for snowboarding- just barely long enough. It has a storm skirt though it lacks an adjustable elastic waist draw cord.. which it could use. It has two nice pulls at the bottom that can be pulled while wearing gloves despite being tiny.
The hood has two pulls on the back that are ideal for situating the hood on your face so the opening is exactly where your goggles are. In this manner you can minimize the hood opening to exactly fit your goggles and put the brim right over your goggles to prevent a pile of powder accumulating on your goggles blocking airflow and fogging. The arc of the hood brim is perfect for this- and though it would not be nearly splash proof like the Climbing Jacket 3 BUT it is snow proof- and fits to the face better than the marmot hood. Besides it is lighter and stowable- so it would not fill with powder or rain like on non stowable hoods.
Now- that high collar- think "Count Dracula" when unzipped. I know you might think you'll look like a freak wearing it. I thought so when I first put it on. I am sure that is why not many shops seem to carry this jacket for fear of it not selling fashion wise. BUT…. Once you use it in deep powder and in gusty wind swirling conditions… you will never feel as comfortable without it.
I went to wearing a $750 Marmot Alpinist Phenomenon EL (light up with electroluminescent panels) jacket after wearing this Arc'teryx Stinger jacket and felt absolutely less protected from the snow. My neck got cold and stiff while wearing the Marmot that never happened with the Stinger jacket. I purposely let my hair grow out long (nearly Fabio length) for the winter so my neck doesn't get stiff (I have some crazy thick hair so it works better than a neck gaiter) and I can comfortably say I could keep my hair short year round and avoid the stiff neck with the powder collar on this Stinger Jacket. I have a 16.5 inch neck. The stinger collar fits to my face perfectly and never feels tight on the neck. The hood also has two collar high pulls to tighten the hole- easily done with gloves on.
I bought an Arc'teryx Sidewinder last year. I am a 43 Regular. I wore it for 2 days before selling it. While it had a trim fit and a cool high collar…. The collar zipped to the left and since I snowboard goofy foot… it was a disaster.. regular footers would like it since they would not be twisting their neck on a zipper part. The collar also looks weird when unzipped and does not offer any insulation like the Stinger collar does when the hood is stowed in it. The hood management is not as good as the stinger despite the Sidewinder hood being called a "Storm hood" do not let the "storm hood" designation of the Sidewinder sway you (I almost was swayed away from buying the stinger because of this… don't worry)… the Stinger hood is simply more adjustable and better fitting- even without a helmet.
I also thought I would like the fitted look of the Sidewinder better… but in actual usage. The Sidewinder with a few layers under it looks constrained (I have a fit athletic build – a "V shape" but not bulky). Also the arms on the Sidewinder once layered offer less movement. The Stinger jacket initially looks like a bulky boxy cut… but after you wear it- somehow it loses its boxy look it has when you first try it on as the fabric starts to drape differently over time- in the end fitting even better.
The Stinger Velcro sleeve straps are perfectly designed. They fit easily under insulated glove gauntlets- and are easy to undo with gloves on.
So what are the flaws? The hood is not splash proof…but hey it's not so much a all weather jacket as it is a "Snow Jacket" - and for snow the hood is the best I have used. There is no elastic storm skirt waist cinch- but again this is a snow jacket- but it would be a little warmer if it has some way to tighten the waist to cut down on convective heat loss- as it is I find myself using the bottom elastics to stop convective heat loss and being very careful not to make my inner layer (a customized Mountain Hardwear Polarguard 3d Chugach jacket with custom pit zips) too fitted (as then you would have a gap between your mid layer and outer layer which would pump out heat as you move).
The Mountain Hardwear Chugach jacket Btw with those custom pit zips is the IDEAL mate for this jacket – as in quick changing spring conditions I can use the same amount of layering for 10 degrees and cloudy until 60 degrees and partly sunny without having to remove anything- just regulating airflow with the pit zips and draw cords of both outer and inner jackets- this in combination with the Arc'teryx Sidewinder Gore-Tex pro shell pant is perfect because when you have ridden 3000 vertical feet hard in warm spring conditions you can unzip the side vents on the pants for the last 500 vertical feet and bomb down the hill to blast in air to remove any excess moisture. So by the time you get to the lift/heli/gondola/tram you are not steamy at all but dry and cool enough to go inside without starting to overheat and strip layers.
The Recco transceiver reflectors.. well nice if you got buried or lost within a Recco equipped resort if you can get a rescue team to you with shovels to you within 5 minutes (unlikely) don't rely on the Reccos…and if you do…. Make sure you have the ski patrols number programmed into your cell phone or have a radio to cut down on response time. Otherwise without a real Pieps and shovel right there.. it's just a corpse finder. And of course you should have at least two Reccos on you.. So if you care about them… at least get the pants. Reccos could be good if you got stuck in a tree well. Still I suppose not a flaw if you realize this is not a true safety feature but merely a backup- or last resort.
The pit zips on the Stinger are hard to operate- the zipper is smaller gauge and so the zipper does not have adequate stiffness to make them easy to operate. They can get stuck half way and are harder to close all the way. The trade off would have been an heavier zipper which you would have felt as you moved.. so I suppose this trade off is ok- but opening and closing your pit zips after every run like you might do in the North East would get annoying after a while. I found I left them partly open on warmer days all the time and unzipped completely 1/2 way down while waiting for others.
The material choice and weight is perfect. Would not change a thing. In fact I think the Sidewinder SV is overkill. And I tend to overkill things myself… but the weight trade off is well worth it since the Sidewinder SV weighs about 25% more and is not roomy enough for lots of layering. So the Stinger gets this right. It is so light you might even be tempted to make this your year round ONLY jacket - packing this as a lightweight rain parka (as it is only 20 ounces!) also the Stinger would dry faster than the Sidewinder- its roomy cut would make it less steamy if worn in humid conditions as a rain slicker.
The Sidewinder I had had a stretch back panel for added mobility. The Stinger- even without this panel is much easier to move in than the Sidewinder.
The Sidewinder had a dark translucent arm pocket window. Useless for season passes as people ask you to remove it. Also it still lets people see what was inside. I could not fit my Motorola radio in it easily either. It is almost impossible to unzip that Sidewinder arm pocket- making radio use without a boom mic and handfree talk sensing annoying.
The Stinger pocket has no window- which as I have a sensor season pass holder I prefer since no one will see the pass or credit cards and try to steal it over lunch. The pocket is also easier to open. Realistically I would have preferred if it was a forearm pocket as these near shoulder height pockets always snag on packs when taking packs on and off. Still a better pocket than the Sidewinder pocket.
The interior chest pocket on the Stinger is small you can just fit your 4 fingers up to your palm in it. Not big enough for a handgun or even a large folding pocket knife. Just big enough for a phone- and but not an iPod Nano 2nd gen + phone without them overlapping. If you want to carry a flashlight as I do- you'll find yourself limited to a Surefire Executive Elite E2E or to fit those pockets- or perhaps one of the custom made ones I use that is only the size of a AA battery but puts out 320 lumens with 6 light levels and titium insert- with scrtach proof drill bit coating.…expensive as it is a $300 flashlight. But the small pockets force you to think small and keeps the overall loaded weight down. I carry a small Al-Mar falcon at 1.25 ounces
http://www.knivesplus.com/AL-3UBK2T-Al-Mar.HTML
Definitely no Arc'teryx jacket is suitable for ski patrol or avalanche patrol with such limiting pockets.
The exterior chest pocket on the other side is again the same size. A bit small.. At least one of these pockets should be larger. For reference you can't fit an airline ticket in any of them- perhaps a passport in the lower ones. And if you want to carry a wallet it had better be the size of a business card holder (which I use).
The side pockets are high- presumable so the pack waist belt would not interfere. Though I don't see this as a climbing jacket so much as a sidewinder. The pockets are unlined making this less of a civilian walk around town jacket… you'll want your gloves. But again this saves weight and keeps the jacket to 1.25 lbs or 578 grams. A worthwhile trade off.
There is no cable management .. which is a pain with the high collar as headphone and mic cables can get intertangled blocking the zipper from going up.. I suppose so many people are going to other wireless formats so it is not as big of an issue but some might have an issue fitting a wired remote to the jacket.
I use the Nokia N-95 phone which has Stereo Bluetooth capability making it wireless with Oakley O'rokr Pro Bluetooth sunglasses. Which allow me to change the track from the glasses and volume as well as voice dial. What I really would have liked is the shoulder pocket to move to the forearm and a plastic window so I could see what was playing when selecting music.. not an issue for those who use playlists or the ipod shuffle which can be either clipped to the high collar or even stowed within the collar and zipped! When wearing goggles I use a pair of modified 180's earmuffs that I fitted with larger than stock headphones (the ones they come with are not bad and I use the shuffle clipped to the headphones so it is a near wireless solution.
I did find using a longer cable with the ear muffs and the iPod Nano hardwired a PITA to use as I had to remove the Nano to pick albums and adjust volume- and the zippers are just a bit to stiff to do this all the time. Also the chest pockets are vertical so if you forget to zip up… you might lose the contents of those pockets easily. A diagonal pocket would have been more functional though less stylish- and perhaps less functional with a pack. I would have liked some way to route the cables- if anyone has a solution let me know!
All in all this is still the best snow jacket ever. With the added plus of being able to fit this folded and at its light weight into your carryon luggage- in fact you might even fit a sidewinder pant into that as well. Neither of these alone would take up as more space than a pair of Marmot ultimate Ski gloves in your luggage.. remarkable. In fact a pair of Marmot Ultimate ski gloves, two pairs of socks and a hat would be larger than both the jacket and pants combined.
So when traveling light – assuming you rent high end demos- you could possibly just travel with a single carry on packing your Stinger and Sidewinder pants assuming you were willing to wear your snowboard boots until you got on the plane and switch to regular footwear once you were on.
I liked this jacket so much I am contemplating buying an extra in case they should ever change or abandon this wonderful design. My highest praise- I wish I had the guts to make the choices and sacrifices they made while designing this jacket- they showed remarkable restraint and near perfect judgment IMHO as a former outer wear designer. A perfect application of the lightweight and durable Goretex Pro shell material. The only flaw in the outfit is the snap on the sidewinder pants comes unsnapped easily- and the waist stretches over time at the top giving it a peeled down appearance. They choose the wrong closure on the pant- and the zipper area somehow leaks air. But hey- I reviewed the Stinger Jacket not the Sidewinder pants.
If there were 6 stars this jacket would get them from me- the single most enjoyable piece of outwear designed in 10 years. Even if the high collar unzipped makes you look a bit like Dracula- (actually looks kinda cool- girls like the look) buy it… you will be so happy with this purchase. If you would like to comment send a note to johngilmour at rocketmail dot com.
Fabric: Gore-tex Pro shell
Price Paid: $515

You May Like
Recently on Trailspace