Arc'teryx Theta LT Jacket

The Theta LT Jacket has been discontinued. If you're looking for something new, check out the best waterproof jackets for 2022.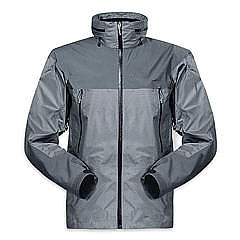 Specs
Men's
Price
Historic Range: $175.00-$425.00
Reviewers Paid: $225.00-$409.00

Women's
Price
Historic Range: $163.93-$425.00
Reviewers Paid: $420.00

Reviews
7

reviews

5-star:

6

4-star:

0

3-star:

0

2-star:

1

1-star:

0
I take it snowboarding and around town in the rain.
I love this jacket and can't wait to buy a Sidewinder SV.
The hood is awesome because it zips into the collar.
Super lightweight, super breathable, super waterproof, very durable, simply the best jackets in the world. Beats all other companies.
Arc'Teryx invent the water tight zipper.

I'm buying more from Arc'Teryx this month.
I am getting the Gamma SV, Fission LT, and Covert Zip.
I highly recommend this jacket and all Arc'Teryx products.

Fabric: 3 layer Gore-Tex XCR. 530N, on high wear points and 390N Ripstop nylon
Price Paid: $225

What can I say, this has been my best friend since I got it. I was lucky and got it dirt cheap in 2003 since it was the last one they had in. I am a video producer for extreme sports and I take it rock climbing, ice climbing, mountaineering, skiing/snowboarding, kiteboarding (ski/snowboard), hiking, and of course, around town.
This little gem keeps you nice and dry, with an awesome hood that stashes when not in use. No worries, it fits over most helmets and can take a beating like no other. Of course one of the best thing about this jacket are the zips and the weight. I have a 22 kilo pack with all my video equipment loaded, so the fact that I can pack this jacket into my Nalgene bottle makes me smile.
One last note, I was on a motorcycle in Seoul, Korea, and got knocked off going about 20 mph. Well, my fault, I didn't have gloves on, but luckily I had this jacket on. Instead of taking the skin off my hands it had a battle with the Theta LT. Just so you know, the jacket didn't rip, and only a small scratch and the XCR kick the cement's butt. I love this jacket and many bows and thanks to Arc'Teryx.
Price Paid: $230

As advertised the jacket was warm and dry:) A great travel companion.
However after one year of wear the waterproof zips, especially the pit zips, started to delaminate (small threads). Sent back to the Arc'Teryx folks and after 3.5 months (and many heated calls) got the jacket back "repaired" but with the same delaminations ?
Sooo back the jacket goes. At the 6+ month point the store (a large and very good chain) called, wrote, and yelled. We finally got a refund for a replacement.
Great design, poor longevity, and VERY poor customer service.

Fabric: XCR
Price Paid: $350

This jacket lists for over $400 US, I paid $230. Great jacket for skiing and most anything outdoors where rain or wet conditions exsist. The hood fits great, overall fit and finish are at least as good as anything out there, better in most cases. Preformance is not to be beaten. Retail for this jacket is steep, $450 US, however I paid $230 US. Compare this shell to any other, and it still is a winner.
Fabric: Gor-Tex XCR
Price Paid: $230

This is a very breathable, dry jacket. I wore it in constant downpours while hiking around in Alaska and stayed completely dry. I really like the adjustability of the hood and the ability to store it when you don't need it. It is also extremely light for the amount of protection it provides
Fabric: Gore-Tex XCR
Price Paid: $420

Upon first viewing, this jacket is marvelous. In use, it only gets better! It simply looks better than other mountaineering shells, even the "good" ones like the Ethereal et al. The cut is wonderful, roomy in areas that need it, fitted in the other places. The hood works splendid, and little touches like articulated elbows, angled sleeve ends (so as to not ride up on the gloved hand), and a completely separate piece of fabric housing the drawstrings on the waist (unlike other manufacturers who sew it inside the jacket allowing the fabic to eventually fray from use) make this jacket head and shoulders above the rest. I chose this over the Alpha because it was a tad lighter and had a bit longer cut, for those backcountry skiing powder digs. I'm sure the Alpha otherwise is grand.
THe flapless zippers are amazingly innovative and certainly help to cut down on all that bulk. This jacket is ideal for rainy climates, or backcountrying someplace cold with a fleece layer underneath.
Granted, the colors are subtle (having chosen the grey-brown "stone") but in an age of neon this and flashy that made to let everyone know you instead spend this month's rent on a jacket, this jacket is certainly no TNF...And for that, we are all grateful.
Kudos, Arc'Teryx!
Fabric: 390NR lightweight high tenacity Ripstop nylon 3ply Gore-Tex
Price Paid: $409 US

This jacket is brilliant. I don't know how Arc'teryx came up with the waterproof zippers but, having tested them in a heavy downpour, I can attest to their reliability. And, as they're no longer needed, it's amazing how much the absence of storm flaps improves both the jacket weight (a little over a pound) and the accessibility of pockets and pit zips.
Another nice feature is the jacket's length : more than long enough to cover your backside if you decide to sit down in the rain. The shoulders and elbows are both reinforced, so you needn't worry about leaving the trail. Also, the three-way hood adjustments equaled or bettered any other jacket I tried on.
The color choices are few, and the ones that are available are basic, but if you're interested in owning an extremely well-designed piece of technical outerwear - and not just looking to make an urban fashion statement - that won't matter to you, will it?
As Arc-teryx isn't a particularly well-known brand name, outside of the climbing world, I suspect the price mark-up on this jacket is a lot less than on certain high school status symbol jackets. It was a nice feeling to feel as if I had invested in $400 worth of jacket - as opposed to $200 worth of jacket and $200 worth of obnoxiously oversized North Face label.
Fabric: 3-ply Gore-tex
Price Paid: $400 US

You May Like
Recently on Trailspace