Asolo AFX 520 GTX

The AFX 520 GTX has been discontinued. If you're looking for something new, check out the best backpacking boots for 2022.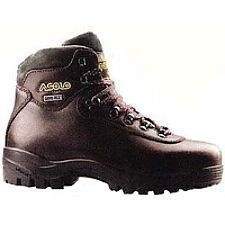 Specs
Men's
Price
Reviewers Paid: $149.00-$450.00

Women's
Price
Historic Range: $159.00
Reviewers Paid: $300.00

Reviews
17

reviews

5-star:

12

4-star:

2

3-star:

0

2-star:

1

1-star:

2
These were great boots but I also had the sole disintegrate. I paid over $450 and they are useless—don't buy them
These were great shoes but like other reviewers I hadn't used them for over 12 months. I then went to put them in bag to go on a hike and found the material between the sole and the upper had turned to powder and separated—now useless and can't be fixed.
When you pay that sort of money you expect them to last.
Source: bought it new
Price Paid: $450

Paid $300, sole has separated.
Love the boot, but after sitting in the closet for over year without use the sole has disintegrated.
Source: bought it new
Price Paid: $300

These boots are the bomb! Most hiking boots I wear, the tongue ends up falling to the right.
Pros
Sturdy, but not too bulky or heavy
Waterproof
Vibram sole
These fit great, are warm and waterproof. I have had them for years and for the same reason buying Asolo again!
I've been wearing these boots for 5 years now and they're still awesome. They have handled everything from Death Valley to slogging through the jungles of Thailand. I take good care of the leather and the boots never let me down. Every trip has a first step and for me it'll always be in my Asolos.
Materials: leather, gore-tex
Use: any time any day
Break-in Period: 15 solid miles
Weight: abou two pounds
Price Paid: $200

Greeat boots!! Asolo seems to have it down with the 520. The tread pattern on this boot also excels the tread on the TPS 520 in the snow. I would however recommend new inserts off the bat.
Materials: leather
Use: short hikes, around town
Break-in Period: 1-2 weeks

Best boots, heck, best shoes, I've ever owned. Bomber tough. Waterproof. And plenty of room for my feet up front, yet snug enough that no blisters ever. Hiked five days in the Grand Canyon. These boots are my friends for life. Hope that Asolo keeps making 'em. Only shortcoming for me is they're a heavy boot and don't pack easily for a plane trip. Am headed for Europe later this winter. I'd love to take my Asolos, but they just weigh too much.
Materials: Leather, Gore-Tex liner, Vibram sole
Use: Rough trail w/heavy pack Short dayhikes. City tramping.
Break-in Period: Very brief as I recall. Never have had a blister. Can wear em all day w/o fatigue or wear.
Weight: Don't know exactly.
Price Paid: Don't recall

I've had this boot for quite a few years now and it has been by far my BEST piece of backpacking equipment! Denali, the Adirondacks, western PA, Canada, WV...hot weather, totally wet/damp/muddy weather...easy trails, killer ones, these boots despite being banged around and bearing a 55lbs. pack or more, I've had nothing but the best experiences with these boots! I love them! I've added a set of Sole inserts to added a bit more cushion...the Vibram soles have worn incredibly well. These boots fit like a glove!
Materials: Leather with Gore-Tex membrane
Use: rough trails, heavy packs, wet and dry, cold and heat
Break-in Period: 20 miles
Weight: 155

Hiked up Whitney with them. No blisters. Very comfortable. Fit my foot like a glove.
Materials: leather
Use: backpacking
Break-in Period: none
Weight: 3.5 pounds
Price Paid: $149

Did 122 miles in 11 days. Came down with a few blisters but that was my fault.
I love this boot. Hiking in the Adirondacks, I was looking for something to keep the water out and the 520 kept the mud and water out. I love this boot.
Price Paid: ?

Great boots. Had a rivet pop and sent boot back to Asolo and they fixed it quickly, free of charge, and they even paid for return postage. (Nice to see)
Here in Canada I put at least 5km on them per day, rain or shine, and yes, in winter as well. They are holding up very well. Just as sturdy as day one. Grip is excellent and leather uppers give great support. Only drawback is rather thick sole, feels a little 'chunky' when doing a lot of ascending and descending. Better than too thin though.
A thin merino wool sock is about all you need on the inside.
All in all it's an awesome boot. Approx. 1.5 yrs. on them and they are still waterproof, comfy and I would never trade them, even for a 2-4 after 3 weeks in the bush !
Cheers
David
Materials: Leather with Gore-Tex
Use: Rough/winter
Break-in Period: 1 week
Weight: 175
Price Paid: $275 (Can.) + tax

These boots are great. My hike was in late August and I expected the boots to be hot, but they weren't. And certainly not even uncomfortably warm. Previous reviews had mentioned these boots tearing up feet, and I had the same complaint...till I broke them in. They fit my feet well, and I didn't have a hint of a blister or pinched toe the entire hike. I love these things...and my only complaint is their weight.
Materials: Leather w/Gore-Tex lining
Use: A.T. in SNP w/ 35 pound pack
Break-in Period: 10 miles
Weight: 3 lbs. 8 oz.
Price Paid: $199

The fit is great, but with Thorlos or Smartwools I recommend 1/2 size larger. Replaced the insoles with Superfeet immediately (after reading these reviews) and went hiking. Break-in is nominal, and to top it all off they look great too. Highly recommended.
Materials: leather
Use: rugh trail with moderate pack
Break-in Period: 1-2 weeks
Price Paid: $150

I used these boots on the Canadian shield doing geological mapping for 95 days, as well as 10 days in the Little Rocky mountains in Montana. I purchased these in February for ~180 American. Walking to school on a regular basis was good for breaking them in (~4km each day).
The first problem was that the inside of the boot was made of Gore-Tex, including the sole, which caused the insoles to slip on inclines, giving me blisters on the inside bottom of my big toes. (This was fixed with 2 sided tape.) Then these boots deteriorated incredibly fast, after nine days of light mountain hiking I had worn the leather on the toes. After one month on the Canadian shield, traversing ~12 Km/day the leather had substantially deteriorated, making repairs necessary (5 min. Epoxy). After ~2 months the sole became seperated from the leather around the toe, and the side, causing water leakage and WET FEET!!
Although Asolo looked at them, they told me they were too damaged to warrant return of any kind. This was after owning them for six months. These boots are designed for someone who wants to look like they hike, but doesn't actually hit any terrain other than the dirt paths. The only thing I would recommend these boots for is day hikes (they are comfortable) but they are very pricey for that kind of use.
Materials: leather
Use: all off trail/30 lbs pack
Break-in Period: 3 weeks
Weight: ~2 lbs
Price Paid: $250 cdn

Nice general backpacking boots. Great looking leather. The Gore-Tex bootie is guaranteed to keep your feet dry. The Vibram outsoles are pretty sick, but the internal shank could be a bit stiffer. I've used boots with no shank, and these don't seem all that much stiffer. But for light mountaineering, or wet weather hiking, these are a great boot for the price.
Materials: Heavy plastic
Use: Backpacking/light mountaineering
Break-in Period: 2 weeks
Weight: 2-3 lbs
Price Paid: $180

Great boots. Started with a 62 lb pack for nine days on the Appalachain Trail and never had so much as a hot spot. They kept my feet perfectly dry during one rainy day, and provided excellent ankle support on the more rocky sections.
Materials: Leather
Use: Appalachain Trail with heavy pack
Break-in Period: 2 weeks
Weight: ?
Price Paid: $190

The Asolo 520's are a great boot. They have tough leather. They are a very dry boot. They have the new Vibram sole, which is awesome. They give my feet support like I have never felt before. I would recommend this boot to anyone anywhere. Asolo is the best!
Ryan Hostetler

Materials: hard leather
Use: any backpacking
Break-in Period: 2 weeks
Weight: light
Price Paid: $180

These boots have served me quite well and are beginning to show it. They are now covered with scratches and the leather is no longer its handsome self. Asolo is a very comfortable boot but I must say the uppers are somewhat loose and can make you wonder why they didn't provide more ankle support. I have not had any real problems despite this. If you are going to be going somewhere very rocky I would suggest buying a boot with a thicker sole (midsize range).
Materials: leather
Use: I use them for backpacking with a 30 lb. pack on week long trips
Break-in Period: 2 weeks normal wear
Weight: about 3 lbs.
Price Paid: $190

You May Like
Recently on Trailspace