Asolo AFX 535

The AFX 535 has been discontinued. If you're looking for something new, check out the best backpacking boots for 2023.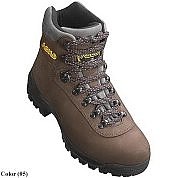 I use these boots mainly hiking the White Mountains in N.H. As always I wear polypro liner socks with Smartwool or Thorlo hiking socks.The 535's are THE most comfortable hiking boots that my feet have slipped into. My feet feel great even after a hard 15 mile climb. Spray them with Campdry and they will be reasonably water resistant. The nubuck loses its appearance immediatly, if you're a real hiker you don't care.
A couple problems...the stitching is coming out in a few spots. But the worst one is how they slip on wet rock! DO NOT wear these if you will be scrambling slabs that may be wet. If the rock is dry they will stick like glue! But if it's wet--forget it! You might as well put grease on the soles.
I've had a couple of nasty wipe outs. I now wear my La Sportiva Pacific Crests if I even remotely think I may run into wet rock.
Materials: leather, nubuck
Use: Off trail, mid-duty backpacking
Break-in Period: 1 week
Weight: 3.0 lbs + or-
Price Paid: $150, $130 on sale

Seam durability is the main problem. The reason that I'm returning these is that the seam that connects the piece of leather that contains the eyelets to the boots itself is coming apart. The seam is simply breaking and coming undone. The boots used to be extremely waterproof, but now water easily leaks in.
There are other problems also. The soles are starting to wear out. There aren't Vibram. Vibram soles are not magic, and there are other types of quality soles, but the Asolo soles used for the boots are wearing out.
Also, the insoles are inadequate. I generally upgrade my insoles anyways.
Ironically, the boots are rather comfortable. They fit my feet fantastically. Maybe Asolo has some more sturdily constructed boots that I could get, because it appears that my feet really agree with their design.
I would not recommend buying these.
Materials: Leather
Use: rough trail
Break-in Period: 2 weeks?
Weight: about 3
Price Paid: $150

In the store they were very comfortable. They continued to be comfortable until they broke in. A few good points: very waterproof w/ adequate treatings (every 30 miles), very sturdy sole, good traction, nice looking, one-piece leather uppers.
A few bad points: too much room in the toe area, loses support in the ankle region, can't tighten down easily as Asolos w/pulley systems, too much tongue, unless you have really big and wide feet you need two pairs of hiking socks. Over all I am pleased but I am looking for more support.
Would I recommend them? All I can say is try them and see. I can't tell you how they will feel on your feet.
Materials: one-piece leather
Use: medium use w/median weight pack
Break-in Period: about 2 weeks (20-30 miles)
Weight: around 3lbs.?
Price Paid: $150

Hands down the best looking and performing boot I've ever owned for the price. These boots are perfect for someone that likes versatility in a boot. The shock absorbtion is awesome. When I longboard around town in the winter I prefer to wear my Asolos because the Vibram soles grip very well and my feet are well supported. I like these boots because they are as comfortable as running shoes but with more shock absorbtion and protection.
If you can find these for under $100 get them, you will be satisfied. I bought the ones I'm wearing in 1999 and the soles still have life left. Also check out Chacos with Vibram soles for the summer time.
Materials: Nubuck upper
Use: Everything from hiking to skateboarding(yes skateboarding)
Break-in Period: 1 month
Weight: feels like 3lbs
Price Paid: $120

I currently have 66 miles on these boots. Moderate to strenuous hiking on rocky trails. They are holding up great other than the factory insoles. They will be replaced soon. They fit and feel as well as any boot I have ever worn and I work in boots. The reason for the price is, they were on clearance at a local outfitter making room for the '99 model. They don't have the Vibram sole, but the factory soles are good. Waterproofing is great after applying Aquaseal. Buy 'em, you'll like 'em.
Materials: Leather-Nubuck
Use: Rough trail, lumbar pack
Break-in Period: None
Weight: @ 3 lb.
Price Paid: $90

You can probably guess I hate these boots. Avoid them at all costs. I had a pair for four weeks before the toes blew out. My friend had his 530's for six before his did. Then they came out withe the 535's so my other friend got them. They lasted him seven weeks before his toes came apart to. So we spent the money on Scarpa SL's. It hase been three months with no problems. Heaven. Say no to Asolo. Yes to Scarpa.
Materials: Leather trash
Use: shopping
Break-in Period: You mean broke down
Weight: about as much as trash usually weighs
Price Paid: $150 too much

I just took these boots back to the store. The inner sole footpad delaminated in only a couple of hours and was bunching up under my toes. And the thicker foam padding beneath the footpad began to crumble away. Pretty crummy for a $150 boot.
I will now get serious and purchase a pair of One Sport Moraines, which felt incredibly burly and comfy when I tried them on in the store after i took the junky Asolos back.
Materials: leather
Use: 1 day in the backyard
Break-in Period: NA
Weight: light
Price Paid: $150

I wore a pair of these for over 1000 miles on the AT, and still use them now. They are very durable boots. The toe box is more narrow than what I was used to, and the tongue flares out a bit. But other than these two minor complaints, I would give a thumbs up to them. I use Sno-seal on my boots to good effect.
Materials: leather
Use: rough trail w/medium pack
Break-in Period: 1 week
Weight: 3 lbs ?oz
Price Paid: $150

I've had these boots (AFX 535) for 3 years and loved them for as long ... but then things got ugly. Gaps appeared on either side of each boot between the sole and material, and the Vibram sole is cracked on both boots - all of which happened during a 4 day tramp! Don't buy these unless you are a sucker for disappointment.
Most comfortable boots I've ever owned, yet still heavy-duty enough for backpacking (in the Whites at least). A good coat of waterproofing makes them as good as rubber but the seam at the sole leaks a bit. I recomend replacing the laces with ones more durable. My original laces rotted out in rain and mud. FIts wide feet well.
Materials: Leather
Use: rugged tral with heavy pack
Break-in Period: 1 week
Weight: light
Price Paid: $160

I've hiked a bunch of miles in mine. Took a while to break in, but they feel great to me now. Still feel good to get off by the end of the day though. I ignored the waterproofing suggestions and used Sno-seal, that stuff is great. Haven't had any problems with durability. I recommend them.
Materials: Leather/Nubuck
Use: Rough trail with heavy pack
Break-in Period: Took me a couple of months
Weight: I don't know
Price Paid: $150

The only hiker I will ever own. The pair I am currently wearing is seven years old and has been worn extensively. The only problems I have had is to change the laces and treat them for waterproofness.
Price Paid: $110

Great boots. Most comfortable boot I have ever owned, ONCE I replaced the cheap insoles with some good ones. I plan on buying another pair or having my old ones resoled. They are great.
Use: Daily wear, work, hiking
Break-in Period: short
Price Paid: $135

Don't let the weight or price fool you, they're awesome. I had a pair of Merrells that turned out to be garbage!!! Make sure you get a good silicone based waterproofer.
Materials: Leather
Use: moderate/rough trail, 30-50lb pack
Break-in Period: 3 local hikes (total 3 miles)
Weight: 3+
Price Paid: $150

Your Review
You May Like
Specs
Men's
Price
Reviewers Paid: $90.00-$160.00

Women's
Price
Historic Range: $69.95