Asolo TPS Highland GTX

The TPS Highland GTX has been discontinued. If you're looking for something new, check out the best hiking boots for 2023.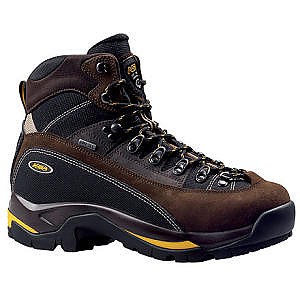 I've only had these a week but the most important part, the fit, is excellent.
I have an issue with my feet where I get shooting pain after a day of hiking in the outside of my right foot when I wear boots that press on that area. I also easily sprain ankles, so I need structured boots. It's really hard to find boots that are both supportive and comfortable for me, and these are simply the best I've found.
I haven't taken them out on the trail yet... because fit is so important to me I'm breaking them in at the office and on the treadmill so I can return them if there are problems.
Overall, these really feel like well designed boots. It's kind of like a Toyota Camry where everything just fits and works right, versus an older american car where it just isn't refined. In fact, another fitting analogy is that these are like unibody cars, where all the parts work together rather than frame cars where the structure is independent of the skin.
These have the fancy TPS construction with multiple layers in the sole. There is the outer rubber, a lower stiffness plastic, some foam, and an upper stiffness plastic. It makes sense to me that having two separated stiffness "plates" is a better way to make a lightweight shoe because just like corrugated cardboard, the spacing contributes to the stiffness. And the heel cup is imperceptible; on most boots you can very clearly feel the top and sides of the plastic heel cup. On this boot the heel cup is layered with several layers of fabric that feather the edge, and you don't feel the hard edge of it anywhere.
And the uppers are made of what I think is a thermoformed foam, similar to what they make ski boot inner booties out of, but thinner. This means that in its resting state it is already shaped like the contours of an ankle, rather than getting its structure from digging into your ankle.
As far as the soles, I wear custom orthotics, so I replaced the thin foam pad that came with the boot with my orthotics which have a hard plastic footbed from the back to the middle of the foot, and a thin layer of neoprene wetsuit like material over that and the whole inside footprint.
These have medium ankle support. It's not quite as much as full leather boots (I tried on the TPS 520 GTX and it was more supportive but didn't fit as well). I would categorize these as light backpacking boots; you might want something a bit more supportive for long trips with a big pack but they are fine for weekend warriors like myself.
Overall, I feel like I'm wearing the future of boots; I've never had any boots feel anywhere near this comfortable.
The one concern I have after jogging a few miles on the treadmill in these is that right under the ball of the foot, one of the "TPS" columns digs in. This is a column of plastic that joins all the layers of the sole structure, and when I jog hard I feel it digging in to the inner part of the ball of the foot with every landing. It doesn't seem to be an issue when walking with no backpack, but I'm going to have to watch this very carefully because this could be the one thing that ruins these for me. I suppose I might be able to fashion some kind of plate to distribute the pressure a bit, but I can't give these boots five stars until I find out if that is going to be an issue.
I'm very interested to hear if other folks with Asolo TPS boots have run into this issue.
Materials: Leather Gore Tex Vibram
Use: Medium Backpacking
Break-in Period: basically none
Weight: approx 3 pounds
Price Paid: $169

I have now had these boots for 5 years and haven't had to make any repairs (not even replace a shoelace). They are true to the sizing, so don't think you can fudge one way or the other. Get the right size.
I have used them on everything from day hikes to week long treks, and these boots have been outstanding. Here in Washington the Gore-tex works great to keep water out and my feet comfortable. With good care these boots can last a long time. They work great for hikes on the rainy peninsula or where you might need a more structured boot--hiking around Mt. Rainier or Adams.
Materials: leather and Gore-Tex
Use: Dayhikes and 50 mile Backpacking trips
Break-in Period: 1-2 weeks
Price Paid: $120

I recently completed a 185-km hike with these boots and while they were fine for the first third when the trail conditions were moderately wet they killed my feet for the balance of the hike when things got really wet, they seemed to be better at keeping water in then out after a point. Synthetic materials were not great for drying boots by fire either. I will use them for day or overnight trips only from now on.
Price Paid: $200

Very nice. Tough as nails, these boots aren't heavy for their size either. Basically one step up from the popular Asolo Fugitive. They're regularly just $10 more and have more leather, are more supportive, have Vibram soles, and are tougher all together.

Materials: Leather, Synthetic, Rubber (uppers), GTX (membrane)
Use: Rough Trail w/ heavy pack.
Break-in Period: 1-3 wks (3-4 days/wk 4hrs per)
Weight: ~3, 10 lbs/oz
Price Paid: $127.50

Your Review
You May Like
Specs
Price
Historic Range: $93.47-$169.95
Reviewers Paid: $120.00-$200.00

Recently on Trailspace