Backpacker's Pantry Chana Masala

Top 25 in Vegetarian Entrées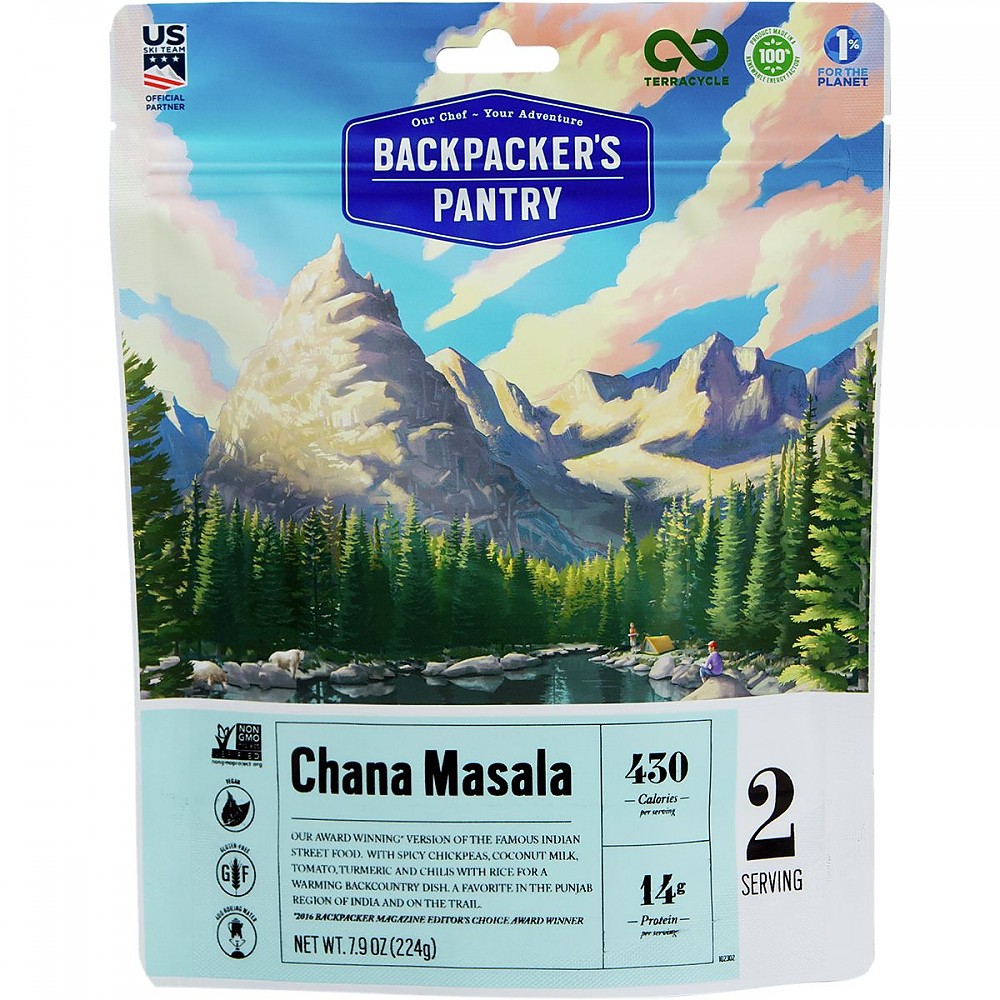 Specs
Price
MSRP: $5.50
Current Retail: $6.95-$7.00
Historic Range: $4.79-$29.00
Reviewers Paid: $6.99

Dry Weight
8.8 oz / 251 g

Serving Size
Two 13 oz Servings

Reviews
2

reviews

5-star:

1

4-star:

0

3-star:

0

2-star:

1

1-star:

0
Backpacker's Pantry's updated recipe of Chana Masala is a very flavorful and surprisingly filling dehydrated meal that has the perfect blend of Indian curry spices, rice, chilies, and garbanzo beans (chick peas). It is vegan, gluten-free, soy-free, and nut-free, so almost anyone can eat this meal without worry. In addition to great flavor, it feeds two people for under $7.
Pros
Packed with flavor
Very filling (2 14 oz servings)
Very value friendly
Cons
Very high sodium
Some may find it to be too spicy (I didn't)
Can cause heartburn (if spicy food gives you heartburn)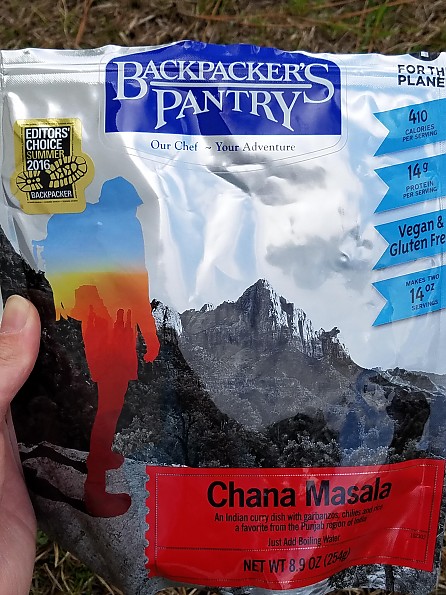 When I first saw Backpacker's Pantry Chana Masala, I didn't think it was something that I would have bought for myself. I was concerned that it wasn't going to be filling enough without any meat in it and that it would be too spicy. However, I was pleasantly surprised by the delicious taste and my very full belly when I tested it for Trailspace.
Ingredients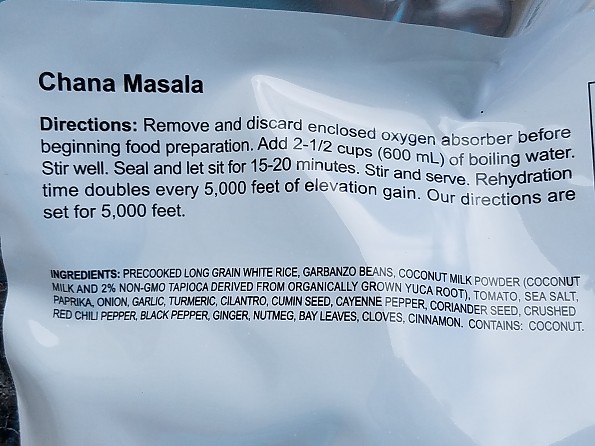 Preparation
Prep for Chana Masala is simple: add 2 1/4 cups boiling water, stir, seal, and let it sit for 15-20 minutes. I let it sit 20 minutes and followed the measurements and it came out perfect both times I cooked it.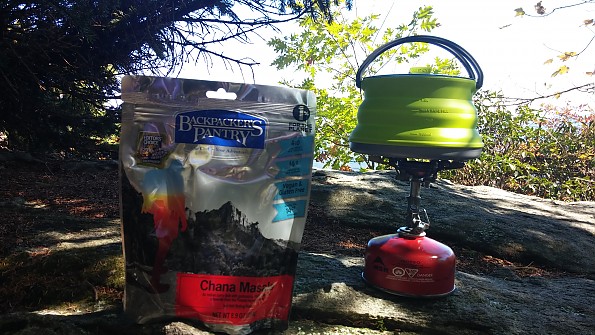 I prepared it at approximately 4000 ft, so the directions applied to me where I was. The food rehydration time doubles every 5,000 ft, so make sure to take your elevation into account when you prepare your meal.
Taste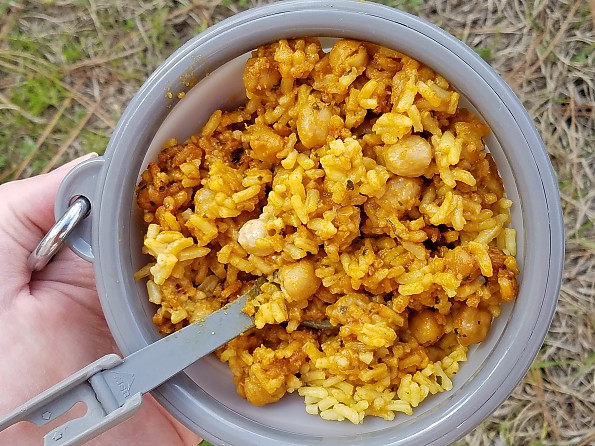 Chana Masala has an excellent taste, bursting with flavor of curry and a blend of other spices such as ginger, nutmeg, bay leaves, onion, and paprika. It has the optimal level of spice to it and I was blown away by the phenomenal taste. If the sodium wasn't so high, I would eat this for dinner ANY time because I loved it so much.
Texture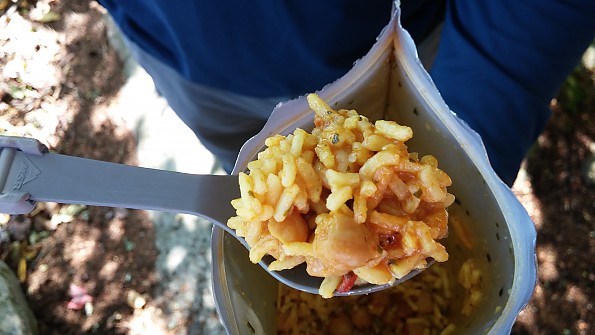 The texture of the Chana Masala is a rice-base with chunky chick peas. There aren't a lot of other big ingredients, mostly spices, so the texture is basically rice and garbanzo beans. If your beans are crunchy, you didn't let it sit long enough.
Satiety
The two-serving Chana Masala was more than enough for my husband and I when we were super hungry after hiking all day. We actually struggled to finish it all both times we ate it. It isn't overly heavy, but there is a lot of it. We ate it for lunch and it kept us full all the way until time for dinner after a full day of hiking. When we ate it for dinner, it kept us full all night, as well.
With 410 calories, 14 grams of protein, 85 carbs, and 9 grams of filling fiber, Chana Masala will keep you fueled all day long.
Nutrition Facts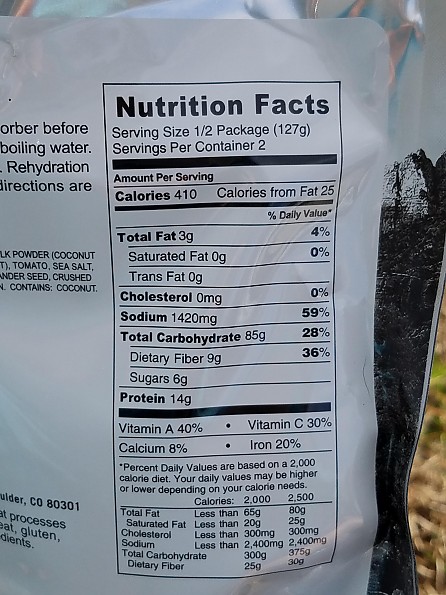 I mentioned most of the noteworthy nutrition facts above in the satiety section, but I didn't mention that it has 1420 grams of sodium per serving. This is very high for a dehydrated meal (or any meal).
Best for
I would recommend this for lunch or dinner. I think it would really shine on a cold day or night because it warmed me up tremendously. Just remember to factor in possible heartburn if you are eating it later in the evening.
Conclusion
I highly recommend that you try this dish unless you just plain hate relatively spicy food. It is easily one of the best dehydrated meals I've ever had. Chana Masala will definitely be incorporated into my regular backcountry meal circulation. Not only is it really delicious and filling, it is a great price for two servings.
Thank you for taking the time to read my review. Thank you also to Backpacker's Pantry for providing the sample and to Trailspace for providing the testing opportunity.
Source: received for testing via the Trailspace Review Corps

If you enjoy a lot of rice (given this is a vegetarian option), then this is for you. I was hoping for more protein from other sources listed within such as chickpeas. No such luck. Excessive curry.
Pros
Lightweight meal
Large volume of food
Cons
Too much rice to "other" food
Excessive curry
Double time needed to cook
Had this included with my last bunch on and outing to Glacier. These Backpacker's Pantry meals always sound so good on the description, but I am always let down.  
First off, this is a vegetarian meal, so I expect to supplement the meat with something else. In this case it is rice and more rice. I was hoping for more beans to cover the protein that I wouldn't be getting from meat. I perhaps had 20 chickpeas in my entire pack. Not really acceptable.
The curry was bit excessive too. I was drinking water non-stop. Another camper with me had the same experience I did.
Not sure what it is about BP meals, but I normally have to double the cook time to get the meal adequately incorporated and eat-ready. I think this was 13 min and I did about 26 or 27. It can also use an ounce or two more as there is so much rice within to absorb all the liquid.
It's not to say that it is worthless because it did provide a lot of meals.  I generally eat one bag myself of both BP and MH brand, even when it says 2 or 3 servings.  This on the other hand I couldn't finish and another friend needed to do it for me.
Between Mountain House and Backpacker's Pantry, I always go with MH.  Not to say that BP is always worse...I'm just going with my experience and the odds.
Source: bought it new
Price Paid: $6.99

You May Like
Recently on Trailspace