Backpacker's Pantry Huevos Rancheros

The Huevos Rancheros has been discontinued. If you're looking for something new, check out the best breakfasts for 2023.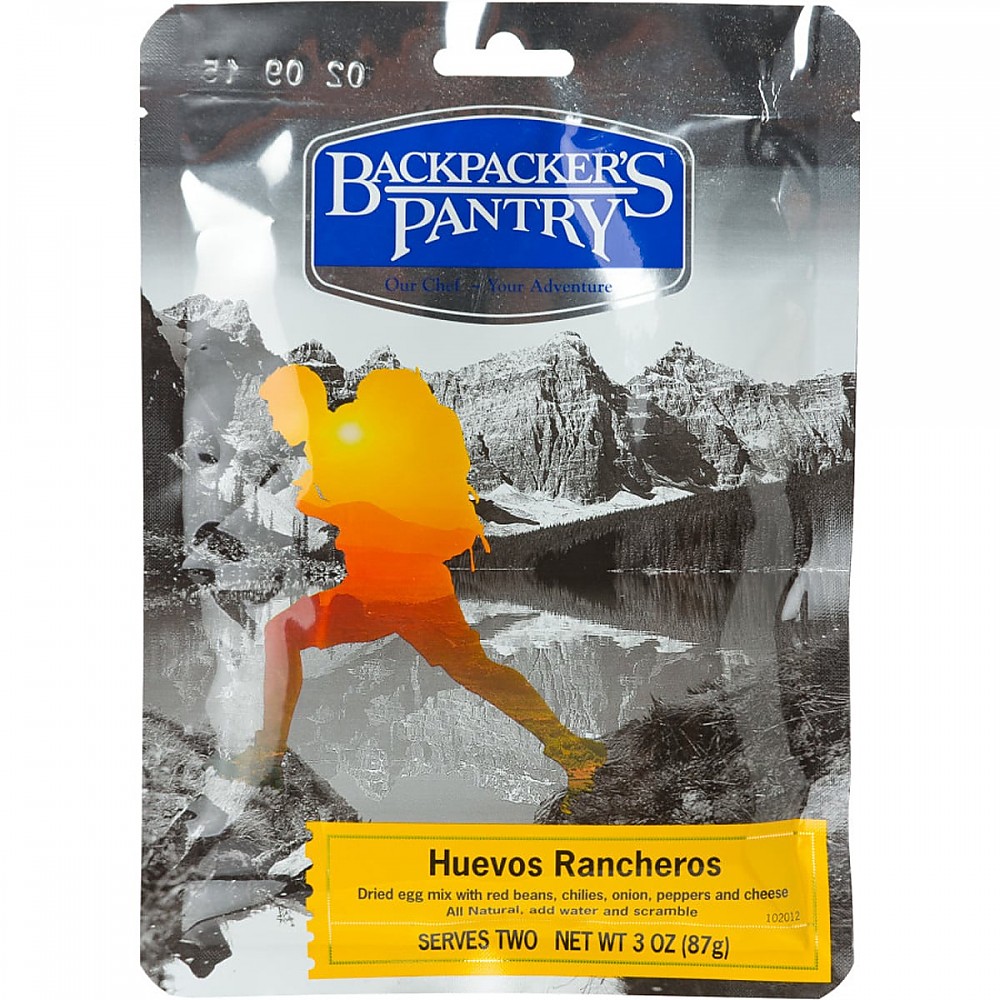 A good idea for a "change of pace" kind of backpack breakfast but rather poorly executed by Backpacker's Pantry. I would have trouble recommending this to anyone unless they really wanted some kind of alternative to plain dried eggs.
Pros
Not too expensive
Decent flavor
Long shelf life 6+ years, clearly marked on package
Cons
Gritty texture
Requires rehydration before cooking
Too much salt
Clunky preparation
Saw this at a Menard's for $4 per pouch. How bad could it be?
I tested it at home in a 11" non-stick skillet so I could see what it looked like while rehydrating and cooking. The instructions say to add 1 and 1/4 cup of water, doesn't say what temperature the water should be. I used cool tap water.
I used a silicone whisk to blend the ingredients. It took a -lot- of whisking to get it to blend. After 10 minutes I turned on the stove and cooked it at low heat as per the instructions. After five minutes, nothing was happening so I boosted the heat to medium high, much like one would be doing with a backpack stove.
Finally the "eggs" kinda started to set once the mixture was rapidly bubbling. It didn't act like regular eggs though at all and seemed to be taking too long to cook. Even in the Teflon pan one had to be careful not to burn the mixture. The eggs seemed a tad watery and after ten minutes I gave up trying to steam off some residual water.
Tasting? First impression, not bad at all, due in no small part to the 700 mg of salt per serving (2). There was a decent hint of Mexican spices (cumin et al) that was OK but I never saw or tasted any hint of red peppers and there was little evidence of onion. About 90% of the red beans were just barely hydrated with a few still hard on the outside and powdery on the inside.
The most notable part of the dish is the gritty texture. It seems like the egg and cheese powder just did not fully incorporate despite liberal use of the silicon whisk before and during cooking. Don't expect creamy eggs and nice gooey cheese with this meal.
Overall it is edible and it is somewhat filling. The preparation and cooking may be too fussy given the final results. Especially if you are not using a heavyweight non-stick 11" skillet like I was using at home. This would likely be a major fail in a thin bottomed stainless or titanium uncoated pot.
Source: bought it new
Price Paid: $4

Tastes pretty good but needs a long time to rehydrate AND it has to be cooked first.
Pros
Tastes pretty good
Ample portions
Cons
Takes longer to rehydrate than instructions state
Has to be cooked in a pan before eating (unless you like eating raw eggs)
I've used this product a couple of times car camping and we (wife and young son) have all enjoyed it. If you add tortillas, cheese, and bacon you can stretch it out to three servings as breakfast tacos.
Most of the negative reviews I've seen are either because people are complaining of the taste and soupy texture caused by eating uncooked raw egg mixture, or because they were caught by surprise that it needs to be cooked in a pan (versus just rehydrated like most meals meant for backpacking).
In regards to backpacking, unless you're prepared and willing to cook actual eggs then this might not be the best choice. For car camping or backpacking with more cooking gear, these are really pretty good. Or they were. Good as it seems they've been discontinued and no longer show up on the Backpacker's Pantry website.
Experience
Car camping
Source: bought it new
Price Paid: $7-$8

Freeze dried vomit.
I tried this out when I camping recently.
So glad I had a little extra food hanging around after trying to eat this.
It was way too salty, it was grainy. Usually with Backcountry Pantry I find that you need to avoid putting the recommended amount of water or they end up too soupy. So I put not quite enough it. It tasted awful. Extremely salty, horrendously grainy and sweet. It tasted much like bile. It was dreadful. More water didn't help.
With gorillas I can imagine this being more palatable, but this was awful. I would strongly advise against it.
Source: bought it new
Price Paid: $5.99

Tried this on a recent backpacking trip with mixed results.
Prep is a pain for those of us who don't like fussing with food and requires that you scramble the rehydrated contents in you pot or pan -- which may test your ability to find a simmer setting on your Pocket Rocket.
Looks a bit mushy when you're cooking it and it definitely benefits from rolling it into a tortilla.
It actually has pretty good flavor, but it's nothing like Huevos and has more the flavor and consistency of taco meat. I'd probably give it 5 stars if it was repackaged as taco filling.
Price Paid: $7

Your Review
You May Like
Specs
Price
MSRP: $3.90
Historic Range: $2.94-$25.80
Reviewers Paid: $4.00-$7.00

Dry Weight
3.5 oz / 99 g

Serving Size
Two 5 oz Servings

Recently on Trailspace