Backpacker's Pantry Pad Thai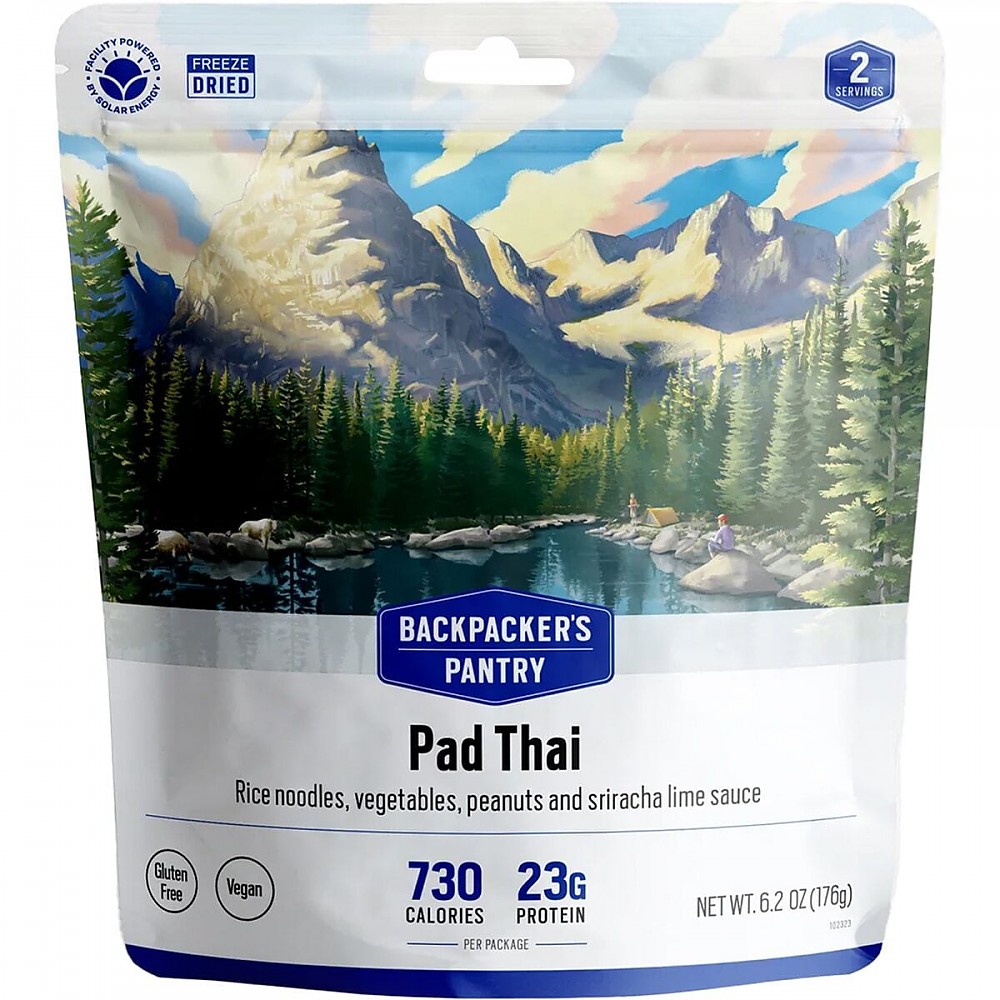 Not your grandmother's pad thai, and that's just fine. A solid vegan/vegetarian offering of a traditional pad thai with protein provided by a strong helping of peanut products.
Pros
quick and easy rehydration
good spice levels
vegan/vegetarian
moderate sodium
Cons
staggered expiration dates
low satiety
messy
I've had Backpacker's Pad Thai with Chicken in the past, as well as countless restaurant offerings ranging from fancy to food truck. This compares pretty favorably. Not exactly high end, but far from a poor example of the genre. Rice noodles chopped up short enough to be easily retrieved with a long-handled spoon, good sauce with a moderate level of spicy heat, noticeable lime, and a lovely big whack of cilantro flavor (if you like that sort of thing, and I do :) ).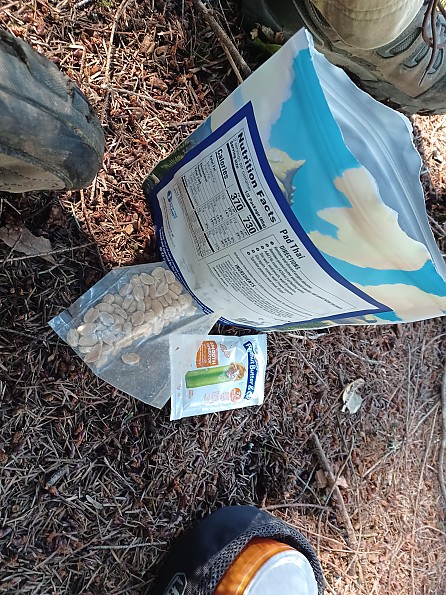 Preparation:
I prepared this gluten-free meal in the middle of a long day hike with temperatures hovering around 40 degrees Fahrenheit (4C)—a hot meal was very welcome indeed. One and 3/4 cups of boiling water, fifteen minutes with a stir in the middle, add the contents of the two packets at the appropriate time. Easy as. 
The noodles cooked up to perfection, and the sauce was fully integrated—no clumps. The only ding against this preparation process is the "extra" mess of the necessary extra packaging for the peanut butter and the peanuts. Hardly a big deal, but worth keeping track of in pursuit of LNT principles.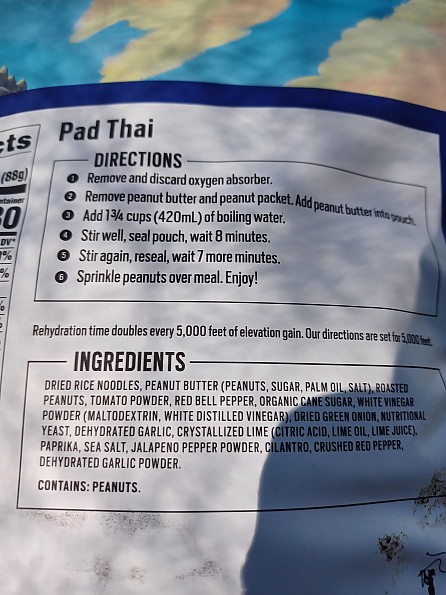 Nutrition and Satiety:
Lower on the sodium spectrum that one might expect (24% rda for the whole bag), with lots of protein thanks to all the peanuts (23g) and plenty of calories to fuel a trek (730 for the whole bag). It was not a gut bomb, but just enough to satisfy.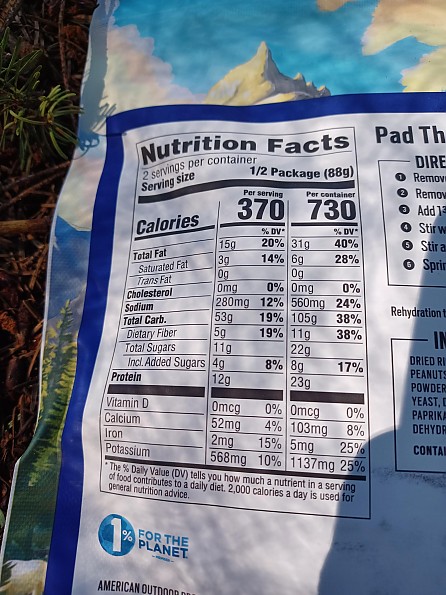 Except.
The lack of animal protein left me just a little put out (though Backpacker's Pantry does offer a Pad Thai with Chicken). There was a distinct lack of textural interest that left my mouth just a little bored by the end of the bag.  If one were to share this meal with another hiker, splitting two dissimilar meals in one sitting, I expect it would be just about right. But as a solo meal, it was just a little too much of a muchness.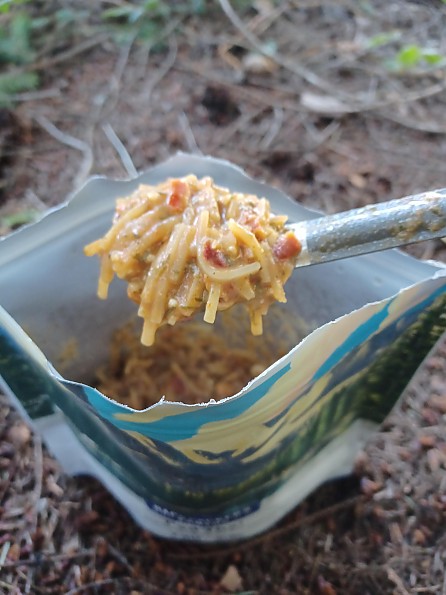 Recommendation:
I can absolutely recommend this meal to anyone. I might caution folks to share it, in order to prevent a touch of oral ennui—but that's quite probably more a problem for me than it might be for others. And there is one further fairly sizeable caveat to be observed:
This meal consists of three separate packages: an outer pouch, a small sachet of organic peanut butter, and a small bag of peanuts. There is an expiration date impressed into the outer pouch. There was a separate, much closer-to-the-present-date expiration printed on the peanut butter. There was no expiration date associated with the peanuts, but they were chewy and stale right out of their bag. I suffered no ill consequences from any of this, but it is definitely worth bearing in mind that the date printed on the main pouch might not in fact be the *actual* expiration date of the entirety of the meal.
Source: received for testing via the Trailspace Review Corps (Sample for testing provided by Backpacker's Pantry)

Pasty texture, tasteless.
Pros
Light, good for backpacking
Cons
Tasteless, textureless sludge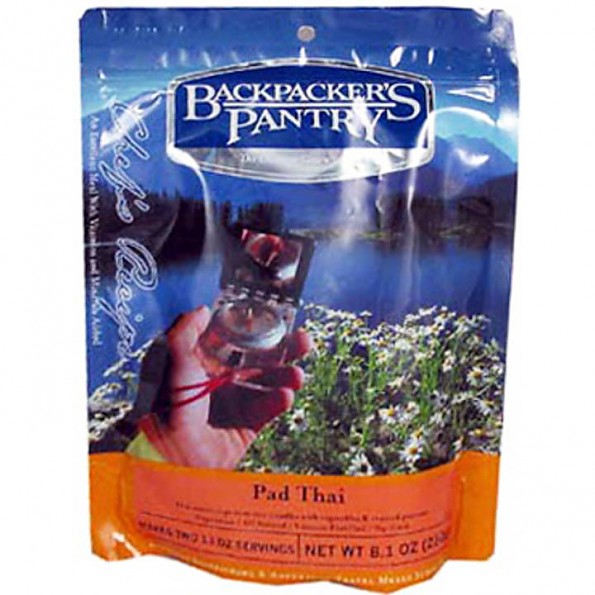 I bought a bunch of dehydrated meals to feed a couple of clients while on a week-long trip in the Canadian Rockies. Of them all, this was by far the worst. 
The cooking time was given as 15-20 minutes, quite long for a boil-in-a-bag meal. To begin, you pull out the silica packet, and add a separate package of peanut butter to the dry mix and stir it in. I added the correct amount of water, wrapped a towel around the bag to hold the heat in, and waited about 17 minutes. I opened it up and mixed in the peanuts, stirred it again and let it all sit for another couple of minutes.
The result was a sticky mess. Maybe I'm missing something, but the glass noodles Pad Thai is made with normally cook in a couple of minutes. In the Backpackers Pantry version, the longer cooking time left a soggy, pasty lump, its texture tempered only by the peanut chunks. The flavour wasn't as spicy as I'd expected a 'Thai' dish to be, just a bit of zing but far from enough to make it interesting. Imagine a soggy lump of noodles with a tablespoon of chunky peanut butter mixed in - that's what we had for dinner. Two unhappy clients, and a slightly embarrassed guide. 
Good things:
It's vegetarian, so if you have clients who want that, I suppose 

it would do.

Lightweight at 227 gms (8 oz)

460 calories per 1/2 pkg (1 serving)

Filling, in a gluey kind of way
Bad things:
Would I eat it again? If I was starving, I'd eat anything. Other than that, absolutely not. In fact, my clients were so turned off by the Backpacker's Pantry Pad Thai that they declined to try other dishes from the same company for the rest pf the week, preferring instead to stick to the Mountain House products.
Contents:
Rice noodles, peanut butter, soy sauce powder, chicken-flavoured vegetable protein (?), peanuts, chives, corn, broccoli, carrots, peas, onions, lentils, tomato flakes, celery, mushrooms, vitamin supplement.
Source: bought it new
Price Paid: 6.50

Gourmet Thai food! Not restaurant quality, but pretty close. Comes with a packet of peanuts and Justin's all-natural peanut butter to add to it!
Pros
Easy to pack
Nutritious
Lightweight
Filling
Large portions
All-natural
Veg-friendly
Tasted great
Cons
Hard to mix
Not enough peanuts!
Took the Backpacker's Pantry Pad Thai Noodles on a weekend hiking/canoeing trip with my boyfriend. It was lightweight and easy to pack without adding much bulk to either of our packs. The idea of adding hot water to it, and not having to use any of our cookware, was awesome!
We took a snack break before setting up camp for the night, and while we were eating trail mix we put water in the bag to soak, popped in back in our packs, and continued on our way. After reaching our site and setting up camp, we were able to build a bonfire and eat our meal. Seriously, the clean up for Backpacker's Pantry is amazing! We even used the pouch that the food comes in as our garbage for the rest of the trip!
One thing that we loved about the Pad Thai was that it had a lot of different nutrients. As a vegetarian couple, we find it hard sometimes to grab dehydrated foods. Backpacker's Pantry has a lot of different options that we can choose from, all of which taste great! The Pad Thai even had little crumbles of vegetable protein in it, which was very satisfying.
Overall, the whole pouch fed two of us, and we even had some leftover! (Which we ate as a snack after consuming beers later in the evening...) The meal was nutritious, felt good in our stomachs, and was super easy to prepare/clean up. 
We were so surprised to find a pouch of Justin's all natural peanut butter in the bag of pad thai! It's our favorite peanut / almond butter brand!
After trying and loving the Pad Thai, I've since taken it on other bikepacking/hiking adventures. Haven't found a single person who didn't like it!
Source: bought it new
Price Paid: $6-ish

Definitely one of the most delicious freeze dried meals I've had. And not just because I was eating it after hiking uphill 12 miles per day. Almost good enough to eat under normal circumstances, so quite a treat when you're outdoors. Yum!
Pros
Deliciousness
Scrumptuousness
Taste: Great flavor. The peanut sauce really comes through. I'd definitely eat it again.
Prep: Pretty standard. Heat the water, insert the water, seal the package, wait, and then devour.
Satiety: Sometimes it can be hard to get food down after a strenuous day of hiking but this meal compelled me to eat when it would have otherwise been hard to, and left me feeling satisfied. I've found Backpacker's Pantry to be fairly reliable as far as their portion guides are concerned. I ate the two-serving version multiple times and it filled me and my partner up every time.
Energy: It did the job.
Claims: It made no special claims, but was a really welcome component in a diverse hiking diet during a long thru-hike.
Packaging: No more or less convenient than other meals.
Best for: Dinner after a long day of hiking! Seriously, when you have a good meal in your pack finishing begins to feel like a reward.
Source: bought it new
Price Paid: $7

This last August my wife and I camped across Alaska.. As weight and volume were considerations due to baggage concerns we decided to utilize our MSR PocketRocket and dehydrated food.
We were pleasantly surprised with the Pad Thai meal produced by Backpacker's Pantry. I can't really say much more, but we had to replenish our larder about halfway through our 17 days. The first thing we looked for was Pad Thai.. "It's truly to die for" lol.
Price Paid: $6.95

Your Review
Where to Buy
Help support this site by making your next gear purchase through one of the links above. Click a link, buy what you need, and the seller will contribute a portion of the purchase price to support Trailspace's independent gear reviews.
You May Like
Specs
Price
MSRP: $9.99
Current Retail: $9.95-$10.50
Historic Range: $4.83-$41.40
Reviewers Paid: $6.00-$7.00

Dietary
Vegan, Vegetarian, Gluten-free

Calories
730 per pouch

Protein
23 g per pouch

Sodium
560 mg (24%rda) per pouch

Servings
2 per pouch