Balega Blister Resist Quarter

Balega's Blister Resist Quarter is a hybrid mohair and synthetic sock from a company that does a great job with running socks. Great wicking properties help keep your feet comfortable. Smooth material doesn't tend to chafe. They tend to show wear by looking "fuzzy" but that's cosmetic—no notable thin spots or wear. Slightly more bulky than a typical running sock.
Pros
Comfort
Wicking
Durability
Cons
Thickness of material
Price
OVERVIEW
By calling this a "blister resist" running sock, Balega is pretty clearly pushing the narrative that this sock is somehow better at protecting your feet from blisters than the average sock. I'll address that but will mostly focus on the more general reasons you might want to get a couple pair of these socks.
I was provided two pair to review—a quarter-height and crew height Blister Resist sock. You can see that the crew is a few inches longer on your leg than the quarter. Other than the height and the color, both pair are effectively the same. Note that Balega also offers an extra low Blister Resist No-Show sock as well.  
This sock combines a synthetic wicking fabric Balega calls Drynamix with mohair, which comes from the fleece of Angora goats. Angora's rep as a fabric is that it has similar properties to wool but is smooth and silky—hence its properties might reduce friction with your feet. In addition, wool products combined with synthetics that wick could do a good job handling moisture that might make your socks bunch and....cause blisters.  
So, let's get into it.  
SIZING
Balega sells these socks in small through extra large, and sizing is unisex. The size large socks for my 11.5 feet were at the limit of what Balega calls a large, but fit has not been an issue. The socks are fairly stretchy and fit my feel really well.  
Probably worth addressing is the risk of shrinkage and care for anything that's at least partially wool or wool-like. I haven't noted any shrinkage, but I also haven't run these through a machine dryer. If you want socks with wool or mohair to last longer, the most you should do is damp dry them, but let them finish on a line or drying rack. (These are my recommendations, not the company's.)
COMFORT
Whatever the fabrics mean to you, having a well-designed sock is a big plus, and this sock is excellent in that regard. These Balega socks have a nice, stretchy heel pocket, extra elastic at the arch area and at the top (ankle or mid-calf), extra cushioning under your feet, and lightweight, stretchy material on the tops of your feet. These features mean the socks fit really well. They are a pleasure to wear for that reason alone.
Balega claims that mohair resists shrinkage more than other wool, keeps its shape better than other wool, and stretches 30 percent more than other wool. Compared to an old style ragg wool sock, perhaps that's true. However, I have used multiple brands of merino wool blend socks that are also very stretchy, have also held their shape very well, and have not appreciably shrunk after years of use. So—the mohair is great, but I'm not sure it is appreciably better or different than merino wool blended with synthetic. Also, Balega has other non-mohair socks that have similar characteristics.  
The combination of synthetic wicking fabric and mohair also works well. Whether I use these in fairly cold weather (30s) or a pretty warm (mid-70s) walk, my feet feel comfortable and dry. 
Do the socks feel any more dry and comfortable than, say, a merino wool sock? Not really. What sets these socks apart is that they feel thicker and more cushioned than typical running socks. I already own a few pair of Balega's Enduro running socks, which don't have any mohair, and the thicker bottoms and warmth of these socks were the primary difference.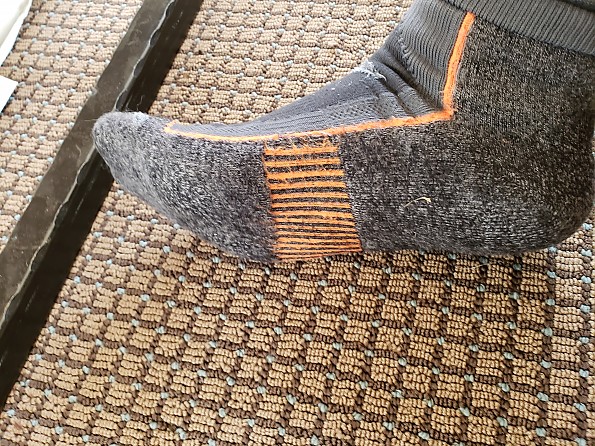 THE "BLISTER RESIST" CLAIM
These socks certainly don't contribute to blistering. The elasticity of the fabric and cushioning on the bottom do a nice job protecting your feet, and the fabric is very smooth, no matter how hard your feet sweat—so in that respect, these socks might do a good job helping you avoid blisters. I can't say they do that any better than other wool/synthetic blend socks that use a soft, smooth wool like, say, merino.  
I do think these socks do a slightly better job wicking moisture than socks without wool—I can say that from years of experience with Balega's non-mohair running socks.  
THE CLAIM THE SOCKS KEEP OUT GRIT AND GRIME
Balega's online literature says the socks keep dirt and grime out because the quarter-length top is particularly elastic. While I often end up with little stones and grit in my running shoes or trail runners, I can't recall any running or merino wool sock that has allowed stones or grit to get in between the sock and my feet. So, while Balega's claim that these socks keep grit out is valid, I don't think it distinguishes these socks from many others.  
THE ODOR RESISTANCE CLAIM
Balega's claim that mohair promotes lack of stinkiness is accurate, but no more accurate than many other wool blend socks. Wool does a nice job avoiding stink; mohair does too. I couldn't say mohair is any better in that regard.  
DURABILITY
Functionally, the socks appear to be highly durable. I have worn both pair a lot over the last few months. I can't find any wear that affects the integrity of the socks, which usually (for me) happens in the heel area or at the tops of the toes. I also can't detect any loss in the stretchiness that makes these so comfortable to wear.
Cosmetically, these socks look a bit more fuzzy on the outside after wearing them a lot. You can see the cosmetic wear both on the bottoms and the tops. I'm fairly confident that the mohair portion of the blend accounts for this. I took the photos below today, at the end of the testing period.  
As a brand, Balega socks are exceptionally durable. I have machine washed and dried multiple pair of their socks for years. Because these socks have a wool component, I line dry them. Note that while Balega does not particularly recommend or discourage machine drying, the company does not recommend using fabric softener because it can damage the fibers.  
WARMTH
The mohair makes some difference here. My testing period started during the winter, with weather cold enough that I would normally opt for wool blend socks rather than normal (non-wool or mohair) socks. These are notably warmer than a non-wool running sock.


THICKNESS
The exceptional cushioning of these socks makes them a little bit more bulky than many running socks. It wasn't such a great difference that they don't work with my normal running shoes and trail runners, but you can feel it. To me, this is a matter of personal preference, but as a former competitive distance runner, the comfort level of your socks impacts your experience, especially when you're logging dozens of miles a week and hundreds of miles a year, so I recommend trying on this sock with your favorite shoes. Decide for yourself if this makes a difference.  
The cushioning/thickness was similar for the quarter and crew versions. Note that Balega sells several different kinds of non-'blister resist' socks that vary from very thin to medium thickness. Their "enduro" socks are medium thickness, and they sell ultralight running socks in no show and quarter heights, as well as a silver-impregnated sock that is supposed to be extra-good at fighting odors.
COST
I list cost as a factor because Balega, as a brand, is pretty expensive for running socks. A pair of blister resist socks costs $18 for the crew and $15 for the quarter. Note that the Enduro socks, which lack the mohair or thickness of the blister resist, cost $15 and $13 for the same heights.  
TESTING CONDITIONS
I have worn these socks for walks and jogs over the past 2-3 months. I often let them dry on a drying rack without washing them, but they ended up getting laundered quite a bit anyway. Weather ranged from 20s to 70s. I wore them with my favorite running shoes (New Balance), trail runners (Salomons) and low hikers (Oboz), always with custom orthotics. I used them in rainy or snowy weather a few times, but no drenching thunderstorms.  
PRICE: Good running socks aren't cheap. List price ranges from $15 to $18 for these, but most running socks go on sale from time to time.  
CONCLUSION
I highly recommend these Balega Blister Resist socks. They are among the best running socks I have worn. I can't say they are any better at stopping blisters than other good merino/synthetic blends, but they do a really great job keeping your feet dry and comfortable.  
Experience
2-3 months of wear in running, trail running, and low hiking shoes. Estimated mileage of around 50 miles for each pair.
Source: received for testing via the Trailspace Review Corps (Samples for testing and review provided by Balega)

Your Review
Where to Buy
Help support this site by making your next gear purchase through one of the links above. Click a link, buy what you need, and the seller will contribute a portion of the purchase price to support Trailspace's independent gear reviews.
You May Like
Specs
Price
MSRP: $15.00
Current Retail: $20.00
Historic Range: $6.99-$20.00

Recently on Trailspace