Barbour Wax Pants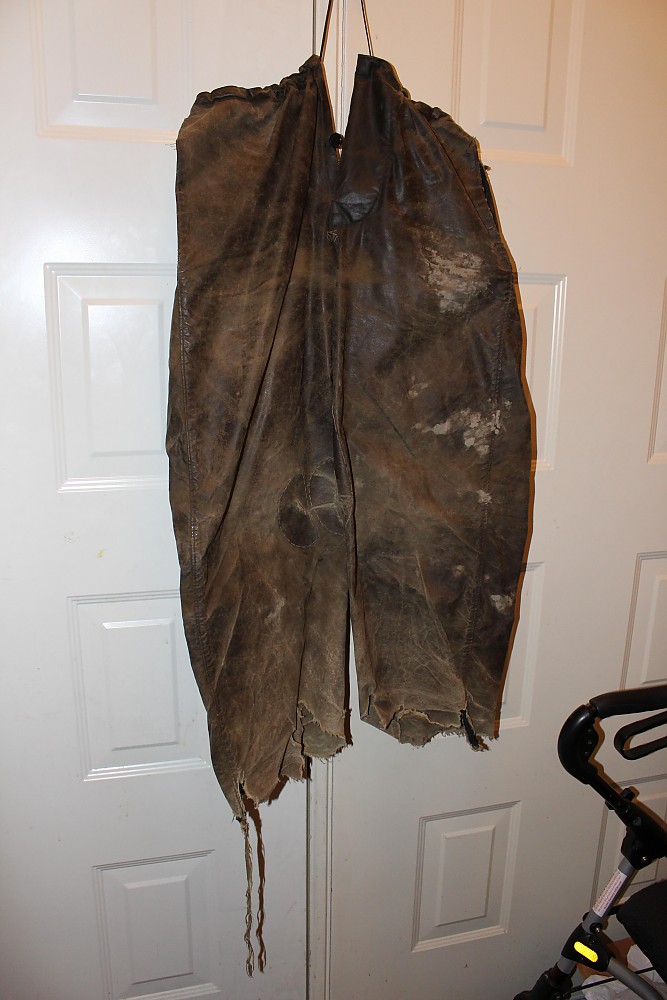 Reviews
2

reviews

5-star:

0

4-star:

2

3-star:

0

2-star:

0

1-star:

0
Waxed cotton outerwear may now be considered old-fashioned, but there is a place for it in contemporary activities. That the brand is not listed on Trailspace indicates a missing spot in outdoor apparel.
Pros
Competitive performance
Competitive price comparable to other breathable outerwear
Some might consider it "stylish"
Cons
Wax can come off on other clothing
Needs periodic rewaxing
Not machine washable
I am writing this only because the brand was not listed on Trailspace. Despite Barbour having nearly a 1/4 billion dollars in annual sales it is relatively unknown in North America. This may be in part because their iconic product, waxed outerwear, has become eclipsed by Goretex and other modern breathable fabrics.
A 19th-century fabric that continues to have a following in the 21st century is remarkable in itself. This may be attributed in part to snob value. Designed for and worn by the landed British aristocracy, the Queen and other members of the Royal family continue to wear them no doubt thereby improving sales. Despite many outerwear firms now manufacturing overseas the waxed jackets continue to be made in England and sold at prices competitive with other high end breathable fabrics manufactured in developing countries.
My experience with Barbour waxed outerwear began in 1978 while a student. I had become tired of wearing waterproof pants that left me socking in sweat and condensation. I therefore took the plunge and spent 25 pounds for a pair of their pants that I hoped would avoid this problem. I tried it out on a three-day goose hunting trip to Hudson's Bay, and came back with tinnitus which never left me, and pants with major holes in them. I returned the pants in disgust and expected no reply. To my surprise they sent me a brand new pair.
I have since realized that by wearing them with rubber leg waders the rubbing action on the cotton was bound to create holes rather quickly. After that I just wore them only with trousers. The pants solved the condensation problem. Though they are expected to be treated periodically with their wax coating to make them waterproof, I did not do this much as I took shelter in heavy rain, and preferred to maximize their breathability during heavy exercise.
After years of heavy use they had to be repatched, repeatedly sown together, and ended up looking patchy. They did the job, however, and were as good as any of the more modern fabrics I have tried since. Considering they produced no sweat or condensation they were remarkable in their time. Sad to say I can find no trace of the waxed cotton pants on their website or any other outlet and have to assume they have been discontinued.
The Barbour waxed cotton jackets continue to be produced and I obtained a couple of them at garage sales and second-hand clothing stores for a small fraction of their original price. As they are quite similar in appearance and functionality they can be reviewed as a category. It is a case of personal preference whether one wants to wear such an outfit given the many choices available today. Most often associated in the public eye with grouse shoots in gentle English countryside complete with beaters and gun bearers it might not go over well in North American hunting settings where realistic camo patterns, and those supposedly invisible to animals are prevalent.
However, camo dress is seen as aggressive in some circles, and the olive green solid color of Barbour may be more acceptable as both urban and country wear. As urban chic it might go over better, and in wilderness activities I found it performed perfectly well. It worked for me just as well as the camo colors did. That said it requires somewhat more maintenance than other fabrics, though the difference between applying wax and DWR is minimal.
The photos show the old pants with the patches and mud attached. The Barbour Border Jacket is still available on the internet from several retailers for around $350 US along other styles with similar prices. An optional hood selling for $50 US may be considered reasonable given the price of a new jacket, but as I paid $10 for a used pristine jacket at a secondhand clothing store, paying that for a new hood was too much, so I use a color matched plastic garbage bag instead when the need arises.
Source: Bought pants new in England

I have been wearing waxed cotton Barbour or Filson (killer pants, bout the only thing that will rip them is a barb wire fence) for 40 years. Best application is busting brush in the rain or snow and wind. Bird hunting in fall and winter most often. My buddies with membranes get wet as moisture brushes through.

I use membranes for hiking or backpacking.
Pros
Resists Russian olive thorns
Protects in wet thickets, toolies, big sage
Lots of great pockets, often rear game pockets
Bombproof zippers (brass)
Mostly waterproof
Filson Double Tin Pants will stand in the corner to dry
Cons
Can be heavy
Clean with a sponge and brush
Cotton linings stay wet
Reproof—Barbour used to have regional clinics
Wax can come off on car seats—but if that's a concern you are in the wrong rig
I have three Barbour jackets, but the most often used is a simple shell, no cotton lining.
All are straight cut and rugged with outstanding hardware.  They are rather long in the body.
The cotton fabric is extremely tightly woven and can be used for years without reproofing, the downside is that folds can wear over time. Reproofing prevents this. A recently proofed jacket is little stiff and will transfer wax to other fabrics.
Some jackets have handwarmer pockets above the lower cargo pockets, a great feature.
I am not convinced that these fabrics breathe as well as some of the membranes like Polartec Neoshell. For my application I will trade out mid layers back at the rig between hunts. But, when wet snow is blowing sideways and we are working behind dogs through wet brush or cattails I have seen the membranes fail repeatedly and consoled my shivering friends.
Filson makes Double Tin Pants that are waxed and outstanding. I have used Barbour chaps, but switched to the Filson because you can bust through almost anything, wild rose thickets, blackberry messes....just not barb wire.  They do patch very easily. They are stiff and can chafe, but wear in and are perfect with a light pair of long johns.
Both Filson and Barbour do claim to replace any garment they cannot repair.
I do recommend getting the bottoms of the Filson pants trimmed with leather.
If you cannot stand the thought of wax, an alternative is an English fabric called Ventile.
This stuff is windproof, extremely tightly woven long staple Egyptian cotton. When wet, the fibers swell and moisture rolls off.  It breathes rather well and excels in cold conditions. It was used extensively on arctic expeditions and high altitude climbs. Rarely seen in the US, a number of firms offer it in England.
Source: bought it new
Price Paid: Filson pants $160

Your Review
You May Like
Recently on Trailspace