Barefoot Company Free Your Feet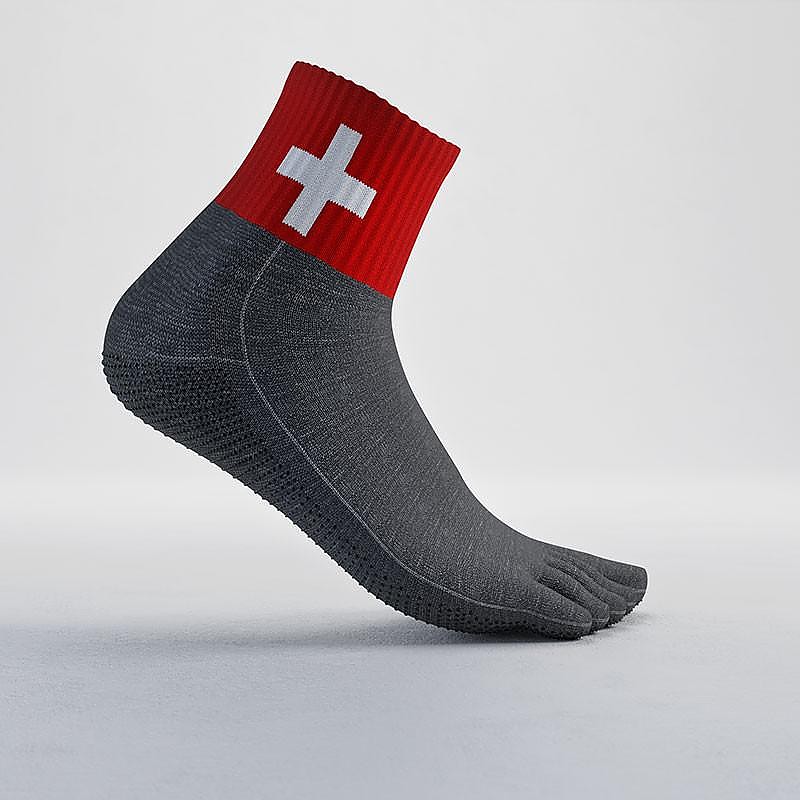 Dyneema material rubberised socks that allow you to really feel the terrain under your feet. Minimises risk of cuts when wanting to go barefoot.
Pros
Ultra tough, made from Dyneema
Super grippy soles
Fast drying
Ultra portable
Cons
Toes slightly uncomfortable
A few rubberised sole niblets detached
The FYF (Free Your Feet) is a great pair of socks for those into water sports or those that want to go barefoot. Made out of Dyneema fibre that has tensile strength 15 times greater than steel it protects your feet from any type of cut (e.g. selfish, glass), friction injury (blisters from rough terrain) or scratches (from twigs and stones). However, it will not protect you from long pointy objects (think needles or urchins).  
It has amazing as it has small rubberised nibs on the soles. I was able to clamber with ease over wet rocks and granite outcroppings while rock fishing, without fear of ripping my feet apart. Once done, I squeezed the socks off and rolled them up into the small waterproof bag supplied. Unfortunately some of the nibs had started to detach, perhaps due to submersion in salt water for long periods of time.
Another downer was that the rubberised sole only came to about an inch from the back part of my heel. Hence, If you are thinking of purchasing them, I would suggest a slightly larger size for a looser fit and perhaps a complete toe to heel rubberised sole.
The socks are really useful and protect your feet around camp, while wadding in water or doing some "barefoot" hiking or running. You can feel your feet strengthening as you naturally adjusting your gait and feet placement as the FYFs really allow you to feel the ground you are traversing.
A great pair of barefoot sock that allows one to really connect with the landscape without fear of injury. 
Update: Here is a photo of the packability of the FYFs. The pair of socks are rolled up semi tightly and below them is the empty bag (ruler is in inches):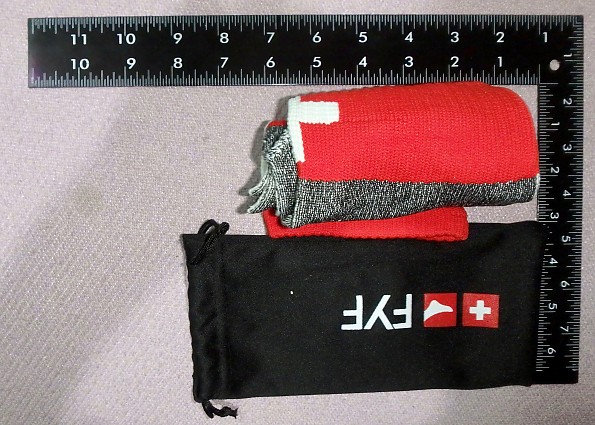 Source: bought it new
Price Paid: $50

Best minimalist footwear available for a true barefoot experience.
Pros
Highly durable on natural terrain
Strong slice resistance
Virtually barefoot experience
Best minimalist footwear for the purpose
Long lasting
Multipurpose
Cons
Not an everyday long distance footwear
Quick wear on concrete
Toes a bit narrow and long
Take a minute to put on
For a fabric they perform extraordinarily well in terms of minimalist footwear. I own a landscape/hardscape company and I work barefoot quite often, but in some circumstances the terrain does get a bit rough so these are my immediate go-to. On dirt, grass, stone, and other natural surfaces they do excellent.
I jump on shovels all day too, so it is nice to not worry about slipping and slicing my foot on the sharp metal sections. On artificial surfaces such as concrete they get worn much faster. My pair did hold up fairly well even after about 20 miles of mid-foot running on concrete but I went rock climbing in them and it did tear open a few holes on the worn spots from running. The holes were specifically on the high contact areas such as the ball of my foot and under some of the toes. The midfoot and heel section of the socks are virtually perfect and still have the little rubber nobbies, probably because I don't heel strike often.
I think the bad reviews are from people who expected them to be indestructible or just a regular sock. They are not that and they are not designed for that. It is just a fabric, but it is an extremely tough fabric that literally acts as a second layer of skin so that you don't destroy yours while offering all the benefits of being barefoot. No other minimalist footwear (Vibram 5 fingers, Vivobarefoot, and Earthrunners included) allow for the freedom and mobility of being totally barefoot like the FYF socks do.
I usually wear a size 11.5 shoe and the XL fit perfect except for around my toes. My toes are a bit wider from being barefoot so often so it took me a minute to get them on but once they were on they stayed on comfortably. The toes of the socks were a bit longer than my toes but the loose fabric wasn't much of a bother. Worst case scenario I have considered restitching them and cutting off the excess but it hasn't been a problem thus far.
I am looking at another pair for work use specifically because they are the best option I have come across.
Experience
Allowing the feet to work properly is of utmost importance to structural health and this protective footwear is exactly that. It is designed for and around the feet unlike most other shoes. Other minimalist shoes capture the effect of being able to feel the ground but poorly exhibit the full mobility of the feet. This product does both while simultaneously protecting the feet with strong material.
Source: bought it new (I ordered my socks directly from getfyf.com.)

Outdoors socks made in Dyneema, which according to wiki is 8-15 times stronger than steel. Protects the feet from stings and cuts, while at the same time keeping them warm.
Pros
Versatile
Comfortable (barefoot but without the pain)
Very small packing space
Relatively cheap
Extremely light
Cons
They look a bit weird
If running, you could get injuries if you do not adjust your running technique.
I love running and doing outdoors stuff in these. They are very light (perhaps 50 grams each?) and versatile. I use them for running and forest walking, climbing etc now, but can see many other uses for them. For example next time I go sea kayaking I will bring them instead of ordinary shoes or sandals, as they dry quickly and are perfect for using while exiting they kayak to go ashore. Also for walking on islands with sharp rocks.
Mostly I use them for running but for those who try it's important to use proper technique in order to avoid injuries. It's true that they do not support your ankles the same way as for example hiking boots, but at the same time you become much more sensitive to the ground and hence much less prone to slip in the first place.
I think they are great and would recommend them to outdoors enthusiasts that want to have the barefoot feel minus the pain, infections, and so forth.
Perhaps the best part is that it can bring weight down from the feet. Many trekkers try to pack light but usually they focus on the back. I've often heard that 100 grams on your feet is similar in extra effort to 1000 grams on your back. Because with your feet you have to constantly lift up and down. So for people who want to pack light, this could be something to consider.
Source: bought it new
Price Paid: $80

Over-rated, over-sold, and bad customer service.
Cons
The material is much weaker than advertised
The "grip dots" fall off from just walking on flats
These socks were a present and the gifter is extremely disappointed by the result.
The toes sleeves are the exact same length which means none of the toes fit properly. The big toe sleeve is very narrow so it barely fits on the actual toe.
The material is much weaker than advertised and visible damage ocurred after a single trail run. The grip dots fell off from just walking in a living room with floorboards.
The company is trying to ride the minimal running trend and competing with Vibram FiveFingers. Sadly, the quality isn't up to the task.
Source: bought it new

Cons
Too expensive and not worth $80 a pair
The Barefoot company has absolutely terrible customer service and that even took them over a month to get back to me at one point.
The Sox do not hold up to what they are advertised for. I would use these for very light activity. I would not run in them on any surface unless it was a treadmill.
The company sent me the wrong size. I needed a size medium and they sent me a size large. I tried to work with the size but I'm pretty sure that it is not supposed to hurt my feet to wear these. I had to push so much fabric down in between my toes to get them to fit properly that it actually hurt my feet to wear these.
They did not work right for rock climbing and they did not work well for jogging on the concrete when I encountered a very small patch of pebbles. It felt just like I had no protection at all.
They advertise that you can go rock climbing and they also advertise that you can run on any surface including a rocky surface and it will hold up fine. But what they don't tell you is that it will hurt the heck out of your feet the second your foot hits that rock with all your bodyweight and momentum!
Definitely not worth $80.
Source: bought it new
Price Paid: $80

These were absolutely awful. These shoes are advertised to withstand rock climbing, hiking, and other outdoor activities. They did not hold up long at all and I only had them for a month before they started getting holes.

They advertise it like you can wear these anytime and anywhere, but you can't and I would not recommend it. Complete garbage!
Pros
No pros I see in these shoes
Cons
Not durable
Still hurts when you run on hard surface
Cannot hike or rock climb like advertised
Takes forever to get to you
The product is complete trash!
Source: bought it new
Price Paid: $80

Poorly made. Not as advertised.
Cons
Overpriced
No durability
Poor customer service
Pure garbage. Wore them for two bouldering sessions. The rubber nibs wore off quickly and I wore a hole in the fabric. So much for being durable and made of the strongest fiber.
The company said they would be happy to exchange them, but first asked me to check the fit. What's the point if it already has a hole worn into it? Interesting idea but poorly executed.
SAVE YOUR MONEY. DO NOT BUY THIS PRODUCT. 
Source: bought it new
Price Paid: $80+

Felt cheated, I must say.
This is not a material as advertised. It did not take maybe 10-15 km of pure walking and both socks were damaged in the totally same spot actually hurting my feet as I did not expect them to go off that quickly so I did not notice that I actually walk barefoot.
Do save your money.
Source: bought it new
Price Paid: 100 euros

Don't believe in advertising. I feel painful when I wear sock on the road that full of rock. Terrible product.
Cons
Like sock I buy from grocery store
Terrible. I feel I've been ripped off.
Source: bought it new

To small
Pros
Very light
Good for walking in sea
Cons
I get two pairs—size M and L—both too small for my foot which is 43 in Europe
Socks are much too small.
Source: bought it new
Price Paid: 80

Your Review
Where to Buy
Help support this site by making your next gear purchase through one of the links above. Click a link, buy what you need, and the seller will contribute a portion of the purchase price to support Trailspace's independent gear reviews.
You May Like
Specs
Price
MSRP: $80.00
Reviewers Paid: $50.00-$80.00

Material
FYFs are made of 46.5% Dyneema fabric

Recently on Trailspace