Bedrock Sandals Cairn 3D


The Bedrock Cairn 3D sandal puts the company's unique and very stable strap design on a thicker and somewhat more contoured midsole than Bedrock's original Cairn. As a result, the Cairn 3D does a better job protecting your feet and is more comfortable for hiking and walking than the related model—and also heavier. With straps that do an outstanding job keeping your feet secure, great traction, and awesome durability, the Cairn 3D rivals and arguably exceeds many of its well-known competitors
Pros
Secure and adjustable straps
Comfortable and mildly contoured under your feet
Excellent traction
Excellent durability
Cons
Between-the-toe design may not thrill you
Competitors provide more support, cushioning
INTRODUCTION
A few words on sport sandals generally: when original Teva sandals hit the market, they changed my summers. I spent a lot of my time in canoes and in/around lakes, streams and rivers hiking, and having a shoe that was much more than a flip-flop, secure enough that it wouldn't fall off in the water, and with enough tread to portage or hike a bit, was a revelation. It spawned a new segment of outdoors footwear, and this is the kind of shoe I'm most inclined to wear in the summer unless I'm hiking many miles and wearing hiking shoes or boots.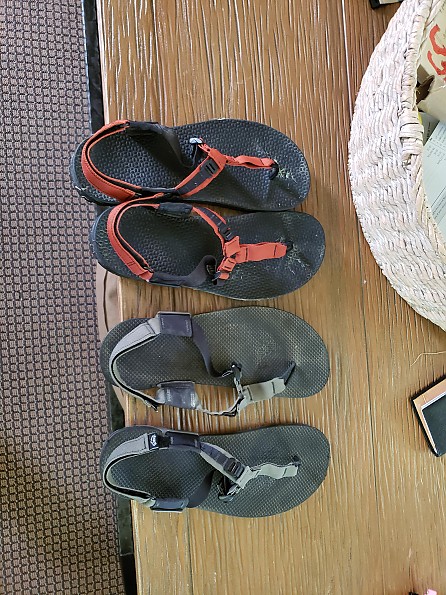 Bedrock is a relatively new, U.S.- based company that initially rolled out highly minimalist sandals—the kind that are one or two steps away from walking around barefoot, extremely lightweight, with effectively no contour or support. The Cairn 3D puts some of Bedrock's winning design ideas on a sole/midsole combination that will probably appeal to a wider range of outdoors-people.
You won't mistake the Cairn 3D for your favorite Teva, Keen, or Chaco sandals, but these are quite a bit closer to those well-known sport sandals than the "original" Bedrock Cairn. I previously reviewed the original version of the Cairn here and continue to wear them: https://www.trailspace.com/gear/bedrock-sandals/cairn-pro/#review38594 In the photo above, the khaki green straps are the Cairn Pro, and the orange straps are the Cairn 3D reviewed here.  
The basic strap layout on Bedrock's sandals is a heel strap that secures via hook-and-loop (velcro) and straps that fit roughly like a flip-flop—except that you can adjust the straps and cinch them tight, like a Chaco or Teva sandal. The only other company that has a remotely similar design is Xero's very lightweight huaraches, which are super-minimal, ultralight sandals that are the next best thing to barefoot.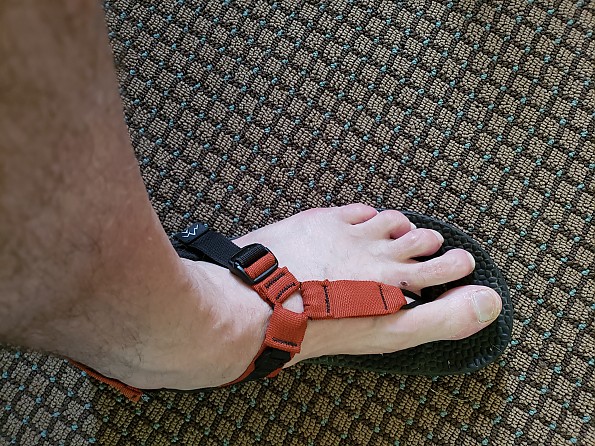 FIT/STABILITY
You can see the strap system above. The part between your first and second toes is a loop of round webbing anchored into the sole so that it won't pull out. (Remember your old shower shoe flip-flops, where the toe piece would pull out sometimes? Won't happen with these). The straps on either side of your foot are adjustable—on the inside, the strap has a small metal hook that slides into one of several stitched-down gaps in the strapping to adjust for foot size, and on the outside, the strap pulls through a clip—same as most of the other sport sandals on the market. This offers quite a bit of adjustability and should fit many sizes and widths of feet fine (I wear a 12 wide).  
The effect of this three-part strap layout is that your feet don't slide either front-to-back or side-to-side. It's very secure. The only design that comes close, for me, are the Chaco sandals with a separate strap over your big toe, which are also very good at keeping your feet in place. This shoe is quite a bit lighter than that, yet short of using this sandal for some steeper scrambling, where it probably doesn't belong anyway, there is virtually no opportunity for your foot to slide around.
To give you an idea of the difference between the original and 3D models, look at a few of the photos below. The 3D sole is more than twice as thick as the regular model and has a little bit of contour—but not much—under your feet.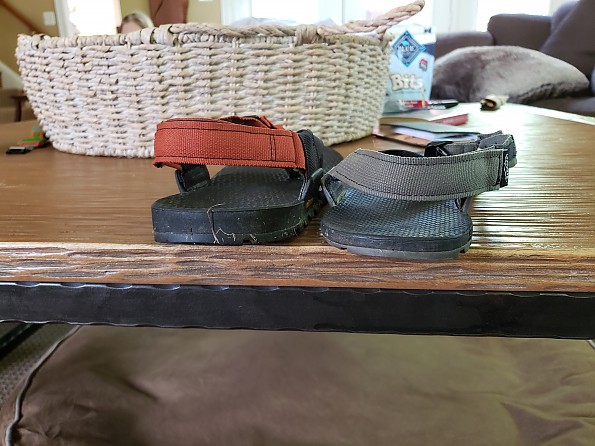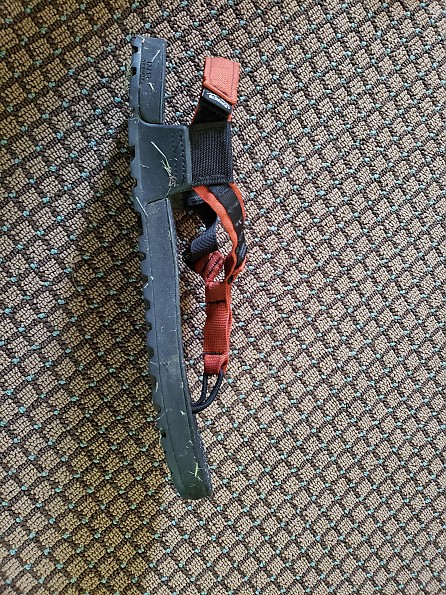 The sole-midsole combo is still reasonably light because it's not that thick—little to no arch support. People who need meaningful arch support might not be happy with these.  
COMFORT
The two main comfort questions I think most people will have are with the webbing between the two toes and the minimally-contoured platform. It took me a few walks to get used to having the webbing between my toes; regardless, I have always liked the Chaco sandals with the separate strap over the toe, and these aren't enormously different in how they feel between your toes. The toe webbing is one of the features that makes them so secure. But, I figure some people won't like that.
The second issue is the sole—do you want a fairly contoured sandal, or not? The Cairn 3D has enough thickness that you won't wince if you step on a pointy rock or a tree root by accident, but it doesn't have nearly the contour or thickness of a number of competitors. I guess it depends on your feet. If you have no arches and need some support, you might not like how these feel, but I think you would have to try them on to know.  
The straps themselves are comfortable, unless you can't deal with the loop between your toes. Whether it's the material (typical polyester webbing) or the design, these are not blister machines. The only raw areas I have had were near the nylon between the toes—on a hike all day on a rainy summer afternoon. 
GROUND PROTECTION
Very good. The sole is a pretty thick, pretty hard material, and the midsole has very limited 'give' which makes walking on trails, even relatively rocky ones, very manageable. Like any open-toed sandal, you're more likely to stub your toe with these than with a closed-toe shoe or with the legendary Keen toe bumper. My Keen Guide sandals are still my choice when I'm around canoes to keep my toes intact. On the plus side, the sole is sufficiently firm on this shoe that they do provide some buffer if you accidentally doink a root on your trail travels.  
TRACTION: WET AND DRY
The soles are basically a bunch of chunks, as you can see in the photo below. They are made more for trails and dry land than water—harder rubber compound, deeper spaces between the "lugs," thicker than the original Cairn. It's not fair to compare these to shoes I have owned for over a year longer, but I think these soles don't wear as much as the sticky "pro" soles. They also do a slightly better job with unstable trail conditions like sand, mud, gravel.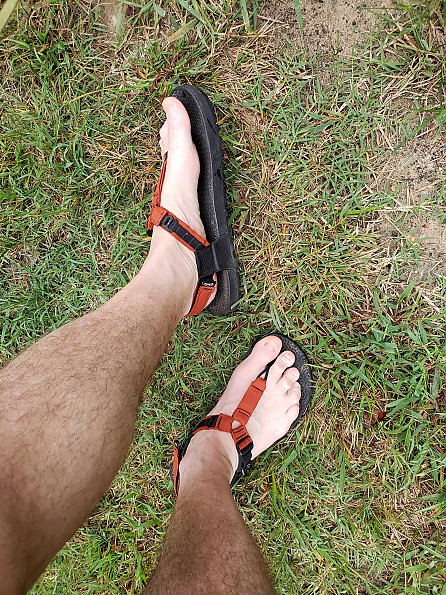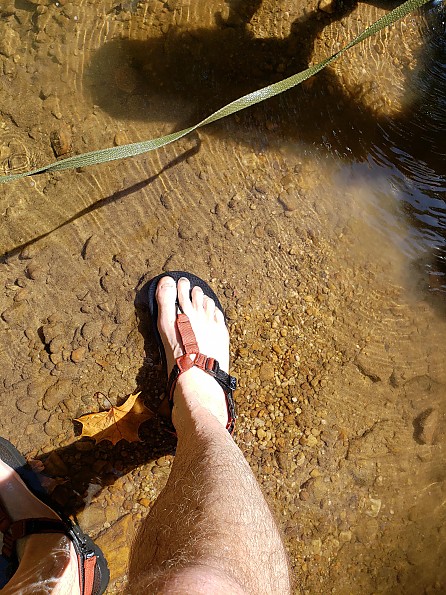 On the slick river and stream rocks that I encounter all summer, these have done really well. Let's face it, no matter what shoe you wear, no matter how sticky the sole compound is, there is some risk you will slip when you walk on slime-coated rocks in a river, lake, or stream.
To "test" that, I take our dog on a walk in the shallows and see how close I get to wiping out. As with the photo above (you can even see the leash and a partial shadow of the pup), my foot is immersed in the water here, in a stream that flows pretty well—no slippage. On another outing in maybe 4 or 5 inches of water at the edge of a large river, I had some uneven footing on a few occasions, as I have had with the Chacos and Keen Guide sandals I sometimes wear. If you want the sole with the most grip in the water, buy them in the Pro version. It helps a little.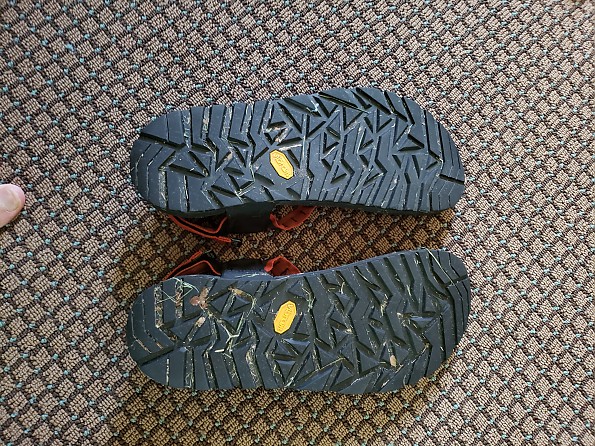 You can see the sole pattern above—thank Vibram for it.

DURABILITY
It's helpful to look at a few pressure points, the places that are most likely to fail or fall apart, to see how well a shoe like this is going to last. A few of the photos above have a side view that shows how the straps are sewn to the shoe a little forward of your heel. The stitching is secure, and I haven't had anything approaching a fail in either shoe. Likewise, the strapping around the heel has even, rock-solid stitching.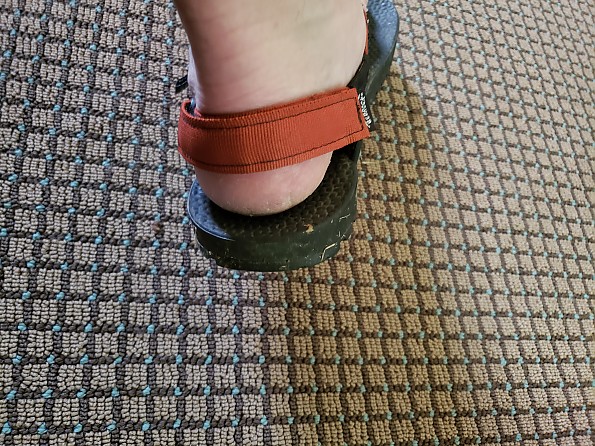 If you look at the toe areas below, you can see the round webbing between the toes goes straight into the midsole/sole, and how that is sewn together. It's well-anchored. The shot below also gives you a little idea of how the original and 3D versions vary in terms of the amount of contour. The 3D is on the right and has just a bit more substance to it. I haven't had the soles pull loose either, though to be fair, I haven't had that happen on any other sport sandal either.
For whatever it's worth, Bedrock manufactures every sandal in its Richmond, CA, facility. I had to wait for my original Cairns to get made after I ordered them. As Chaco has started to evolve into a fashion item focusing on the strap colors shifting manufacturing overseas for mass production (except for Chaco custom sandals, which I believe are still manufactured in the lower 48), I like the fact that this smaller company still makes them here and pays attention to the quality.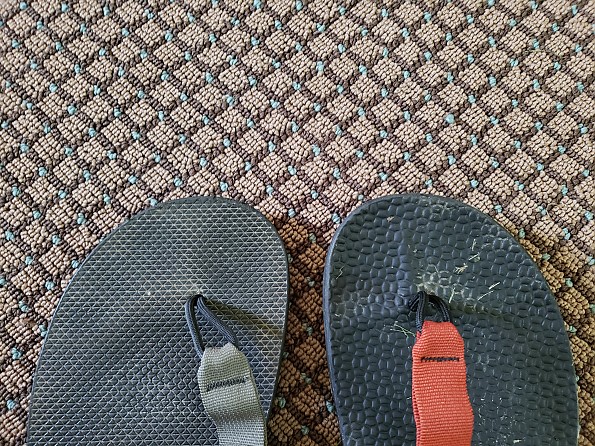 TESTING CONDITIONS
I purchased the Cairn 3Ds in April 2019 and have worn them a lot since then—on trails, in and out of fresh and salt water, beaches, walks on paved paths, at least 2-3 times weekly throughout. (I wear them in cooler weather with toe socks. If you might do that, take a gander at the photos in my review of the original Cairn. A number of photos there with Injinji socks because I got those sandals in late '17, so I wore them a fair bit in cool or even cold weather).  
AVAILABILITY
Bedrock sells from their own website, via independent stores around the country (some of which have their own website, like Bentgate), and via REI. They aren't in distribution as wide as most major brands.

CONCLUSION/TAKEAWAYS 
Sport sandals have evolved since I wore (and wore out) my first pair. I wear them a lot and beat them up in the process. Bedrocks take a fresh approach to the genre—a further evolution, if you will. Unless the toe strap thingy or the relatively non-contoured midsole troubles you, they're worth a look. In many ways, this sandal knocks it out of the park.  
Experience
I have worn sport sandals steadily for the last 25 years, and I wear them a lot. I have reviewed several pair of them from multiple brands on this website.
Source: bought it new
Price Paid: $110

Your Review
Where to Buy
Help support this site by making your next gear purchase through one of the links above. Click a link, buy what you need, and the seller will contribute a portion of the purchase price to support Trailspace's independent gear reviews.
You May Like
Specs
Price
MSRP: $110.00
Historic Range: $37.50-$115.00
Reviewers Paid: $110.00

Weight
10 oz per size 9 sandal

Materials
100% vegan materials and construction