Specs
| | |
| --- | --- |
| Price | Historic Range: $314.27 |
| Weight | 5 lbs 8 oz / 2.5 kg |
Reviews
2

reviews

5-star:

0

4-star:

2

3-star:

0

2-star:

0

1-star:

0
The Bergans Compact Light 2 is an impressively sturdy and weather-resistant four season tunnel tent. It excels in high winds and rain and sets up very quickly and easily. I have reason to believe that it would also excel in snow, but I was not able to find any during my summer testing period.
Pros
Very weather-resistant
Sturdy
Sets up easily and quickly
Generous vestibule
Cons
Weight (5lb 8oz)
Not free-standing
Foot end of inner tent touches the outer tent

About the tester:
I am a 30 year-old 5'4" female from S.C. who typically goes on day and overnight hikes in the Southern Appalachians.
Conditions:
I tested the Compact Light 2 for two months in the Southern Appalachians and at home in Columbia, S.C. There was substantial rainfall here over the past two months. The tent was put through very high winds exceeding 25 MPH several times and driving rain multiple times.
The Bergans Compact Light 2 is a tunnel tent that has an inner tent and an outer tent attached together to make set up quick and to make it more weather resistant.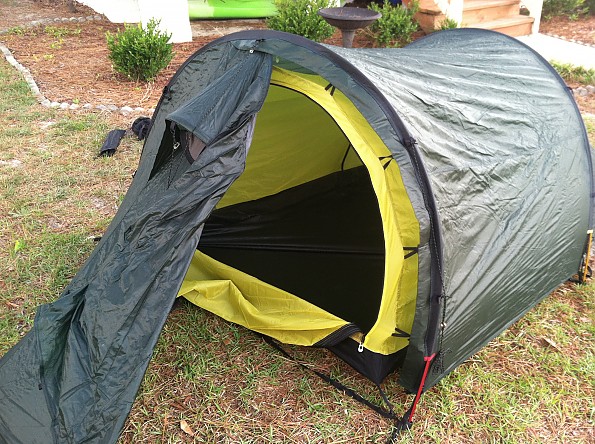 Setup:
The Compact Light is very easy to set up:
1-      Spread it out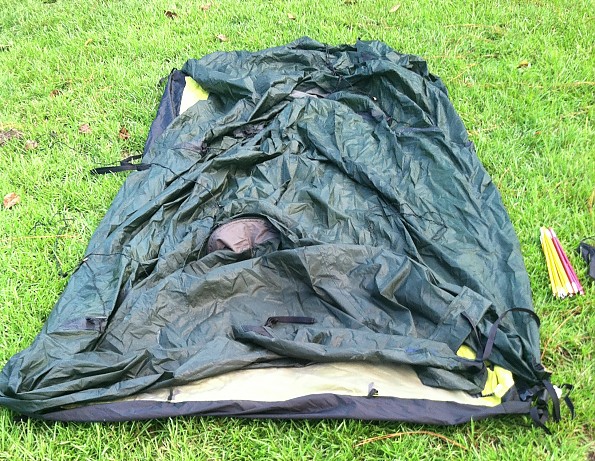 While you have it spread out, make sure that the stabilizer on the bottom is actually on the bottom and not tangled up. The first time I tried to set it up it got tangled up and it confused me.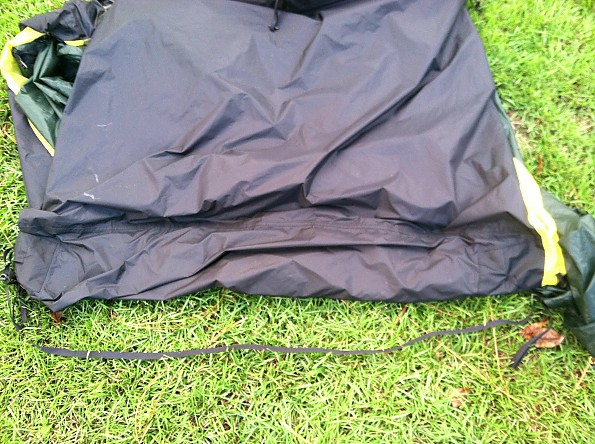 2-      Stake it down (back and front)
3-      Insert the poles and insert them into the holsters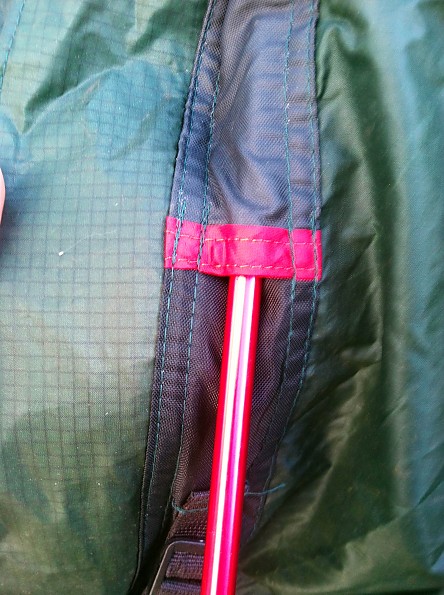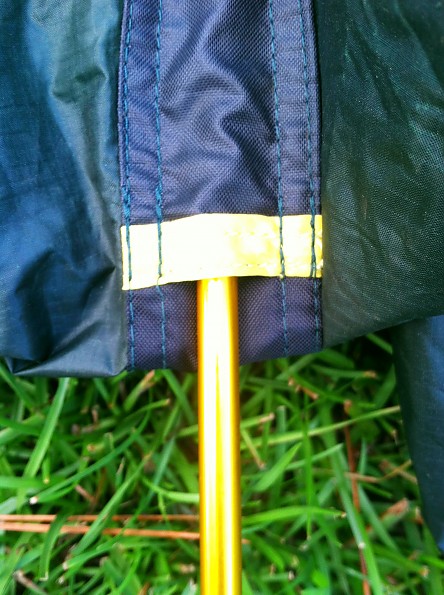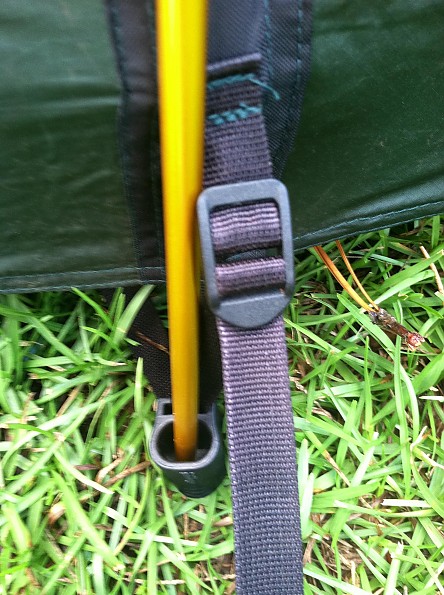 That's all you need to do for normal weather. For foul weather, there are 13 total stakeout points (5 guy and 8 peg points).  There are also adjustable straps at each pole holster to adjust the height of the outer tent. If it is windy, I also recommend guying out the front and back lines before setting up the tent, to keep it from blowing away.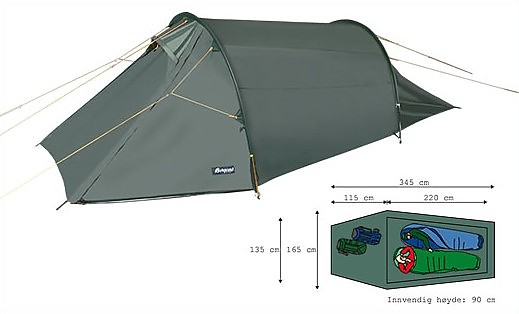 When you are putting away the Compact Light, I recommend that you fold in the corners and then roll it together. It is very easy to set it up the next time if you do this properly.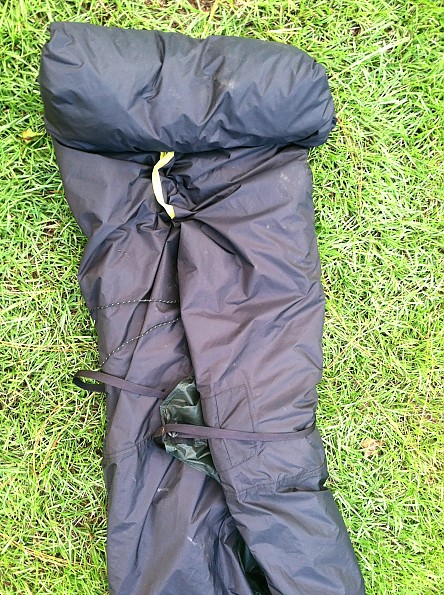 Stability:
The Compact Light 2 is incredibly stable. The one I tested withstood fierce wind and barely flinched. Tunnel tents are designed to be very stable because of their shape and because of the multiple guy points.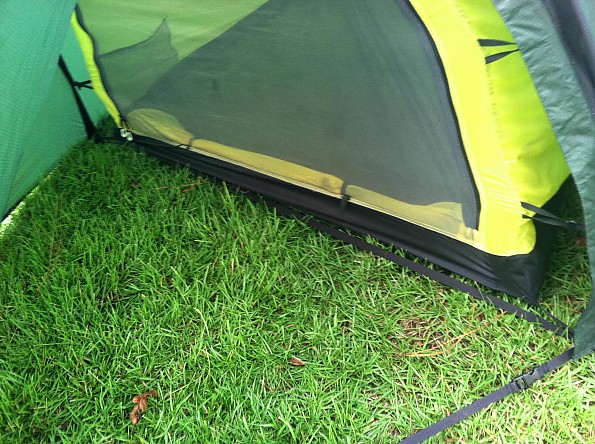 Here you can see the stabilizers that help support the tent. As I mentioned earlier, there is also one on the underside of the middle of the tent.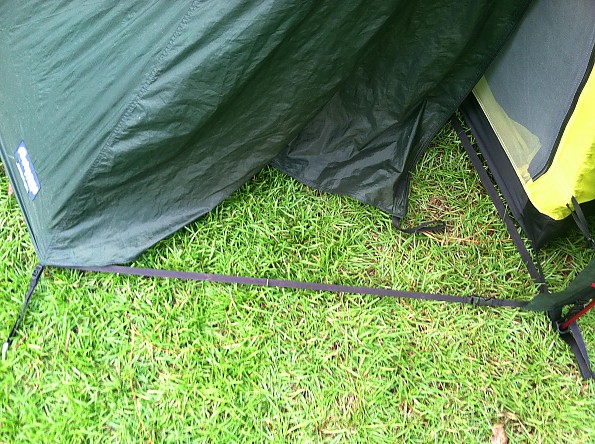 Weather Resistance:
The Compact Light 2 is extremely weather-resistant. On one particular test, I camped on Little Hump Mountain, in the Roan Highlands (NC/TN line). There was a ferocious storm that came through, blowing 35MPH+ winds and driving rain. It blew so hard that it blew my friend's rainfly off of his tent and his whole tent flooded. The Bergans didn't flinch. It was as quiet as a church mouse and I stayed bone dry. I was so impressed!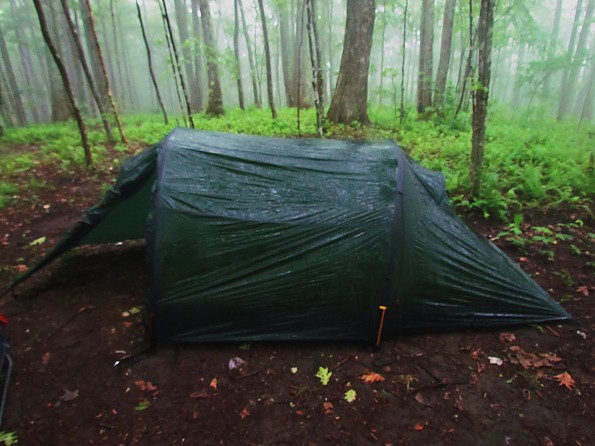 Here it is after a night of torrential downpours.
Of all the nights that I tested it, I never saw the Compact Light leak.
I did have one issue that wasn't a problem, but did concern me. After being set up all night during a crazy rainstorm, a puddle of water formed on top of the tent. It is very possible that I did not stake/guy it down correctly though.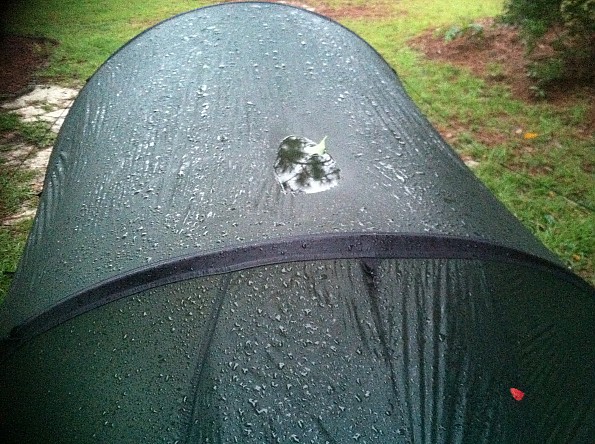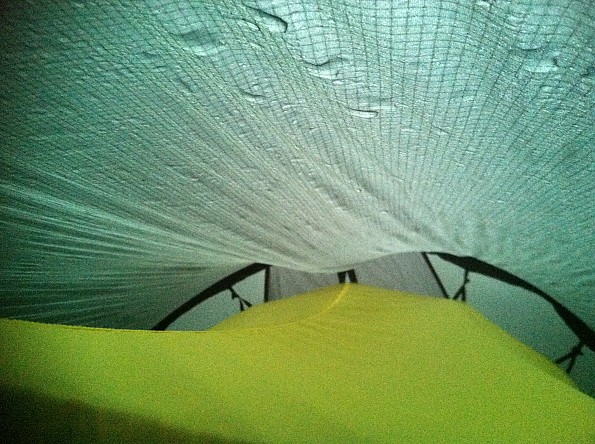 Here you can see the puddle.This is a great example of the tent's weather-resistance. See how much room there still is in between the inner and outer tents?
I was not able to test the tent in any snow because I tested it in the summer. If I am able to keep it for long-term evaluation, I will gladly update this section on its snow-handling ability. Everything that I have read indicates that these handle heavy snow very well.
The adjustable height of the tent and vestibule also makes it very weather-resistant. You can stake it down very close to the ground and also tighten the adjustment straps on the sides. Nothing ever got wet in my vestibule. You can also adjust it to a higher height for greater ventilation.
The outer tent and floor of the inner tent are made of ripstop nylon that is 5,000 mm/196.9" water-resistant.
Ventilation:
The Compact Light has three ventilation points: The large mesh front door, and a vent at each end of the tent.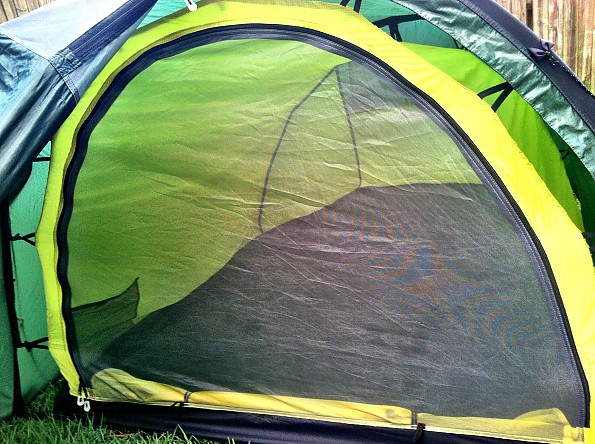 Here you can see the large mesh door open.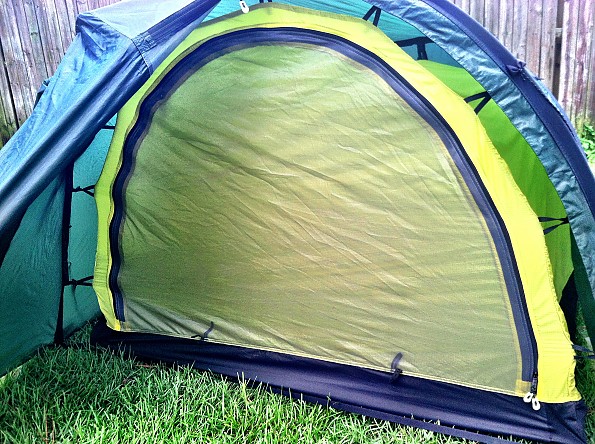 The mesh door can be zipped closed for colder weather. You can also see the bathtub floor, which is for increased weather protection.
Inside of the vents
I tested this tent throughout the hot summer months. When there was a breeze, it felt great inside, but when there was no breeze, it got warm, but not unbearably hot. I did not find it to be any hotter than any other tent that I have used in the summer with the fly on.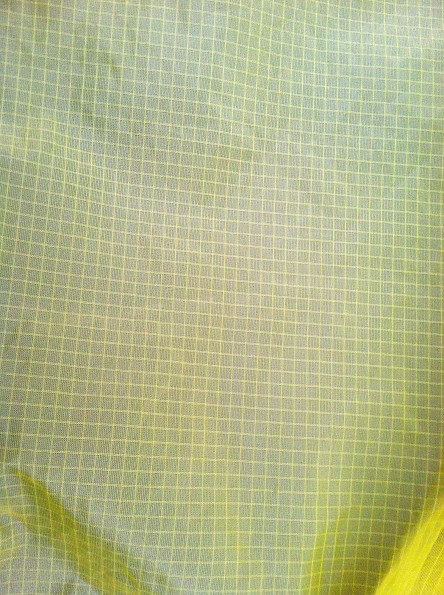 The inner tent's fabric is light and very breathable.
I did not have any condensation issues whatsoever while testing it. That includes two people and a 100lb + lab sleeping in it in cold, heat, humidity, and rain.
Room and Storage:
The Compact Light 2 features a 28 square foot floor and a massive vestibule (42"L x 60" W). The vestibule size is probably my favorite thing about this tent. My 100lb+ lab can comfortably sit up or sleep in it with two full packs and two pairs of boots. All stayed completely dry every time. I typically prefer tents with two vestibules and two doors so that you don't have to climb over your tent mate in the middle of the night. The vestibule is so large that neither my tent mate nor I had any problem exiting the tent in the middle of the night. FYI, the door is on the left. I prefer not to cook in tents at all, but if it was raining with no wind,  you could open the door and toggle it for a porch effect and might could try cooking. I am not saying I recommend it, but I do think it would be possible.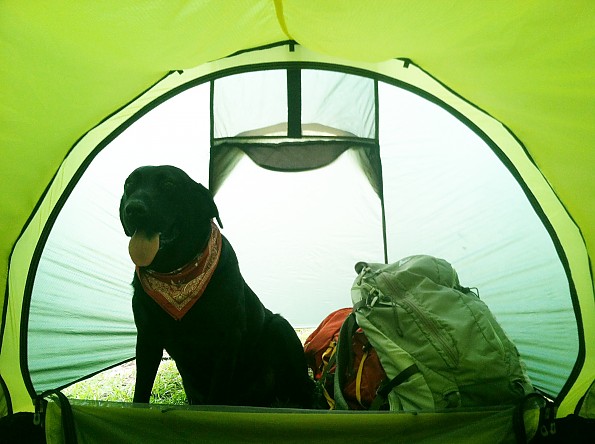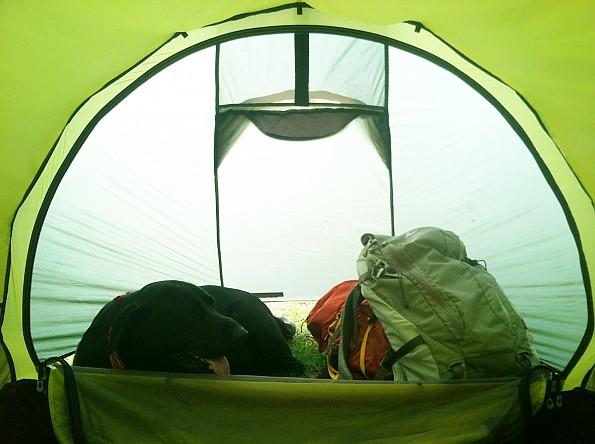 Interior room: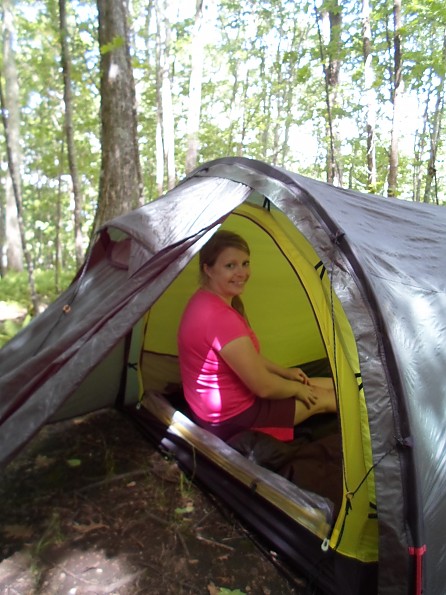 The peak height of the front interior is about 40".
Livability is very important to me when I am picking out or testing a tent. The first question I ask myself when assessing two-man tents is "Can two people comfortably move around and pack up camp in this tent in the rain?". If the answer is "no" then I do not want the tent. This tent certainly has enough room for that. It really could be labled as a two-man plus tent (as Jeff kindly pointed out in the comments section). It has a very generous amount of floor space, interior height, and vestibule space for a two-man tent.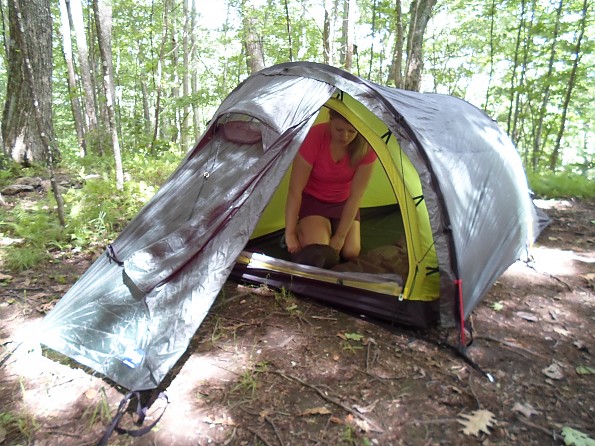 You can see that I have enough room to pump up my sleeping pad.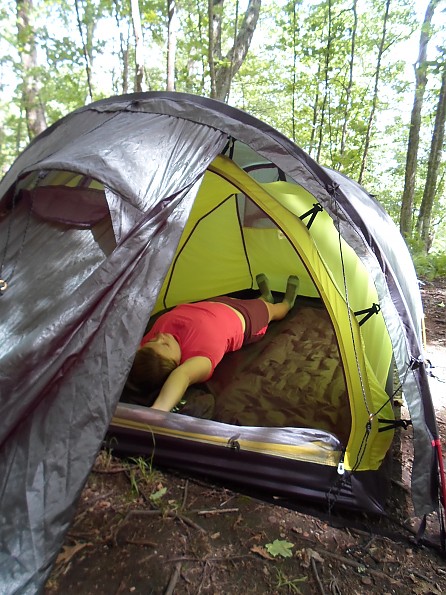 The floor length is the longest I have ever seen in a regular two-man tent (88").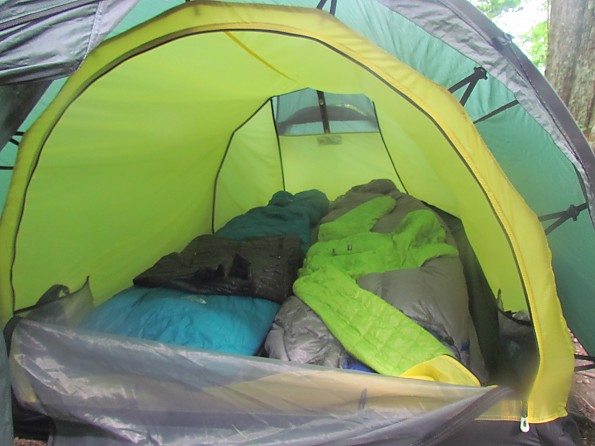 Here you can see that the sleeping bags touch the inner tent. This is not a problem in dry weather at all, but in wet weather, the outer fly touches the inner tent. Your feet can feel that it is wet, but no actual water gets in the tent. I understand that this is consistent with most tunnel tents. This is the one thing that I don't like about the tent.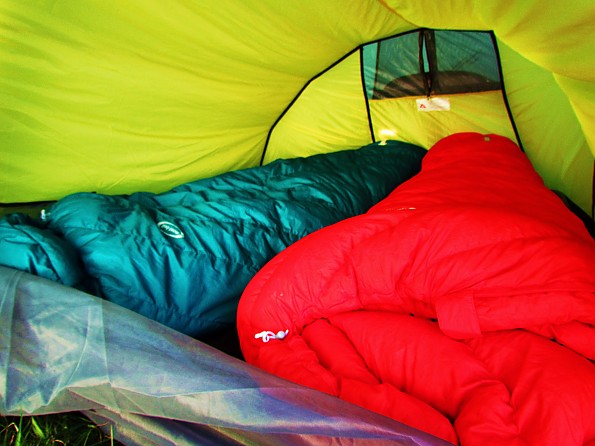 High loft bags and 3.5" thick sleeping pad make it kind of crowded.
Other than the vestibule, the tent does have additional storage in the form of two generuosly sized side mesh pockets.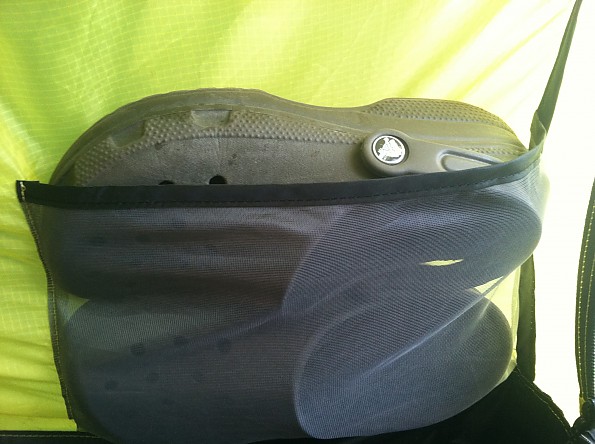 As you can see, they are large enough to each fit a pair of crocs.
Packability:
The Compact Light 2 is a rather large tent that weighs 5.6 lbs, so you have to factor that in when you are assessing packability. It comes with compression straps on the stuff sack, so it does pack down remarkably for its size. The tent poles also are very small, light, and compact.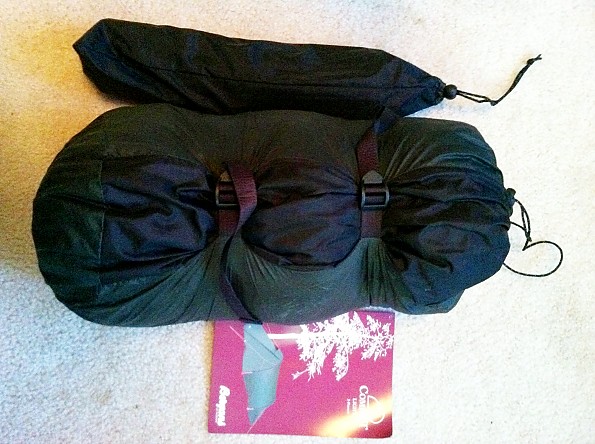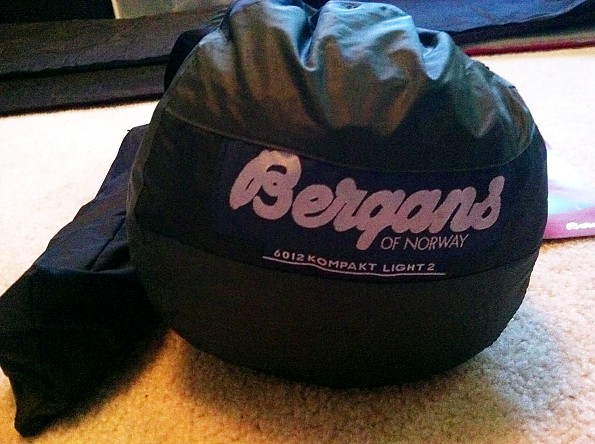 Features:
The Compact Light 2 is packed with features. Most of them I have already named, but here are just a few extras that I liked: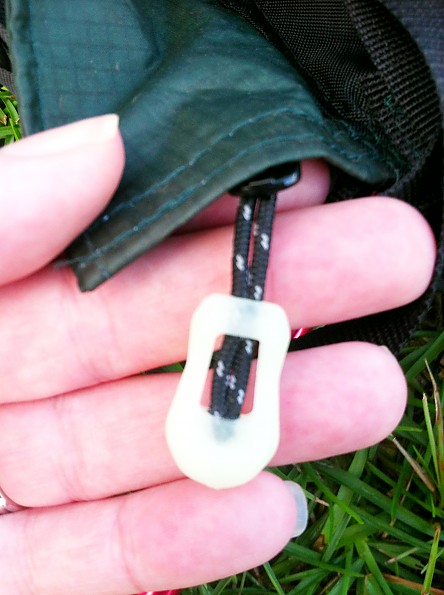 Glow in the dark zippers throughout the tent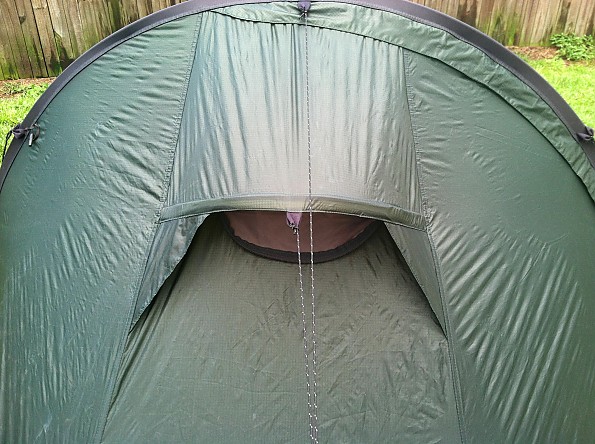 Storm flaps to cover the zippers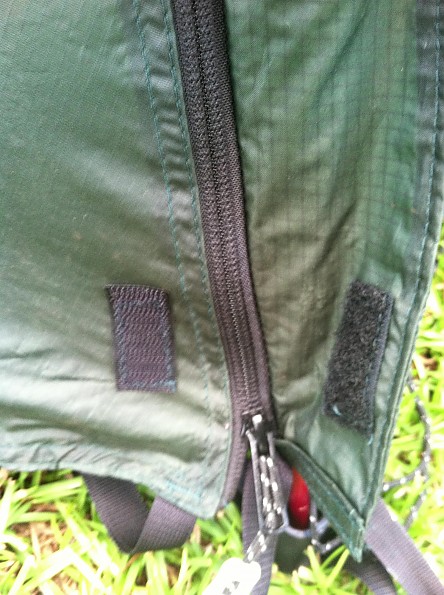 Velcro on the bottom of the zipper for extra weather protection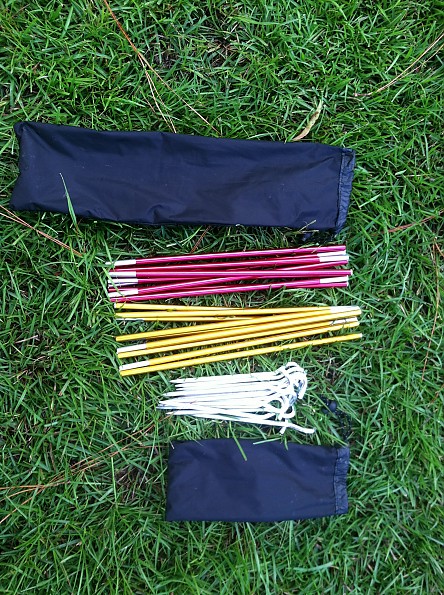 Very strong, lightweight, flexible tent poles and very strong and lightweight stakes (both are aluminum).
Construction and Durability:
After testing this tent, I found no issues at all with the tent construction or durability of it or any of the poles or stakes. The tent was set up on some rough ground and it stood up well on the bottom. My dog also walked around inside the tent (he of course was scolded) and the floor held up just fine. Since I was testing the tent, I was also not particularly gentle with the poles. They held up perfectly. I prefer aluminum poles because they are much more tough than carbon fiber poles. I have to baby my carbon fiber tent poles. It was nice to not have to worry about that with this tent. None of the stakes have bent yet, either. They are surprisingly durable for their weight.
Conclusion:
The Bergans Compact Light 2 is the perfect foul weather refuge. It is durable, roomy, and is storm-proof. I have never seen a tent more weather-resistant. The ventilation is superb during cool weather and is still sufficient in hot weather. I highly recommend this tent!
Thank you to both Bergans and Trailspace for the opportunity to test this awesome tent! I really enjoyed it!
Source: received for testing via the Trailspace Review Corps (Sample provided by Bergans for testing and review)

The zipper on the rainfly split after the second use, but I had also drawn it too taut when I set it up in a full-blown storm. It did, however, provide excellent shelter in adverse conditions, even with my humble repairs on the zipper.
Pros
The shape is handy, and all the vestibule storage is terrific
Roomy
The light in the interior in the morning is good, unlike some brightly colored tents that come across rather sickening in morning light.
Cons
Zippers split for me. Needs more reinforcement, so that when it is pitched taught in a storm, it can hold up.
Loved it the first use here in Colorado, where we had rain and some sleet. We took it up to the Snowy Range in Wyoming, where the winds were sustained and we had rain, sleet and snow. The zipper on the rainfly split near the top of the tent. We battled that one out, since the design makes this part of the tent essential to its integrity. I had a needle and thread with me in my pack, so I did a temporary repair job to get us through.
I bought this tent at a sample sale in Longmont, Colo., so I had to take it elsewhere for repairs. The repair crew was drooling over the tent, which I thought was funny. They liked it. If this tent had bombshell zippers, it would be perfect for me.
It is roomy. All my gear fit in the tent with me, and I actually had enough space in the vestibule to set up my camp chair and sit with a good book. The setup was very easy, and I did it in a rainstorm, keeping the interior nice and dry, thanks to the already attached rainfly.
The ventilation was fine, no condensation, even considering the outdoor climate. It was great to get out of the sleeping area, sit in the vestibule, and get dressed and put my boots on before stepping out in the rain. And when the sun did come out, the color of the tent translated into a livable color in the interior in the morning...nice light.
The shape allows for some give on where to lay sleeping bags on not-so-level ground. In the morning, we were able to watch a moose pass by from the vestibule, an added bonus.
I would give this tent a thumbs up, even with the zipper mishap. The weather was brutal and exposed, and on the whole, it was a good space to be in, when needed. Just be careful not to make the tent too taut, stressing the zippers, when you stake out.  Easy to do, in bad weather.
Source: bought it new
Price Paid: bought it new at a sample sale, but don't recall the price

You May Like
Recently on Trailspace