Bergans Tufto Pants

Top 50 in Soft Shell Pants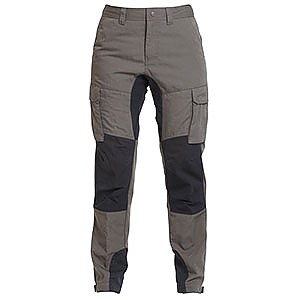 Specs
Men's
Price
Historic Range: $158.95

Reviews
1

review

5-star:

0

4-star:

1

3-star:

0

2-star:

0

1-star:

0
Except in the case of extreme cold or heat the Tufto Pants do everything I need pants to — from hiking and climbing to skiing and biking.
Pros
Durable fabric
Stretch panels
Vents
Reinforced seat and cuffs
A hook attaches the cuffs to boot laces
Cons
Zip off legs would be nice
One stitch has come slightly loose so far in the seat
Over the years I have gone from very low expectations for pants (wearing blue jeans in the mountains) to very high. I have gone from backpacker only to climber and minor mountaineer. 
Disambiguation: The term "Bergen" is a generic term for any military backpack in the U.K. The term was used to describe the backpack style favored by skiers in Bergen, Norway. 
The Bergans of Norway Tufto Pants are designed to be used in a variety of conditions and outdoor activities from hiking and climbing to mountaineering.
These pants include Schoeller fabric which is recognized as top notch for use in outdoor pants. The Tufto Pants also have added panels (black in the pictures) where more stretch is required. These sections are also thinner material which seems to breathe better.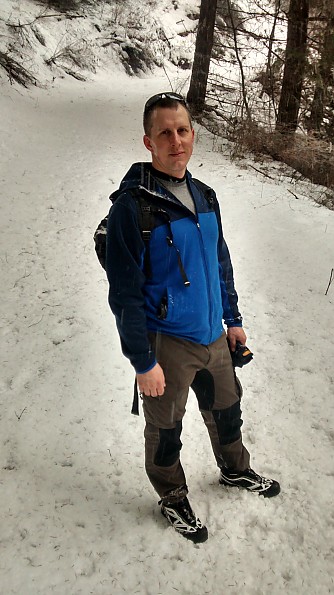 About 23 degrees F. I am wearing a light base layer under the pants.
Testing Activities
The first time I wore these pants was for early season skiing. While these are not ski pants, with a base-layer underneath they served me fine in temps down to 25°F and never gave me any grief when I crashed and my skis came off, scraping the pants with the ski edges. 
I also took them on winter hikes which included some easy scrambling. This is where the Tufto Pants really shine. The winds were stopped by the fabric and the stretch panels made the pants flex like second skin and never bound up when I lifted my knees to reach foot holds.
Though also not designed for it, I also wore them mountain biking where I found them to stretch nicely and they never got caught in the chain of the bike. The cuff hooks and the cuff cinches helped this a lot. 
Temperatures during testing ranged from the fifties to the high teens.
My last trip was a snow hike where I used the tight cuffs in place of gaiters. The cuffs have a hook to attach to your boot laces. After slogging through knee deep snow with a wonderful breakable crust they kept snow out and my legs were dry.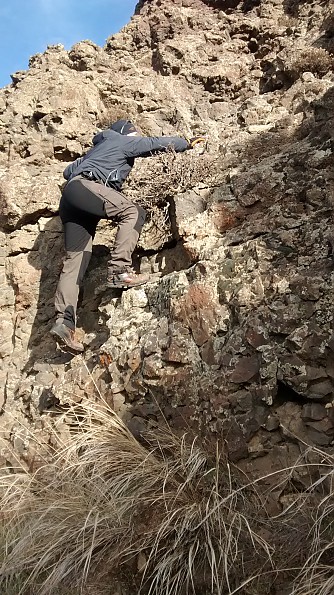 Stretchy panels keep the bulk down and let you keep your mind on better things than your pants.
Fit
I am 5' 10" and weigh 190#. The pants reported that they are 32" waist and 31" inseam. They fit perfectly and have enough bagginess for a mid weight base layer underneath. 
When the cuffs are hooked to my boots they still fit without binding.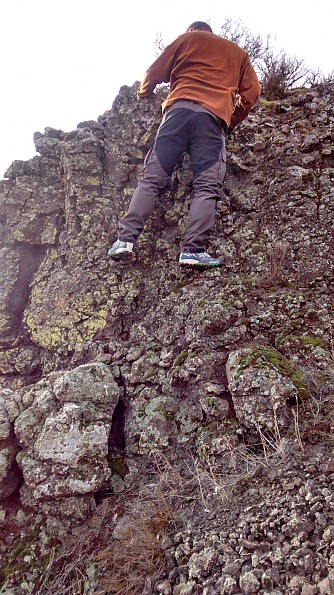 I wish the butt panel was the same color as the rest of the pants.
Comfort
These pants weigh very little and have all the room and stretch in the right places. I never found myself even thinking about them while I was hiking and scrambling in them. I found myself wearing these pants everywhere, much to the chagrin of my gf when I happened to be wearing them to the store one afternoon after a hike. 
I could wear these every day and I have not found an activity where they do not excel.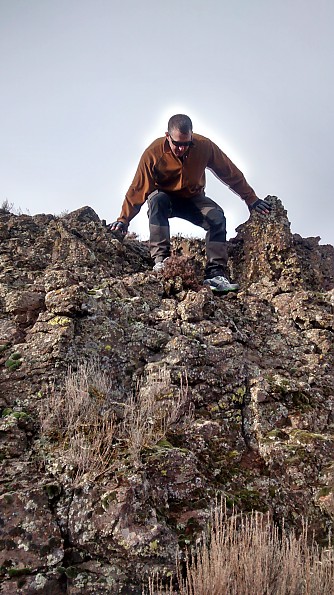 Scooting did not snag the fabric.
Durability
These pants are much better than the third-hand goodwill pants I summited Mt. Hood and Rainier in last summer. The pants have an overall feeling of durability which is evident right away. Critical points are reinforced. 
As it turns out, mountain biking was the hardest on these pants, mainly because I crashed. I did a lot of bushwhacking and though I took a spill that caused a small cut on my knee the pants were unharmed somehow. 
After my final trip before press time I noticed a small stitch in the seat beginning to unravel. If I put a stitch in it today I know it will be fine and if I don't it could become a problem. If you expect your pants to never need mending this might be a deal breaker, but I feel like mending is part of being outside. 
Features
What I appreciated the most about these pants is the hooks and cinch straps on the cuffs. I think that usually the first part of most of my pans to fail is the cuffs. When they are cinched down and hooked to my boots it keeps them tidy and prevents them from snagging on everything and tripping me up. This feature can negate the need for gaiters in some situations. 
Other features I liked were the side vents which always stayed in the position I left them and let out a little extra steam though the pants breathe so well they may be superfluous. 
The Velcro on the side pockets is sturdy and stays closed.
The snap also has a hook and loop patch as a redundant method of closure.
There is a reflective logo on the cuff to assist in making you visible to reflected light. 
The cuffs also are more durable in the area where people always seem to poke themselves with crampons.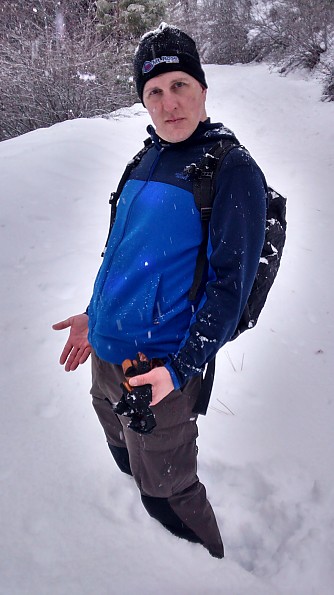 We don't need no steenking gaiters! Warm legs and no snow in my boots thanks to the snug cuffs. It dumped six inches of snow on us this day before lunch time. The fabric also surprised me with how quick it dried afterwards for being a cotton blend.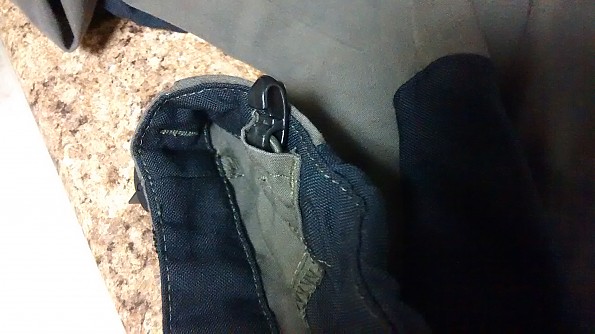 Hook this on your laces, tighten the cuffs and you may be able to do without gaiters!

Water/Wind Resistance
The fabric is treated with a DWR finish that sheds water. The coating isn't the best I have ever seen but definitely helps the pants stay drier.  
Wind resistance is as expected; they allow my legs to breathe and stop about 80% of the wind. Too much wind resistance in pants, in my opinion, is a bad thing unless you are wearing a rain shell. 
Ventilation
The leg zips and the fly (it's the mountains, no one is looking) provide great added circulation when you are pushing it hard. The zippers are quality and stay where you put them without migrating. 
Things I disliked
In a perfect world these would have zip-off legs. I hope they offer a pair this way, then I could summit in them and take the legs off when I get back below the tree line where its warmer. I hope the single loose stitch is the last one I see.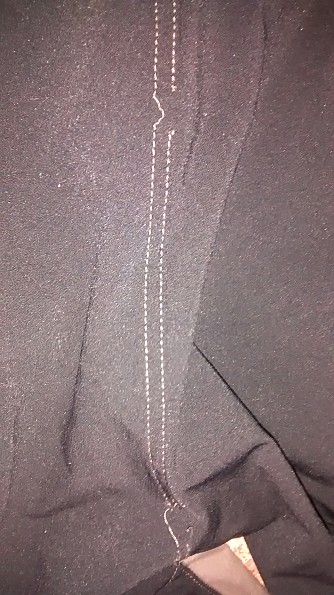 After the wash, now its two small stitch repairs I need to make. Still acceptable to me, I've been mean to these pants.
Best Suited For
Everything I tried them for: climbing, scrambling, mountain biking, hiking, light skiing. These are great all-around pants. I would not wear them in hot summer weather unless a zip-off leg version is available, but up to the 80s or so they might still be useful in low humidity.
Source: received for testing via the Trailspace Review Corps (Sample provided by Bergans for testing and review)

You May Like
Recently on Trailspace