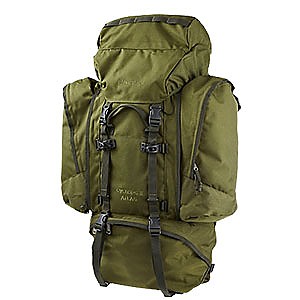 Reviews
2

reviews

5-star:

1

4-star:

0

3-star:

0

2-star:

1

1-star:

0
Performed well in the beginning, deteriorated over time because of some design and material flaws.
Cons
Hip belt frays and waxed inside deteriorates
I bought this pack in Sweden and off the bat this pack performed well. I was very pleased with the fit. However with time, the pack has shown some weaknesses that Berghaus was unwilling to stand for.
The first flaw that I noticed is the way the the hip belt clip system is designed. The two clips that buckle into each other do not sit at the end of a closed loop on the nylon belt. Instead they slide along the belt accordingly when the person tightens the belt. This causes chaffing on the nylon material and the belt began to chafe and I was forced to use duct tape to keep it from tearing out in the field.
Also, the inner material, which is a form of waxed coating used to repel water, has begun to deteriorate and delaminate from the the outer nylon, especially in the side bags and top cover. This is frustrating as the bag no longer is water repellant, but worse, the waxed material crumbles and spreads all over my equipment and the clothes kept in the side pockets.
I contacted Berghaus and sent them my pack but they were unwilling to do a warranty repair free of charge. I recieved no replacement pack either. I would not recommend this pack. Although it performs well and rests fine on my back, the materials and designs used are not something I would rely on, especially since Berghaus was not ready to stand behind its product.
Source: bought it new

I've had the Berghaus Vulcan too, which is a great pack used by the Swedish coastal rangers. The Atlas however is an improved Vulcan-model, featuring very important things like: a much better access to the lower sleeping bag compartment, two pockets on the top, the back one large enough to hold a fleece sweater when you dump it face down in the snow and sit down on your suspension system, this is really great! The large (! -> 10 liters each!) side pockets hold two big PET-bottles (1,5 liters) each or a complete Gore-Tex-outfit. They even come together via some really strong zippers to make a 20 liter daypack. It is tough as heck, I've accidently thrown mine over fences and rocks within the years where I were sure it would go apart and torn to pieces - it didn't. It would suprise me if two or three layers of this material couldn't be used to build a bullet-resistent vest for .22's ;-)!
If you can afford it - buy it! It is even a nice green color which fits into the wilderness very good. Excellent also for photogear because of the large side - and top pockets.
A Nikon F90x (N90s) with 80-200mm/F2.8 goes into whichever pocket you prefer!
Design: internal
Size: 100-120 liters!
Number of Pockets: 5
Max. Load Carried: 36 kg
Height of Owner: 172 cm
Price Paid: 199 British Pounds

You May Like
Recently on Trailspace