Berghaus VapourLight Hyper Smock

The VapourLight Hyper Smock has been discontinued. It was replaced by the Berghaus VapourLight Hyper Smock 2.0.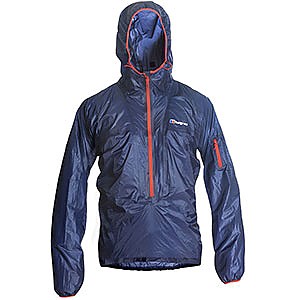 With its claim as the lightest rain jacket in the world — if you are looking for the absolute lightest weight rain jacket you can find, this is it. But, you must be able to live with very minimal features.

I really like this jacket for its simplicity and extremely lightweight and packability. It could be a good choice for a hiker, backpacker, cyclist, or anyone that needs the lightest gear possible.

If you want a jacket with more functionality, find a jacket with a couple more features and a couple more ounces of weight.
Pros
Super lightweight
Simplicity
Fit
Cons
Durability
Lack of hood volume adjustment
Lack of waist drawcord
Berghaus claims this as the lightest jacket in the world, and I claim it with the craziest name — Vapour Light Hyper Smock. I have not seen another one lighter — 4.0 ounces for a size large! It has very thin material and very few features to achieve this weight. If you are in the market for a rain jacket, you will have to decide which features you find necessary and which you can live without when deciding whether or not to try out this jacket.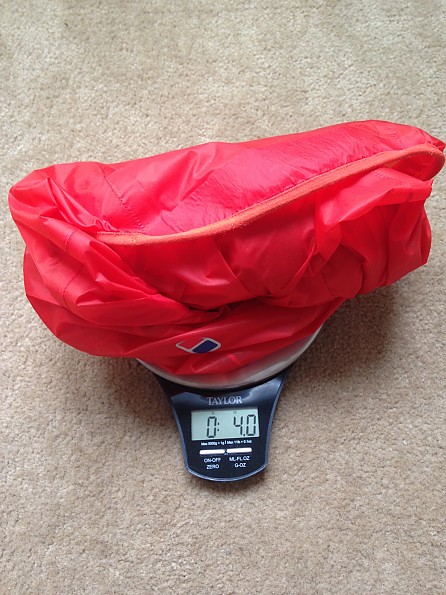 4.0 ounces for a size large
FIT
I am 6' 2" and 170lbs. Tall and slim, this jacket overall fit me very well. It has a fairly trim appearance, but with quite a bit of room underneath. I was able to easily fit a Patagonia Nano Puff underneath. I even tried a GoLite Bitterroot down hooded jacket underneath (which is pretty puffy), and it did fit, with minimal squishing of the down.
Not ideal, but could work if you happen to be out in a very chilly 30's and 40's with rain. I have a size Medium Patagonia Alpine Houdini rain jacket that is roughly the same size, so the Berghaus may be sized a bit on the smaller side — at least compared to American manufacturers.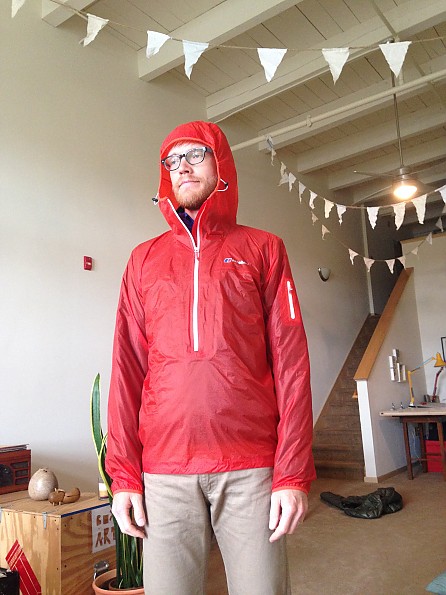 Patagonia Nano Puff underneath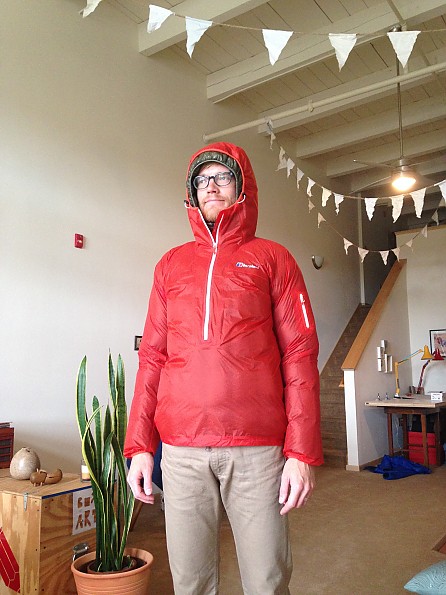 GoLite Bitterroot underneath
ADJUSTABILITY
The jacket has decent length in the torso and the sleeves, and I have long arms. The hood fits okay, and has adjustments on the front perimeter for closing the hole around your face. A jacket this light does have to sacrifice some features to get this light.
One major feature missing is adjustability for the volume of the hood. Some jackets have a cinch cord that runs around the middle of your head. Without this, the hood does not feel very secure. When turning your head the hood stays in the same place, reduces vision, and can be a bit annoying. It does have a stiffener at the brim of the hood, but it is very flimsy and does not do a whole lot of good.
I went on a run once with the jacket, and the hood did not stay put. You can pull the drawcord around your face, which helps some to keep it in place, but that reduces vision and is not very comfortable. If you are biking and get caught in some rain, you can put it under your helmet to keep it in place.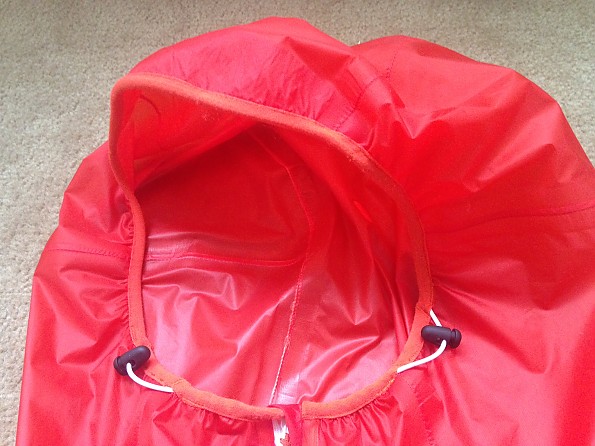 Hood opening adjustment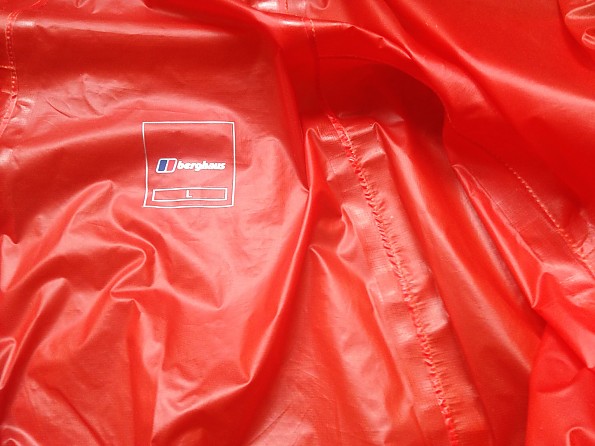 Simple inside tag and seam sealing
Hem elastic
Also, there is no drawcord around the waist. There is elastic on the back half, which helps, but there is still a gap between your body and the jacket. If it gets windy or if you need to trap in some more heat, you are not able to do that with this jacket. 
To save weight, there is a half zipper on the front. This works well, but if there is moisture inside (which will happen via body heat eventually) then it can be a little hard to get on and off. 
I really like this jacket for its simplicity and extremely lightweight and packability. I think it could be a good choice for a hiker, backpacker, cyclist, or anyone that needs the lightest gear possible. For about 2-3 more ounces, you can find a rain jacket with a few more very useful features — hood drawcord, waist drawcord, waterproof pocket, etc. The garment appears to be well constructed. It has a nice look to it. It is pretty see through since it is so thin.
WATER RESISTANCE & BREATHABILITY
Is it waterproof? Yes. In my use, I found it to be waterproof, which is a good thing! Like most other rain jackets, when raining it is going to be clammy against bare skin if you are wearing a short sleeve. With its very thin two-layer fabric, this jacket is very clammy and clingy. Some 3-layer jackets have another layer or pattern that is meant to help keep the fabric off of your skin. With a long sleeve underneath it is much more comfortable, of course if it is cool enough for that. There are no pit zips, the chest zip helps some with breathability.
I went on a short jog with the jacket, keeping the pace nice and slow. I was able to wear it for 10 minutes or so with it feeling okay. Luckily the rain let up and I didn't need to wear it after that. Not surprisingly, it was warm and humid within the jacket. Difficult for any hard shell to be very breathable. The name of the game is lightweight with this garment.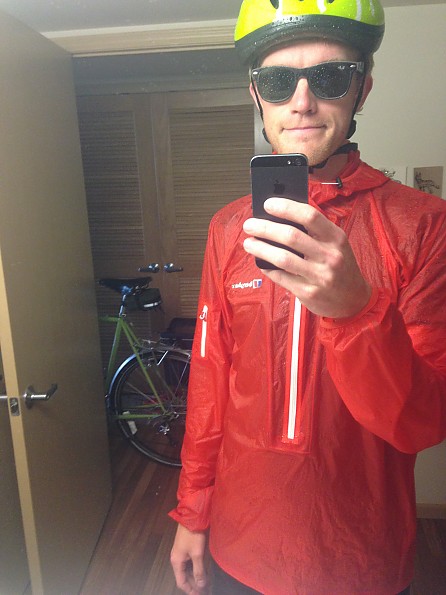 After a rainy bike ride
I used this jacket for walking, biking, hiking, and a jog. It performed well. It compacts very well. And at 4 ounces it is as light or lighter as many wind jackets. It does a good job at shedding wind.
DURABILITY
I did not test out its abrasion very thoroughly. And I don't think that the manufacturer expects you too either. I am fairly certain that a fabric this thin is not very tough. It feels soft and slippery. No real bushwhacking or abrasion prone action.
Long term I am not sure how it would hold up under backpack straps, as it would take more time and use to find that out. Normal outdoor use I think it would be okay, but one would want to use caution with this jacket. 
EXTRAS
It comes with a stuff sack that is 0.2 ounces. This makes it pack down very small. It takes a little bit, but is not difficult to pack it in the stuff sack. The mid section is made with a stretchy mesh. There is also a loop on the pack of the stuff sack to put it through a belt or climbing harness or backpack hip belt.
With jacket and stuff sack the total weight is 4.2 ounces. If you need it super small then you can use the sack, but it packs just fine without it. I usually roll mine up and put it within the hood.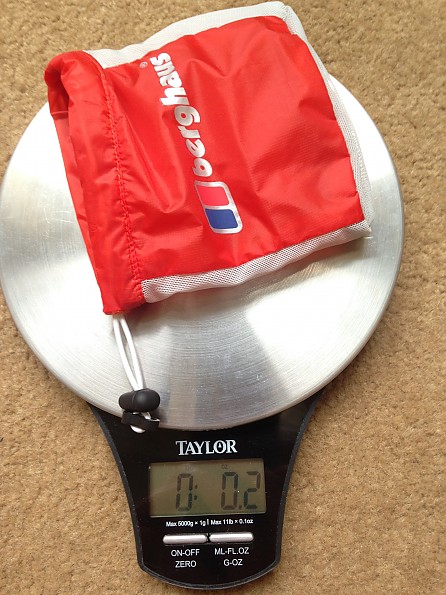 Stretchy stuff sack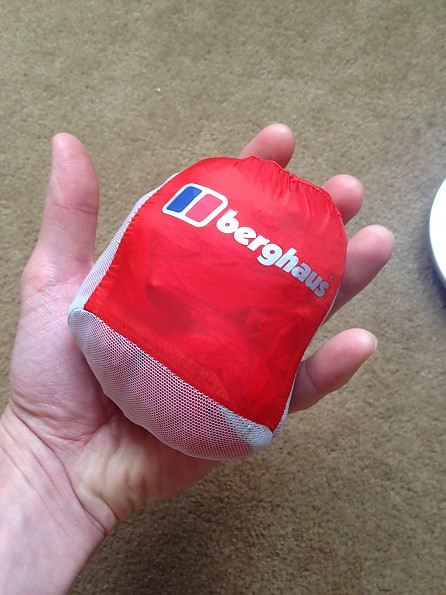 Jacket in hand
POCKETS
There is one spot of reflective material on the upper back. There are no hand pockets or chest pockets, but one very small sleeve pocket. Interestingly, it does not use a waterproof zipper and there is a drainage hole at the bottom of the pocket. Maybe they thought it would be good for keys? I would like to see a waterproof pocket - possibly inside the jacket.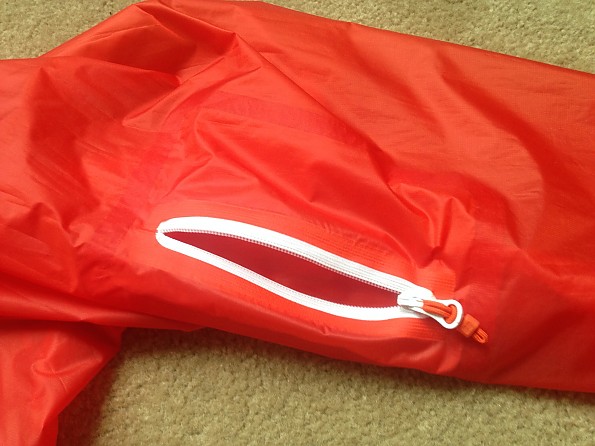 Sleeve pocket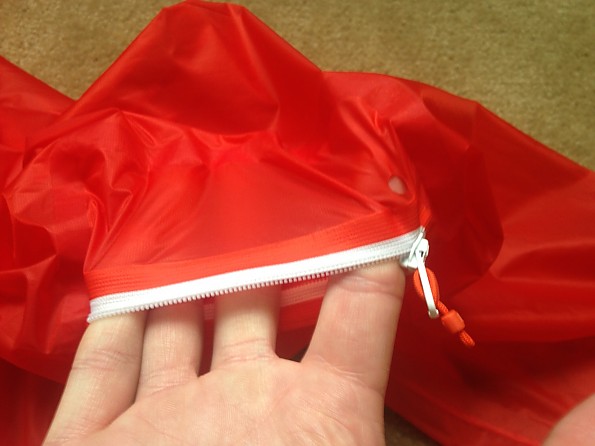 Sleeve pocket drainage hole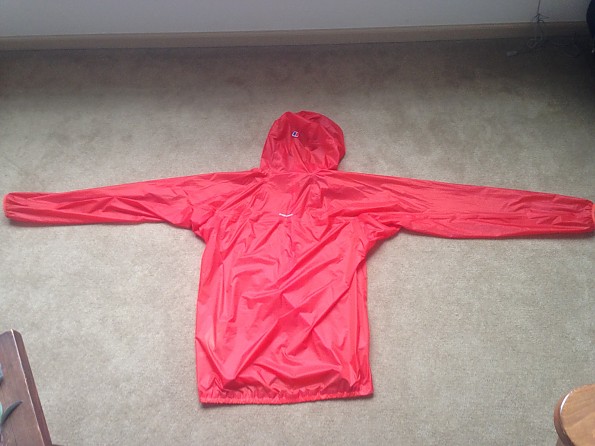 Back of jacket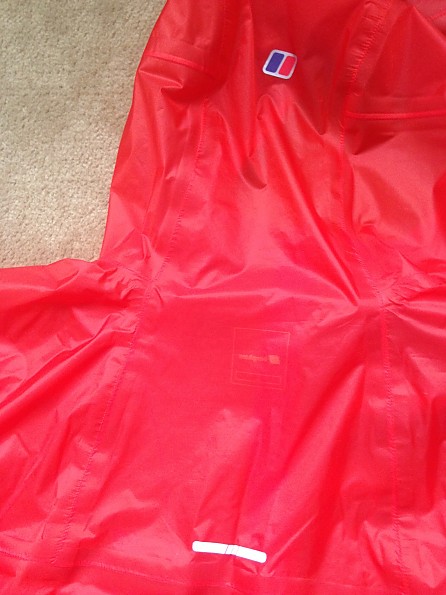 Reflective stripe
CONCLUSION
If you are looking for the lightest rain jacket available this is it. It functions pretty well and I was glad to have it with the times I used it. A few more features would be great, but to keep it super light is not possible at this time. If you need more features, there are a number of still very light jackets out there with a few more useful features. For its intended use, I recommend it.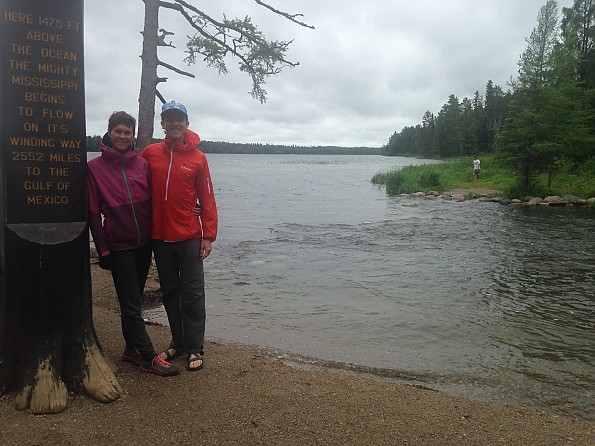 Itasca State Park - Headwaters of the Mississippi River
Source: received for testing via the Trailspace Review Corps (Sample provided by Berghaus for testing and review)

Kept me completely dry on my through hike, ultra lightweight. Packs down into my palm.
Pros
Ultra lightweight
Waterproof, windproof
Pocket above hip belt
Source: bought it new

Your Review
You May Like
Specs
| | |
| --- | --- |
| Price | Historic Range: $111.71 |
Recently on Trailspace