Beyond Clothing Cold Fusion X Jacket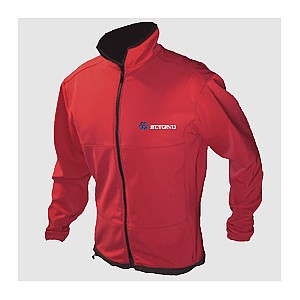 Original Review March 3, 2006:
Schoeller WB-400 is stretchy nylon outer layer with thin layer of fleece inside. Sandwiched between them is a thin membrane of what looks like thin saran wrap. The effect is wind and water resistance, and the outer fabric is abrasion resistant.
The custom part of the concept is good, but the customer service is lacking. My jacket came too short in the torso and I have not been able to get a return authorization to get it fixed. My suggestion is to find a WB-400 garment made by someone else. It's bound to fit better.
Update May 20, 2010:
I ordered this jacket, and waited for it to be custom made. The problem was that I did not know whether to order a zip off hood or an attached hood. I spoke to the owner, and he told me over the phone, that if I was not happy with it one way, he would make it over for me. I ordered it with a zip off hood and specified all the required measurements.
I was not impressed with the zip off hood. When I tried to return it to get another, I was told it could not be done. Then, as if to add insult to misinformation (or was it deliberate?), I was sent a piece of fabric (several years later!) so I could add it to the torso.
The zip off hood was attached with a three or four inch zipper at the back. If you are not using it, it flaps around like a handkerchief in a hurricane. Even when being used, it was not a good fit. I removed the snap that came with it and replaced it, and took in (sewed together) a section of the back of the hood to make it fit. The torso had been ordered to be 26 inches long, but when it arrived, it was 20 inches in the front and 24 inches in the back.
The fabric, Schoeller WB-400 is good stuff. If you can find a jacket made out of WB-400 by any other company, go for it.
But after trying to get the problems with this jacket resolved going on seven years or more, it would be my opinion, to STAY AWAY from Beyond Clothing!
Do not waste your money! Seems like the type of company that, once they have your money, "...oh well! You better be happy with it the way we did it, because, that's the way it is, no matter what we told you!"
And of course they are saying their stuff is "Made in the USA", but if you look it up, Schoeller is a company in Switzerland! The WB-400 is NOT made in the USA!
Fabric: Schoeller WB-400
Price Paid: $215

I read all the ads. I called and talked to the owner. I asked questions about the product and service. I was told WB400 is a winter version of Dryskin. I was told if I didn't like something about the jacket, return it and they would fix it. I ordered a zip-off hood, but upon several uses, I realized I needed an attached hood. I returned it to switch the hood, but it was returned with an explanation: I ordered it with a zip-off hood and they could not change it now. I used it without the hood for a while.
I found some small little tears in a section and also realized the torso had been cut too short in the front (bicycle cut). I returned it again and asked to have the panel repaired at my expense (my fault) and to have the torso extended (their error). It was sent back agian, no explanation, no estimate of repair costs, no repair, no guarantee work done.
I have attempted to return it for the guarantee work, but it was returned again, refused (they did not even open it). It is really amazing that a company that creates custom goods, cannot fix a simple mistake, or will not. Be careful. I wish I had read the other review first. The only thing great about the jacket is the Schoeller fabric it is made from, WB400.

Fabric: WB400 Schoeller
Price Paid: $240

I just ordered a Cold Fusion jacket. Now I'm a tall person, but on receiving I found I could have worn it as a dress! Contacting the company I was told to send it back with the changes I needed. Over four weeks later the jacket was returned to me with not a single change made!
Apparently it was made to my specification (I measured and checked - it wasn't). Their right fit guarantee is a sham. So now am left with a useless jacket (or will have to pay a small fortune to have adjusted), and out of pocket for the costs to send it back to them.
My advice - save your money, and stay away from Beyond Clothing
Price Paid: $239

This jacket is made to order to your size. Already a huge advantage for anyone stuck in between sizes, or having trouble finding clothing because of long arms, weird proportions, etc. You go to their web site, beyondfleece.com, and send them your measurements and what options (pockets, pit-zips, etc) you prefer. I chose pit-zips and a neck-cinch, which both proved very useful.
The amazing thing is this custom hi-tech garment with the basic configuration comes to you at a price cheaper than or competitive with other outdoor companies that make jackets with the same fabric. Speaking of which, I am must say I am now a huge fan of Shoeller. The WB-400 used in this jacket is both super warm and breathable, yet at the same time lightweight and nearly windproof.
Here I am talking from experience also. I basically spent the past year living in this jacket while traveling throughout South America. In strong winds and cold it never failed me. Even in moderate rain I hardly needed to resort to my shell. In all, I have to say it is currently my favorite peice of gear and I continue to depend on it greatly.
Fabric: Shoeller WB-400
Price Paid: $179

I recently purchased this jacket based on numerous responses on a forum I frequent. I had ordered from another retailer but the jacket didn't fit me at all. I needed something that was custom made. I perused the beyond fleece website and decided on the Cold Fusion Jacket from the tactical section. Additionally, I purchased my jacket pre-update on the website. Therefore I picked up an addition feature they no longer offer, and I bought it for $50 less than the current base price.
I followed the website instructions on what, and how to measure all the necessary locations. Upon receipt I discovered that the jacket was EXACTLY as I ordered it. As we all (well, most all) agree that the Scheoller WB-400 fabric is pretty good stuff I'll not deal with that. I looked at the construction and it is top notch, no bunching or anything like that. The jacket drapes nicely for a good look and comfort.
I highly recommend this jacket.
Fabric: Scheoller WB-400
Fill: fleece
Price Paid: $265

Your Review
Where to Buy
Help support this site by making your next gear purchase through one of the links above. Click a link, buy what you need, and the seller will contribute a portion of the purchase price to support Trailspace's independent gear reviews.
You May Like
Specs
Price
MSRP: $239.00
Reviewers Paid: $179.00-$265.00

Weight
23 ounces

Measurements
Custom

Recently on Trailspace