Bigfoot Snowshoes Adventure Series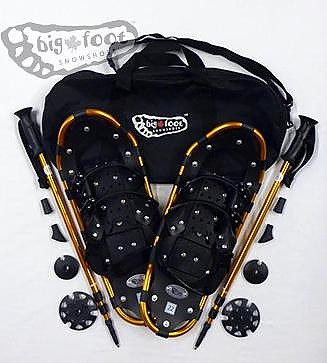 What a horrible experience. Purchased two pairs of these and they are terrible! Started falling apart the first time out. We didn't walk on anything but snow.
Cons
Poorly made
Overpriced
Terrible customer service
These are the worst snowshoes I have ever used. 
They have several flaws:
The ratchet bindings loosen very quickly, so you have stop to tighten them every few minutes. 
The poles close no matter how tight you set them. The baskets that attach to the bottom of the poles broke in the first outing. 
The shoes themselves are poor quality. The straps that attach the decking have all broken, all the way around the shoes. This has happened to two pairs that were purchased at the same time. 
The poles are not functional. They collapse no matter how much you tighten them and the baskets are poorly made and broke within minutes of use. 
The bindings loosen so you have to stop to fix them every few minutes.
The straps that attach the decking are broken pretty much all the way around the shoes. The look like they're made of low quality plastic that isn't actually made to stand the cold. They crack in the weather.
They are overpriced and didn't even last a season. 
The worst part though, was the terrible customer service I received. They were rude, blamed me for not walking in them properly. Refused to help at all...but did suggest I purchase new pairs for next year.
I have used Atlas shoes in the past and have had them last 8 years with no issue. I would recommend checking out that site.
Source: bought it new
Price Paid: $189.99 plus tax

I purchased both these and Atlas branded snowshoes. The Bigfoot snowshoes have held up after 8 years; where the bindings on the Atlas branded snowshoes cracked and fell apart.
Pros
Bindings don't fall apart
Easy to adjust
Cons
In warmer conditions snow can build up on the crampons
I've used these snowshoes for 8 years now, including a number of 7+ day pulk camping trips. Total travel distance is about 2000km and these snow snowshoes have held up where my more expensive Atlas-branded ones bought at the same time fell apart.
These snowshoes are easy to adjust and the plastic bindings remain flexible. The toe strap has almost worn through, so I've ordered a replacement from their website.
Background
I've used these snowshoes for 8 years now, including a number of 7+ day pulk camping trips. Total travel distance is about 2000km.
Source: bought it new
Price Paid: $129

My wife and I bought the shoes from BigFoot, and we were amazed at how they functioned. My wife had been snowshoeing previously and was impressed with the ease that the snowshoes functioned.
Pros
They are easy to put on, and the binding moved with your natural stride.
Cons
We had an issue with the poles collapsing on us.
The people at Bigfoot Snowshoes took really good care of my wife and I. They had a Valentine's Day special. My wife's and my 32nd anniversary was this year. We love to hike, and we wanted to try and see if snowshoeing was a good activity for us in the winter, so I wanted to buy her snowshoes for us.
Well, I didn't get paid until February the 15th. I contacted the folks at Bigfoot and ask if they would extend the special for me. Well they had no issues and made sure we had an opportunity to take advantage of the special. That impressed me. Their product also impressed me.
We went out last Sunday and only quit when we had to because too when we ran out of sunlight!!
We were impressed with the quality of their product, and I was impressed with their product. I recommend their product and services!!
Don Bassett; Glenwood Springs, Colorado 
Source: bought it new
Price Paid: $189

Bought two pairs (for couples) of these over on their eBay store...took two days to deliver!!! Awesome shoe...love it. Easy to put on, very light. The price is totally reasonable. 
I'm having a great time with those in the outbacks...hope this will be helpful for you, eh!!!
Pat
Price Paid: $214 (2 pairs, shipping and tax included)

Version reviewed: 34
I have two pairs in the house and use them frequently with NO problem whatsoever. Of course, I only use them when 'shoes are truly warranted (snow deeper than 1 foot), thereby eliminating any bent or damaged crampons.
Incidentally, I weigh 345 lbs and the model 34's hold me up and perform nicely.
Price Paid: $130

Version reviewed: A-27
I have had my A-27 (Adventure) model for about 3 months and they are incredible. For the price point you can not really ask for anything more.
For anyone who is looking for a recreational snowshoe I would highly recommend the Bigfoot brand, built well, quick service and amazing price point!
Price Paid: $89.99

I think I paid a very reasonable price. Have a larger family and decided to purchase three different brands. This particular snowshoe showed the first signs of deterioration after using it only couple of times. Clips (rings) securing the deck to the frame started cracking and breaking. Hope it is an easy fix...
Pros
Good price
Solid crampons
Cons
Weaker material choice for clips/rings. Do not suggest using it on compacted snow with ice.
Could be a good snowshoe if only used in a deeper snow. Not suggested for an ice-packed terrain or going through any terrain with obstacles.
For deep snow, the provided heavy duty crampons are not needed, just extra weight. So, the design is little bit confusing, but crampons can be easily removed...
Background
First product
Source: bought it new
Price Paid: ~$144

Terrific customer service. Quick delivery!
Pros
Well made
Soft plastic/rubber for cold temps
Fits every shoe/ boot type!
Well made
Cons
Just had to adjust a screw at home on my pole
I ordered this set three days ago, and they showed up yesterday! I had one part of my pole that didn't lock properly, so I emailed the company, and within minutes I was emailed back about how to just tighten a screw to fix my problem.
Well, I haven't got to use them yet, due to lack of snow. But so far my hubby and I are in love! Built really sturdy, and there were certainly no corners cut! All rivets are tight and the quality of the material is very good.
They look fantastic, are are super lightweight! I've had some heavy snow shoes, but these are great :)
I can't wait for it to snow to be able to use them!
Thank you, Bigfoot Snowshoe :)
Source: bought it new
Price Paid: $203 something with tax

I have a couple of pairs of Bigfoot snowshoes. I have never had a problem with mine. I use mine hard checking rabbit snares in the winter. I have read the reviews and cannot imagine why people would be snowshoeing in less than 1 foot of snow!! That is why they are wrecking their shoes.
Pros
Excellent harness
Lightweight
Quality built
Cons
Llimited flotation compared to traditional snowshoes
Good product for its intended use (snowshoeing in deep snow). The snowshoes are well built, with minimal maintenance. I use mine in extreme conditions of Northern Ontario and would highly recommend them!
Source: bought it new
Price Paid: $80

Do not buy this junk!!!!!!
Pros
Ships fast
Nice cardboard box
Took my money, no problem
Good tape on the box
Got address correct
Cons
Product is weak
Salesman is a scum bag
No warranty whatsoever
This company is in Canada
Promised by Barry these glorified popcans would work in the SNOW, like in a real forest type setting, not the parking lot setting they filmed their commercial in.
NOPE, because we actually used them in a forest, all warranty is void. Even called the Ontario BBB on this junk, what a waste of time!!!
Wesellit.ca is a scam!!
Source: bought it new
Price Paid: anything over $5 is too much

My wife gave me these snowshoes for Christmas. I used them for one hour — one hour — on 4" of snow with frozen ground underneath. After examining them for problems after the first hike, I found the aluminum crampons to be completely flat in front and back.
Contacting Bigfoot for a refund was useless. The service rep quoted me their warrantee policy (one year) and offered to send replacement crampons. I asked what I was to do after the next use, wait two more weeks for more crampons? What was I to do after the 1 year warranty, purchase more crampons?
The aluminum is just far to week to hold up. This is a very poorly designed snowshoe and will give the user nothing more than frustration. Go with an Atlas.
Another note, we have sent the shoes back to Bigfoot, and are disputing this charge with Visa. Great customer service!
Price Paid: $159

My wife bought me a pair of these after I raved about them while using them at work timber cruising in NW BC all day every day. Now retired I use them for fun, a lot. I've never had a problem with anything bending or breaking.
Pros
Inexpensive
Tough
Easy to use
Cons
One pole had one basket come loose...that's all
Source: bought it new

Best experience ever! Bought a family set and am completely satisfied with the whole experience ordering to arrival!
I contacted the company by email and received a response in minutes. They simplified what I would need for my family first starting out, and received more then we would of ever expected. Service, product, price and delivery all amazing!
We received four pairs of snowshoes, poles, and carrying bags for an amazing price. They arrived just in time to surprise my family for a March break adventure we would never forget.
Source: bought it new

Base began falling apart/tearing after three years of light use. Looks like crampons can come up and cut the base straps, other stress tears, too. I weigh 160 lbs and was using Size 25 so shouldn't have been overstressing them. Disappointing.
Pros
Fairly cheap
Boot straps work well
Cons
Base strapping appears to be poorly designed/weak
Source: bought it new
Price Paid: Approx $130

NO STARS. I purchased four pairs of these shoes between myself and friends and had the same problem — the crampons bent the first time out and the snow stuck to them so badly that huge balls were created and we couldn't walk more than five steps without our ankles rolling.
I live in Alberta, where the snow is dry and fluffy and it still happens.
Customer service was useless, suggesting I try wax on the crampons, which I did to no avail. They haven't answered any other emails.
DO NOT BUY THESE SNOWSHOES! They are a good price, but a great example of you get what you pay for unfortunately.
Purchased a family set of snowshoes to use over spring break. Customer service was impeccable and personable, shipping was very fast, and product is excellent! Thank you!
Pros
Good quality!
Easy to put on!
Source: bought it new

No exchange or refund is wesellit.ca 's policy. It is also the parent company of Bigfoot Snowshoes.
President Barry Triller is adamant about this policy. BUYER BEWARE!
Price Paid: $99.99

Your Review
Where to Buy
Help support this site by making your next gear purchase through one of the links above. Click a link, buy what you need, and the seller will contribute a portion of the purchase price to support Trailspace's independent gear reviews.
You May Like
Specs
| | |
| --- | --- |
| Price | Reviewers Paid: $80.00-$189.99 |
| Sizes | 19", 22", 25", 27", 30", 34", 36", 40" |
| Best For | general recreational use, beginner to intermediate snowshoer |
Recently on Trailspace