Black Diamond Cosmo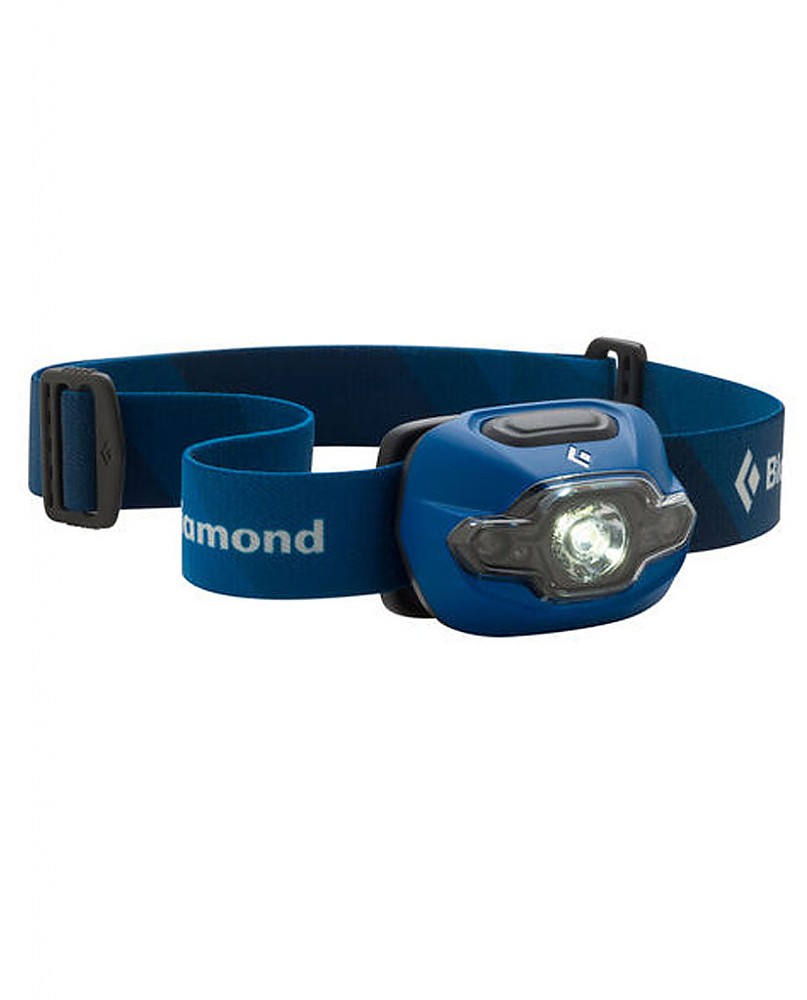 This is an inexpensive, yet reliable headlamp, that suits most needs for hiking, camping, and evening walks. It has a few quirks, but the basic function operations are pretty simple.

I would recommend this product to others, and if it needs to be replaced at some point, I would not hesitate to go with another Black Diamond headlamp.
Pros
Price
Color selection
Durabillity
I purchased this headlamp, after having less than satisfactory experience with an LL Bean similar headlamp. I wanted a simple headlamp, bright enough for night-time use at the campsite, some night hiking and snowshoeing, and to have handy for power outages.
The bean goes out about 75-100 feet; I have never felt it was not bright enough for my uses. The 70 lumens seem very adequate. There are different modes for the lights; I usually use bright, or dimmed mode. The control to dim is easy. There are also strobe and a red light mode. The controls for red light can be a bit tricky.
Of course, I threw out the instruction manual, so had to go back online to print out the directions (in enlarged font, of course!). I have used it quite a bit this season, and have yet to replace the 3 AAA batteries in it. I do always carry a spare set. I have used it in cold, wet, conditions, and it has held up just fine.
The strap is easy to adjust, and comfortable; the ability to tip the lamp is a bit tricky to adjust, without having the strap have to be re-adjusted. It is really a 2-hand operation, at least for me.
I like the choice of colors, so I can clearly identify which is my headlamp. It is lightweight, and seems sturdy. I would recommend this light. It also works great when put against the water jug to illuminate the tent!
Source: bought it new
Price Paid: $24

Bright enough for night hiking. Could use some padding against the forehead.
Pros
Bright
Lighweight
Doesn't accidentally turn on
Cons
Uncomfortable on forehead
REI recently put this on sale, and I snagged one because my old Black Diamond kept turning on by itself in my pack. This one does not have that problem because the on/off switch is recessed and protects from accidental activation. 
I haven't measured, but I recently did some hiking on the AT in the darkness as I left camp at 5:30 a.m. I could see just fine with this headlamp. 
I have used it liberally for 6 nights on the trail, and the fresh batteries are still going.
It's easy to use with a series of button presses or long presses to switch between functions. It has two white-light settings, and I think that's redundant. One is brighter than the other, but the difference is negligible. I suppose if a bulb went out, then having the other would be nice. But, you could still get by on the red light for non-night hiking use until you could visit your outfitter for a repair/replacement. 
I have only used it in warm weather, but I suspect the colder the batteries get, the dimmer this lamp will get...just like all the rest. 
The lamp could use a little padding against the forehead for added comfort. After wearing it for 45 minutes during a night hike, it was more annoying than uncomfortable. If I was hiking longer, I would wear it over a bandanna, and problem solved!
It's small, lightweight, bright, and low cost. An ideal headlamp for the lightweight backpacker.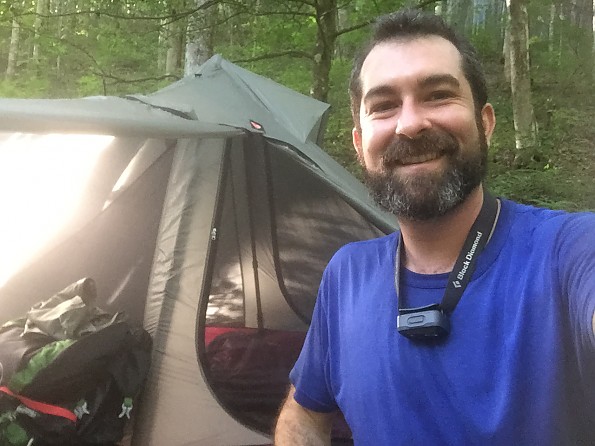 It makes a nice necklace at dusk :0)
Source: bought it new
Price Paid: $25

Just what the doctor ordered! A perfect balance between brightness, features, and cost! 70 Lumens, multimode with a red led for night use, and only $30.
Pros
Affordable
Features
Lightweight
Bright
I picked this light up when it was still an REI exclusive. It was the replacement for the outgoing Cosmo that still had the more rounded chassis design.  This one has the new angular look that Black Diamond has moved to.

Lights
The reason I went with this light was the price and the features it came with for that price.  It has an super bright single LED in the middle (dimmable), two lower power LED's (also dimmable), and then a single red LED.  It takes a little getting used to how the to access the red LED, but once you get the hang of it it's easy.  Also it has a memory mode  where it will remember the mode you last used, like red for night time, and will go back to it versus blinding your wife with 70 lumens to the face…sorry hun!  

Comfort
The light is pretty solid but also lightweight.  It definitely doesn't weigh down your head or cause the light to slip off your forehead.  I'm only doing hiking mind you, so runners…YMMV.  The strap is comfortable as most of these single strap lights are, but it doesn't have any kind of anti-slip gel on the inside like my old Petzl did.

Build
Access to the battery compartment is easy…with a screwdriver.  I did have trouble trying to pry the little tab up with my fingernails, but i'm sure you could do it if you needed to.  I still preferred a flathead screw driver if you have it.  The one button that the light has is easy to press but a little difficult to find by touch, and even more so with gloves on.  It could use some kind of texture or shape that you can feel more easily.  It's also fairly easily pressed and there's no lock out mode like the higher end Black Diamond lights.  This light is rated for water resistance IPX4, I haven't used it in the rain, so I have no opinion on that.

Battery Life
Unfortunately, haven't really put that to a test either. But there are plenty of sites that do.  I'm running eneloops in mine; love those things.
Source: bought it new
Price Paid: $29.99

Brilliant little headlamp at a reasonable price.
Cons
Operation can be a little confusing
A little bit of glare in the lowest tilt position
My old Petzl Tikka headlamp, being eleven years old, was wearing out. The headband was stretched out of shape and the body had a crack in it, so it was time to replace.
I shopped for a new headlamp, and narrowed down to a few models, including the Cosmo. Finding it on sale, I went for it.
The headlamp has three LED's... two normal brilliance, and one super-bright bulb in the center. The two bulb configuration (16 lumens) is fine for working around camp, preparing meals, getting the tent set up, etc. The center bulb at a whopping 70 lumens is great when you need a lot of light... hiking or find a cathole in the middle of the night.
Both settings can be gradually dimmed as needed to save on battery life, by simply holding the power button down. There is also a "strobe" flashing mode, which is great for those late night backcountry rave parties. The lamp tilts at four different levels. However, I noticed in the lowest level, the light tended to glare in my eyes.
I highly recommend not tossing out that little instruction sheet with the tiny print in six languages. The way the control button is used can be a little confusing, and actually reading the instructions can be helpful.
The power source is three AAA batteries. Haven't this long enough to determine battery life, but with lithiums I would battery life should be decent. The water resistance rating is IPX4, which means it will stand up to sprayed water (ie rain), but probably not being submersed.
All in all, a great little headlamp for your dollar. Looking forward to many outdoor trips with it!
Source: bought it new
Price Paid: $14.95

Good lighting configuration. Switches on in your pack easily. Difficult to load batteries in low light (starlight or moonlight) and difficult to reattach battery cover in low lighting conditions.
Pros
Excellent lighting configurations
Cons
Switches on easily in a packed environment
Difficult to close battery cover in low light
I was impressed with the lighting configurations. Typically when you are tramping (trekking) you do not need powerful lighting and battery life is the dominant consideration.
The headlamp is well set up for providing for a good range of uses — bright focussed lighted for finding distant objects (trail marker poles), low general lighting for say cooking. The red LED was greatly appreciated when I needed to get up in the night for a leak (pee). The red light did not destroy your night vision.
The controls took a bit of getting used to but once you mastered the arrangement it was easy. Probably best to leave the control arrangement as Black Diamond has designed it.
I have only used to headlamp on one 6-day trip which involved some night tramping above the snow line.
I had taken the batteries out as the headlamp had switched on (2ce) in my pack. When we came to climb an icy ridge in the shadow out of the moonlight, loading the batteries and closing the battery cover was quite difficult and took some time — the rest of my party was starting to get annoyed at the shagging around — it was bloody cold.
Although I have not tested the torch in rain conditions it does not appear to be very water resistant; that is just a perception at this stage.
Regards
Robert Peart
Source: bought it new
Price Paid: NZD $49

Great light. As long as it stays dry.
Pros
Awesome arrangement of settings
Ease of use
All the technical stuff has been mentioned , so I will save you the time. Great lamp, light and efficient, burn time is longer than most people spend on the trail (daytime included).
But I was night fishing with some buddies and wearing this lamp and I fell out of the boat, read pushed. And the lamp after only a few minutes of submersion will now not turn off. Even though my buddies counterpart lamp (a Coleman from Wal-mart) still works after using it to light the bottom of the lake. 
Great lamp, maybe in the next model Black Diamond will consider o-rings.
Source: bought it new
Price Paid: $39.95

Three different light settings. Can dim in any setting. Comfortable strap.
Pros
Great brightness
Comfy strap
Distress setting
After using this light a few times, I can say that it meets my needs just nice. I am not into buying really expensive lights becuase they do get lost, but this one was a steal at $30. I got the white/orange color combination and it's great. Would recommend to anyone that wants a low cost light without sacrificing quality. 
Source: bought it new
Price Paid: $29.99

Great headlamp, lots of light for the price.
Pros
Does the job
Easily adjustable
I am a fan of Black Diamond products and their headlamps are another quality product. This headlamp delivers a lot of brightness for a good price. The battery time is also really good and I haven't had to switch out batteries yet despite some pretty good usage. Great product!
Source: bought it new

Your Review
Where to Buy
Help support this site by making your next gear purchase through one of the links above. Click a link, buy what you need, and the seller will contribute a portion of the purchase price to support Trailspace's independent gear reviews.
You May Like
Specs
Price
MSRP: $29.95
Historic Range: $12.85-$29.99
Reviewers Paid: $14.95-$39.95