Black Diamond Distance Plus FLZ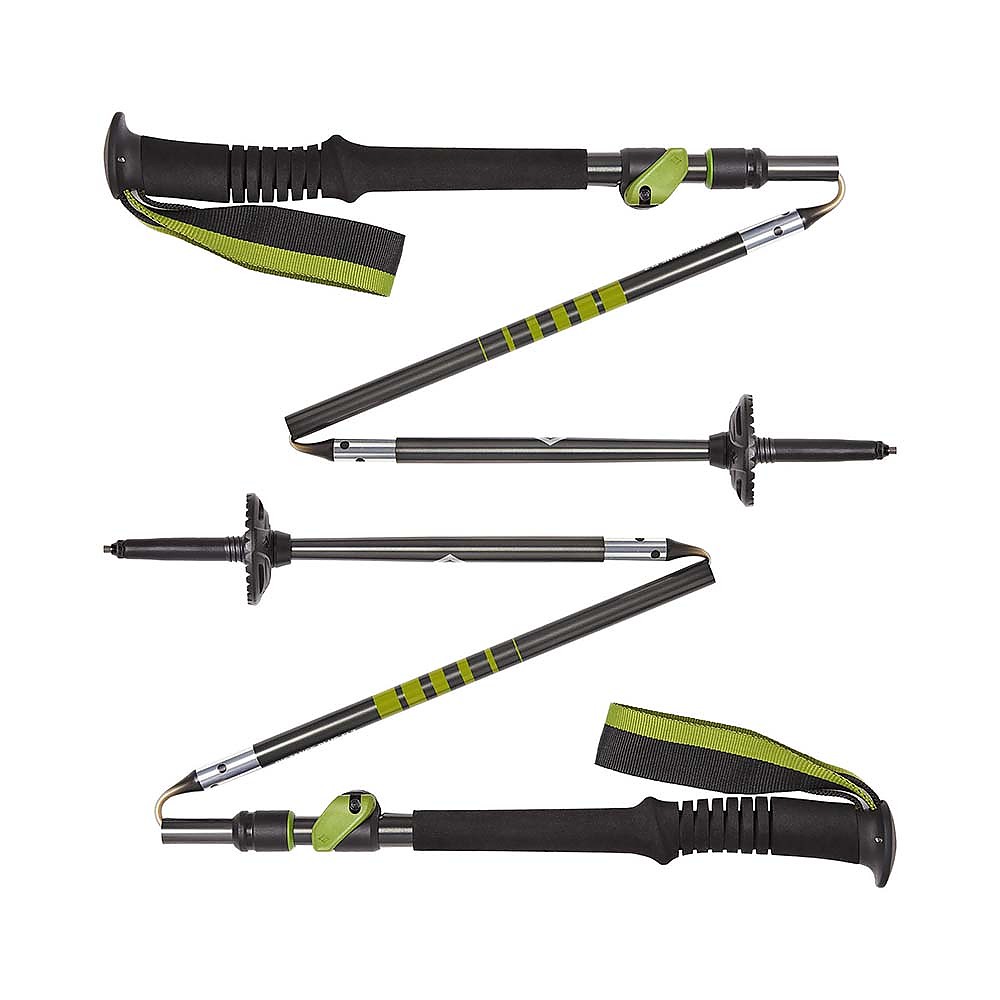 Version reviewed: 120-140 cm
The Black Diamond Distance Plus FLZ Trekking Poles are a well thought out design that is very easy to assemble and adjust, but it also is just as easy to break back down into a very compact package to stow away. As purchased, the Black Diamond Distance Plus FLZ Trekking Poles come with all the accessories needed for the poles to be used all four seasons and in environments that call for an aggressive carbide tip or protective rubber tip.

The Black Diamond Distance Plus FLZ Trekking Poles are a good choice for someone looking for a quality design with the flexibility to be used throughout the year.
Pros
Very compact and easy to stow when collapsed down
Light
Four-season design
Trekking and snow baskets included along with carbide and rubber tips
Quality construction
Availability of replacement parts
Cons
Cutouts in baskets catch in tall grass
Overview
The Black Diamond Distance Plus FLZ Trekking Poles are an aluminum trekking pole utilizing Black Diamonds Z-pole technology and are designed so that they can be reconfigured by changing baskets and tips so that they can be used all year long in a variety of terrain. The Rapid Deployment System utilized in the design is simple and easy to use and really does allow the poles to assemble/collapse quickly and the FlickLock feature to adjust the length is straightforward and easy to use. 
The poles are available in two sizes with the shorter version covering lengths from 105 to 125 cm and the longer version covering 120 to 140 cm lengths. The pair of poles I was provided to evaluate were the 120-140 cm size, which I ended up keeping at the shortest 120 cm length through most of my testing. Overall, I really like the Black Diamond Distance Plus FLZ Trekking Poles, especially how easy they are to collapse and how small they pack down for stowing away.
The following link is to a video that provides a good overview of all the features of the Distance Plus FLZ Trekking Poles:
The Basics of What is Included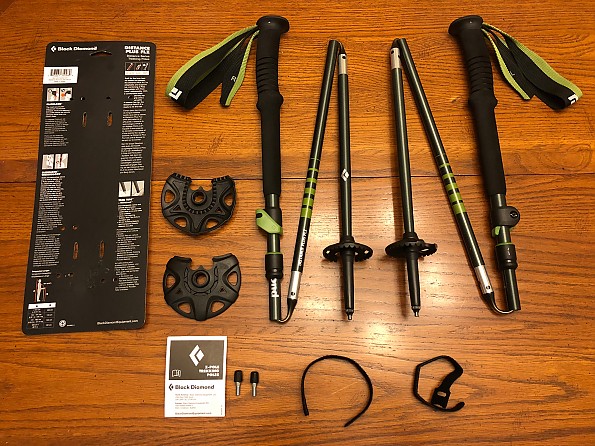 The Black Diamond Distance Plus FLZ Trekking Poles come with everything shown in the picture above.
This includes:
The pair of Distance Plus FLZ Trekking Poles with the trekking baskets and carbide tips preinstalled
A pair of larger snow/powder baskets
A pair of rubber tips
Two Velcro straps for more secure storage of the collapsed poles
A product information and instruction pamphlet 
Weight & Physical Size
I found that the weight and physical size of the Black Diamond Distance Plus FLZ Trekking Poles to be right in line with the information provided on the Black Diamond website.   
Weight:  
Black Diamond published data: 1 lb 3 oz
My actual measured weight: poles with trekking baskets 19.0 oz, and 19.8 oz with large snow baskets
Usable Length: 
Black Diamond published data: 47-55 inches
My Actual measured lengths:  47.25-55 inches
Collapsed Length:
Black Diamond published data: 16 inches
My actual measured collapsed length: 15.75 inches
Design and Construction
The Black Diamond Distance Plus FLZ Trekking Poles is unique in that it is composed of an upper section that is actually three nested aluminum tubes and then a lower portion that consists of two aluminum pole sections connected to the inner tube of the upper section by a shielded Kevlar cord. This system is Black Diamond's Z-Pole technology and the system works very well in use.
The process to assembly of the pole is very simple and quick and I found the process to collapse the pole just as easy and never had any issues using the Slide Lock release collar.   
The overall length of the pole is changed by adjusting the position of the outer tube on the upper handle section buy releasing the Flicklock clamp, repositioning the handle section to the desired length, and then closing the Flicklock clamp. The Flicklock clamp was simple to operate and kept the pole in the adjusted position.
While I have not seen any issue yet, the one area that I have concerns with potential durability is with the protective cover for the Kevlar cord that is part of the Speed Cone deployment system. I've noticed that the protective cover can kink when the poles are fully collapsed which I can't see being an issue in the near term, but over the long run after some number of cycles of being assembled and then collapsed the cover may fail which would exposed the Kevlar cord and potentially limit its life. 
I may just be a worrywart, but I plan on watching this area (and also take care when collapsing the poles to minimize any kinking) and if it does fail prematurely I'll come back and update my review.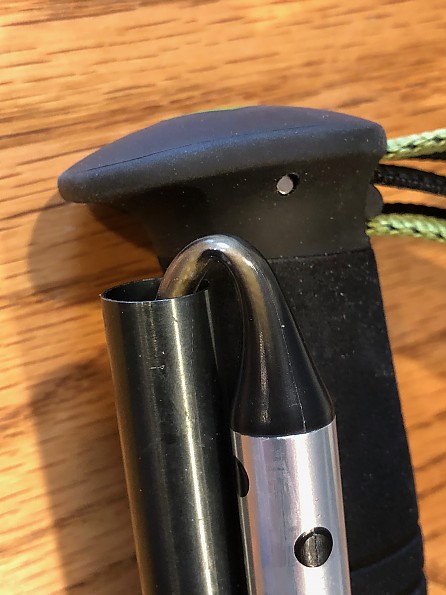 Grip & Straps
The grip on the Black Diamond Distance Plus FLZ Trekking Poles has an overall length of approximately 10 inches and is composed of an upper section that I'll call the normal grip and a lower section that is intended for intermittent use on side sloops or on steeper climbs.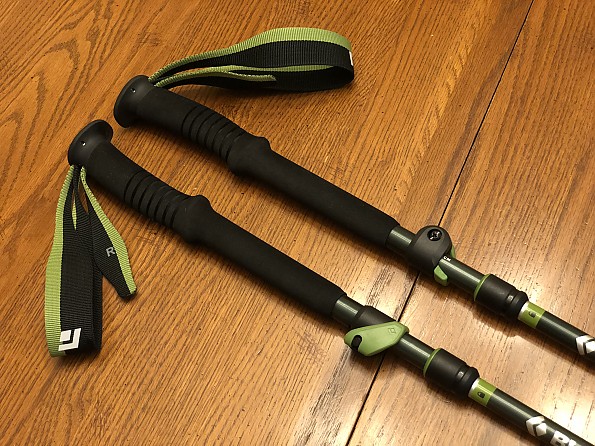 The EVA foam used for the grip feels like suede and is comfortable in use. The EVA foam from my experience and a little testing does absorb a very small amount of moisture on the surface with extended exposure to water, but it does not change the stiffness of the EVA foam (it won't get mushy) and it tends to dry quickly.
The usable length of the normal grip is approximately four inches and has an oval cross section with a slight palm swell that fits my hand well. I also found that the grip fits well with the winter gloves that I would wear.  For reference, I typically wear a large size in gloves.
The useable length for the lower grip is approximately five inches and this section of grip has a circular cross section. I have never owned a trekking pole with this lower grip feature, so I haven't really used it all that much while hiking just because it's not something I would naturally do, but I do plan on trying it out from time to time to see if I like it any better then just using the upper grip on steeper sections going up or down hill and on other adverse terrain.
At the top of the grip where the wrist strap is attached is a black rubber knob with a slightly curved top that is approximately 1-7/8 inches long and 1-1/2 inches wide. The material is a medium hardness rubber that has a good friction feel to it. So, if you're someone who likes to palm the top of your trekking pole, you should like the feel of this knob.
The wrist straps used on these poles are approximately 1-5/16 of an inch wide at their widest point and are easy to adjust and I didn't have any issues with the adjustment changing or slipping during use. The straps do have a left and a right marking, so if you do adjust your poles to different lengths you'll be able to tell them apart.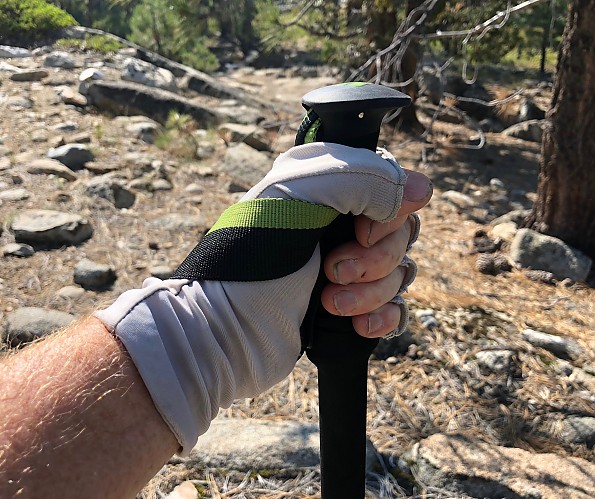 Replaceable Baskets and Tips
The baskets on the Black Diamond Distance Plus FLZ Trekking Poles are replaceable, but the process does require good grip strength and some commitment. While it may require a little work to change out the baskets, you'll never have to worry about the baskets coming off during use because the method to retain the baskets is rock solid.
The tips are also replaceable and have an integral locking feature that consists of a "wave" profile on the tip that mates with an identical profile on the end of the pole. The wave feature prevents the tips from coming loose, but also require using a tool like a pair of pliers to replace them.
Here is a picture of the rubber tip showing the wave feature.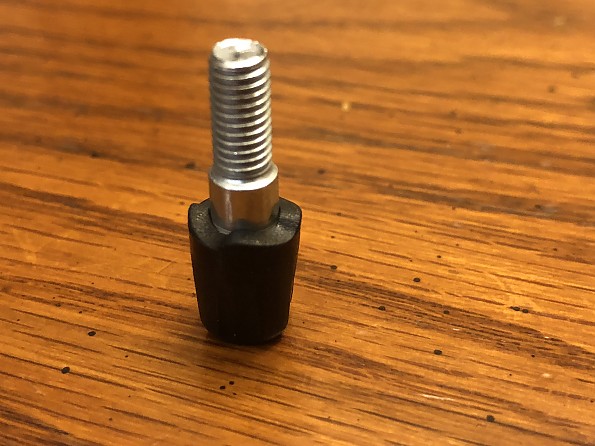 The video at the following link provides I good overview of the Distance Plus FLZ Trekking Poles along with demonstrating the process used to replace the baskets and tips on the poles: 

https://www.backcountryedge.com/videos/how-to-set-up-black-diamond-distance-plus-flz-trekking-poles
Availability of Replacement Parts
Over the years I have damaged a number of trekking poles either while climbing over logs or getting them stuck in rocks or roots on the trail, or I have lost baskets off of the end of the pole and in most cases I ended up picking up a new set of poles because the damage pole couldn't be repaired. With the Black Diamond Distance Plus FLZ Trekking Poles a significant number of the poles components can be purchased from Black Diamond, so for the most common problems you'll run into replacement parts are available. 
Here is a list of replacement parts that I found available on the Black Diamond website:
Flicklock components
Lower pole section
Wrist Straps
Flex tech tip
Trekking and Snow baskets
Carbide and rubber tips
Using the Poles
Now that I am 60, I find that I rely on my trekking poles more and more when I am hiking, especially in rougher terrain and slabby rock sections of the trail. I have found that the cupped carbide tip design used on the Black Diamond Distance Plus FLZ Trekking Poles really does a great job with catching the very small minute features on granite slabs instead of skating off like other tip designs.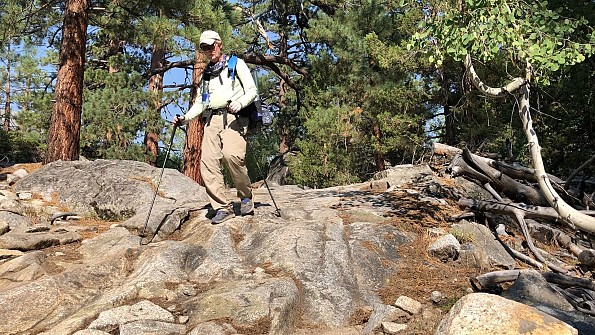 Here is a closeup of the replaceable-cupped carbide tip: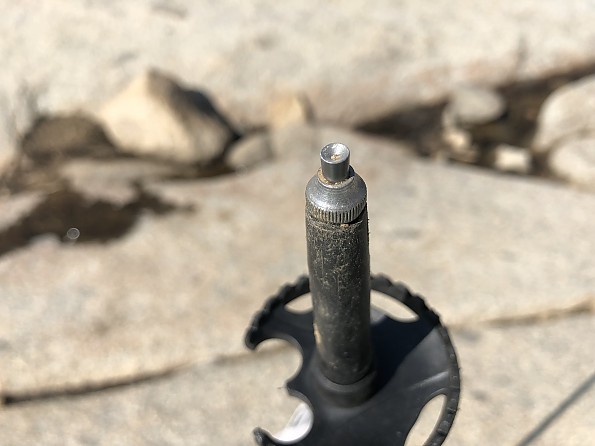 Over the couple of months I have been using the Black Diamond Distance Plus FLZ Trekking Poles the edge of the carbide tip hasn't worn by any significant amount, but it's nice to know that when it finally does wear out it will be an easy task to replace the tip.
In their assembled configuration I have found the Distance Plus FLZ Trekking Poles to feel just as stiff as other trekking poles designs that I own.
One thing that I did find a little annoying with these trekking poles is that the cutout in the baskets that retains the pole sections when the pole is collapsed tends to hook on tall grass along the trail like in the picture below. I tried rotating the basket so the cutout was facing to the rear, but since there it nothing within the design that really prevents the lower pole sections from rotating, the cutout would find its way back around and start hooking on the grass again.
Most of the areas I hike in don't have conditions like this where the trail is a deep rut going through a meadow, but I thought I would share this observation in case other people interested in these poles hike a lot in this type of terrain.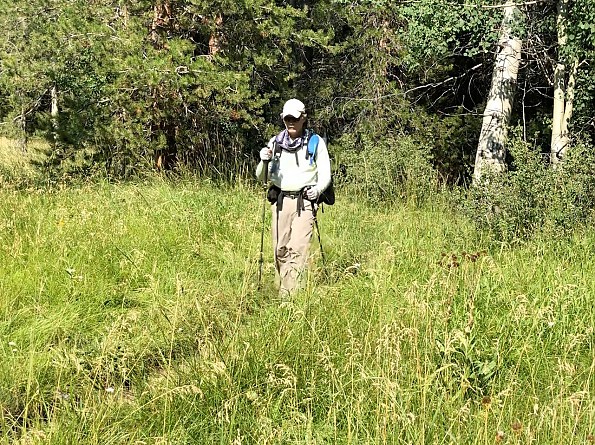 One of the features I like best about the Black Diamond Distance Plus FLZ Trekking Poles is how they collapse down into such a nice compact package. When I am not using the poles I find that it's very easy to attach them to my pack so that they are out of the way and don't get hung up and become a nuisance.
Here is a picture of how I stow the poles on my ULA Circuit that I use on most of my multi-day backpacking trips.
Here they are on the pack I use for most of my local day hikes, which is a Black Diamond 45L Sphynx.
And here they are tucked away in the side pocket of my Gregory Stout 65 pack that I use as my mission pack for my search and rescue activities.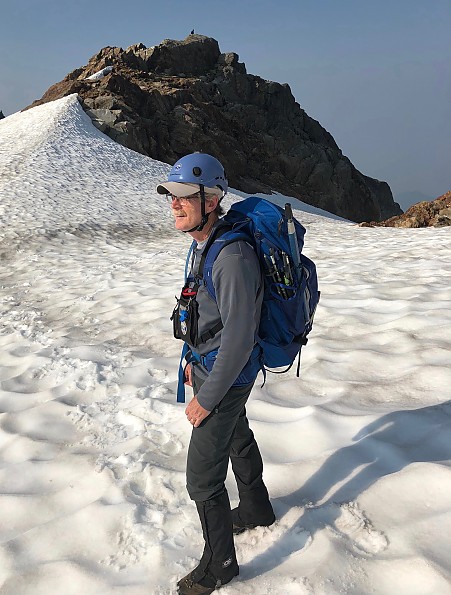 Price
The list price of the Distance Plus FLZ Trekking Poles is $149.95. While this is not inexpensive, these poles do include both trekking and snow baskets in addition to including a set of both carbide and rubber tips, so you really have a true four-season trekking pole design. In addition, the availability of spare parts ensures that you'll get many years of use from the poles and won't have to toss them the first time one is damaged.  
Summary and Recommendation
Since I received the Black Diamond Distance Plus FLZ Trekking Poles earlier this summer, I have been using them weekly and they are currently my go-to set of poles for any outdoor activity. I think one of the best features of the poles is how compact they become when broken down. While this pole is not an inexpensive option, I would still recommend the Black Diamond Distance Plus FLZ Trekking Pole for anyone looking for a high quality trekking pole that will perform well in a variety of conditions year round.
Many thanks to both Trailspace and Black Diamond for the opportunity to evaluate and test the Distance Plus FLZ Trekking Poles for the Trailspace Gear Review Corps!
Disclosure: Trailspace received a sample of this product from the brand for field testing and review. The product was assigned by Trailspace to this volunteer Review Corps member.
Source: received for testing via the Trailspace Review Corps (Sample for testing and review provided by Black Diamond)

Great design; lousy black greasy powder.
Pros
Design
Ease of use
Lightweight
I bought these poles for a long walk across Spain where I needed to break down the poles every night when coming into the hostel. I have since used them on a second such trek, for a total of around 700 miles.
I agree with everything about great design (fits easily in carry-on luggage), etc.
The problem is that when you break them down, inevitably you pull just a little too hard, and the plastic plug pulls out of the tube. No problem, you just push it back in. But in that process, you release a greasy black powder that gets on your hands. And, because it is very difficult to remove from your hands (you cannot just brush it off), you will eventually get it on your clothing, your face, everywhere. And it is really difficult to wash off.
So I complained to Black Diamond, thinking I had a defective pair. And they were very kind and sent me a new pair. Which does the exact same thing. I have now concluded that this is just a design flaw.
Note: I still use my pair. I just no longer break them down at the end of the day. And when in, or attached to, my pack, they stay wrapped securely in plastic to avoid getting the black greasy stuff all over my pack.
Source: bought it new
Price Paid: cannot remember

Your Review
Where to Buy
Help support this site by making your next gear purchase through one of the links above. Click a link, buy what you need, and the seller will contribute a portion of the purchase price to support Trailspace's independent gear reviews.
You May Like
Specs
105-125 cm
120-140 cm
Price
MSRP: $149.95
Historic Range: $149.95

Weight Per Pair
508 g / 1 lb 2 oz
544 g / 1 lb 3 oz
Collapsed Length
37 cm / 15 in
40 cm / 16 in