Black Diamond First Light Stretch Hoody

The Black Diamond First Light Hoody is a multifunctional, breathable jacket that can easily be used in a wide range of seasons and temperatures, particularly on highly active days. It's warm (PrimaLoft Silver Insulation Active), easy to layer with, and doesn't restrict body movements, making for a highly versatile jacket.
Pros
Wonderfully breathable
Super adaptive to body movements
Full coverage (over the butt and all the way to the wrists)
Big, but not bulky pockets
Functional hood
Bluesign certified fabric (Schoeller)
Cons
Doesn't stuff easily into the stuff pocket
Looks wrinkled
Conditions: 
I've worn the Black Diamond First Light Stretch Hoody throughout the winter and early spring in Pennsylvania. I've worn the jacket during high-energy activities like hiking and splitting wood, and in low-energy activities like camping and even around town. Over a three-month period, I've worn the jacket at least three to four days per week, with some weeks being closer to five to six days. Temps have ranged wildly, from 0F to 55F (-17.8C to 12.8C), and depending on the temps, I'd either add or subtract layers under or over.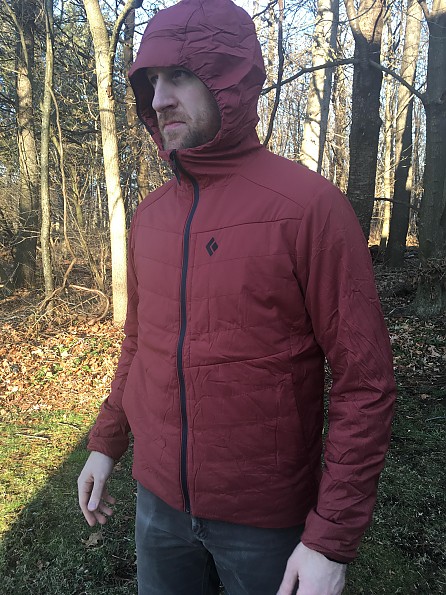 Reviewer's Measurements:
• Height: 6'2" (74" or 1.88m)
• Weight: 200 lbs. (90.7kg)
• Wingspan: 76" (1.93m)
• Typical Shirt/Jacket Size: Varies between medium and large
• Jacket Reviewed Size: Men's Large 
Note on Jacket Model:
The First Light Stretch Hoody replaces Black Diamond's previous version, the First Light Hoody. Additionally, the manufacturer makes a First Light Hybrid Hoody, which is similar but features merino wool. Men's and women's sizing is available for both hoodies.  
Fit and Comfort:
The regular-fit jacket is deceptively airy and comfortable. It moves very well with the body, and doesn't feel restrictive or latched on. There is adequate room for layering underneath, which is how I prefer to dress for the cool/cold temps (more on that in the Layering section below). It covers well, all the way from covering the butt to full wrist coverage.
To me, it's more comfortable than a puffy down jacket, and far more sturdy and adaptive. The inner stretch lining does exactly what the manufacturer claims it does, "stretches with your every move." Simply put, there is no hinderance of movement with this jacket.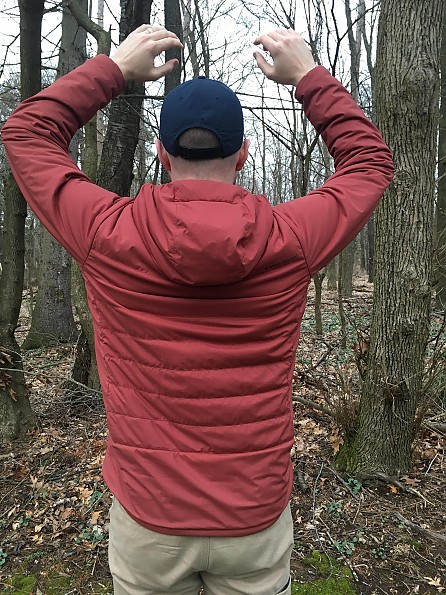 Even with my arms raised up, the hem still covers my backside. No breezy bums here!
Weight:
18.7oz (530 g) for the men's size large. 
Adjustability:
There two adjustable components on the First Light Stretch Hoody; 1) the hem and 2) the hood. Both use similar toggles to tighten or loosen ripcord. Pretty straightforward for jackets like this. I haven't really needed to use the hem adjustment, but I have cinched down the hood adjustment on several occasions to block out the cold wind. The cord tightens just below my ears, which is the perfect spot to ensure my entire bald head stays warm.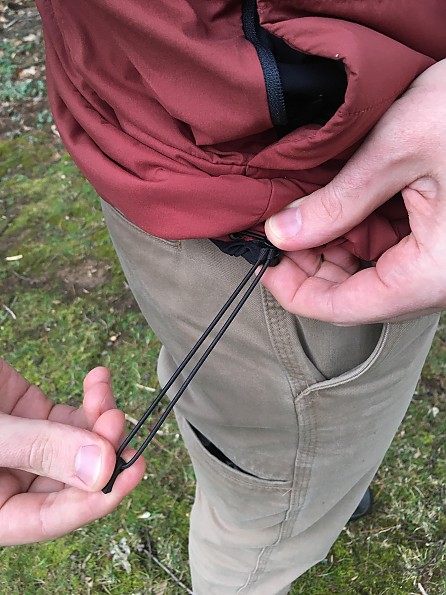 Single hem adjustment at left hip.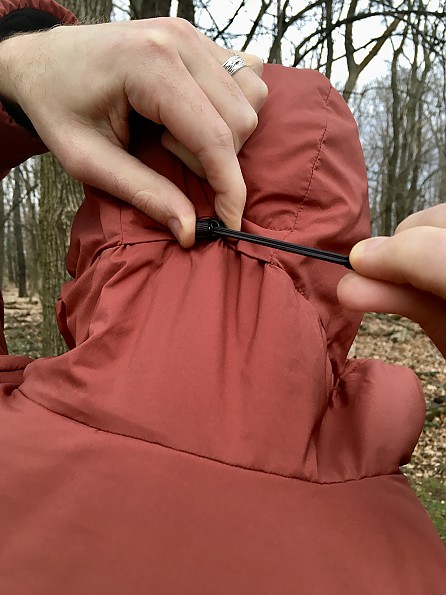 Hood adjustment at rear

The cuffs are not adjustable, which I personally have no problem with, since they have elastic stretch anyways. The only potential drawback to this is when fitting gloves over or under the jacket's cuffs. The semi-stretchy cuffs can fit over smaller bulk gloves, but will need to slide under larger bulk gloves.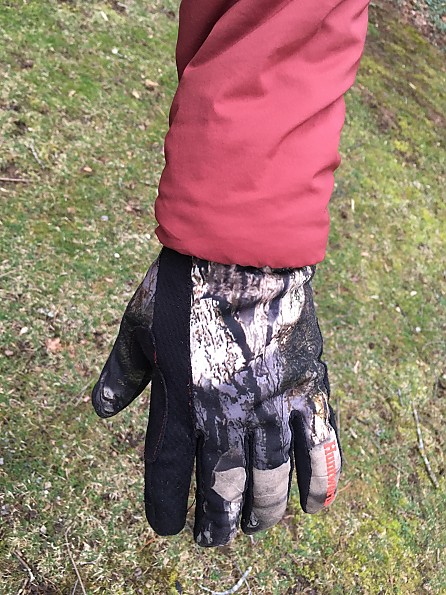 Cuffs can stretch over top of light-to-mid weight gloves...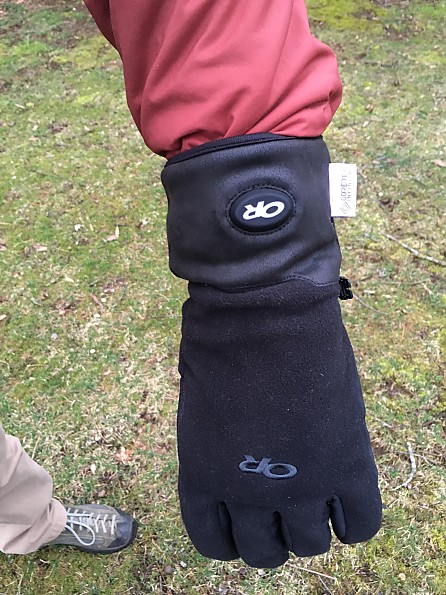 ...but are too tight to stretch over top of bulky gloves. 
Breathability:
Breathability is perhaps this jacket's calling card. With its stretch lining, it is almost a challenge to overheat in this jacket, which says a lot because I tend to overheat rather easily. Of course, depending on what I have on underneath, I've definitely unzipped or removed the jacket while exerting a lot of energy, but in general, when it's on, it stays on because it breathes so well. This leads to less sweat build up under the jacket, which is crucially important on particularly cold days.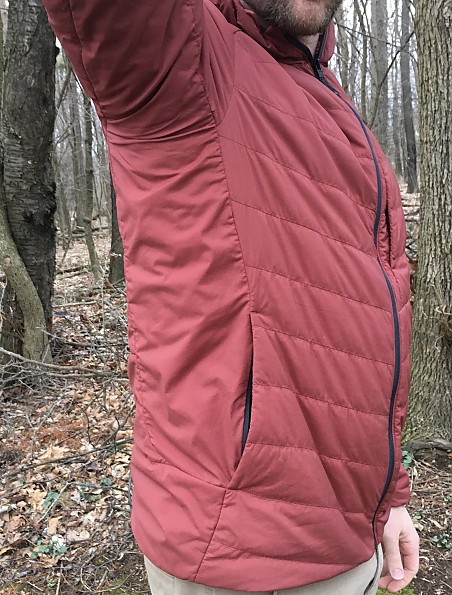 Side angle shot. Even without pit zips this thing breathes very well. The baffling on the front of the jacket is mirrored on the inside of the side panels.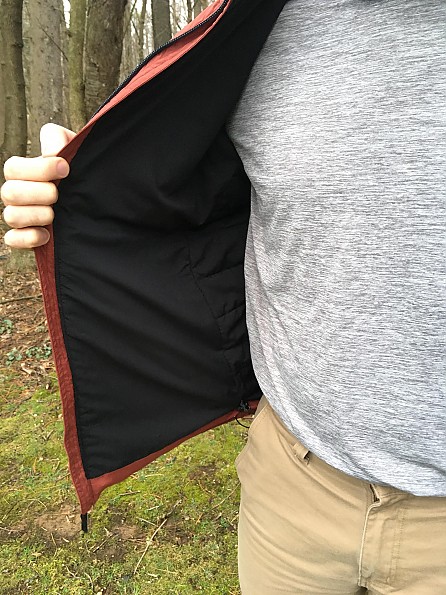 No internal pockets. Just a straightforward interior, made of breathable stretch fabric. From this view, you can begin to see the baffling on the side panels. 
Warmth:
After three months of testing in a wide range of temperatures (0F to 55F or -17.8C to 12.8C) I've found the Black Diamond First Light Stretch Hoody to be a go-to option when active in chilly temps. The PrimaLoft Silver insulation does a great job of providing the warmth and not weighing the coat down.
If I have a "normal" winter layering system underneath, say a long-sleeve merino baselayer and a long-sleeve fleece, then I can comfortably wear this in the 30s and 40sF if I'm doing any sort of physical activity. I have found that once the temps reach the 20sF or lower and I'm not doing much moving, this jacket doesn't quite have the warmth that a bulkier jacket might.
I don't think Black Diamond is trying to sell this as a full-stop, Arctic-ready winter coat, so I can't knock it for temperature range. In fact, they market this jacket as an on-the-move type of layer, not one for standing around in the cold. I think it's a great stand-alone jacket for autumn and spring, or a winter coat for those in milder climates, as well as a winter coat for those in chillier climates who are willing to add a layer or two underneath. This winter was very mild in my local climate, so for the vast majority of days, this jacket was more than sufficient for staying warm.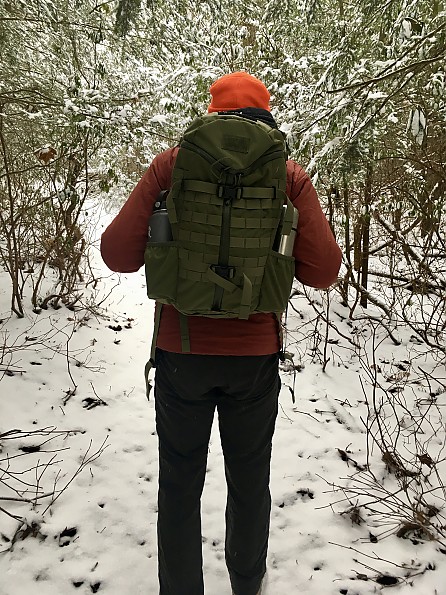 On a mid-winter hike with the jacket. Layered underneath is a merino wool baselayer and a long-sleeved fleece top. 
Layering:
The layerability really stands out with the BD First Light Stretch Hoody. If needed, I can comfortably wear three layers underneath without feeling restrictive or claustrophobic. This came in handy during the cold, dry winter days. I also used it as a midlayer a few times when the temperatures really dropped. But I can also just wear a T-shirt underneath on a cool spring morning and it feels totally normal. Not too baggy or loose. Its layerability is very versatile.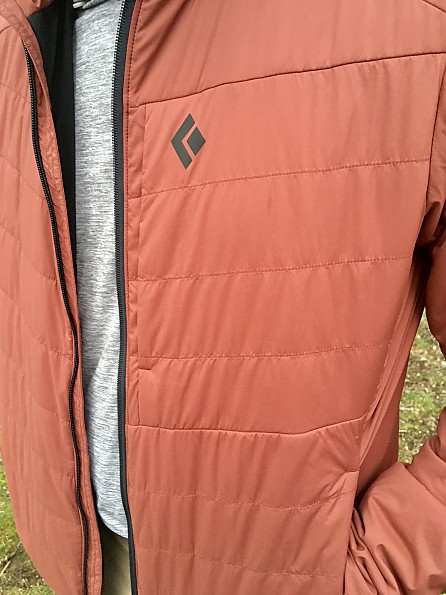 Notice the baffled structure of the jacket.
Water Resistance:
The BD First Light Stretch Hoody's outermost fabric has a weather resistant finish made with something called Eco-Repel Bio, which is a DWR coating free of any perfluorochemicals (PFCs). The jacket can withstand a light rain or snow without soaking through, but it's not meant to be a full-on rain coat or anything like that. When it does get wet, it dries noticeably quick.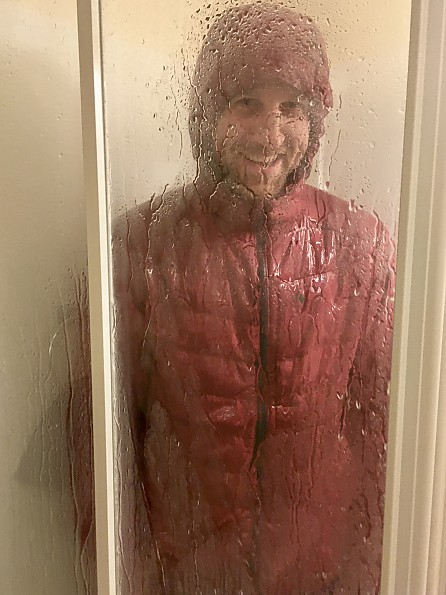 Testing the First Light Stretch Hoody in the shower. It soaks through when exposed to these kind of conditions, but handles light rain and snow with no problems.  

Cleaning Care:
I was surprised to read on the jacket's care label that it can be laundered just like any other shirt, socks, etc. The care instructions are simple—machine wash in cold water on a gentle cycle, and then tumble dry on medium heat. As mentioned above, it dries in no time, so keep an eye on your dryer. And even if you have the wrinkle release setting on your dryer, don't bother, the jacket's outer fabric just looks kind of wrinkly and there's nothing you can do about it.
Abrasion: 
Black Diamond touts this jacket as being perfect for climbing big rock walls and the like, so it better be abrasion-ready. I haven't done much heavy-duty abrasion tests, but I have split and hauled wood in it, and aside from getting a pretty dirty, no signs of wear or tear. After three months of use, there are no signs of weakness or thinning of material in any of the typical areas of concern (i.e. shoulders from pack straps, elbows from stretching, or pockets from heavy usage).
Pockets:
The jacket has three pockets total—two hand pockets each with concealed zippers and a low-profile chest pocket which also has a zipper enclosure. All of them have huge capacities and are made from the same stretch lining that the rest of the jacket features. This means storage capacity galore, but not at the expense of added bulk!
However, one thing that cannot easily fit into the pocket is the jacket itself. The left hand pocket is meant to be a stash pocket for the jacket, but because the jacket isn't super packable, it maxes out the pocket. It takes a lot of coaxing to get the jacket in and out of the pocket. I recommend not doing it at the risk of breaking a seam or tearing the zipper. This isn't a huge issue for me, as I rarely stash coats into their stash pockets anyways.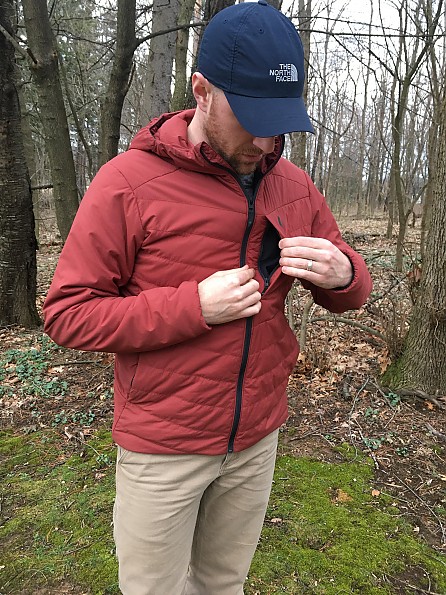 Chest pocket. Doesn't get used much besides keeping my phone warm in the cold months.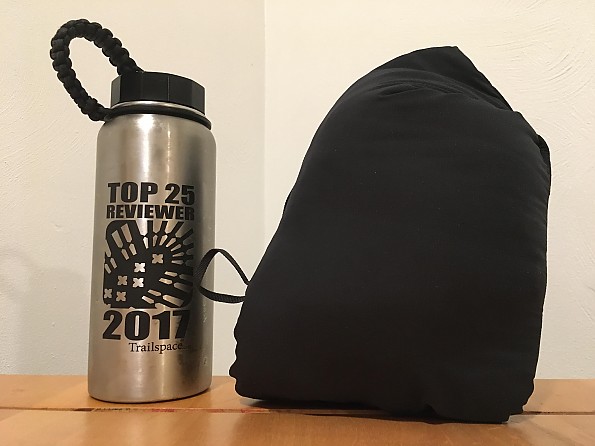 Stashing the jacket into its stash pocket (left hand pocket) is a bit of a trick. Size comparison next to a 1L (34oz.) water bottle.
Hood:
I typically find jacket hoods to be finicky, overly large, nothing more than a sail for wind to catch, or a combination of all three of these maladies. However, this isn't the case with this hood. The front stretch panels with elastic edges on both sides of the hood make for a snug-but-not-tight fit, even without cinching up the drawcord at the back.
The cord at the hood's rear allows for a truly dialed in hood that can be worn with or with helmet, baselayer hoods, beanies, etc. Given my inclination to despise all jacket hoods, I didn't think I'd ever say it about a hood, but I actually like wearing the hood on the BD First Light Stretch Hoody. Gasp! I said it!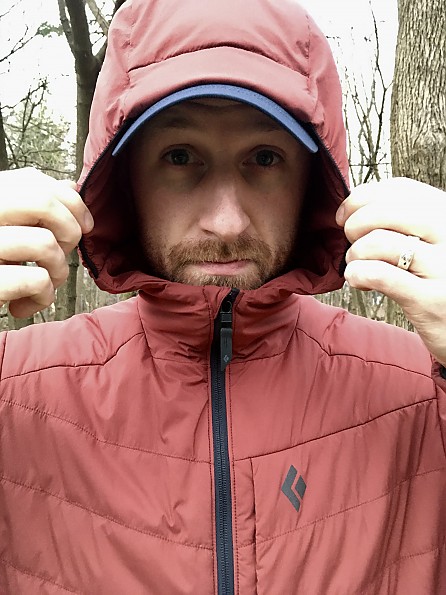 Notice the two stretch components on either side. These make for a seriously comfortable and useful hood.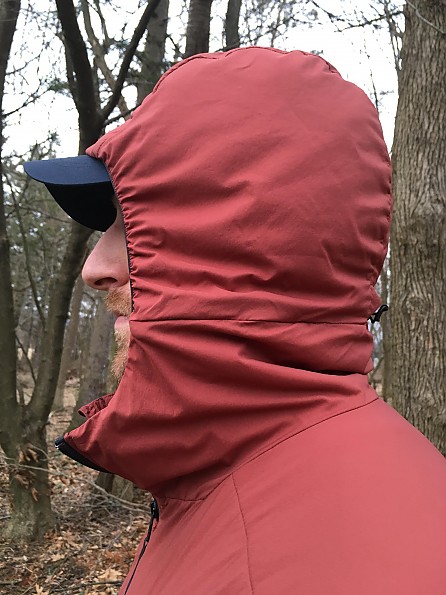 Bluesign Certified Fabric:
The primary face fabric used (Lightweight Schoeller with Eco-Repel Bio PFC-free DWR) is bluesign certified. I'm not sure if all the fabric used is or not, but at least the main outer fabric is. If you don't know what the heck this means, it's okay. If you do want to know, do some online searching. It's kind of cool that companies are trying to source their fabrics more responsibly and I hope more companies keep making strides like this.
Slightly Confusing Name (at least for hunter/hikers):
As a hunter and hiker, I was initially confused by the name of this jacket. First Lite (notice the spelling difference) is a hunting apparel company, so when I saw the name of this jacket, I thought it was a collaboration between Black Diamond and First Lite (which would be cool). I wonder if other hunter/hikers thought the same thing.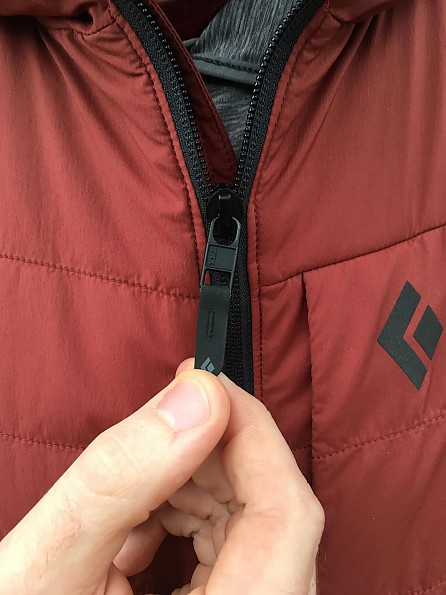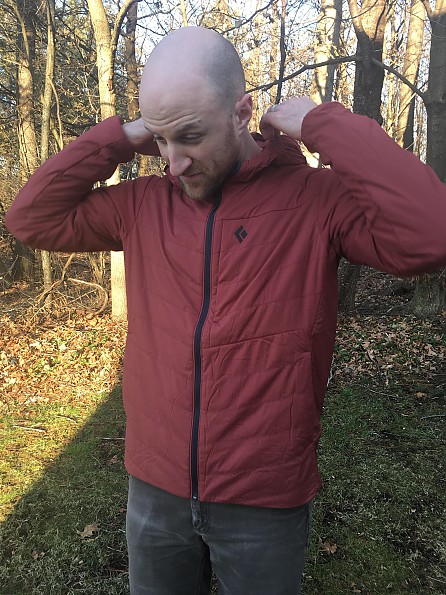 Background
To stay active all 12 months of the year, regardless of temperature or weather conditions, requires I have a wide array of jackets and layers. The Black Diamond First Light Stretch Hoody is great weapon in the arsenal of jackets I own.
Source: received for testing via the Trailspace Review Corps (Sample for testing and review provided by Black Diamond)

Your Review
Where to Buy
Help support this site by making your next gear purchase through one of the links above. Click a link, buy what you need, and the seller will contribute a portion of the purchase price to support Trailspace's independent gear reviews.
You May Like
Specs
Men's
Price
MSRP: $259.00
Current Retail: $142.50-$295.00
Historic Range: $90.25-$295.00

Weight
475 g

Insulation
PrimaLoft Silver Insulation Active

Fabric
Lightweight Schoeller face fabric with Eco-Repel Bio PFC-free DWR Technology

Fit
Regular

Size
S-XL

Women's
Price
MSRP: $259.00
Current Retail: $153.99-$221.25
Historic Range: $77.48-$259.00

Weight
402 g

Insulation
PrimaLoft Silver Insulation Active

Fabric
Lightweight Schoeller face fabric with Eco-Repel Bio PFC-free DWR Technology

Front Length
25.5 in from High Shoulder Point

Back Length
25.75 in from Center Back Neck

Fit
Regular

Size
XS-XL

Recently on Trailspace