Black Diamond Firstlight 2P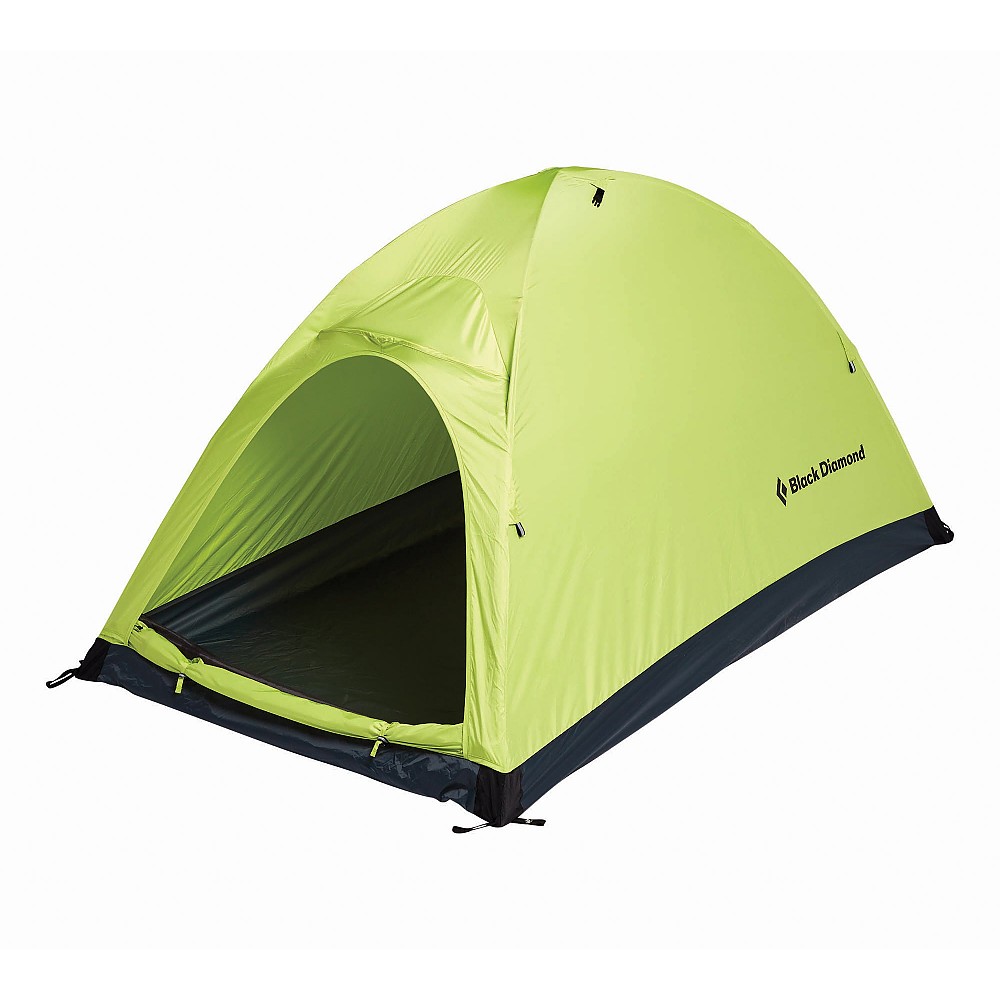 Great tent as long as you're USING IT AS INTENDED.
Pros
Super stable in wind for its weight
Very lightweight/breathable
Sets up from inside in storm or high wind
Small footprint for setup on bivy ledges
Cons
Short footprint, I'm 6 feet tall and it's a bit cramped for me
Great tent as long as you're USING IT AS INTENDED. This is NOT a backpacking tent, this is a siege style two-man shelter for use during alpine climbing in high wind and snow.
Have used this tent many nights for ice climbing/alpine climbing trips. Its small profile works great for small chopped out ledges, and it packs down small enough and is light enough to be taken in your alpine climbing pack. Black Diamond's Nano fabric is a breathable water-RESISTANT fabric, i.e., winter use is where this puppy really shines.
If you bought it because it looks cool or just for the weight and take it backpacking you WILL get wet. So put down your sissy trekking poles, pick up a pair of ice tools and a rack, and take this tent with you when you feel like getting cold and scared up on a big mountain objective.
Source: Given by friend

A nice, lightweight winter tent that will stand up to tough weather. It was designed as a winter tent and in that environ it performs great
Pros
lightweight
easy to set up
withstands strong wind and snow
Cons
it's strictly a winter tent
tight for a two-person tent
I've used this tent a couple of dozens of times the last couple of winters and while not perfect, is a very solid winter tent. I've had it in strong winds and heavy snow and it does a good job of handling both.
It's listed as a two person tent and while two could use it in a pinch, it's much better when used as a solo shelter. With one there is plenty of extra room for your gear; if your plan is to use it for two people—invest in the optional vestibule.
For a winter shelter that is on the bomber end of the scale, it's really lightweight. I say winter tent as I wouldn't use this shelter outside of that season. Sustained rains would be problematic as it's not seam sealed and the single wall design, while fine in the winter, condensation could be an issue in other seasons.
With two poles that cross, it's easy and quick to set up. I can't remember if it came with stakes, but if it did, you'll want to invest in some snow stakes anyways.
If you're looking for a tent to use year round, look elsewhere. If you're looking for a quality, lightweight winter tent—it's a dandy.
Experience
three winter seasons with numerous outings, several in which I encountered very rough winter weather
Source: bought it new
Price Paid: $275

While some may consider the Firstlight a desirable tent for summer alpine nights, having almost 31 years under my belt guiding in the Rocky Mountains, I have been many times in downpours while camped waiting for breaks in weather to start climbing. I have to say this tent is not desirable for anyone carrying a tent because a tent should GUARANTEE that I am safe from the elements whether it's a light summer rain or a gully washer, both of which are possible in the Rockies any time in the summer. I'd rather have a few more ounces in my tent's weight and be assured that it's waterproof when I need it than a wet bag, wet gear, and wet clothes.
This tent has also been tested my a good friend of mine who used it in New Zealand and he expressed concern to me that after prolonged rain, the places where the bag touched the tent wall fabric began to leak. Now I ask you, if this is the case, what is the rational in making a bivy sack out of it too? Seems pretty silly to me, but what do I know? I have only been in the guiding field for over thirty years, and guided extensively in the Rocky Mtns bedsides 11 over countries around the globe.
Design: good shape, structure, quality workmanship
Sleeps: 2
Ease of Setup: very good
Weight: excellent
Price Paid: $289

A tent has a clear primary job—keeping you dry. The Firstlight fails miserably at this job. BD describes the fabric as "water resistant" which is an overstatement. In an extended light rain or even a short downpour, the fabric wets out and wicks moisture inside. Because it's a small tent, your sleeping bag, clothes and lots of other things you care about will be in contact with the wet tent walls and soon your entire kit is soaked.
I've used the tent for around 30 nights. Most of those were dry, but on a recent trip in the Bob Marshal, we got rain every evening. And did we get wet! We kept a pack towel in the tent to dry the walls and our gear.
On our last night, I started keeping track of the amount of water wrung from the pack towel. We soaked up more than a cup of water in a single night. I had expected a little condensation from a single wall tent and we certainly got that, too. But I also expected the tent to protect us from rain. It does not.
Even after painstakingly sealing the seams, big droplets from on the poles and drip on your face. The water pours down the poles and pools in little puddles in the corners (which ironically are waterproof). I might even get past the wet pole thing, however, if the walls didn't get soaked, but they do.
I also am disappointed in durability and construction. The minimalist brows of the door and rear vent are supported by flexible wire. The ends of the wires are cushioned by little plastic caps, but the wire poked through one of those and wore a hole in the fabric sleeve and now sticks out.
I gave the tent a half star because it is really lightweight and easy to set up. But if it can't keep you dry, what's the point? This tent is nothing more than a very small mosquito net or a very expensive backyard play tent.
Price Paid: $299

I have owned the Black Diamond First Light for three years. I first used it for a 13 day backpacking trip in the New Mexico mountains at a Boy Scout camp called Philmont.
It rained every night, very very hard rain.
The tent is water proof. During the hardest rain I felt a slight misting inside, but no collection of water whatsoever.
The thing is, if you have two people inside, (I did not) some condensation will occur if the temperature/humidify is just right.
Knowing that I was going into a rainy area, I seam sealed all the seams very carefully just to be sure. Doing this might have made all the difference.
Price Paid: $299

First off, let me say what others have said - this tent is NOT waterproof. It's not meant to be. I think this tent is best described as a softshell tent - meaning it should be used in conditions that are going to be mainly dry, be it hot or cold.
It works perfectly as alpine climbing tent, when sub-freezing temperatures mean that any moisture will fall as snow, not rain or sleet. I have been caught out in heavy rain, but nothing too prolonged. I stayed dry, but didn't expect to so I was pleasantly surprised! I nearly always take this tent instead of a bivi bag for winter climbing, as it doesn't weigh much more than two bivi bags but it makes a night out so much nicer being able to sit up, cook and read - also having two people in it will make you sleep warmer.
Hardcore outdoor users who have a realistic idea of the conditions they will encounter will love this tent. People who want a camping and backpacking tent for year round use will be better off looking at a double skin waterproof design.
Design: two pole, freestanding
Sleeps: 2
Ease of Setup: super easy
Price Paid: $200 (second hand)

This is by far the best tent I have ever owned. I use it generally for 3-season hiking (2-10 day trips) as well as occasionally for winter hiking.
Other posters' comments about the waterproofing of the eVent material seem way off the mark to me. I took the 45 minutes to seam seal the tent myself when I bought it, and I have never had any problems with condensation or leaking during numerous rain and snowstorms. I was hesitant to buy this tent due to my worries about the tent's weatherproofing, but it seems they were completely unfounded.
The Firstlight weighs less than many bivies, and provides great protection year round. I highly recommend it.
Design: Four Season Free Standing
Sleeps: 2
Ease of Setup: Easy "in tent" style set up, which is great when you get to camp after the rain has started coming down.
Weight: 2 lbs 11 oz

Just returned from a trip to Mount Aspiring New Zealand March 06. On one particular night, the wind picked up a fair bit. The tent was held down by rocks attached to the guidelines. I had to tie internal guidlines to the poles to keep the tent upright. This ranged from using shoelaces to climbing slings. I did end up with one of the poles bent.
The tent held up ok considering the conditions, but the main problem was the leaking. I had seam-sealed the tent previously but water seems to come straight through the fabric. I had ice and water build up on the floor. It got to the point where I had to leave the tent and run to the hut for shelter. In an emergency situation, the tent would probably save your life but for comfort in bad conditions, forget it.
Design: three season
Sleeps: 2
Ease of Setup: easy
Weight: 1.3 kg
Price Paid: $400 AUD

I took it to Tasmania on a five-day walking trail. The tent performed beautifully on first two nights under perfect conditions. When the temperature drops below 3 deg Cel (with no rain), the entire inner EPIC layer of the tent somehow got damp, and water seems to permeate through. It's only when I start shaking the tent during packing, water starts driping inside. I am not entirely sure whether it was condensation as I 3/4 zipped up the front door at night and left the other small window opened. In the morning when packing, I could see ice forming on other tents, not BD FL, which was strange for onlooker and myself. I conjured, maybe my body heat has kept the single-wall tent warm enough to prevent freezing condition, and somehow, the water seeped through the fabric after a long time.
The last two days, FL was really tested as it was pouring and howling. The tent was able to hold up the freaky Tasmania weather -- sunshine, rain, snow, you name it. EPIC fabric is not 100% waterproof and would be damp when exposed to extended downpour, I estimate it around 40mins of exposure. I rate EPIC to be 90% waterproof -- subjective opinion, with wear and tear. With occassional shudder of wind, drips of water would "rain" inside the tent and I used a towel to dry the tent internally. I was prepared after researching on other's review before buying. I am prepared for a little risk, as long as it doesn't pour cats and dogs on me, occassional "mini-showers" is still acceptable, given other plus point for the tent.
The tent SiLKNON ground sheet is very smooth and slippery, even with Therm-A-Rest Prolite 3, you can slip around on a gentle slope, especially when you are turning at night. But not a big problem for me. Also, try to get a water resitant, if not waterproof, sleeping bag, in case it does get wet. (I use a Western Mountaineering Highlite and am happy with it.)
Good thing is EPIC seems to dry up within 10 min under good sunshine. My friends had problem drying their 2-layer tents under similar conditions. MIne is simple, just pitch it up in 2~3 minutes -- REALLY EASY PITCHING AND FAST! After pitching tents for 20 years, this one is really idiot-proof!
Another thing I discovered after reading the instructions sewn within the tent, the EPIC material under strong UV rays would be deteriorated. Disadvantage if you are constantly under the sun.
I love the internal frame where I could hang my torch, some clothing at night. I am a bloke around 1.69metre, 65kg and nearly fill half of the tent widthwise, and 90% lengthwise. With sleeping bag, I almost touch the end lengthwise with 5 cm to spare. If you are taller than 1.8m, in my opinion, you should buy other tents unless you want to sleep diagionally or stick out your foot outside. It can fill two people of my size cosily, there wouldn't be no place for the gear. The vestibule is a little small for two very large 70l packs and you may need to stack them up if you want to leave an opening in case you want go out for a pee at night. You need to crawl out of the vestibule carefully, as the D-door opening is not too big. I think BD should just put a straight vertical zip, rather than the small D-door opening, as my pal tripped over the 4cm bottom clearance at night when he's still half awake.
You need to do a little homework in form of seam-sealing the tent before using it and in my opinion, this tent is for people who take care of their equipment for prolong usage and know the limits of it to apply them. I think BD designed it for rock climbers, who in my opinion are careful with the equipment above the average joe.
Overall, I am still happy because it handled the tough weather well and the dimension is just right for my size with my pack. My advice is if you want a fully waterproof, bombproof, then go look another tent. After using this tent, I can't see myself going back to a 2-layer tent as FL is really easy to pitch, light and doesn't take up much space in my pack. (Sorry, but I died laughing when I see the packsize of other tent.) I rate this tent 3.5 stars considering the value and price that can buy me two one-man conventional tents that could last two lifetimes of this tent. Then again, FL's weight is still lighter than any one of those.
Design: three-season freestanding dome
Sleeps: 2
Ease of Setup: Very EASY and FAST to setup
Weight: 1.2 kg
Price Paid: AUS $520

Not waterproof, especially in heavy rain. Lightweight, compact, excellent space-weight ratio.
Pros
Lightweight and compact
2-pole X design strong and spacious
Easy and fast to set up
Great in wind
Cons
Not waterproof, seams not sealed
Front screen inside of solid door panel
Agree with most of the earlier reviews—great tent except NOT waterproof. Stopped being my go-to after my dogs, gear, and I were soaked in a 10,000-foot severe summer storm, trying to stay warm while wet in 40-degree F temps—will always remember seeing water mist blow through fabric and coat my dogs eyelashes and, to my horror, my down sleeping bag.
Still like it for backpacking when weather forecast is drier for the best space-to-weight ratio, easiest setup of all my tents. Perfect backpack tent (for me) would be this interior cross-pole design with waterproof fabric!
Experience
30+ years backpacking—not mountaineering—experience in Appalachians and northern Rocky Mountains. Used this tent in relatively dry Rockies. Definitely not for use in wet Appalachians.
Source: bought it new
Price Paid: ~$250? Was on sale thru eBay

Used this tent during a 4-day winter trip in the Sierras. Lightest weight 4-season tent by far. Held up to winds and snow. Internal poles make setup simple.
Cons
Single wall = some frost inside due to condensation
This is a great 4-season tent for a short stay. Not a base camp tent due to the small size. Fit two males 5-11 snuggly, but kept the packs outside. 
Setup was straightforward using the interior poles. Held up in high winds and with snow. Got some frost inside due to condensation. The temps were below 0 so upon takedown just shook out the frost.
Great choice for a single wall, lightweight bivy tent!
Source: bought it new
Price Paid: $300

I wish I had these reviews to read before I bought this tent 5 years ago.
Cons
Poor zippers
Leaks, even in light drizzle
In my view, a $300 tent should have durable zippers. The zipper for the mesh door begain failing 2 years ago (splitting, catching). It bit the dust entirely during a windstorm recently.
I know there are reasonably lightweight zippers out there that will last the life of a product, yet mfrs seem to prefer to use the kind that are the first component to breakdown. So much effort goes into creating ever more sophisticated, lighter weight and more breathable fabrics when a tear in the fabric can be easily repaired in the field; but when a zipper doesn't zip, it renders any product that uses it useless in the field and elsewhere.  Doesn't make any sense to me. 
But of course these choices are made for marketing reasons, not practicality.
Source: bought it new
Price Paid: $300

This tent has the distinction of being the first and only piece of backpacking gear I have ever returned for a refund.
I am amazed by other reviews that describe this tent as being waterproof. I spent a week in the New Mexico mountains in this tent with a group of Boy Scouts. It rained daily, never that hard, but almost constant. I emerged each morning with all of my gear wet. As I would lie in the tent, I could feel a constant mist on my face. I also, had very carefully seam sealed this tent. The water inside was not coming from any seam leakage, just straight through the fabric. All the tent fabric did was change a normal raindrop to micro sized droplets that wet everything inside. I love the form factor and weight of this tent and really wanted it to work.
Now, I am afraid of any tent made of this material. I would have liked to try a tent made of eVent, however, due to some kind of problem making them fire retardant, you cannot find them any longer. I'll just keep waiting for a freestanding lightweight single wall tent that is actually usable.
Sleeps: 2
Ease of Setup: very easy
Weight: 2.9 lbs
Price Paid: $299.99

Love the light weight, the ease of set-up and the general toughness. However, this tent finally met its match in the Yukon this summer. I had rather painstakingly done my waterproofing job on it, but a blustery 24 hour Yukon rainstorm had me completely soaked inside this tent, which was rather unpleasant. I was wishing for an exterior wall on this tent, while all my buds stayed high and dry in their slightly heavier, double walled tents.
That said, I really do love this tent, but I think for anything extreme, I will opt for a double walled tent.
Design: Three season
Sleeps: 1
Ease of Setup: Easy setup
Weight: Wonderful weight
Price Paid: $259

This tent is weightless, packs small, and sets up instantly (my wife timed me at 87 seconds the first time I set it up in the field). While the footprint is small, I really appreciate the headroom.
The tent, however, has some major compromises. Condensation is awful, even for a single wall tent. If it's raining outside, it will be raining inside. It only has vents at the top, which means there is no real air circulation in the tent. Condensation builds up quickly, especially when the outside of the tent wets out. We keep a small rag inside to wipe down the walls a couple of times each night, but our bags still get wet.
To make it worse, water trips in badly when you open the door. Because your sleeping bags will consume every square inch of the floor, this drippage goes right on the bags.
A little gem: best 2-person, 3-season tent I've owned in 35 years of backpacking. Single-walled (no fly) but for me it weathered a howling rainstorm in the Rockies, completely dry. Water puddled under the floor but would not seep through; no need for a footprint. (You must seam-seal it yourself before 1st use.)
Careful how you pitch it re: high winds because its steep sides catch (and gave way considerably) against gusts; the written instructions warn about this. No internal flames; it's not fire-retardant. Wonderful headroom, great space, and it weighs less than 3 lbs -- how can you beat that?
Design: three-season freestanding
Sleeps: 2
Ease of Setup: easy
Weight: 3 pounds

Best tent I have ever used. I have only had condensation in it once and I used it extensively on the Appalachian Trail. Only one flaw to the tent: it is not seam sealed.
Design: three season single wall tent
Sleeps: 2
Ease of Setup: Very easy
Weight: 2 pound 12 ounces
Price Paid: $298

I love this tent, it has kept me dry throughout rainstorms and it fits eaisly inside of my pack. It is simple to set up and I never had condensation in it. It is the best tent i have ever used. It is great for only one person.
Sleeps: 2
Ease of Setup: easy
Weight: 2pounds 12 ounces
Price Paid: $298

Your Review
You May Like
Specs
Price
MSRP: $369.95
Current Retail: $369.95-$499.95
Historic Range: $149.95-$499.95
Reviewers Paid: $200.00-$300.00

Series
Superlight Series

Season
4

Capacity
2

Doors
1

Average Packed Weight
1545 g / 3 lb 6 oz

Minimum Weight
1355 g / 3 lb

Dimensions
208 x 122 x 106 cm / 82 x 48 x 42 in

Area
2.5 sq m /27.3 sq ft

Packed Size
15 x 23 cm / 6 x 9 in

Recently on Trailspace