Black Diamond Gizmo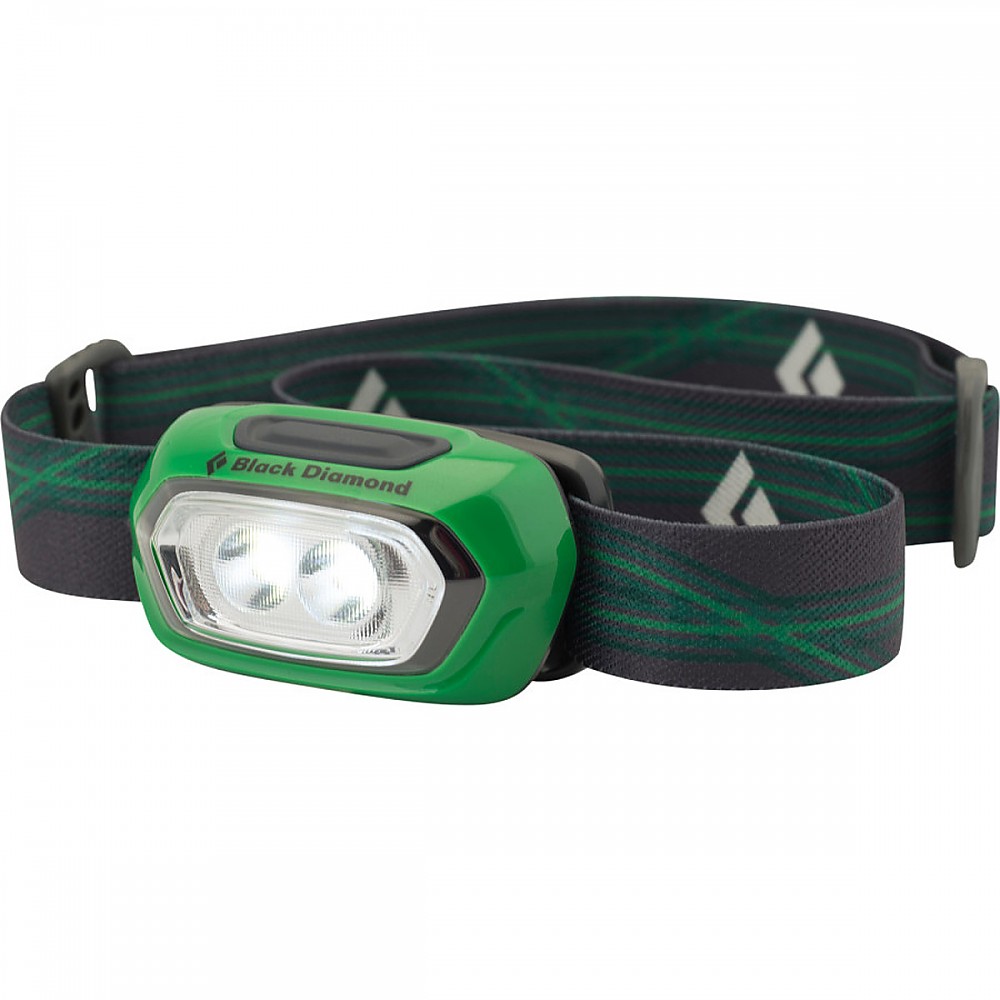 Hands down the poorest quality headlamp I have ever used. A flimsy, nearly paper-thin plastic housing makes this unit one battery change away from unusable.
Pros
Low price
Decent Lumens for mucking about camp (35 lumens)
Lightweight (20z)
Decent battery life (up to 75 hours on low--4 lumens)
Cons
Flimsiest case I've ever handled
Not waterproof to any degree
Before White Nose Syndrome precipitated the closure of state and Federally owned caves in Illinois, I provided an outdoor education course on caves to public and private schools. The culmination of this course was a 4-hour trip to Illinois Caverns.
Although I limit trip sizes to only one classroom, I must still provide helmets and headlamps to up to 30 participants. So I was thrilled when I found the Black Diamond Gizmo on eBay for $13. I quickly purchased all that were in stock (15) and waited for their arrival, proud of my great deal.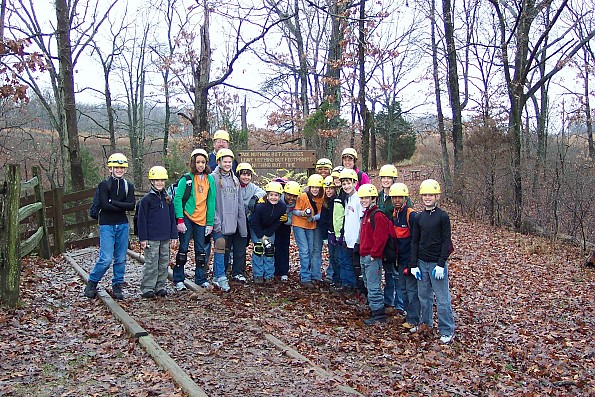 Science class from a school in St. Louis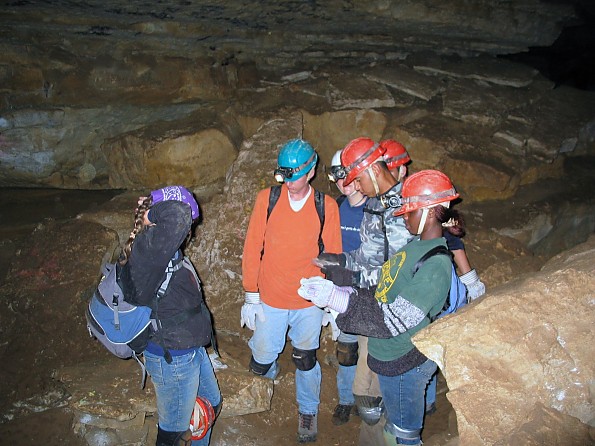 College students learning to use a map and compass underground
(Assortment of headlamps pictured)
This is the poorest quality light I have ever used. Over the last 13 years, I have led dozens of groups on educational caving trips. I personally own 9 headlamps of all different makes and models, and I have easily used/tested 25 different styles of headlamps with groups.
When the Gizmos arrived, I was greatly disappointed with the quality of these lights. To call the plastic housing "flimsy" is an understatement. When the cover is removed from the housing, I can flex this in my hand. I replace batteries very gingerly, always expecting one of the covers to crack on me. In addition, this light provides absolutely no waterproofing, something uncommon in most headlamps I have used.
In fact, I find the cheap Energizer headlamps I buy from Walmart to be far superior to the Black Diamond Gizmo.
Since the lights were not returnable, I made use of them until Illinois Caverns' closing (taking school children into a cave is fairly tame. There is some crawling, but no squeezing or submerging in streams.). The 35 Lumen high beam is adequate for these trips, especially when you have 20-30 participants in close quarters. The long battery life lets me get about three 4-hour trips from one pair of AAA.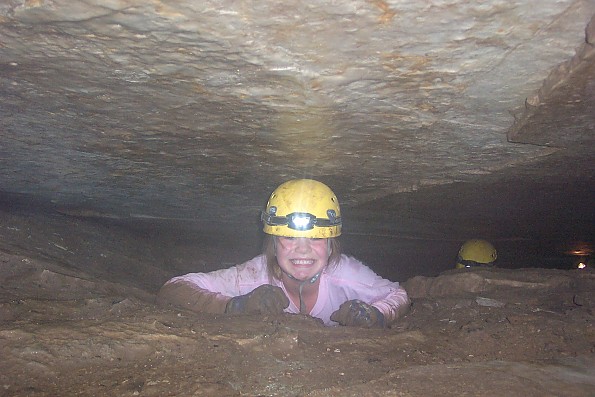 6th grader choosing to take an optional side crawl with the Gizmo headlamp.
You'll note how miserable she is taking this science unit.


However, due to the flimsy housing I would not recommend this light for caving, not even as a backup light. For that matter, with plenty of 2-3 oz lights on the market, I wouldn't even throw this in my pack (I'd hate to dig it out and find out the plastic broke in the pack.).
Ultimately, I would view this light as more a light for backyard camping, than something reliable in the backcountry. I'm surprised a company like Black Diamond would put their name behind such a poor product.
Source: bought it new
Price Paid: $13

Very lightweight and affordable. If you like the K.I.S.S. method (keep it simple stupid), this is a great pick for a headlamp.
Pros
Lightweight
Affordable
Comfortable
Simple use
Cons
Some may think it's not bright enough?
This time of year it seems essential to have a headlamp to run after work. It's dark at 4:30 and that's when I get out there. The other night I was on my jog and felt something bounce off my head, after looking around there was nothing to be seen. Then again it happened...
Suddenly I notice it's pitch black and I'm not really sure where my feet are landing. Apparantly my headlamp had sprung to pieces and my batteries were bouncing off my head... It was a few years old and had been through some beatings! 
So time to search for something new. After some research decided to go with the Gizmo. It showed up a few days later and I'm pretty happy with it. There aren't so many bells and whistles about it, which I think is what makes it so great. Very easily adjustable and comfortable. The light weight of it I can't notice on my head. It fits very securely and doesn't bounce around.
The controls were simple for me to figure out without any instructions. The manufacturer suggests it's water resistant although I have yet to test that.
I've been using it for a few weeks now and really feel fine with just 35 lumens. I can see things approaching in the distance and also things right in front of me. The flooding effect of the light is excellent. I've had some pencil style beams in the past and I don't really like that tunnel vision feeling.
For the price, simplicity and comfortability I think this should be worth a look at for anyone in need of a great headlamp.
Source: Ebay

This headlamp is easy to operate. It's bright enough to hike in the dark. It's a simple, no frills piece of kit that has never malfunctioned on me, and works every time I need it.
Pros
Lightweight
Easy to use
2 x AAA batteries (included)
Water-resistant
Cons
Not as bright as bigger headlamps
Not waterproof
I use my headlamp all the time. I use it at home, when camping, and hiking.
This headlamp is light enough to wear all evening, so I use it to find stuff, cook, walk at night. I usually just leave it on all evening.
I bought myself one, and one for each of my sons. It's bright enough to aid in whatever you're doing. But it's not too bright. What I mean by that is... if my son is 20 feet away and he looks at me while wearing his, it doesn't blind me. There is such a thing as having a headlamp that is too bright.
My Black Diamond headlamps have never stopped working. They have been dropped, rained on, used for hours on end, loaned out, stuffed into backpacks and under car seats and given to small children to play with. They still work every time I flip the switch.
This headlamp runs on 2 AAA batteries. This keeps it lighter than headlamps that run on more, or larger batteries. Running on AAA batteries is a huge plus for me, because most electronics I take into the bush all use AAA batteries. This keeps it simple for packing extras. I can't really comment on how many hours the batteries last, because 1 set of batteries lasts several trips, and I don't keep track of the number of hours I keep it turned on.
Source: bought it new
Price Paid: $24

Super dependable light. Small, lightweight, and long battery life.
Pros
Lightweight
Long battery life
Small
Inexpensive
Cons
Not the brightest headlamp available
Yes, there are brighter headlamps on the market, but for lightweight backpacking (when hiking at night is not on the agenda), this light is ideal. At $20 USD this lamp is inexpensive and, so far, has been very durable. I've dropped it several times and it still works.
It throws a beam about 25 feet. It has a floodlight setting, which is great for pulling stuff out of your pack and setting up camp. It runs on two AAA batteries and has an auto-shutoff feature after two hours, so it should still work even if it gets accidentally turned on in your pack.
Not sure if it's waterproof, but it can handle a steady rain with no problem. 
Source: bought it new

Got this little guy for 20 bucks and have yet to be disappointed. The settings on this are high, low, and flash. You can get away with just using the low on this thing and make the batteries last even longer, which by the way only takes 2 AAA. At a mere 2oz you can always find a spot in your ruck for it.
I have read reviews stating that it doesn't do very well in the cold. Here in IL we just got over a cold spell where temps were below freezing. As a test I put it out on my porch for roughly 12 hours and then went to go turn it on. Lit up just as it should with no decrease in performance.
I am very happy with this thing and am shocked at the price for such a quality torch.
Price Paid: $20

I gotta say that for the price you can't beat this lil s.o.b!! I don't go caving or nothing but around camp this bad boy puts off some good lite! And it has a high and low lite and a strobe. Not to bad for 20 bones!
Price Paid: $20

Your Review
Where to Buy
Help support this site by making your next gear purchase through one of the links above. Click a link, buy what you need, and the seller will contribute a portion of the purchase price to support Trailspace's independent gear reviews.
You May Like
Specs
Price
MSRP: $19.95
Current Retail: $7.00
Historic Range: $7.00-$20.00
Reviewers Paid: $13.00-$24.00

Recently on Trailspace