Black Diamond Icon

The Icon has been discontinued. It was replaced by the Black Diamond Icon 700.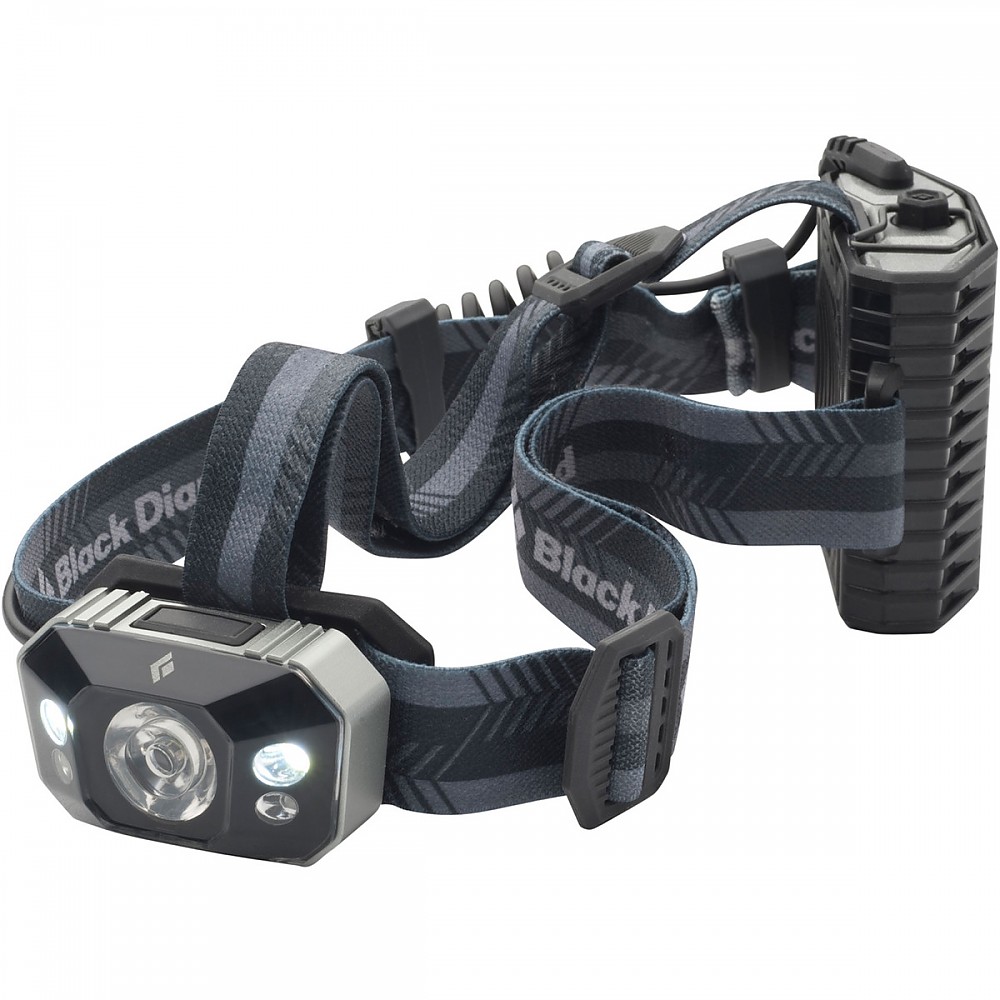 Super-bright light at 200 lumens and very durable. A little on the heavy/bulky side if you are into minimizing weight, but overall a solid light. See more details and see it in action in my video.
Source: tested or reviewed it for the manufacturer (I kept the product after testing.)

The author of this review received a sample of the product from the brand or its representative in exchange for a review.
I have owned many headlamps. This one is my favorite. This is my primary. It is not as light or small as my Storm, but its output, battery life, intuitive and feature rich controls make it worth its increased size and weight.
Pros
Incredibly bright main spot
The various modes help me use only as much light as I need, thereby saving battery life
All the modes I need
Cons
The red area light could be brighter
The one feature that is not as intuitive and I need to train my brain to use, is the lock off feature
The ratcheted angle bracket doesn't make solid clicks and seems like it will be the part that ultimately fails if the lamp breaks
This is the brightest headlamp in this size with this battery life I have ever used. Yes, I have some mountain bike lamps I can put on my head. But for a backpacking, camping, or anything at night lamp, this Icon rocks. When I use this lamp, my friends can't help but remark how bright this thing is.
It is more bulky and heavy than some lamps, but packing 4 AA and the performance it delivers, to me makes it all worth it.
The only two gripes I have are: the lock off function is not a intuitive as the rest of the controls. I imagine there were few ways left to turn this thing to lock after all the main features were designed. I need to go back and study the manual to train myself to know when to hold the button down for 6 seconds. Is it when on red? Could be me though.
The other gripe is that the angle bracket doesn't seem solid. I fear it will be the part that breaks someday. Part of that is there is not a solid feel when you angle up and down. I'm used to solid clicks at each pitch up or down.
Source: bought it new
Price Paid: $100?

Great, rugged light. Lasts for 100's of hours on high-med diffuse beam using rechargeable batteries (longer on lithiums of course).
Pros
Wide/diffuse area beam
Rugged
Battery life
Cons
Head straps have lost their elasticity after 3 years
Battery-pack lock is tricky to seal
Heavy
I've had good luck with Black Diamond headlamps. I bought the Gemini back around 2002 and that lasted almost 10 years before the battery case finally cracked enough to let rain in...
I've had the Icon since around 2012 and it still looks pretty new. It gets almost nightly use while I go feed my livestock. I've used it on weeknight hikes in the pouring rain without any issue, winter snow-shoes in negative temps, bouncing mountain bike rides over roots and rocks. It's gotten dropped, squashed in the bottom of checked bags for the airport, thrown into the back of a pickup, sat in the hatch of my sea kayak and it keeps on working.
I still accidentally activate the strobe function when quickly cycling modes — pinpoint to diffuse or vice versa... which always ruins my vision for a few seconds. I do wish the light remembered the last mode you were in and powered on at that — it only remembers if the light was in red mode.
I haven't had a reason to use the Black Diamond warranty yet, which is only for 1 year after purchase. Unfortunately, my husband is much tougher on gear, so I get him Princeton Tec Apex headlamps which have a lifetime warranty that he's used three times.
Source: bought it new
Price Paid: $90 ?

The best uses are all around. I have been caving in Belize with it to night climbing and camping.
Pros
Bright light
Battery life
Toughness
Cons
Rechargable battery not so good that is sold seperate
I love mine and i have the old version and the new version. The range is one of the best out there. The beam is focused. I have no idea how long it last on a full charge, but I have never had to replace the batteries on a 5-day hiking trip. I would recommended to get the best beam and brightness to buy rechargeable AA, the good kind. I have the Sanyo xx and they work way better then the rechargeable battery pack from Black Diamond.
It cannot get any easier using it just push the button. I have taken this many of times in water sometimes swimming with it on and it has worked ever time I had to turn it on.
I carry this over anything else because I have never had a problem with it. It is well worth the money and it's the best.
Source: bought it new
Price Paid: the old one $100 the new one $65

This is the best gear I purchased for my kayak this year. It has performed beyond my expectations. The long range light is great for open water and the low setting is great for rivers and in camp. I have used this in the Gulf of Mexico miles offshore and on many inland lakes and rivers.
The high beam seems to offend those on the wrong side of it and the low is enough for everything at the put in/take out and camp. You can see the yellow eyes of the alligators at fifty plus yards. The reflectors on bouys and markers at a hundred. Loading and unloading gear and setting up camp are a breeze with the low setting. After getting the straps adjusted, it is a comfortable fit for long paddling sessions.
Although the wearer can't see the battery meter, it is a big help to know the status of your light before it goes dark. There is enough warning that you should never experience dead batteries. The batteries seem to never die! I used this light every night on an eight day trip and never needed to change the batteries. This should be all the light anyone would need.
This product is excellent for night hiking and for camping. Its adjustable lights include both a 200 lumen searchlight and a double red light. I used it recently on the Long Trail for night hiking and for shelter stays.
Pros
Powerful 200 lumen light
Red night visioin
Adjustable strength
I used this headlamp on a week-long hike of the northernmost part of the Long Trail in Vermont. It was at least three times more powerful than any of the other headlamps that I encountered. And I loved the way that the strength of its light output was so adjustable.
Source: bought it new
Price Paid: can't remember

I purchased the Black Diamond Icon at a local backpacking store based on a recommendation I read at runnersworld.com. I both run and backpack and wanted a headlamp that would work for both purposes. So far, the Icon has performed well during my early morning runs in the woods, although it took a couple runs to get used to the weight of the battery pack on my head. Both the close up and distance lights work well. The leds are very bright, even during the day, and the best part is that the batteries last for a long time. Also, the straps keep the headlamp secured to my head even during fast runs.
The only issue I've had with the headlamp is that the batteries in the battery pack sometimes pop out of place, which causes the headlamp to go out and me to stop and readjust the batteries. Overall though, I'm happy with the Icon and look forward to many years of use.
Price Paid: $59.95

I sell gear at a local Alaskan Mountaineering shop, so I see a lot of cool stuff come and go. This is the only headlamp I would own. All of the necessary features, no fluff.
I use the long range 3 watt LED for high speed adventures like skiing and winter biking, as well as route finding in the dark. I am very impressed with the range it has. The 4 smaller LEDs are great for cooking, reading in the tent, and for finding that chocolate bar at the bottom of the backpack.
It is lighter and simpler than similarly powerful headlamps, but the greatest attribute in my opinion is its battery life. By running solely on LEDs, and leaving out the old-school Halogens, the Icon can go for many trips on the same set of three double A's. It lives in the top pocket of my pack.
The Icon headlamp by Black Diamond is a must have. I believe that it is the brightest headlamp on the market right now. In the pitch black you can see upwards of 200 ft with the highest beam on. It has a 3-watt LED spotlight with four SuperBright LEDs for brilliant close-range lighting. This lamp is also compatible with the NRG Battery System. Its battery-power meter uses 3 indicator lights: green (50% or more), yellow (20% or more) and red (less than 20%). All three of my teammates have them and we feel as though we are cheating a bit with them.
Price Paid: $63

Not as good as the older ones.
Cons
Not made as well as older modles and does not perform as well.
The lighting is not near as good as the older Icon. Very poor spotlight and the low light mode is so low you need to be in pitch black lighting to use it. It cost way too much for the lighting performance.
All of the newer head lamps have low performing headbands that stretch and wear out within a year or so.
This is by far the best headlamp I have ever used. I do a lot of outdoor trips each year, 4 or 5. This headlamp lights up the trail like no other.
The only complaint that I have about the headlamp is that when I am hiking and turn around to talk to somebody, I need to turn down the light because the say it is too bright.
The battery pack on this headlamp may be a little big, but once you get everything adjusted it fits like a dream. I would definitely buy this headlamp again.
Price Paid: $75

Would be 5 stars but the individual light levels are too hard to scroll between. otherwise light level on main light is excellent and the nrg kit holds a good charge and can be swapped with the apollo in a pinch. also runs well on regular batteries but stick to lithium for best run times. secondary lights for area lighting also works well for cooking and camp chores.
i would recommend this product to any avid backpacker or trail runner.

Price Paid: $59.95

Great, lightweight headlamp with different light settings.
Has a near and far beam. Batteries last a long time. Easy to use and intuitive to change settings once you read the directions the first time. Used for camping, night time biking, picking up CSA veggie box (in a dark shed on private property), night hiking, etc. 
I keep it in my car because I never know when I will need a headlamp!
Source: bought it new

Durable, reliable, and long lasting.
I've found this headlamp easy to operate and have put it to use on more than just backpacking. I've also used it when I work on computer hardware and working on my vehicle. 
Speaking for headlamps in general, you can't beat the hands free lighting this provides when you are trying to set up your tent after the sun has gone down.
I believe in the Black Diamond Icon Headlamp — it's great. I use it, among three other brands, at my Great Bear Rainforest river access "only" cabin in Bella Coola, BC, Canada.
My problem is I haven't found anyone not afraid of the beat infested rainforest there. I can get scared too being alone there. I like buying the best equipment when possible.
Price Paid: $65

Your Review
You May Like
Specs
high
low
Price
MSRP: $89.95
Historic Range: $18.97-$99.99
Reviewers Paid: $59.95-$90.00

Lumens
320

Weight with Batteries
230 g /8 .1 oz

Max Distances
100 m / 328 ft
35 m / 115 ft
Max Burn Time
75 H
175 H
IPX Rating
7

LED Type
1 QuadPower, 2 SinglePower

Batteries
4 AA

Recently on Trailspace