Black Diamond Ion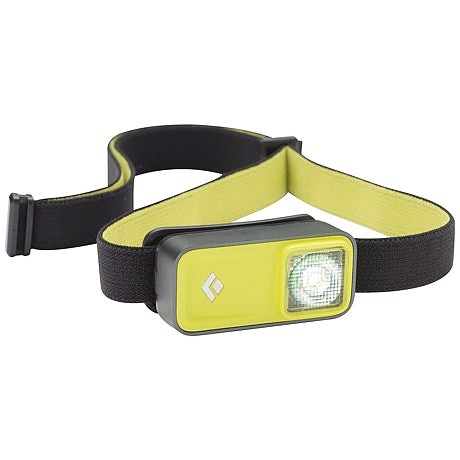 In my ubiquitous quest to lighten my pack weight, the Black Diamond Ion Headlamp was an exciting find. I was skeptical about relying on a such a tiny headlamp but much subsequent use has put my mind (and my back!) at ease.
Black Diamond describes the Ion as "The ultimate emergency backup light." At 1oz you can definitely afford to throw it in your first aid kit as a backup to a more powerful light but in my experience, the Ion provides adequate illumination to leave the bigger, bulkier, heavier headlamp at home for most backcountry trips.
The Ion's two SuperBright LED's, powered by a 6v battery (included) offer proximity lighting at a range of 10-15m for 15 hours. The narrow, adjustable, elastic headband can be worn on your bare head, over a helmet, wrapped around your wrist, draped around your neck, or a tree branch, anywhere really. The head pivots, which is handy for anything from reading to late night blister treatments.
I used the Ion to hike out 16km in the pitch dark and while it didn't light up the trail like a runway, it got the job done. This particular trail was a nice wide horse track with a gentle grade. I would not recommend using it for night hiking on trails with significant elevation changes or obstacles (rocks and roots for example) along the way.
During a winter trip where temperatures dropped down well below freezing, the Ion performed flawlessly.
When I accidentally left my Ion in my jacket pocket (which is very easy to do by the way... it's so light and compact that you'd never even notice it in your pocket) it ended up going through one additional test. After a full wash cycle and tumble dry, it's still working perfectly.
My only problem I have ever had with this product is finding it. It's so small that it's very easy to lose. To prevent this on trips, I keep a safety pin on the headband and keep it pinned inside my first aid kit when I'm not using it.
For around camp and in the tent, the Ion is all you need. And with a price tag of $18, you can afford to lose one once in a while.

Price Paid: $18

Packs a lot of power into a small lightweight design. Fully waterproof.
Pros
2 AAA batteries
Lightweight
Max 100 lumens with adustable settings
I do a lot of OCR (obstacle course racing) and trail running. Now that it's fall I find it dark in the AM or early evening and a headlamp is critical.
This is great lamp at this price point. It's super lightweight and waterproof (IPX8). This is a rare feature at this price point. When racing I may be submerged and have lost other lights that are "water resistant." At night running on trails it does provide sufficient lighting to see. 
It does allows you to adjust to a lower setting to conserve power and has a red light that conserves even more. One feature that gets overlooked on lights is a "lock" setting. More times then I can count, lights have gotten pressed when packed, only to find dead batteries when you need them.
While more lumens is sometimes preferred, it's very hard to find one that use just 2 AAA batteries. 100 lumens does get the job done. I find the headband super easy to adjust and no issues. If you have ever lost a headlamp because of water, this is the one you need if you do not want to spend a lot of money.
One of my favorite lights that I've used and have logged some real miles with this on trails even in the rain up steep climbs.
Source: bought it new
Price Paid: $24

I've used an Ion for a couple of seasons. It's sturdy and certainly very lightweight.
However, this is my big gripe about it: it uses a unique battery that can be hard to find, that is pretty expensive -- about a buck a volt -- and that doesn't last very long. After I put in a fresh battery, the light's peak brightness drops off rather quickly. I seem to get about 16 hours of truly useful light from these batteries. You can't find these batteries in the average drugstore or hardware store -- not even in most outdoors stores.
So I've changed this season to a Petzl Tikka Plus, which uses AAA batteries, as does my GPS unit. Now I need a camera that works on AAAs....
So far, the Tikka Plus has given me plenty of light at the lowest setting for many hours. The Tikka Plus weighs more than the Ion, but I think the extra ounces are worth it for the battery commonality, lower cost, and (apparently) longer life in this application.
Price Paid: $25

This headlamp is in its element around camp. However I've used it for night hiking on established trails. I would use something a little brighter on rougher ground. It's super lightweight and simple, it's either on or off. If you get one and happen to drop it the battery can bend one of the contacts and it won't turn on, but it's an easy fix. The cord lock on the strap has a bump that fits a notch on body of the lamp. Insert bump into notch and twist and the two halves of the lamp pop open. The contact can be bent back into place with something like the nail file on a Swiss Army knife (do this with the battery removed). All and all this is a good little light, and I have, and will in the future, use it as my only light source.

This isn't a bad product, but I have to say there're far better ones out there. A big problem with prolonged uses of the Ion is the lack of a third vertical strap that's on most headlamps can make its light bouncy with moving around. Also it's not nearly as bright as others which makes it a bad choice to use when pushing for a few more miles at the end of the day. In its defense the Ion is probably the lightest headlamp on the market. Ideally it should be used as a replacement for your flashlight because of the option of not requiring a hand.
Price Paid: $20

The battery is terrible. It lasts less than 3 hrs and costs like $6-9 to replace _if_ you can find it. At ~30g (incl battery) it is a good emergency backup, but you don't want to actually have to use it. A better choice IMHO is the Wiz, a 2AAA model weighing 56g (incl battery) with better light and 35hrs life.
Also, the part that stabilizes it to your forehead is a bit skimpy so it bounces a little more than I would like.
Price Paid: present

The greatest headlamp I have ever owned not only due to the great price I got it for but also because of its miniscule size and weight. Can go anywhere, I've even taken it kayaking.
The bummer is its expensive battery...
Black Diamonds Silver Oxide batteries are expensive, but it is okay because REI carries them.
Price Paid: $15

I've used this light for 3+ years mainly for an emergency light in my pack.
It's light, tough as can be expected for such a lightweight compact light,and gives plenty of light for getting out of the woods.
It would get 5 stars except for the expensive and hard to find battery.

Price Paid: $20

Your Review
Where to Buy
Help support this site by making your next gear purchase through one of the links above. Click a link, buy what you need, and the seller will contribute a portion of the purchase price to support Trailspace's independent gear reviews.
You May Like
Specs
Price
MSRP: $24.95
Current Retail: $7.78-$9.98
Historic Range: $4.00-$149.00
Reviewers Paid: $15.00-$25.00