Reviews
Perfect for trail running. You'll still need a longer-range…
Rating:


Source: received for testing via the Trailspace Review Corps (Sample provided by Black Diamond for testing and review)

Summary
Perfect for trail running. You'll still need a longer-range one for route finding.
Pros
Small
Light
Simple
Even, shadow-free light
Rechargable!
Ideal for running
Flashing mode, to make trail running more fun!
Cons
It doesn't replace your regular long-range light
As fall approaches and nights get longer many say goodbye to trail running and relegate their morning runs to either asphalt (yawn) or a treadmill (sacrilege). 1st world problems at their best. Many runners either quit running in the mornings during the winter or stick to lighted streets.  The struggle is real.
You can use a headlamp but:
Most headlamps eat WAY too many batteries for daily use.
Full power headlamps are overkill for trail running. 
Trail runners need a wide-angle light that reaches to the 20-meter range to keep from rolling an ankle. They also need the light pattern to be even, not a spotlight like we want for route finding on a ridge someplace.  
The Black Diamond Iota does a really nice job of solving these two issues.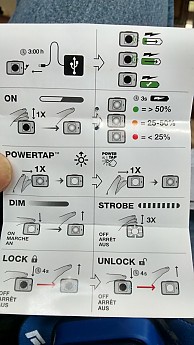 Pictorial instructions, 3hr recharge time listed is accurate

Testing Conditions
I wore the Iota from October to late December in temperatures down to zero Fahrenheit and in a lot of misty rain; the kind that makes you run faster to outpace hypothermia. We had our rainiest October on record where I live and I ran with the Iota four days per week. It never leaked or failed. 
I also sleep in my headlamps when I camp so a smaller one like the Iota is nice and doesn't interfere with my sleep as much.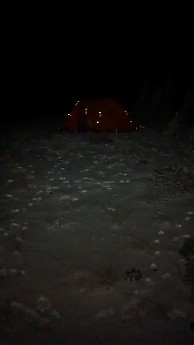 Great for short range tasks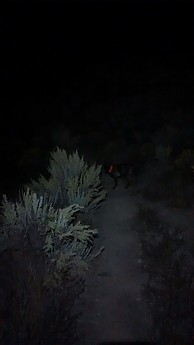 Can you see the doggie's collar?
Range
The Iota lists an effective maximum range of 40 meters, which I consider a bit optimistic.  I found it useful to 20m on normal nights and up to 35m in snowy conditions.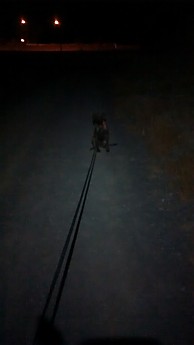 Summit the dog (R.I.P.) starting to disappear at the end of the beam

Beam Quality
Remember when LED lamps had that weird, strobe-like light that looked really blue and made the world look off-color? No more! I found the diffused light of the Iota to be very even, with no shadows or strobe-ing. 
The only thing about wearing a lamp co-axial with your eyes is that it can make the ground look flat; like there are no shadows. This can make ankle-twisters blend in with the ground so running in the dark is an acquired skill and probably isn't for everyone. I have personally suffered a season-ending sprain from this so be careful and go slow on unfamiliar terrain. 
Burn Time
I found the lamp to be as long-lasting as advertised and then some. I left it on sitting on a table and, after a day of it still going I just got tired of waiting for it to die and just shut it off. The "possibility of getting lost in the dark with a dead headlamp" score on the Iota is low, which is good.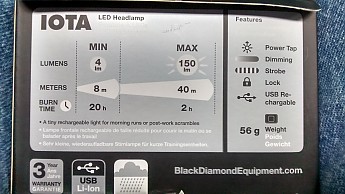 Accurate burn times on the box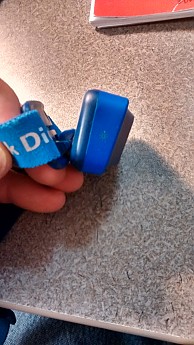 Angle
Weather-proof
The Iota advertises being splash-proof and it delivers. The Iota easily stood up to as much rain as I was willing to run in. Obviously, make sure the charging port is closed before you leave the house to keep water out. 
Modes
Using the Iota for camp chores like cooking on the low setting was nice. I never wished for anything between low or high power but if you did there is an infinite amount of dimming settings between the two modes in case you need that perfect level of brightness for some reason. Toggling from the level you set back to high power is as easy as smacking the Iota on the side; the lamp changes from lower to higher power with a tap. Unfortunately this happens sometimes when you are only trying to angle the beam lower or higher. 
The Power Tap feature is kinda cool; one tap makes it switch from high to low to strobe but I never felt like I was in that much of a hurry to fo from high to low beams. 
Strobe mode? Cool but no thanks. It's there but I never caught myself saying, "Gee, if only I could only see where I am going every other second."
There is also no red/green mode for those tactical types who don't want to lose night sight, leaving them vulnerable to "the enemy," whoever that may be.   
Durability
The Iota spent many hours smashed in my pack and never showed any signs of wear at all and never accidentally turned on. The tilt stayed tight and the housing held up very well.
Gloves
I used the single, large button with the gloves I ski in and had no issues.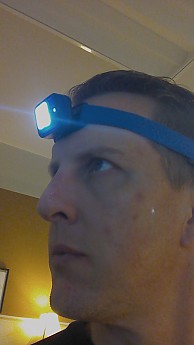 In case you forgot how to wear it :)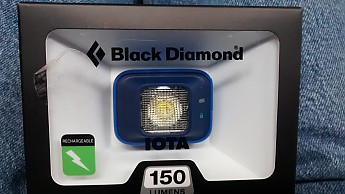 The box, more packaging than it needs IMO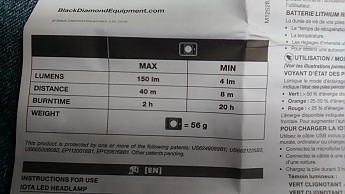 Burn times claimed were accurate


Best For
Trail runners or anyone else who needs a headlamp for up to two hours per day on the reg and hates buying batteries. I really wish a headlamp this small and rechargeable had the power to be my only headlamp but, alas, it is not meant to be. 
Where to Buy
Help support this site by making your next gear purchase through one of the links above. Click a link, buy what you need, and the seller will contribute a portion of the purchase price to support Trailspace's independent gear reviews.
currently retails for:
$29.96 - $39.99

Recently on Trailspace