Black Diamond Megamid

The Megamid has been discontinued. If you're looking for something new, check out the best tarps and shelters for 2023.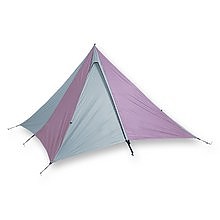 Simply an outstanding shelter. Perfection. First purchased around 1986. Never owned a "tent" until going well above tree-line in snow for mountaineering. First Megamid lasted about 10-15-years. The zipper failed. My second Megamid was only recently replaced (only months ago). The inside waterproof lining began to fail allowing more water to breach the nylon skin.

Still never a problem. Condensation and any similar water simply drains down the sides of the tent and seeps into the ground. This is the perfect shelter, far better than any tarp and far better than any classic tent. Everything goes inside — you, your pack, your stove, even the bottle needed to reduce trips outside.
Pros
Lightweight
Safe to cook inside
Lift bottom edge to view outside
Use plastic bottle (men) and never leave tent
Will weather the "perfect storm"
Cons
Really none
Condensation possibly, but avoided with light bivy bag
Bivy bag adds weight but creates a more utilitarian system
Silnylon is not as strong as the former nylon
Older nylon style degrades in about 10-years
I first purchased a Megamid in 1986 — the original Chouinard Blue/White model. I hunted out of that tent for 12-15-years in northern British Columbia. It is simply an outstanding shelter. We used it every year in every kind of weather.
I replaced that tent with the magenta-silver model made by Black Diamond around 2000. It pitched a bit oddly, but otherwise a perfect clone. This one has only recently been replaced (2015). We are talking about hard use - multiple trips of 10-14 days per year, many 3-4 day trips and lots of single nights. At 81 square feet of space no tent could in any way replace the utility or superiority of the Megamid — that is, except under harsh mountaineering conditions.
With no floor you set it up, jump in the sleeping bag, make dinner inside the shelter and never leave unless necessary. Condensation is not a problem — it runs down the inside of the tent, but arguably a light bivy bag over a sleeping bag is what I use to ensure condensation and spin-drift is never a problem.
I recently purchased my 3rd Megamid (light). An equally perfectly designed piece of equipment. At 1.5 pounds nothing compares. A bath-tube floor would be nice when pitched on hard impermiable ground, otherwise not necessary.  This new shelter went to 7,200' on snow just last week. We dug in sleeping spots for two people, cut a 1.5' deep entrance trench to stretch legs and left a high spot in the middle for the stove and pole. Pitched in snow anchor this tent using perforated golf balls. It will never budge.
There is no question — this is the finest tarp style shelter ever made. Thank you, Yvon Chouinard. 
This shelter takes three minutes to set up. Find the flattest spot where you want sleep — one, two or three people. Think wide. The tent is 8'X8' in size. It can be pitched over any object, but likely best if the area is clear of rocks or logs. Square it out, place stakes outward at 45 degrees — same for perforated golf balls when in snow. The tent is pitched taut using the pole - run it up snuggly. In snow sun will melt out somewhat requiring adjustment.
This shelter is exceptionally weather resistant due to its size. At 81 square feet move to the centre of the tent if winds, rain, snow is extreme. Snow slides off the sides and eventually seals the perimeter. Cooking insdie heats the tent quickly. At 81 square feet all your gear goes inside. It is nice to find some 1/8" or 3/16" closed-cell foam to lay down as a floor beneath your other sleeping pads. That layer plus a light-weight 3/4 length Thermarest is enough to insulate you from snow and ice.
Consider a lightweight bivy bag — something like a 6-ounce Integral Designs single wall bivy. A bivy bag makes this system boom-proof. The bivy adds 5-degrees F warmth to any sleeping bag. This means you can go very light on the sleeping bag, such as something around 0-degrees C (1.5 pounds). For wilderness treks added insulation can come from conifer boughs — cut them from full flushed trees — discretely. Lay down a nice matt and you'll never have anything but the best of sleeps. You can not do any of this using a TENT.
Source: bought it new
Price Paid: can not remember

If you use the poles and the stakes, it can take a while to layout, anchor the stakes and then get in and raise the tent with the pole-then go around and adjust everything. Surrounding terrain is important due to staking requirements--9 stakes. On the other hand you can leave the pole at home, use a piece of rope to suspend the center from a tree or other and cut down to four stakes. Of course this takes even longer to set up and a while to find the right site. The weight reduction is worth it for me.
I discussed the set up which is an important aspect, especially after a long day of hiking, or if you need to be picky about the site you choose (Those self supporting tents really shine then, IF you want to carry their weight all day). The Mega Mid is roomy. No floor. Water can be a problem, ie. site selection is important, sleep on your non absorbent pad, or carry a tarp to sleep on if you go with the inflatables. It is so big that it is tempting to cook, be prepared for the condensation though. If you don't cook, it will still condensate. If you can tolerate this, you can shake it gently off the inside of the tent and hope that it rolls down the sides before it drops. Depending on how high you raise the pole, which elevates the sides off the ground, you can adjust the ventilation by allowing a breeze at the ground level. Therefore, if it is blowing hard, you may get cold or wet depending on the type of weather.
I believe in constructive criticism. It makes us more aware of our surroundings and the adaptive use of our gear.
So, this is not a negative review, just a look at the versatility of this tent. In my opinion, you have to learn to use this tent. I met a winter outdoorsman at the base of Virgina on my thru hike of the AT and he educated me on the use of this tent. I carried an Arch Rival Walrus and then a Marmot Bivy (thanks sis for sending me my bivy) all the way from Maine and was looking for something to protect me in the winter weather that I was dealing with day to day. Going from a cozy tent that pops up and totally protects, to a tarp with no floor takes some convincing. In the winter the weight reduction paid off. Once you learn to use the Mega Mid you will either decide it is too much to deal with, or that it is truly a lightweight luxury.
Design: Pyramid Tarp w/ a pole and stakes
Sleeps: 9'x9',you decide
Ease of Setup: Can take a while to layout, anchor the stakes and raise the tent with the pole. Terrain is important due to staking requirements. Can use rope to suspend center from a tree and cut down to four stakes, but takes longer to set up and find right site.
Weight: 3lbs +, or less if you cut some tent parts out. See"ease of set up".
Price Paid: around $200

I've been climbing, kayaking, and backcountry skiing all over the Western Hemisphere for about 35 years, and my Megamid is one of my favorite shelters.
Like any piece of gear that is non-stupidity proof, it requires some skill, knowledge, and judgement in its use, so I'd have to attribute the few negative comments in this review (above) as due to the reviewers' lack of those 3 things.  
I've used one on Denali below 14K and it stood up well to some pretty stiff wind/snow conditions.   On ski tours, if you're clever, and dig your sleeping hole properly, with a little overhang to the sidewalls, you can sleep 5 people in there, snugly.  
Next summer, I'll be using it as the shelter while kayaking the inside passage, and the only thing I'll be adding is a bit of bug netting wrap around the entire bottom, similar to how Dave Olsen at OWARE does his pyramid tents. I'm a little saddened that BD has chosen to discontinue this tent, in favor of the Mega Light, which uses the much less durable silnylon. But, I suppose that, like many other highly successful pieces of outdoor gear, (eg North Face Westwind) the damned things were just plain lasting too long, and weren't being replaced frequently enough for BD's profit margin and carefully crafted "planned obsolescence" marketers.  
My current Mid is going on 10 years old now, and I suppose I'll have to grab up  another that's been sitting on a shelf in a shop somewhere as soon as I can find such a deal.
Price Paid: 150$

Four people on a week long Sierra spring ski tour. This sounds like a job for a couple 6lb tents, right? No, 3lb the Megamid *comfortably* held all four of us, with our gear, and even included the option of cooking inside. Two sets of joined ski poles created a nice A-frame support, so we didn't need the pole that comes with the tent. We did take a thin plastic tarp to use as a partial floor, and we all had either Dryloft bags or bivy sacks, and these added some measurable weight to the system. But the space and comfort of this tent, along with it being so nice for all four of us to be in the same tent during the several nights of snowfall we encountered, made stuffing that little 3lb ball of nylon into the top of my pack a joy.
The downside? Well, you save weight with the Megamid by digging a pit, with blocks for walls. To do this for a party of three takes a little time, but it's not too bad. To dig it out for four requires a more exacting excavation and sometimes took us the better part of an hour to complete. So I wasn't always smiling over this tent. I renamed it the "Digamid". Still, given the opportunity to choose between the manual labor of digging in every evening or humping an extra 2-3 lbs of gear per person, I'd go with the Megamid every time.
Sleeps: 3
Ease of Setup: 5-60 minutes
Weight: 3 lbs (without pole)
Price Paid: $125

I bought my Mega in the Spring/Summer of 2000 directly from BD on a 'closeout' special. At the time, I knew nothing about their tents...and this was before they came to be associated with Bibler.
It was either this one or a Kiva (Mtn Hardwear), and the Kiva (brand-new at the time, as I recall) was about twice as expensive. It was a 'gamble' that definitely paid off.
Admittedly, I haven't tested the thing in winter conditions. But no troubles for 3-season minimalist trekking! It's come in very handy when visiting Pismo Beach in California, and it's been used a lot as a temporary shade cover on those family/friends beach outings.
It also works well if you're looking for a bike trek companion. I've used it for shelter for 2 bikes while we stayed in our other tent, but I think you might even be able to fit 2 bikes/2 campers into that tent if you really wanted to.
Has the Megamid been fazed out for the MegaLite now? Maybe so...but if you can find an existing Megamid out there, I highly recommend it.
Design: Minimalist-Floorless Tent
Sleeps: 4
Ease of Setup: Easy
Weight: Under 4lbs
Price Paid: $120

I used this tent on a 6 day Sierra High Route tour in '97.
There were four in our party and the weight per person was extremely minimal. However, the work to erect it and make it weatherproof was substantial, especially after lugging a full pack, on skis, over high Sierra terrain for 6-8 hours!
To make it weather proof and roomy enough for 4 you need to cut and dig snow blocks at least 12" deep. This give the height needed for adequate floor area (for 4 people, two or 3 may require less). The blocks then are placed around the perimeter and gaps filled with snow to seal out drafts as much as possible. Once done, it is a very light, effective shelter. After our trip, we concluded that it was more work than it was worth.
For short trips where you don't mind putting so much effort into setting up your shelter, it is a good choice. For our SHR trip, it was a PITA!
Don't get me wrong, I like the concept!

Sleeps: 4
Ease of Setup: cumbersome
Price Paid: rented

I bought this tent about ten years ago and it works as intended. Very easy, fast setup... if it's not too windy I'll just use four stakes in the corners and one for the door. The pole in the middle and sagging sides make it a little less roomy than a conventional tent, but it can also be pitched via a rope in a tree, eliminating the pole.
I wouldn't want to share this tent with more than one or two other people. In humid conditions and/or where the ground is wet, it does get a little wet inside. Laying a tarp on the ground before setting it up really helps (I heard that now there's a floor that one can buy... floor - $80, tarp -
Sleeps: 3
Ease of Setup: Very easy - 2 minutes
Weight: A lot lighter than a full-featured tent.
Price Paid: Don't remember

This thing is great! I use it for backcountry ski trips typically. It's warm, durable, easy to set up with plenty of room for gear and people.
This thing is great! I use it for backcountry ski trips typically. It's warm, durable, easy to set up with plenty of room for gear and people. Needs about a foot of light material or bug net stitched around the bottom edge for tuck in and weatherizing function.
Source: bought it new
Price Paid: What is behind me does not matter.

For years I have hauled expidition style tents. Have found the Megamid to be my tent of choice in everything except extreme high wind conditions. Even in Teton winds it holds up well.
The weight can't be beat. For winter camping it is the best I have used. The center pole adjusts to allow you to dig down the sides. For those who want to go extremely light ditch the pole and use an adjustable ski pole or probe. I used the Megamid for a week in the Winds last year and was extremely happy. It's great for waiting out the afternoon thunderstorms. Nothing fancy about the design. Like everything from Black Diamond, it is clean, easy, light, and fast.
Design: Tarp
Sleeps: 2-4
Ease of Setup: Fast and easy
Weight: 3.5 lbs
Price Paid: $150

Almost perfection.
I have had the same idea, about adding removable netting around the bottom edge and, if possible, a permanent netting door. I want it to look really nice. I know some places will make modifications for you. I would also like a removeble "frost-liner".
I love the Megamid light-magenta and silver colors.
If Black Diamond must only make the Megalight, I wish they would offer light-magenta and silver.
I would like to try a "stove jack" and a small tent stove in an "extra" Megamid.
Of course, I don't need to purchase another Megamid. After a dozen years, my Megamid shows absolutely no signs of wear.
Black Diamond should consider bringing back the Megamid.
Price Paid: $99

This thing is awsome, floorless so you can dig into snow or get extra ventalation in summer. Has a loop on top so you can suspend from a line tied to a tree. You can set this tent up in the back of a truck if you 4-wheel drive camp. It sets up in no time, and has only one pole (shockcorded). You can use it to protect bikes if you mountain bike. This thing has a use for everyone !! I love it...drawback, no floor so you must get a good tarp.
Design: 4 season, floorless
Sleeps: 3
Ease of Setup: very very easy..and easy to adjust for ventalation and changing weather
Weight: 3lb 8oz
Price Paid: $197

The Megamid rules. We have used it on half a dozen alpine trips. It is light and spacious inside. Fairly wind resistant if you stake it down really tight. We seem to use it mostly on dirt or grass, but this thing is even better in the snow, were you can dig out seating, cooking, and sleeping platforms. Downside: no good for buggy areas. It has no mesh.
Design: Pyramid - Single Pole
Sleeps: 4
Ease of Setup: Easy
Weight: 3.5
Price Paid: $50

The tent was used in a snowstorm in the Sierra's last January. At 1:30 in the morning the pole snapped allowing the heavy weight of the snow to lay upon my body.
I do not recommend this tent for use in possible snowfall conditions
Design: 4 season
Sleeps: 3

I took this tent to Ladakh to do some lightweight trekking -- it was absolutely useless and I felt embarrassed to own it. Every evening I had to build a rock wall around it to stop the wind coming in. When I left Ladakh I GAVE it to some local horsemen who were RELUCTANT to accept it because they had witnessed how pathetic it was. I can't think of a single positive thing to say about it. I still cringe when I think about it!
Price Paid: $200

Your Review
You May Like
Specs
Price
Historic Range: $178.99-$179.50
Reviewers Paid: $50.00-$200.00

Recently on Trailspace