Black Diamond MidWeight WoolTech Gloves

#10 in men's Fleece Gloves and Mittens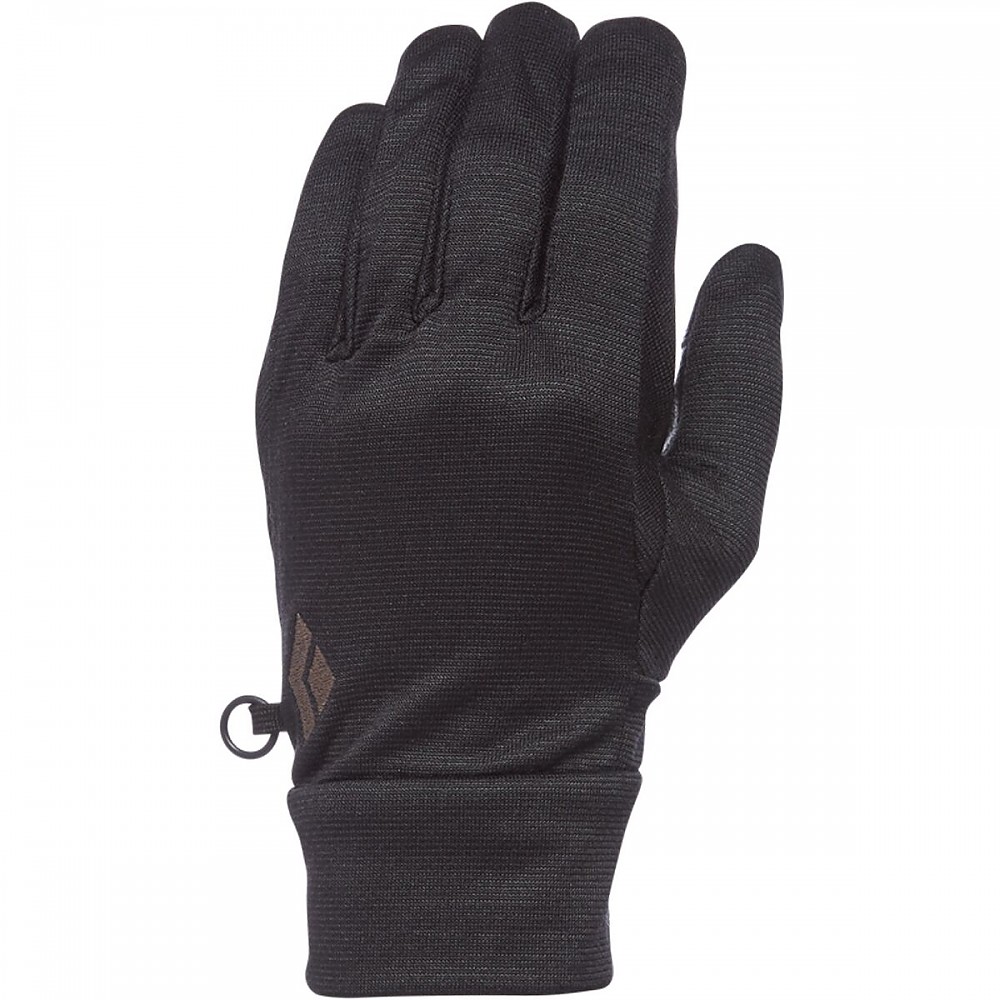 Specs
Price
MSRP: $39.95
Current Retail: $39.95
Historic Range: $19.45-$39.95

Materials
210 g NuYarn merino wool for balance of warmth and durability

52% Merino wool/42% Polyester/6% Nylon

Reviews
1

review

5-star:

0

4-star:

0

3-star:

1

2-star:

0

1-star:

0
I liked the idea of midweight liners to do small camp tasks in and to use while skinning. I'm just not sure these are burly enough for camp tasks or thin enough to be used as glove liners. The leather palm probably temped me to be too rough on them.
Pros
Dry quickly
Odor free
Durable goat leather palms
Cons
Cold when wet
No nose wiping patch
Tears cannot be repaired
The search for the perfect glove continues...
If you're interested in gloves that aren't made from plastic you might want to check out these.  The majority of these gloves is made from renewable materials such as goat leather and wool.  Very little fossil fuels were used in the material of these gloves.  Score one for the Earth.
Manufacturer Claims:
Soft fleece liners infused with NuYarn Technology—a Merino wool blend that is engineered to be lighter, stronger, and dries five times faster—the MidWeight WoolTech Gloves neutralize odors and insulate even when wet.
Test Conditions:
This winter these were my go-to gloves on ski tours while I was moving and snow camping. I winter camped in them in temps between 25-35°F.  The entire time I spent wearing these gloves it seems like it was raining, snowing, or both.  

Hiking in these gloves. 25-30 degrees F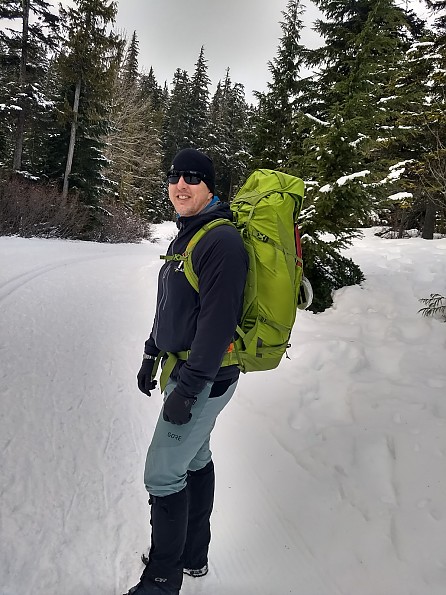 Skinning


Fit:
I usually wear men's large and these size larges fit just fine. The gloves fit true to size in my opinion. I found the medium liners to be a tad bulky to use as liners in my shell mittens. (Note: Black Diamond also makes a LightWeight WoolTech Glove.)
If you're interested in more traditional man-made materials, BD makes a complete line of nylon/polyester gloves to fit your needs as well.

Note the sagging, looseness. These aren't a snug fit.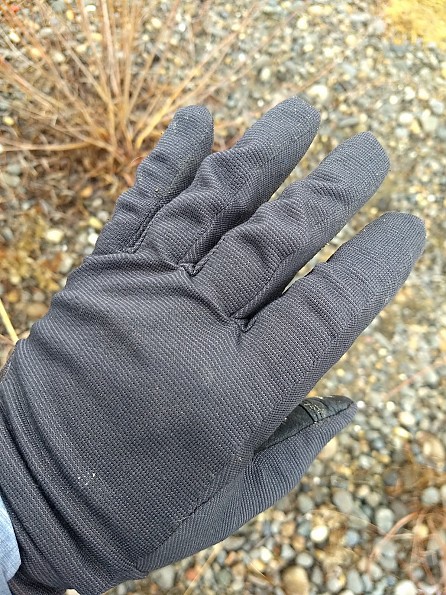 However, they do not restrict movement.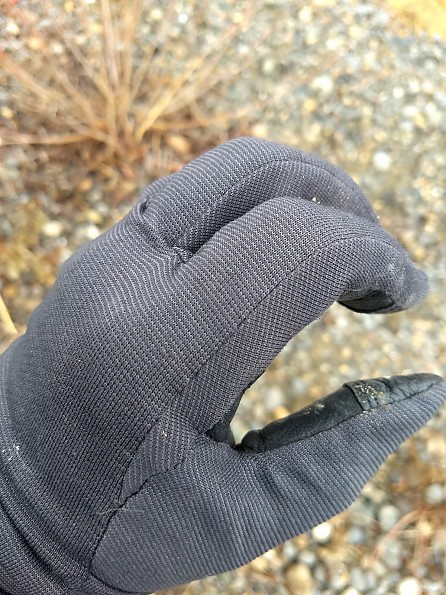 Dexterity:
I was able to perform almost every camp task with these on from setting up the tent to gathering wood for a fire. The fingertips work for gross smartphone screen tasks like using a camera, but you'll never write a proper text with them on. I'm not sure many gloves can.
Water Resistance:
These gloves weren't designed for use in the wet, so as far as water resistance is concerned, there really isn't any. The wool knit allows water in like a screen door. There didn't seem to be any noticeable DWR finish on them to shed small amounts of mist either. When it rains or there is wet snow, you'll just get wet.
Warmth:
In temps down to freezing during moderate activity these gloves perform well enough. They're not really insulated though, they're breathable as heck but nowhere near as warm as synthetic fibers.
Warmth when Wet:
As far as wool goes, they weren't horrible when they were wet, but I spent A LOT of time with these gloves being wet from snow and rain and my hands were cold. I'd say they're better than rag-wool but not as warm as synthetic fleece. I wouldn't recommend wearing them in the wet unless you like to suffer like I do. When it starts raining or you're going to get wet, put these in your pack. Remember back when wool was better while wet than any other fabric? That was a long time ago; we have synthetic materials that easily surpass it now. Please, don't wear wool in wet conditions.  Having said that, I have friends who cannot wear nylon because of skin issues, these gloves may be a cure for such issues if that is an issue to you.
Odor:
I've never thought of my hands as something that work up a stink, but I guess if they did, the wool fiber would suppress it. When they got wet these gloves just smelt like wet wool is all. If you're headed for a long trip with limited laundry facilities, wool might be just the ticket for you.  BD posted a video of just such a trip where the vlogger was someplace short on running water for an extended guiding trip.  The vlogger needed clothing he could wear outside then transition to being social later without clearing a room with his funky odors. 
Durability:
While taking down the tent I yanked a stake and it ripped one glove in a place that wasn't covered by leather. Knit gloves probably aren't a good idea when there are pokey things around. Being a knit material there's no way I could repair them. The goat leather palms were plenty durable and stood up to me scavenging the Yakima River for the perfect rocks to use in a craft project. The dirt from that adventure shook right off. To their credit, until they failed I used them successfully to gather and chop wood for a roaring winter campfire.

That perfect rock is hard to find!
Dry Time:
This is the best part of the MidWeight WoolTech Gloves. After I'd had my fill of wet gloves I placed them in my inside jacket pocket and let them dry with my body heat. I was really impressed with how quickly they dried. I'd put them on par with synthetic gloves. 
Features:
There is a pad on the index finger and thumb for using touchscreens. They aren't precise but good enough to take a picture. I wish there was a booger wiper pad on the back of the thumbs. As a matter of fact, wiping a runny nose with these gloves kind of hurts.
These gloves are held on with elastic; there is no adjustment strap, which I appreciate. I've never been worried that a glove would fly off. Straps are dumb if gloves fit...like a glove.
Who needs these gloves:
Do you like wool? Is there some reason you can't wear nylon?  Do you prefer your clothing to make a smaller impact on the environment?  Do your hands get funky when you sweat? If these are your requirements then these gloves may be for you. For me, I'd probably rather have synthetic material gloves (in which case Black Diamond offers a number of midweight and lightweight fleece and soft-shell alternatives). Wool is magical as a base layer and as thin glove liners but I'm not convinced that they make great midweight liner/gloves.
Experience
I think I have a glove problem. I probably have two dozen pair in my gear room. I use them on mountaintops, skiing, camping, running, etc. Either I destroy them, the kids steal them, or I cherish them forever and try to find another pair before they get discontinued. I'm picky.
Source: received for testing via the Trailspace Review Corps (Sample for testing and review provided by Black Diamond)

You May Like
Recently on Trailspace