Black Diamond Skylight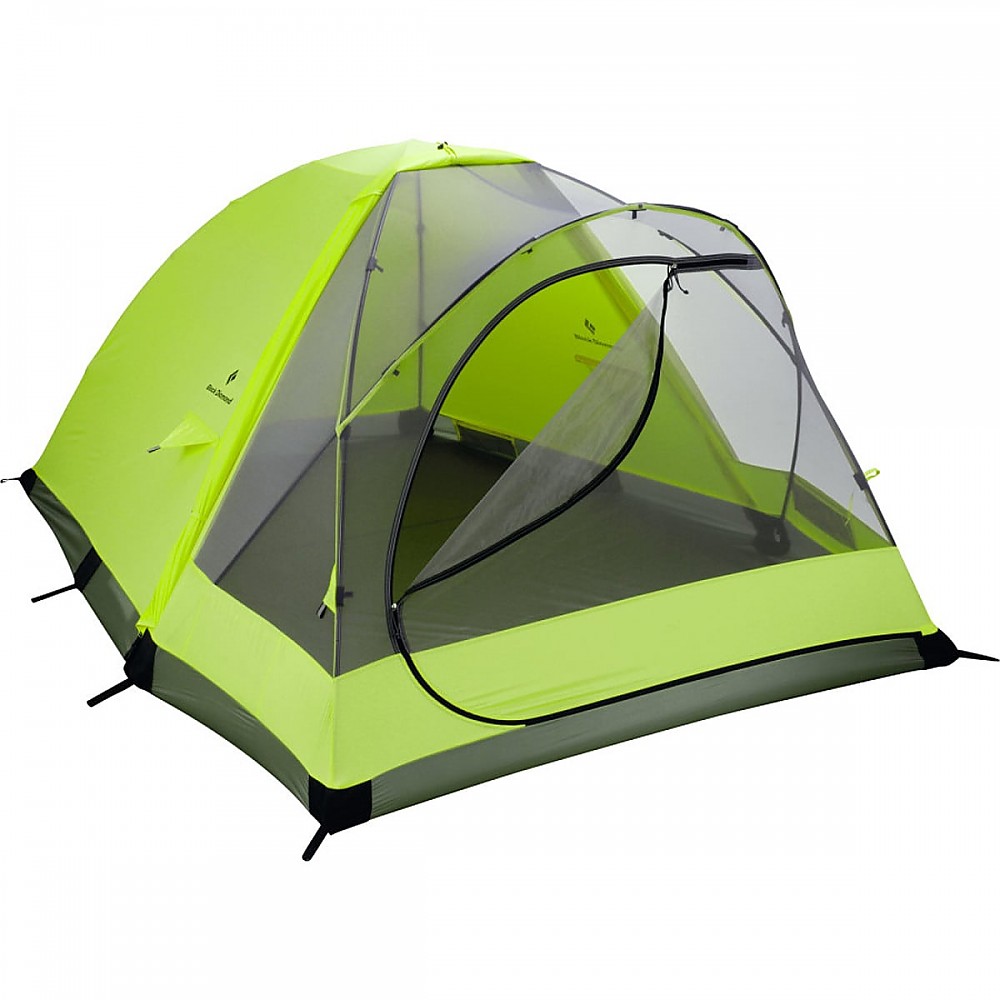 This tent is very light and very spacious compared to many 3-person tents. You are actually able to place three regular pads (20in width) side by side without having them overlap each other.
So we decide to take three of us on a two day trip. However, on the trip it rained both days at night only. Epic by Nextec is billed as water-resistant and we learned why. When the three of us slept in it the two people next to the walls pushed the walls with their sleeping bags making the water - read carefully - LEAK RIGHT THROUGH THE FABRIC!
We made sure the seams were well sealed (which by the way it doesn't come taped as most decent tents but you have to do it yourself with a tube of silicon and syringe). Even after all that the tent leaked through the fabric. However, when we were just inside the tent the fabric repelled the water fine. The fabric just leaks when it is being pushed, stretched so to say, by someone leaning against the walls or with their sleeping bag as was the case with us. It is impossible to have three people and not push the walls as the width is not wide enough to make that happen.
The Skylight is a great idea and I had a hard time returning it due to its space and lightness but the cons outweighed the pros in this tent. I would definitely purchase again if the fabric was more water resistant and Black Diamond actually sealed the seams for you. For MSRP of $435 that is just ridiculous. They could just pay a Chinese worker to do it as the tent is made in China and it wouldn't cost them that much more.
Design: three-season freestanding dome
Sleeps: 2
Ease of Setup: Moderate to Easy depending on one's experience
Weight: 6lbs 5oz with footprint.
Price Paid: $315

A few months ago I purchased this tent from REI for 20% off. That weekend I took it on a short eight mile hike, we didn't get on the trail until 8:00 p.m. so it was 10:00 p.m. when we got into camp. Even with no experience setting this tent up I had it pitched in under 5 minutes.
That night was fairly humid and even though I didn't have any of the vents open the tent still managed to collect 0 condensation. I have taken this tent with me on over 100 miles of trail Spring-winter and it still has yet to leak or collect any condensation. However it is tight for 3 but makes a luxurious tent for 2. Both my hiking parter and I are over 6'6" 200lbs and don't even bump hips. This tent is worth every penny I spent on it.
Update: February 4, 2009
this is an updated review from my previous one. so far i have had this tent for almost 2 years and couldn't be happier! This thing is amazing!
I have over 160 nights in it and i still have yet to encounter any condensation. i have taken it everywhere (Washington state, New Mexico, Quebec, California, Texas, Florida, and Maine). I even used it last summer on Mt. Rainier during a storm! i have never had any problems with durability or leaking! it is simply amazing.
the setup of this tent is a huge learning curve, however i have setup down to 2.6 minutes from the time i lay down the ground cloth to the time where i'm rolling out my pad. i think that the condensation factor and leaking has to do with how it's setup, the tighter you get the better.
Design: three season freestanding hybrid
Sleeps: 3
Ease of Setup: found it to be incredably easy!
Weight: 5.1 pounds with 8mm black plastic ground cloth
Price Paid: $250 or so

Retiring it after three years. Can't keep out rain. Leaks like a sieve in steady rain. Condensation builds up in bad weather when you close the vestibule even with recommended venting. Lightweight, but don't trust it in inclement weather.
Pros
Clever design
Lightweight and spacious for two
Cons
Can't keep out a steady rain
Difficult to set up
I have used this tent for three years. Purchased from BD in 2013. Also have an Eldorado and Fitzroy. Those are keepers.
The Skylight is unreliable. It will not handle anything but balmy weather. It will not keep out a steady rain. Finally had to put a tarp over it. Why would you make a tent that is only water resistant? Sides leak if you touch them. Ceiling drips. Prone to condensation build-up when you close the vestibule. Small vent in the back is not adequate under most conditions.
Given the specs I thought this was the perfect tent. But it does not perform in the cold or rain. 
Source: bought it new
Price Paid: About $500

I took this tent to the Bob Marshall Wilderness in Montana on a 65-miler in five days so light weight was key. A light tent and packs easy but on the very first night we used it we pulled down the rain fly and in the morning we had a ton of condensation on the inside of the tent. Ended up like that almost the rest of the trip except when rain fly wasn't down. The pulls bend too easy and keep a memory which can be bad.
Also to poles attach to the inside of the tent because there is no rain fly. So if it is raining you will get the inside of your tent soaked if you are wet. Also to attach the poles it uses velcro straps which tear up the mesh screen on the tent and it is a pain in the butt to velcro in a hurry if it is raining. This could be an outstanding tent if they changed a few things. Definetly not worth the money or time.
Design: Black Diamond
Sleeps: 3
Ease of Setup: not bad
Weight: 5 with every thing
Price Paid: $300

The biggest strength of this tent is its low weight relative to its size. I also like the design that allows stargazing at night, and the build quality.
Contrary to previous reviewers I have no problems setting it up. It takes me no longer than five minutes to set up. The tent is not advertised as waterproof, so it is no surprise that it starts to leak after extended rain. However, it did not leak during three hours of heavy rain. Due to the light weight, the tent does not leave the impression of taking abuse well. According to the owner's manual, it is also sensitive to UV radiation. If I need a rugged, waterproof tent, I pick the Bibler Ahwahnee which however weighs more.
Taken together, this tent performs very well and as advertised. However, if you look for a waterproof, rugged tent the Skylight may not be the right choice. I like it very much for its low weight, the nice design and build quality.
Sleeps: 2
Ease of Setup: easy
Price Paid: $400

I've been using this tent for 6 months and it is by far my favorite. I have six tents right now and this is the one I take for me on group trips. I am 6'2" 295#, and it will fit two guys my size with ease. I replaced the aluminum poles with carbon-fiber ones and the weight is under 4#. Condensation not a big problem if vents are left open. No issues with extended rainstorms. Overall best tent I've ever used out of 20+ I've owned.
Pros: Lightweight, and even lighter if you get carbon fiber poles, tons of room for two big guys, easy to set-up once you do it a few times.
Cons: Not a beginners tent, you need to know how to set this tent up, and seam seal it before you go. Need to set the vents up properly to have few condensation issues. You need to be careful with the tent flaps getting stuck in the zipper when zipping.
Design: 3-4 season free-standing modified dome
Sleeps: 2
Ease of Setup: tricky first time --easy with practice
Weight: Under 4# with carbon-fiber poles
Price Paid: $265

I just got back from the Grand Canyon Royal Arch Route. In general I'm pretty happy with the Skylight. The high points are that it packs as small as a football, with a compression sack, has huge amounts of room and is super light for the size. One night of windy blowing rain left me totally dry with no condensation. Another night at 31 degrees did show a little bit of frost on the inside though.
On the downside, it is fussy to set up. Crawling inside to set up poles, after long days of hiking, requires a little more effort than you want to exert.
Having said that, if you want a large, light tent that takes up minimal room in your pack, you could do a whole lot worse.
Design: three-season freestanding dome
Sleeps: 3
Ease of Setup: a little too much effort
Weight: 4.5 pounds
Price Paid: $380

I love everything about this tent, lightweight, easy to set up, bright when inside very waterproof and cool looking. Although the condensation is a huge problem. I live in the NWest so I think that contributes, but with three sleepers and no door cracked I about drowned in my sleep. So I tested the tent on a solo mission it was raining very hard. The door was all the way open and let's just say I am going to need floaties and a waterproof sleeping bag. I think the tent is killer other than that, and I am looking forward to the summer. Also if you stake it before set up you can have it up in just over a minute...
Sleeps: 3
Ease of Setup: super easy
Weight: 4 lbs
Price Paid: $328

After reading the reviews I was sold that this was the best tent since sliced bread. My husband and I just got back from a week in the Wind River Range in Wyoming where we tested it out. The tent is a bit cumbersome to put up in the rain. The mesh on the front portion started ripping on day one and progressively got worse. We had to cover the many holes with medical tape. There was a lot of condensation inside almost every night. I heavily seam sealed the tent on all outside seams and the tent leaked after three nights of solid rain. I'm returning the tent to REI. Would not recommend.
Sleeps: 3
Ease of Setup: More Difficult Than Average

Used this tent on a 6 day backpack in the Rockies (Needle Mtns). I like the design once set up but I CANNOT recommend it for two reasons: it is difficult to set up, and worse, every morning we had large amounts of condensation in the tent, pretty much what I would have expected if the walls had been coated nylon, not a breathable fabric!
Design: Single wall three person three season free standing
Sleeps: 3
Ease of Setup: Difficult
Weight: 5lbs or so

Your Review
Where to Buy
Help support this site by making your next gear purchase through one of the links above. Click a link, buy what you need, and the seller will contribute a portion of the purchase price to support Trailspace's independent gear reviews.
You May Like
Specs
Price
MSRP: $399.95
Historic Range: $209.00-$499.95
Reviewers Paid: $265.00-$400.00