Black Diamond Spire

Top 25 in unisex Rigid Trekking Poles
The Spire has been discontinued. If you're looking for something new, check out the best rigid trekking poles for 2022.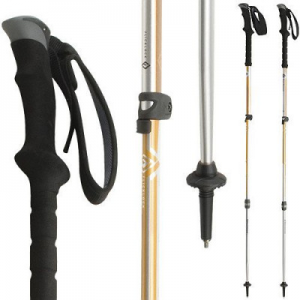 Specs
Price
Historic Range: $79.98-$134.95
Reviewers Paid: $75.00-$100.00

Reviews
5

reviews

5-star:

3

4-star:

2

3-star:

0

2-star:

0

1-star:

0
My trusty companions. Saved me in so many situations.
Pros
Very strong
Durable
Locks never slip
The angled handle
Been using the same pair for 14 years. I do conservation work in the field hiking to condor nests in some very rugged, steep, hot, dry, through walls of chaparral and seas of poison oak, areas of the transverse ranges of Southern CA. Shale, DG, silt, sandstone, and mud.
These poles kept me moving onward and upward through the death marches and slogs required to reach the endangered birds' secretive nesting grounds in caves on high vertical cliffs. I've used many different trekking poles and always missed my Spires by Black Diamond  if I was without them.
I just wish they still produced them. All the new ones just aren't the same. 
Source: bought it new
Price Paid: $95

Literally saved my life, but that's not why they're getting 4.5 stars.
Pros
STRONG
Comfortable dual grips and straps
Easy, solid adjustments
Cons
Not the lightest* (see review)
*Not the lightest can actually be a "Pro" as well as a "Con," as those extra few ounces translate directly into lateral strength...read on.
In my opinion, it's a shame that Black Diamond is no longer producing the Spire.
If you're looking for a pole to have in your hand so you look like the rest of the "well dressed sheep" on the trails, this one might not be for you...you're looking for the thinnest, lightest pole you can find.
If you're looking for a "tool" to assist with your backcountry trips, to stand up to use and abuse, read on.
I've seen folks near the first couple miles of trailheads with their ultra-lightweight trekking poles by the hundreds and have actually seen some of them (the poles) broken or bent. I watched as one hiker planted her pole while walking along the TRAIL, tripped over nothing, kicked her pole and it snapped.
I've seen another set up a tarp as a temporary shelter against the wind by wedging it between some rocks and watched the pole bend over 30 degrees. When he tried to straighten it, it snapped in half. A friend on a trip with me used his COLLAPSED (as in not extended, not yet broken) pole to help him glissade down a short section of icy snow. It snapped just above the basket.
I used the Black Diamond Spire to arrest a fall that would most certainly have ended in my death at best...horrible, crippling maiming at worst. Summer in the Sierras, traversing a 50-ish degree "smooth" granite face above a 40-50 foot cliff when the rain started to fall. Despite my care, I slipped and began to slide down the granite face (it's amazing how fast you pick up speed on wet granite), spotted a small crack, and jammed my pole into it.  
Keep in mind that the pole is extended to its fullest and I'm holding it at the top with my hand locked into the strap. I just held on for dear life as my 200 pounds plus the 25 pounds of the pack were stopped short (by about 10 feet) of plummeting over the edge.
The pole didn't snap! It bent a little at the bottom spike below the basket, but was still usable. The locks stayed intact and didn't give out, either. It literally saved my life. I still use this pair of poles on every trip I take and have left the bend in the tip as a reminder to myself of the importance of the right, quality equipment.
The only reason for the lack of 5 stars is due to a black plastic cover over one of the extension joints that loosened (before the near fall). Cosmetic issue only.
***2016 Update***
So, here I am, just short of two years later and I'm still using this pair of poles...one slightly bent (~20 degrees near the bottom) and unless someone can tell me where to find another pair, I'll continue to use them.
Yeah, they may not be as lightweight as some of the thinner carbon fiber or aluminum poles, but those other poles wouldn't have saved my life. Having worked in aircraft restoration and having worked with carbon fiber and different aluminum alloys, I kinda have an idea what each is capable of, so...
Source: bought it new
Price Paid: $80

After researching trekking poles, I decided to go with the Black Diamond Spire. I really like the flicklock and binary system over the more common twistlock system. Adjusting the length of these poles is simple and quick. This system truly is zero slip. Initially I was looking for trekking poles with some sort of anti-shock system, but after using these poles over a multitude of different terrain, I'll tell you anti-shock isn't necessary. I put these poles to the test hiking the Zion Narrows. They performed flawlessly. The oval shaped design provides more rigidity in the fore/aft axis.
I have been putting of buying trekking poles due to the steep price, but they are well worth it! If you do a lot of hiking and backpacking over rough terrain, I highly recommend getting yourself some trekking poles. I'm very happy with my Black Diamond Spires and I'd buy them again.
Price Paid: $90

Best poles I've ever owned.
Better that the Leki's or REI CF UL's .. Primarily because this is the only set of poles that wants to stay locked. Both the other sets would collapse going down hill. And, sometimes with the Leki's I couldn't get them to lock in the first place without some minutes of "fiddlin".
Overall, A+ quality !!!!!!!
Price Paid: $100

Just returned from putting these through their paces in the Jotinheimen mountains in Norway...where their strength was much-appreciated. Comfortable grips, though you need to learn how to use the leashes or they slip. The flick-lock feature works well; it never slipped on me.
Four stars instead of five because they are a bit on the heavy side compared with other poles. For me the weight penalty was worth not having to mess with the twist-lock slippage that my wife and others experienced with Leki poles.
Price Paid: $75

Your Review
You May Like
Recently on Trailspace