Black Diamond Syncline

The Syncline has been discontinued. If you're looking for something new, check out the best rigid trekking poles for 2023.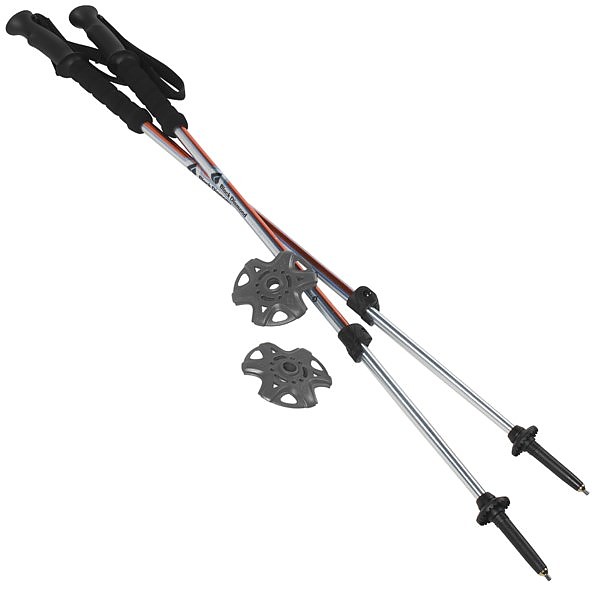 These are lightweight, strong trekking poles that won't collapse regardless of how much weight is put on them. The straps and handgrips are very comfortable for snowshoeing.
Pros
Lightweight
Strength
Flicklocks
Cons
Long when collapsed
Indexing numbers could be bigger
I bought my Black Diamond Syncline trekking poles for snowshoeing, and they're excellent for that purpose. The straps are comfortable and don't chafe when I use them without gloves, and the grips have enough of a lip on them for pulling up my heel lifts.
The included snow baskets keep the poles from sinking too far in snow, and the carbide tips really stick on ice. I've jammed them into ice VERY hard — think Gandalf stabbing his staff into the stone bridge in Moria — in order to check if it's safe for my weight, and have never had the Flicklocks slip even the slightest bit. Adjusting the poles' length is very easy with the Flicklock locking system, even with gloves or mittens.
I've gifted snowshoes and Syncline poles to two friends, and I didn't even consider another brand or model. There are three-section poles that collapse to a shorter length, carbon fiber poles that are lighter, but for the price I don't think these can be approached, let alone beat.
You will want to slide the tubes apart and clean them once in a while to prevent corrosion. The indexing numbers on the inner pole could be bigger for ease of reading.
Update 10-11-2015
Yesterday some friends and acquaintances and I climbed Mt Washington (I didn't summit, too out of shape), and let me tell you, these poles were a lifesaver. We started up Tuckerman, where they didn't really get any use, then at the junction with Lion Head we decided to go that way due to trail condition reports from climbers coming down Tuckerman.
People, Lion Head is a SOB. You climb. And climb. And climb. It's steep, and the rocks are everywhere and more uneven than you could ever expect (as you'd expect on a mountain.) They're wet from meltwater and peoples' boots. They have snow and ice on them. Then you get above the treeline and things get even worse. Ascending, these poles gave me the confidence to get as far as I did before making the decision to stop and not hold up the rest of the group: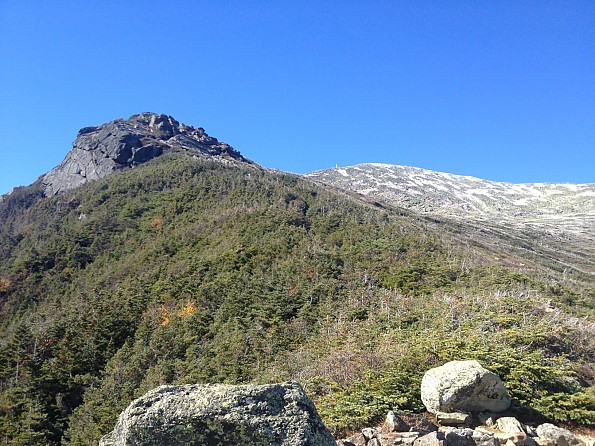 After about a half hour rest to let my quivering legs recover I started tagging along with people descending from the summit, stopping to wait for others when I fell more than 50-100 feet behind. The carbide tips grabbed and held on every kind of rock, whether rough or smooth, and supported my weight as I lumbered from rock to rock ("graceful" will never be an adjective used to describe me.) The shafts scratched and scraped when being placed and withdrawn, at times they'd get flexed up to 3-4 inches along their length, and never once slipped or otherwise betrayed me.
They supported my entire weight at times while coming down, and at the end of the descent neither FlickLock had slipped 1 centimeter. THAT is what I call a quality piece of gear. From this point forward I'd guess that 75 percent of the time I'll just use these while snowshoeing, but it's nice to know that when I do decide to hike mountains I can count on them in really demanding conditions. 
Update: 16 March 2019
It's been 4 1/2 years since my original review and 3 1/2 since my previous update, and the Synclines are still going strong as my winter poles. For three-season hiking I've come to prefer my Black Diamond Alpine FLZ; they're much easier to stow in my pack's side pocket and break out when needed. But in the winter I generally have my poles in my hands the whole time so the longer collapsed length of the Synclines isn't a problem.
I've used them on at least five winter ascents—NH4Ks Tecumseh and Moriah, Chocorua (which is tougher than all the 4Ks I've done except for the Tripyramids), VERY icy Kearsarge North, and bushwhacking up Boundary Bald Mountain right in my backyard—along with countless smaller, easier mountains and hikes of varying length, and they're simply rock solid. 
I think the main reason I've come to like them so much this winter is their max length of 150cm, compared to 140cm for my Alpine FLZ and MSR Flight 2 poles. When you're snowshoeing on snow that's almost as deep as you are tall, an extra 4" of pole length can make a big difference. If I was a tarp user the extra 4" of headroom would be nice, too. The Flight 2's are lighter by a couple ounces and their straps are easier to adjust, plus they have a more secure locking system, but they also "sproing!" annoyingly at times and their powder baskets are smaller. 
The Synclines are no longer made or available new; I'm sure Black Diamond replaced them with something just as good. But if you find them used somewhere I absolutely recommend picking them up. Most BD poles use common small parts so they can be repaired easily. Once I post this update I'm gearing up and heading out to use them some more!
Update: 25 January 2020
This week I got a Facebook memory that showed I've had these poles over 8 years. I'm on the second or third set of "flower thingies" as a friend who passed last August used to call the powder baskets, but I don't recall having to replace any other parts. They've taken a pretty good beating over the years between being scraped against rocks and fallen on/bowed when underbrush snags a snowshoe or I inexplicably decide to step on my other snowshoe, and about all I can say is they're badly scratched and the numbers on the lower section are getting hard to read through the corrosion. (Yeah, I should clean them and store them separated.)
They're probably one of my better outdoor gear purchases on a cost:longevity basis, and I'll probably still have them when my newest pairs of snowshoes are long gone. 
While out roaming today. The light wasn't very good due to cloud cover but it only seems to be sunny on (some) workdays. 
Experience
Now on year 9 of hard use in all seasons and on all types of terrain.
Source: bought it new
Price Paid: $70

Solid, reliable trekking poles designed for day hiking.
Far and away the best thing about these trekking poles is that while they are light they feel sturdy. This is partly do to being made from two telescoping section instead of three and partly do to the type of lock.
Many trekking poles use a cam locking system where twisting the shaft locks the pole. The problem I've had with poles like these is that they can slip if the shaft twist a little bit. Black Diamond uses a Flicklock, a lever that applies tension to a collar around the shaft very similar to the quick release used on bicycle wheels.  I have never felt the shafts slip no matter how I've used them or how much weight I've put on them. These are rock solid, comfortable trekking poles.
The downside is that they were designed more for day hiking and because they only telescope in one place they are long. This makes them hard to stow in or on a pack.
Source: bought it new
Price Paid: $55

Surprisingly, these hold up well when used for climbing various routes up 14'ers. Mine have never failed and the quick flick-lock adjustment is fantastic when speed is of the essence on rough routes or bad weather..etc. I'll keep using them and buying new ones as long as they are available!
Cons
They don't collapse as small as other poles
The upper grips work well with and without gloves...the lower sponge grips could use more outward tapering at the bases to allow your hands to "set" in place for longer climbs. Over-all, they are worth the purchase for their versatility.
Black Diamond products are "good to go". Always innovative and replacement parts are available. From light trail walking to full load 14'er climbs....the BD Syncline poles seem to do it all !
Source: bought it used
Price Paid: $56

Perfectly fine — cheap, light, strong, simple.
I own / used both of Black Diamond's (orange) Syncline and (red) Trail Back for ultra-lightweight backpacking, with my son and I each carrying one pole and using both for shelter.  
Actual weight w/o baskets of Syncline is 270 grams (9.5 oz) and Trail Back 290 grams (10.25 oz). Both handle miles and hands well, but both of ours are pretty soft (we're in Ohio after all).  
Given the price is often almost the same on these few-years-old-model poles, I suggest you just pick your favorite color.
No complaints.
Source: bought it new
Price Paid: $52 + shipping

Your Review
You May Like
Specs
Price
MSRP: $69.95
Historic Range: $41.97-$79.95
Reviewers Paid: $52.00-$70.00

Recently on Trailspace