Black Diamond Trail Ergo Cork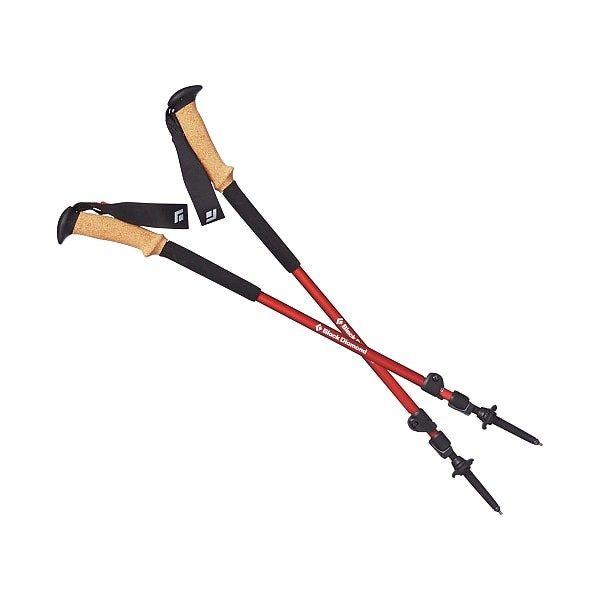 The Black Diamond Trail Ergo Cork trekking poles work very well and are comfortable. They do a great job of helping me keep my balance while carrying large or shifting loads. I would definitely recommend these poles to others.
Pros
comfortable
sturdy
lightweight
easy to use
I had been considering getting a set of trekking poles for a couple of years, and when I found this set for less than $50, I decided it was finally time. I purchased them at the beginning of January, 2012, and here I am nearly three months later, and I've only had a chance to use them a couple of times. Thus, only 4 stars for now, due to the unknown longevity factor.  If they prove to be durable through the summer, I will definitely up the rating.
Immediately I could tell a difference between the quality of these poles and the quality of other trekking poles I've looked at in stores. Everything from the tips to the baskets to the locking mechanisms to the grips and wrist straps seemed much better quality on these Black Diamond poles.
I used these poles most recently on a hike with my three kids (all under age 5) and my wife. I carried our 2.5-year-old son in a Kelty backpack child carrier, and my wife carried our 5-month-old son in a front-pack carrier.  I gave her one of the poles to help her maintain balance over the uneven, narrow singletrack trail.  The flicklock mechanism works very well and made it easy to dial in the right length for each pole. After we finished our relatively short hike (probably only about 2.5 miles roundtrip), my wife wanted to get herself a pair of these poles.
The added stability a set of high-quality trekking poles like these provides while carrying a 35 pound pack of shifting child is very noticeable and comforting.
2-16-2018 Update:
After using these poles numerous times over the past 5+ years, I thought I would update my post a little bit. 
I have now updated the overall rating to 4.5 stars (from 4 stars previously).
I've had the chance to use these poles on many multi-day backpacking trips, and they have come in handy. Not just for me, but for the others in my group.  
Using the handy flicklock mechanism, I've been able to make these poles short enough for my 8-year old son to use. This has kept him more interested in the hike, allowing him to go further and carry more weight without complaining. 
On a recent trip in the Sawtooths of Central Idaho, my 65-year-old father was having some knee discomfort. I was able to lengthen them from my normal height (5'11") so that my 6'4" father could use them as we descended the 10 miles from Imogene Lake. He was very grateful to have a solid trekking pole to use, and didn't notice any unreasonable flex in the pole even at the longer length.
Providing additional stability over a bridge that is being covered by high waterflow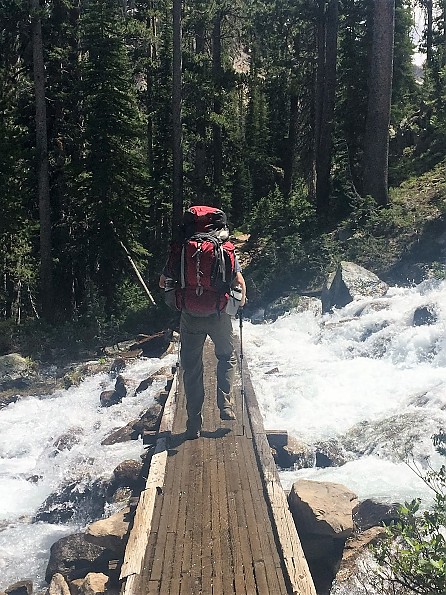 My only gripe at this point that kept me from giving them a 5-star rating is that the hand straps tend to slip a little bit. Perhaps I'm not inserting my hand through the loops properly, or not putting my hand over the straps correctly. But, I occasionally find myself needing to take up a little more slack in the straps during some long hikes.
Otherwise, great, comfortable poles!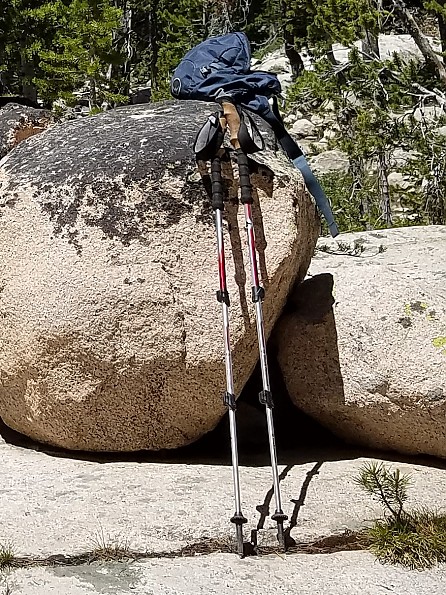 Source: bought it new
Price Paid: $48

There are many brands and styles of trekking poles available out there, and picking out the best ones can be confusing, but my choice was an easy one, as I received these Black Diamond Ergo Cork Trail hiking poles as a gift. I am more than pleased with their performance and would recommend them.

The cork handles are easy to grip, comfortable, to hold and the cork helps wick away moisture. One of the best features are the 'click-lock' levers that securely lock the poles in place at the desired length, and the easy to read height markings means I'll get the same length every time I open them up.

I've taken these poles on a few overnight backpacking trips this summer and have been happy with their sturdiness and durability. They also come with powder baskets so I'll be able to use them when I go snowshoeing in the winter.
Pros
Comfortable, easy grip cork handles
Secure 'click-lock' length adjustment
Easy to adjust wrist straps
Cons
Can't think of anything bad to say about this product
I produced a video review for these trekking poles. Please have a look:
Source: received it as a personal gift

Great poles, not the lightest out there, but sturdy, easy to adjust, and reasonably collapsible
Pros
Strength
Adjustable length and strap
Angled handles
Hand grip extends down shaft
Cons
A bit pricey
Not superlight
My first set of these poles was back when they had a section with fixed adjustment, and one section with an adjustable clamp on each pole (two-section overall). These also had canted grips, but had a foam handle, and nice straps. Very sturdy and lasted a long time.  Could switch baskets for summer (no snow) and winter (snow) conditions.
So, a couple of years ago I purchased a new pair. These have improved straps (now with R and L identified), a cork grip (which I like better than foam), and now two adjustable clamps (three-sections overall) per pole. The clamps remain very easy to open and close, and they grip firmly (and the clamps are easy to set [tighten/loosen] with a screw driver when necessary). 
The three-piece version collapses to the same length as the older two-piece did, due to the canted handle. Straight handles allow more collapsability. The tips are improved, which now attach with coarse screw threads, as opposed to the previous version that snapped on. This is more secure/better, as I occasionally lost tips on the earlier version, when tips caught between rocks or when placed deep in loose ground material.
The holy grail of pole design these days seems to be maintaining strength, ever more compact size lower weight. The Ergo Corks are more old school, but have the features I prefer.
Recommended.
Source: bought it new
Price Paid: $80

Comfortable, durable, and not too heavy.
Pros
Easy to use
Pretty durable
Cons
Haven't really experienced any so far
I bought these trekking poles because my knees are getting bad the older I get, and I wish I would have gotten a set sooner. These particular poles have been very useful and I enjoy having them on the trail.
I have put over 100 miles on them in the few months I have had them and they are holding up well. I have even taken a pretty good fall during a 17-mile trail run and fell right on one of the poles as I hit the ground in the rocks.  I figured I would have bent the pole but it came out with minimal damage, just a few scratches and is working fine.
The cork handles are really nice and the adjustment tabs are sturdy and easy to use. They hold their position and I haven't had any issues with them shortening up as I put my body weight on the poles. 
I don't have anything to compare these too, but for my only experience with trekking poles so far, I am really pleased. These things make hiking and trail running for me much easier and give me much better balance. They take weight well and I would recommend them to my friends. I purchased mine new at REI and got them at 25 percent off, making them a really good purchase.
If you've been thinking about trekking poles because of knees, balance, etc....you should try them and these Black Diamonds are a quality pole. I have the fire red ones and they are sharp looking. I also got the rubber tips to put on and they work well also.
Experience
I have extensive outdoor experience with gear, but these are my first set of trekking poles.
Source: bought it new
Price Paid: $89.89

These things have saved my life. I don't think that I would enjoy this hobby near as much without them. One of the most important things I have in my gear!
Pros
Very sturdy
Cork handles are nice and easy to grip
Easy to adjust and markings are clear
Cons
The strap just is not what I prefer
I used to think poles were just ridiculous. Why use them to walk around with?
I was totally wrong. I had a terrible motorcycle accident in 2015 and my right leg now suffers from it. I would not be able to hike without these poles. They fit very comfortably into my hands. I do have average to small size hands for a guy.
The poles adjust very well up and down. I don't care for the strap to adjust to your wrist that much. I can't quite put my finger on what it is but I just know that it is not comfortable at times for me. The poles are stiff but do give when needed and I have never worried about snapping one, nor one not allowing a small relief to happen. 
I would venture to say that these are some of the most well-constructed poles I have seen and definitely the best ones I have used. I have used these in snow, rain, rocks, mud, and the driest conditions and never had a problem with them.
Experience
I am 26 years old and have been camping and hunting all of my life. This is my third year into specifically backpacking and have been on several trips already. I have used these poles in every condition you could think of and they have held up great! I even use these when I am just walking through the woods scouting for hunting.
Source: bought it new
Price Paid: $120

I purchased the BD Ergo Cork trekking poles early last summer for a peak-bagging and hiking trip in Colorado. Have since used them also during regular hikes in northern Colorado, western Kansas, and south-central Missouri and NW Arkansas. Attractions at the time of purchase included the BD reputation, the Flick-Lock tightening mechanism, and the combination of an ergo hand angle with the cork grips. Concern at the time of purchase centered solely on the possibility of rapid wear of the cork grips.
The poles have functioned extremely well, giving excellent aid in balance and reducing cumulative stresses on lower extremities, knees especially. I've not experienced a single episode of slippage at tightened joints. The Flick-Lock apparatus is easily manipulated, even with gloves on.
The padded wrist loops are very comfortable. The grips remain in very good condition and are extremely comfortable, with one minor exception, that being the fact that the fit of my hand into the contours of the grip isn't as good as the rest of the experience--not at all bad, but short of truly superior. Almost certainly a factor of one grip size for all hands, and not enough to prevent my recommending these poles highly.
The Ergo Cork trekking poles do not have shock-absorbing devices, and this may be an issue for some, but I liked the feel for the terrain provided by a non-shock-absorbing system, and I prefer knowing that I don't carry the added weight of such or lose energy in it, either. After up to 6-9 miles per day of use on serial days, I've not yet experienced any hand discomfort, tingling, etc., due to vibration, etc.
Price Paid: $109

I love these poles. While a little heavier than some others, they are solid and rarely need adjustment. Handles are comfortable cork, though some has begun to chip. I lean on these with body+pack weight without any worries.
Fit: handles are comfortable. Straps don't tighten on me completely, but I also don't always use the straps.
Adjustability: I love the system. I can usually open it once in the morning and it will stay at the right height without slipping for the entire day+.
Traction: These grip everything well.
Product is really solid. I use them for hiking, backpacking. They are extremely helpful for crossing streams, testing deepness of mud, extra support, etc.
Source: bought it new
Price Paid: $80

I've had a couple operations on my knee (one was 20 years ago and the other 15 years ago) and had resigned myself to wearing a knee brace whenever I did any hiking. I picked these poles up because I really didn't want to wear my brace and I wanted to see if these would work well enough to not have to wear my brace again ...
These poles worked wonderfully for me!! I did an 8 mile hike with 30 pounds in my pack (with out my knee brace on) and it felt like I had done a 2 - 3 mile hike ... and with out any knee issues that I would normally get. I usually take a 5 minute break on the hour, but I went 90 minutes between breaks and felt like I could have gone further between breaks.
The 15 degree angle that the hand grips have, along with the cork material, make for a very comfortable grip. I had no blisters or sweaty palms.
These poles are definitely going on my required list for day and multi-day hikes.
Price Paid: $99.95

Great pair of durable trekking poles!
Pros
Comfortable
Durable
Lightweight
I have had these pole for quite a few years now and have used them for numerous miles. Have never had a problem with the poles themselves or any hand discomfort what so ever. I use these to support my dining fly during rain storms and for eating and keeping gear dry and have never had a problem, even through heavy wind.
My old poles bent at the lower shaft performing the same function one night in a mild 15 mph wind/rain storm. If I ever do need another set of trekking poles, I will without a doubt be looking at BD's.
Source: bought it new
Price Paid: $65

Best trekking poles I have had.
Pros
Cork handles
Easy to use
Lightweight
Cons
A little pricey if you don't find them on sale
I have had this set of trekking poles for four years now and have used them while hiking in all kinds of conditions and they have yet to fail me. They work great on downhill and uphill, in the mud, on rocks, and in the snow. Unlike a lot of poles the locking mechanisms do not slip and stay in place. Easy to adjust to the height you need.
I would recommend these to anyone.
Source: bought it new
Price Paid: bought it on sale

Good pair of poles.
Pros
Light weight
Takes stress off joints
Easily adjustable
Strong
Comfortable grip
Trekking pole are nice on long hikes and a must for backpacking any real distance or, when facing serious elevation gains. I bought these for a hike through the Grand Canyon and started using them for practice and now I take them out almost every time. I couldn't have done the Grand Canyon without them.
These particularly are a great pair. The locks are both strong and easily adjustable.
Source: bought it new
Price Paid: $70

Really, really like 'em!
Pros
Compact, easy to store
Easily adjustable
Ergo handles feel good on the wrists
Never used trekking poles before I planned my first backpacking trip with some friends.
These guys are "pros" and my go-to resource for questions and learning about backpacking/outdoors, etc.
Been on countless camping trips with my sons through Cub and Boy Scouts, but hadn't ventured into the backpacking realm until recently.  
Did a training run with full pack, gear, etc.  but with no trekking poles. One of my buddies lent me his trekking poles and immediately I was hooked.
Well, the next day, off I went to buy my "early birthday present".  I bought these poles because I was intrigued by the ergonomic cork handles.
Man, am I glad I bought these! The cork handles fit nicely in my hands, no soreness, etc.
The extra stability when hiking in Smoky Mountain with my buddies was incredible!
Source: bought it new
Price Paid: $119

Mandatory gear on the Tundra.
An absolute must-have on the Tundra, sturdy poles and 70-lb or greater pack to keep your balance.   
Experience
Second experience with trekking poles first was with cheap poles in the Colorado Rockies and they broke in the first three hours of my trip. These Black Diamond trekking poles held up and will be a essential part of my gear in the future.
Source: bought it new

Your Review
Where to Buy
Help support this site by making your next gear purchase through one of the links above. Click a link, buy what you need, and the seller will contribute a portion of the purchase price to support Trailspace's independent gear reviews.
You May Like
Specs
Unisex
Price
MSRP: $99.95
Current Retail: $104.93-$139.95
Historic Range: $41.99-$139.95
Reviewers Paid: $48.00-$120.00

Women's
Price
MSRP: $99.95

(unisex)


Current Retail: $41.99
Historic Range: $41.99-$139.95