Black Diamond Voyager

#2 in Battery-Powered Lanterns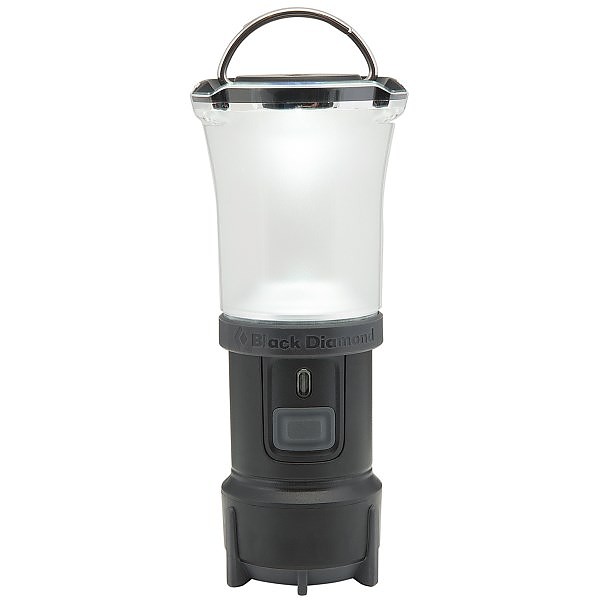 Compact and effective. Happy with it.
Pros
Small size
Reasonably bright
Flashlight and lantern combo
Concealed power switch
Cons
Much of the light output is directed upward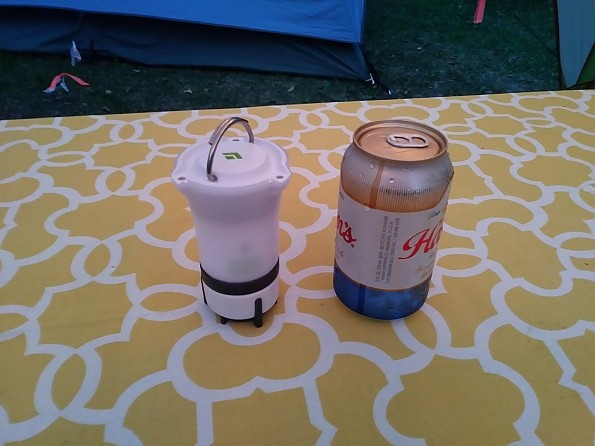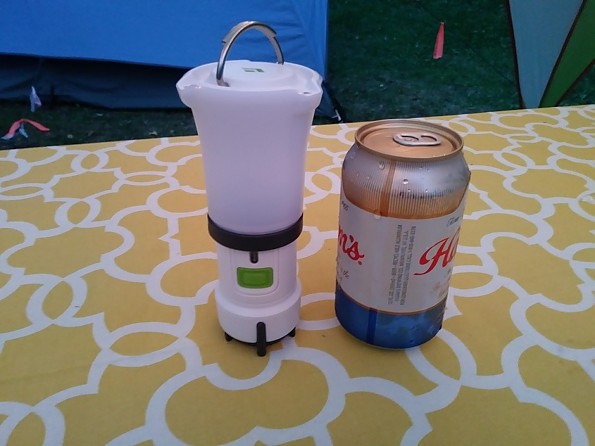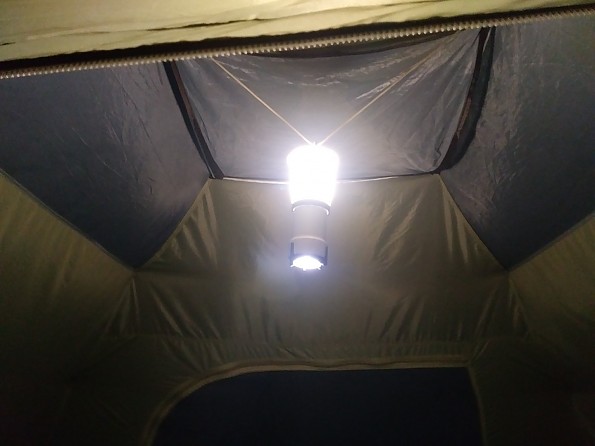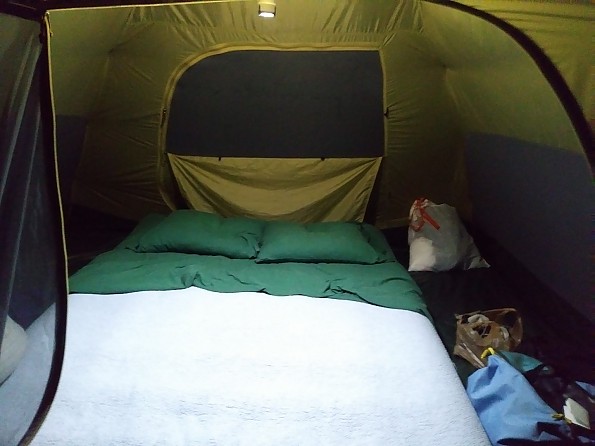 UPDATE WITH PHOTOS:  I snapped a few photos while using my Voyager on a second trip. The Voyager compared to a 12-ounce US beer can. The Voyager illuminating a 10' x 10' tent.
----------
Below is my original review from a 2017 trip.
My Voyager is a 2016 model with 140 lumen output from the lantern portion. I hung it beneath a dining fly above a picnic table. I was in a car camping environment for a long weekend.  The light works great hanging above a table, or in a large tent. 
The lantern's output is not bright enough to light a whole campsite, but that is expected. My table top was comfortably lit and the surrounding area lit about as well as a campfire. When hanging the Voyager provides enough light to read by.
The best aspect of this lantern is the flashlight. The downward facing flashlight LED is excellent at lighting a tabletop while hanging. The lantern LED provides area light but not much downward light. It is possible to run both the flashlight and lantern LEDs at the same time.
The primary flaw of this lantern design is the upward facing lantern LED. Much of the lantern's light is directed upward toward the sky, where it is wasted. The lantern's roof does not seem to reflect light downward. The lantern does not maximize horizontal light output. Therefore the lantern illuminates best with some sort of ceiling above it to reflect light. For the above reasons the lantern is not highly effective sitting on a tabletop. However it works pretty well when hung.
The lantern LED is soft white. Unfortunately the flashlight LED leans blue. The single button control is slightly annoying but functional. The infinite dimmer is great. 
The Voyager is surprisingly compact and could be used for shorter backpacking trips where weight is not critical. The lantern seems well made and reasonably durable, but not suited for rough treatment.
The voyager does not look very water resistant. However the lantern is rated IPX4. I have not used it in rain.
A note about the flashlight portion: The flashlight is excellent at down lighting when hanging. But I would not rely on it as a primary flashlight. The light beam is even, short and wide. So it is not suited for distance. It works OK around camp and for digging in a cooler of beer.
A note about battery life: I used my Voyager for a few hours, a few days. The batteries held up fine. But I have no idea how long they truly last. Be skeptical of the manufacturer's claims. This applies to all LED lanterns. The Voyager's LED circuit is not regulated. Therefore the light will dim significantly as the batteries deplete. The full 140 lumens will only be briefly available. The light output will steadily trail off to something like 25%, then slowly trickle down for many hours. Manufacturers include that dim 25% light output in their burn time specifications. That is how they justify claims such as 100 hours. Unfortunately during most of the 100 hours the lantern is too dim to be useful.
I like my Voyager lantern. Although somewhat flawed I have not found a better alternative. I shopped around quite a bit. I even tried out the Orbit and Moji XP. I prefer the Voyager.
Source: bought it new
Price Paid: $20 (at Sierra Trading Post, a clearance retailer)

Great compact lamp. Very functional. Great purchase.
Pros
Button controlled dimmer
Hanging loop
Compact size
Cons
4 AA batteries add a bit of weight.
Completely lights up our 8-person tent no problem. Also great to have preparing meals as the bottom light illuminates your surface area if it's hung. Great reading light as the light is not too sharp and can also be dimmed so as not to bother tent mates, but still be able to read.
No regrets so far after 3 months of use!
Source: bought it new
Price Paid: $35

I recommend this lantern, especially for car camping.
Cons
Could pack a few more lumens with 4 AAs
I just bought this lantern and plan to use it for car camping and power outages at home since it has the lantern and flashlight ability.  I saw a friend's Voyager and liked it so I got one on sale last week at REI. 
About my only complaint is that with 4 AA batteries it seems like it should be able to kick out more lumens!  The Orbit does 45 lumens on 4 AAA batteries.
Source: bought it new
Price Paid: $30

A great upgrade from the Orbit!
So we had a Black Diamond Orbit first. That was and still is a great little lamp. But as most of us gear lovers want, multifunction usually trumps all.  So when I saw the Voyager about to be released, I immediately put it on my Xmas list for last year. 
At first glance, the light is slightly bigger than the Orbit, but still in the compact category when compared to the Titan or Apollo. Other than size, the next biggest difference is the addition of the bottom facing light. This light accomplishes two things; it allows you to use it as a standard flashlight (a key feature that will save you from having to fumble around for a light when nature calls at 2am in the woods, just reach up and grab the trusted lantern), the other feature is that the light can be used in conjunction with the actual lantern light.  When combined the bottom facing light will actually fill up the dead zone that happens underneath every lantern. Awesome!
This light contains the same ingenious double hanging hook design that the Orbit has. It consists of two stainless steel half loops that swivel and allow you to either simply use one to hook over a tent gear hammock or you can use both and truly lock the lantern onto the strap if the wind picks up.  The lantern also has some small rubber feet that help keep it stable if placed on a table, but don't expect the same stability of the Apollo.  This light is still better suited to hanging.
The light button is easy to press and like all black diamond lights, you'll eventually get used to the modes as you toggle through them, main light...bottom only, or both. All modes are dimmable as well.
I haven't had a chance to test battery life, I usually don't pay attention to it.  If they die, I toss in another set of eneloops and recharge the old set with my Goal Zero charger. It takes 4AA batteries.
Source: bought it new
Price Paid: $39.99

Great features, low output, poor construction.

This lantern has all the right ideas, but awkward execution and poor construction keep this lantern from being great. The fasteners for hanging the lantern are great, as is the flashlight mode. The light output is usable, but nothing to write home about. The adjustable brightness is also a great idea, but given that the maximum light output is already low it is not very useful.

For the price, I would expect more out of this product.
Pros
Adjustable brightness
Flashlight mode
Low battery indicator
Relatively lightweight
Versatile fasteners
Mode retention
Compresses down to a small size
Cons
Poor construction
4 AA batteries
Low light output
Mode retention only lasts 10 minutes
Can only use flashlight when in compressed mode
Disclosure: The reviewer is the designer and manufacturer of a direct competitor's product.
Range: This lantern / flashlight is unfortunately not very powerful. With a maximum output of 75 lumens, this lantern is best suited for lighting your immediate area only, and is probably only good for illuminating 2-3 feet of your surroundings.  The advertised distance is 7.5 meters, which is hard to believe.
Beam & Brightness: The flashlight has an even lower rated output at 50 lumens and does not have much of a beam. What it is great for is when used as a lantern from a high point, so that light is cast directly below the lantern. The maximum advertised distance for the flashlight is 11 meters, which may be plausible.. but I do not think you will see much other than the ground at that distance.
Burn Time: The advertised burn time for the lantern is 13 Hours on maximum and 100 Hours on minimum. The advertised burn time for the flashlight is 65 Hours on maximum, and 100 Hours on minimum. Because the lantern allows the user to operate both flashlight and lantern at the same time, the burn time can vary greatly.  For what it does, this is a decent amount of time.
Power Source: I am not sure how long it would take to charge 4 AA batteries, but I would definitely not consider doing that when I'm out on the trail. Carrying several sets of 4 AA batteries is also not something I would like to consider either.. but given the lower light output and burn time, it might be a necessity.
Ease of Use: The lantern is relatively easy to use, once you get the timing down. In order to change modes, the on / off button must be pressed a certain number of times after the device is initially turned on.  It can be confusing initially, but once you have done it enough times it is easy to operate.  Dimming the light is also intuitive, as you simply have to hold the on / off button until the device adjusts to the desired level of brightness.
Weather: The batteries handle the cold as well as most other battery technologies. That being said, they do not like the cold. The lantern is not very weather resistant, as there are openings all over, and no sealing mechanisms anywhere on the device. The device might possibly survive a splash of water when compressed, but I would not leave it out in the rain when fully expanded.
Features: The fastening hooks are great for hanging the lantern from straps, ropes, or branches. The adjustable brightness is also a good idea in theory, but the brightness range does not do it justice. The flashlight is also an excellent idea, but not as bright as other 4 AA battery lights are.
Modes: The modes are useful. The flashlight serves as an excellent down light when combined with lantern mode and hung from a high point. The adjustable brightness is also a good idea, but not super practical as I find myself leaving the device on maximum brightness most of the time.
Construction & Durability: The exterior diffuser seems relatively well made, but the inner core where the batteries and main switch are located is made of thin plastic and is "squishy". The device is reminiscent of a cheap flashlight rather than a well constructed lantern. The device could probably survive a short fall, but seems delicate otherwise.
Conditions: Due to the perceived delicate nature of the device, it has only been used lightly as a tabletop lantern and hung from inside a tent.
Best For: Backpacking, camping, emergency. If used carefully, the lantern will serve you well. It's not something that I suspect will last repeated trips, but will definitely provide enough light to read by in your tent.
Source: bought it new
Price Paid: $40

The author of this review owns RTG, which makes a competing product.
Your Review
Where to Buy
Help support this site by making your next gear purchase through one of the links above. Click a link, buy what you need, and the seller will contribute a portion of the purchase price to support Trailspace's independent gear reviews.
You May Like
Specs
Price
MSRP: $39.95
Current Retail: $39.99
Historic Range: $17.73-$42.95
Reviewers Paid: $20.00-$40.00

Weight
134 g / 4.7 oz

Lumens
140 (lantern), 50 (flashlight)

Max Burn Time
100 H (low)

IPX Rating
4

LED Type
DoublePower

Batteries
4 AA (not included)