Black Diamond Zenix IQ

The Zenix IQ has been discontinued. If you're looking for something new, check out the best headlamps for 2023.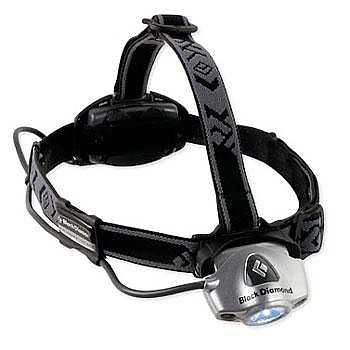 I hike a lot at night and own several other LED lamps as well. I've used the Zenix-IQ since it first came out a year or two ago, and bought a second one a few months ago as a gift, and am now looking at buying a third one.
The Zenix-IQ is my advantage. I never hit the trail without it unless I don't expect to use a light at all in which case I carry the much lighter Tikka Petzl.
The advantages of the Zenix-IQ are too numerous to list, but the ones that come to mind are 2-AA versus 3-AAA, power meter, extreme power and beam with low-power options, built to survive WWIII, and it is intelligently engineered unlike a few other models out there. Though heavier and bulkier than basic 3-aaa non-regulated standard super-bright headlamps, the Zenix IQ is a solid 5-star performer.
p.s. The reviewer "e_l_green" must either have the wrong product or he wrote a deliberately deceptive review.
Price Paid: $35

I purchased one for work and this thing surpassed my expectations. I liked it so much that I ended up buying three more! One for hiking, one for my wife, and I bought another for my friend that goes hiking with me.
I tend to do lots of mountainous night hiking and I have been thankful for my headlamp to get me back home every time. The settings are perfect for levels of brightness you need. As mentioned before, the AA's were the first selling point to me for commonality with my gps. However I would feel the same about this light even if it used AAA's.
Ok, even pretty girls have a flaw… So my ONLY gripe about this light is the ON/OFF button. When I am climbing through Class 3 and wearing leather gloves the little button can be a challenge, BUT, like the pretty girl with a flaw, it's still worth it!!!!!!!!
Other headlamps that I hiked with would sloooooowly die out with the ever gradual loss of light…what a pain in the arse on the trail! This thing will let you know when the batt's run low when you are wearing it! The voltage/light regulation is so good that you will not notice ANY reduction in illumination. So as the batt's run down to a certain level the headlamp will "blink". The first time it happened surprised me and I thought somebody was messing with me and since I was hiking solo, I got the creeps and looked around to see some one with a flashlight, but nobody was there and I realized it was the headlamp letting me know to find the spare batt's.
It does have an l.e.d. on the side for battery condition (green=good, red=bad) but you can not see this in use, so hence the "blink" of light while you are using it. This is great since I have the ability to get a hand held light and change the batt's out for good ones.
By the way, the post from DtEW, you are good man, and do you ever know your stuff. As for the post from e l green, god I only wish that I was the guy that paid you ten bones for your light…I would have been laughing all the way down the trail!!!!!!
I would read e_|_green's review for the Zenix IQ headlamp with a very large grain of salt due to his/her outright lies and bias (for both of which I will provide evidence). Please note that the five-star rating I gave here is only meant to negate e_|_green's effects upon the prior average rating for this item, which was 4.5 stars.
e_|_green claims that the Zenix IQ "does not have a voltage regulator circuit to maintain LED brightness". This is simply untrue, as the "IQ" in Zenix IQ explicitly denotes a voltage regulator, explained by Black Diamond as:
"The IQ technology consists of circuitry that has a converter for boosting and regulating voltage or current from the battery pack. While regulating current, this converter provides Constant Illumination (CI) regardless of which lighting mode or brightness setting you are using—LED mode (HyperBright or SuperBright), xenon mode or any brightness setting except strobe."
e_|_green also claims that the Zenix IQ is "heavy and cumbersome due to its strap system and rear battery mount". Even disregarding the obvious advantages of the three-strap headband (stability) and rear battery mount (balance), it's curious that a comparable indictment is conspicuously absent in his/her review of the Princeton Tec Yukon HL (https://www.trailspace.com/gear/princeton-tec/yukon-hl/#review9209 ), a headlamp which features a comparable three-strap mount, a comparable rear battery case, and is even ~40% heavier. You are invited to visit the link to see the discrepancy.
The rest of that review is filled with outrageously negative claims that probably sounds fishy to anyone, such as "barely bright enough for the inside of a tent" and reselling a $50 headlamp for $10 just because he deemed it to be "about all it's really worth." (Yeah, that's believable. Sure.) All together, this suggests a review (or even a reviewer) that should be given no weight.
My own opinion of the Zenix IQ is that it is a fine headlamp with some very thoughtful features. For me, the most appreciated feature is that it uses two AA batteries, instead an odd number or any number of AAA batteries. Being that many hand-held GPS units and higher-powered GMRS radios use AA batteries (my own gadgets being no exception), this has allowed me to standarize on AA batteries, reducing my overall pack weight and enabling battery cannibalization in emergencies. I use the Zenix IQ with Sanyo 2500mAh NiMH batteries.
Performance-wise, the Zenix IQ works exactly as advertised, which is to say that it can be run very miserly for maximum battery life (which I have not tried testing as in the realm of many LED headlamps it means almost a week of constant-on lighting.) At full blast, the Zenix IQ has no problem at providing enough light to allow you to resolve typical trail objects at 60 feet. It has worked well an emergency light for night-time mountain biking, although it needs to be said that there really is no substitute for a high-performance cycling-specific head/handlebar light system from makers such as NiteRider or Light & Motion.
Personally, I have had no gripes about the light. That said, I would like to see:
1) A detachable red filter lens to allow me to preserve my night-vision in the course of ambient-light night hiking.
2) A truly waterproof casing, as opposed to just water-resistant.
3) A separate button to adjust light intensity.
Profoundly mediocre headlamp. I've owned pretty much every headlamp on the market. This one is heavy and cumbersome due to its strap system and rear battery mount, does not have a voltage regulator circuit to maintain LED brightness, the 2 LED mode is barely bright enough for the inside of a tent and somewhat dim for stumbling to the cathole at night, and the "high output" LED has a weird beam pattern and isn't as bright as the competition such as the Petzl Tikka XL. All in all it is so mediocre that I sold mine to a newly-minted hiker for $10, which is about all it's really worth. Get the Tikka XL and get a brighter light with better battery life for less weight.
The Zenix is a good compromise between weight and utility for night navigation and use around camp. It's got twin 'normal' LEDs with three brightness settings for general use that are cycled through by a half press of the main button. The low power LEDs are great for walking along a track, cooking around camp or reading in a tent. It also has a more focused 1 watt(?) LED that can throw light up to about 30m, and this is useful for routefinding.
It's still nowhere nearly as powerful as the halogens that Petzl (for example) use in their Myos, but by the same token it doesn't need the bulky parabolic reflector mounting of a halogen, and doesn't suck anywhere nearly as much juice. It runs on only 2aa batteries so it sheds weight and bulk there too.
BD has got some new design features that may/may not be useful depending on your useage. It's got a super low power coloured LED that flashes periodically to allow you to find it in the dark. This LED changes colour if the batteries are nearly drained (not much use to me since I'm colour blind...but other people said that they could see it!). I did find the flashing feature useful on occasion and somewhat irritating on other occasions (actually it irritated other people more when I had it on my head but they got distracted by it). Still, all things considered this is a good feature.
The only relatively minor gripes are with the process of switching between the low power and high power LEDs. The switch is located under the main light housing, is quite small, and is blocked if you have the housing pointing downwards. If you're doing extensive night nav and have to frequently switch between the low and high power LEDs you basically have to keep swinging the housing upwards to press the button and the downwards to get the light back on the ground. Repeat this over a number of hours and you are likely to start to get the irrits.
Also, the button is not easily pressed with gloved hands, and I often had to take overgloves off to get it to function (particularly to 'half press' it). Oh yeah, final really minor gripe...there's no 'memory' for the brightness setting on the low power LEDs (after you flick briefly to the 1W LED). eg, if you had the torch set to the middle brightness setting on the low power LEDs, it cycles back to the maximum setting after flicking briefly to the 1W LED (Myos go back to the original setting).
All in all a good torch with some new and interesting design features. Not the top choice as torch for extended night nav in rogaining/mountaineering as it's not quite powerful enough, and it's not quite small enough to be an ultralight/emergency headtorch. But if you might need something for both situations, for example on a long overseas trip involving different activities, and can therefore only take one torch, then the zenix is a very good choice.
Price Paid: don't know...a present

Light and comfortable...couldn't think of a single thing to make it work better for me. Two small LEDs are perfect for roaming around and the large LED is superb in any environment. The switch is easy to get to, even through gloves. The battery-life gauge gives you the assurance needed to walk out of camp for a while without having to worry about a blackout.
3 a.m hike the other night was magical in the Allegheny National Forest...following owls' chants. Battery life was impressive despite 20-degree weather. The dim setting is excellent for the "getting around camp" kind of stuff...makes me feel spoiled a bit, but it's a phenomenal buy and makes life in the woods significantly better. I'm sure other folks can get deeper with details and such, but I know this was a great buy for me.
Price Paid: $40 (EMS sale)

Your Review
You May Like
Specs
Price
Historic Range: $17.76-$47.99
Reviewers Paid: $35.00-$40.00

Recently on Trailspace