Blyss Running Trail Skirt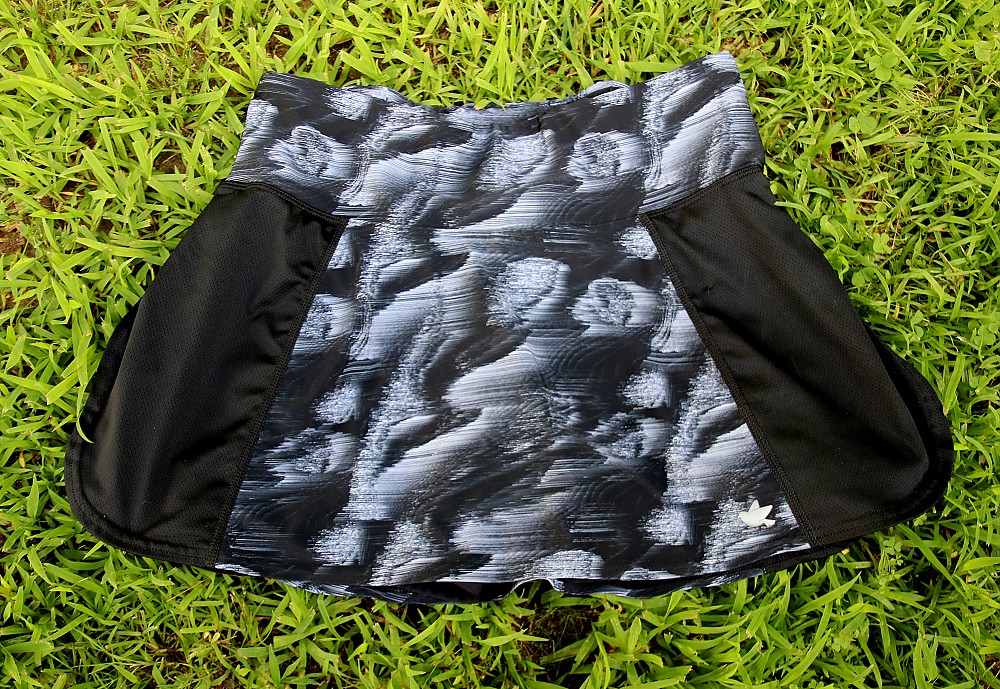 The Trail Skirt from Blyss Running is a comfortable running skirt that provides both plenty of coverage and room to move on the trails. This skirt makes me happy for two major reasons—no chafing and ample pockets. Made in the USA, primarily out of recycled fabric, the Trail Skirt can easily fit my iPhone in either of the two thigh pockets or in the zippered back waist pocket (though I use that for an EpiPen). This capacity means I can go out for shorter summer runs carrying both a phone and an EpiPen without needing a waistbelt for storage (hooray!) and still have room to spare. Plus, when I return from a sweaty session I don't have any uncomfortable chafing on my legs.
Pros
Comfortable for miles
Three ample pockets!
Shorts don't ride up
No inner thigh chafing
Made in USA
Well-constructed
Recycled materials
Cons
Not actually lightweight
Only available in sizes S, M, L
Cost
Limited production and colors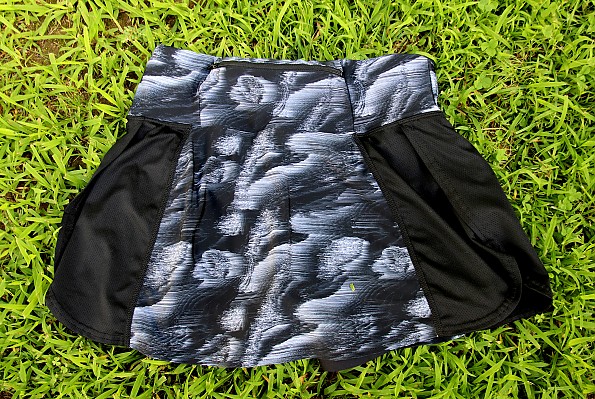 Back, with zippered waist pocket

Fit
The Trail Skirt from Blyss Running is among this young company's newest offerings and currently is only available in women's small, medium, and large. Virtually all of my running bottoms are medium, and I found Blyss's medium comfortable and true to size.
S (4-6): 27-28" waist / 36-38" hips

M (8-10): 29-31" waist / 39-41" hips

L (14-16): 32-34" waist /42-44" hips
While sizing is limited for now, other Blyss skirts, shorts, and capris come in a wider range of options—XS/0-2 to XL/18-20. Also, Blyss founder and designer Alyson Neel says the cut of the Trail Skirt is more forgiving size-wise. (For comparison, her original Blyss Skirt is a more traditionally cut running skirt with a slight A-line shape.) I found it comfortable immediately.
With a 14-inch length in front and 15-inch length in back, the Trail Skirt is a tad longer than my other running skirts, but not by much (see pictures further down). The 4-inch waistband is comfortable around my midsection and doesn't bunch or bind.
Length: 14 inches in front, 15 inches in back
Under short inseam: 5 inches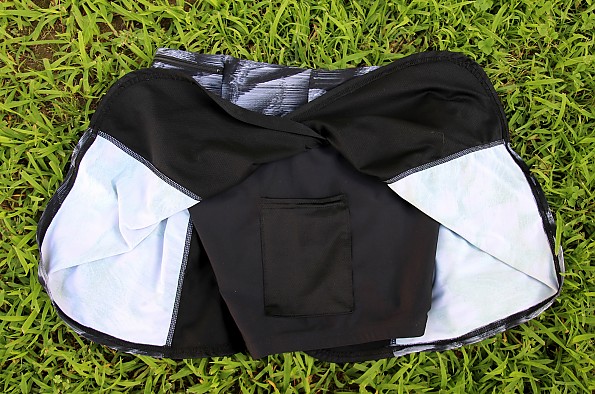 Undershorts, with thigh pocket
The snug under short has a 5-inch inseam. While it's not a compression short nor does it have grippers, the elastic at the bottom keeps it from riding up. So far I've run up to 8 miles at a time in this skirt without the shorts moving around. Yay!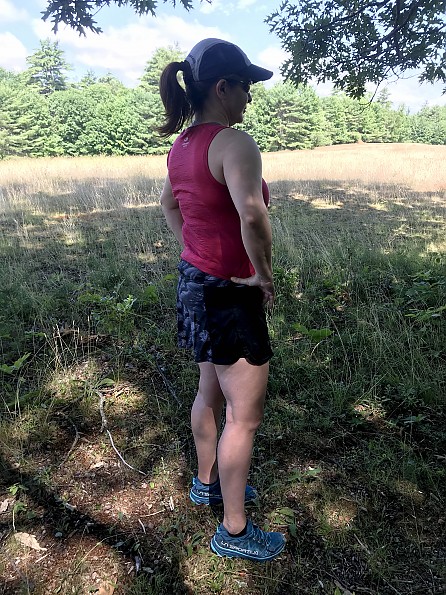 Materials and Construction
The Trail Skirt was designed for optimal movement while trail running, and has overlapping side mesh panels for movement and airflow. It's Blyss Running's shortest skirt by a half inch or so (depending on model).
Blyss calls it a "lightweight trail running skirt," but it's actually heavier than my other running skirts and shorts. This doesn't bother me while running though.
In comparison my Patagonia running skirt weighs 4.9oz/132 g and my Dynafit running skirt weighs 5 oz/139 g. (I also weighed a pair of Brooks shorts at 121 g and CWX compression shorts at 162 g out of curiosity.)
Running skirts: Patagonia, Blyss Running, Dynafit
The Trail Skirt's heavier weight comes from heavier material, having a full five-inch inseam undershort (versus a brief or boy short), some extra coverage and panels, and presumably the extra material for the pockets.
It's a sturdy, durable, abrasion-resistant skirt and if Blyss Running didn't call it "lightweight" I wouldn't give much thought to its weight (nor would I remove a star from my review), since it hasn't bothered me while running. It is something to be aware of though, especially if your priority is a lightweight skirt for hot conditions.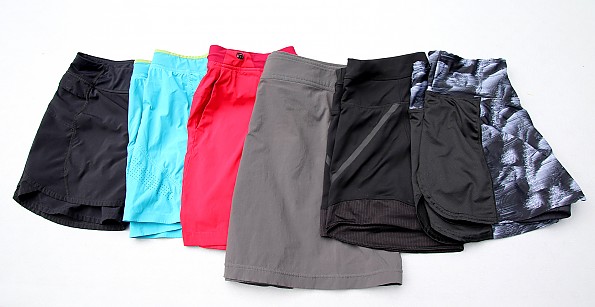 Outdoor running and hiking skirts: Patagonia (4.7 oz), Dynafit (5 oz), Mountain Equipment (5.6 oz), Montbell (6 oz), Athleta (7.3 oz), Blyss Running (7.8 oz)
Like all Blyss Running apparel the Trail Skirt is made in the USA. Also, its skirt and under short are made from 84-percent recycled fabric:
Skirt: EcoGreen 84% recycled PET (plastic bottles) / 16% spandex
Under Short: EcoGreen 84% recycled PET/16% spandex
Mesh Panels: 92% polyester/8% spandex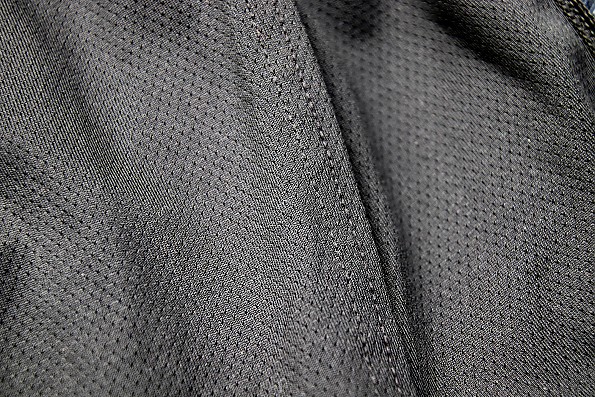 Due to its mesh panels and cut, the skirt still feels reasonably cool and light while running in summer in New England; if you live down South or in the Tropics you may disagree. While I wouldn't wear it on a race day, simply to avoid the extra fabric, on most other running days it's a comfortable, well-performing choice.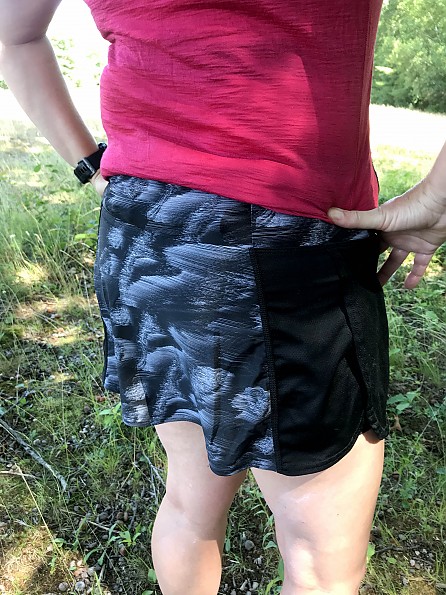 Comfort
I have accumulated some chafing horror stories over the years. I will not share them here, beyond saying that I know the excruciating pain an after-run shower can cause.
I will share that running on a hot day this spring in a pair of older shorts (I should have known better) caused me enough inner thigh pain for the last three miles to prompt me to test out this Trail Skirt. And I'm glad I did.
The skirt is comfortable, not tight or restricting, and I've had no chafing or rubbing, despite running in some hot (up to 90°F), humid, sweaty summer conditions over the past two months. I sweat heavily in those conditions (gross, I know), so this is notable. I've been so pleased I went online to buy a pair of Blyss's shorts, but sadly they were not in stock.
Features
If running apparel doesn't fit and feel comfortable, features don't matter. But this one covers those essentials, so here's what else you get:
Pockets—The first time I put on the Trail Skirt the three (!) pockets made me very happy. There is a seven-inch zippered pocket in the back waistband that will fit a phone or an EpiPen, which can be tough to impossible to fit in other apparel pockets.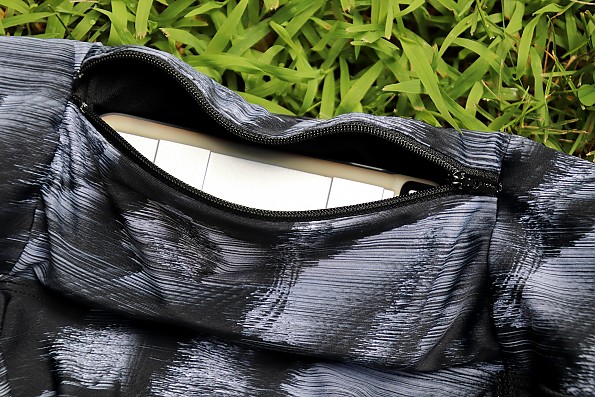 Two pockets, one on each under-short leg, also can fit a phone. My iPhone 7 fits in any of these without a problem. Since you're probably not carrying three phones, you can also add gels or other essentials to a pocket. I'm often leery of running with things stuffed in pockets on my thighs, but these remain comfortable, secure, and non-bouncy.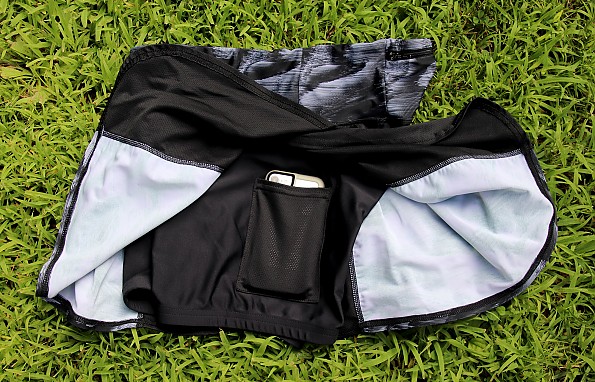 Again, the pockets are awesome and make me very happy. I have no other shorts or skirts with pockets that can fit an EpiPen, let alone an EpiPen and an iPhone, with room to spare. So, I'm generally stuck with having to wear a waist belt on short runs in spring and summer (when there are stinging insects out and about). It's nice to leave the belt behind when I wouldn't otherwise need to carry a vest/pack for hydration.
If you don't need to use the pockets while running, they're stretchy and not noticeable. They'll also fit a tennis ball, so this can double as a tennis skirt (I haven't had the chance to test this use yet).
Coverage—As already mentioned, this running skirt is slightly longer than others I own, though not by much, maybe an inch. However, it's slightly shorter than other Blyss skirts. It provides a little more coverage and some modesty if you don't want to wear just compression or tight shorts around, before, during, or after a run or hike.
I like this skirt best for short to medium runs or hikes, though I'll still stick with compression shorts for races and long runs to minimize the extra fabric.
Color–The Trail Skirt comes in all black ($79) or in a Mountains to Sea version ($81), which is named for the Mountains to Sea Trail that spans North Carolina, where Blyss is based. Blyss also just added two more color options (Astral and Misty Mountain). 
Odor and Moisture—The Trail Skirt is made primarily from 84-percent recycled synthetic fabric, which features MaxDri moisture management and a MicroBlok antimicrobial finish. In my experience running in summer temps into the upper 80s, it doesn't hang onto moisture, despite being a heavier skirt. I also haven't noticed any odors, even after leaving it lying around for days waiting to be washed.
Construction
The Trail Skirt is very well designed and made. So far my skirt shows few signs of wear after more than two months of use. The seams remain solid and there is no fraying or stretching.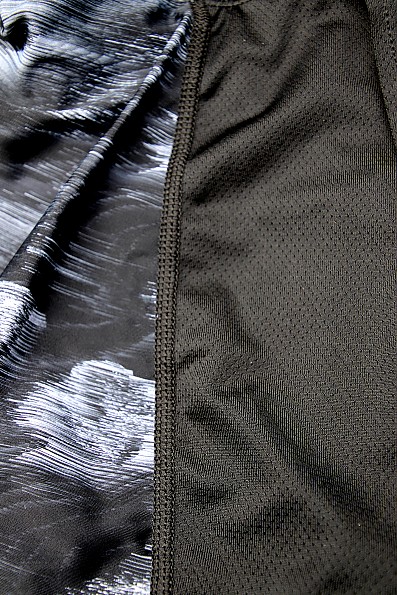 The only sign of wear is this minor bit of pulling on one of the mesh panels (in the picture below). Otherwise, the skirt has been abrasion-resistant and durable for trail use.
Care
Blyss recommends machine washing in cold and drying flat or hanging. I've washed the Trail Skirt numerous times in warm water and put it in the dryer with no issues (before I read the tags). That said, I recommend following manufacturer recommendations for long-term care and have been hanging the skirt to dry since (when I remember).
The Brand
You can easily find a running skirt or shorts for less than the Blyss Trail Skirt. So, at $79 for a running skirt, you should know what and who you're supporting.
Blyss Running was founded in 2015 and is based in Asheville, N.C. Its founder Alyson Neel designs all of its running apparel, which is then sewn in a small factory in eastern Pennsylvania. Neel's goal is to provide functional, flattering, comfortable running apparel for women (I think she's succeeding). She's also working towards using recycled fabrics in more products and keeps adding more options, including a skirted capri for fall.
Personally, I enjoy learning about different outdoor gear companies and the people who create the products I use.
Final Thoughts
While the Trail Skirt is designed specifically for trail running, it works just as well for road use. I've used mine equally so over the past two months. I'm also going to try it out on the tennis courts. I love the pockets and ease of movement over miles. I also am grateful that I haven't yet experienced any chafing while wearing this skirt. The Trail Skirt from Blyss Running is comfortable and forgiving. While it's light enough for most use, don't expect a lightweight skirt. This running skirt is on the heavier and expensive, but well-constructed, durable, and high-performing side.
If you're looking to support American-made running gear, check out Blyss Running. You won't have a wide range of choice with colors and possibly with sizing and availability. However, you will get a high quality product that should last for years, is extremely comfortable, has excellent pockets, and doesn't cause painful chafing.
Based on my positive experience with the Trail Skirt, I'm planning to buy Blyss's Distance Short once it's available again.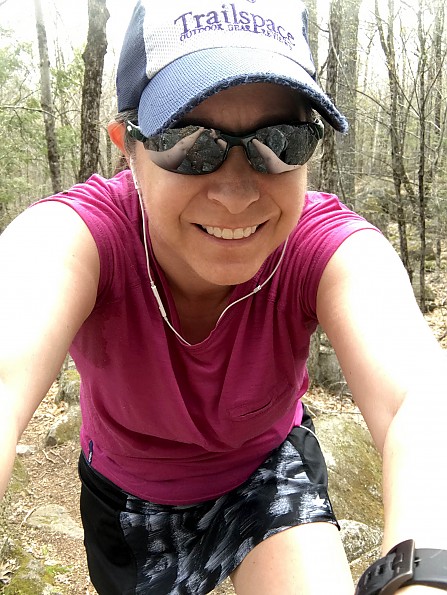 Attempting to take a selfie of a running skirt on the trails is tricky...
Background
I've worn the Blyss Running Trail Skirt for road and trail running over the past two months on runs up to 8 miles in length. I wear running shorts and/or tights practically daily, and I wore my first running skirt more than a decade ago.
Source: received for testing via the Trailspace Review Corps (Sample for testing and review provided by Blyss Running)

Your Review
Where to Buy
Help support this site by making your next gear purchase through one of the links above. Click a link, buy what you need, and the seller will contribute a portion of the purchase price to support Trailspace's independent gear reviews.
You May Like
Specs
| | |
| --- | --- |
| Price | MSRP: $79.00 |
| Weight | 7.8 oz / 222 g |
| Fabric | MaxDri moisture management and MicroBlok antimicrobial finish |
| Skirt | EcoGreen 80% recycled PET / 16% spandex |
| Under Short | EcoGreen 80% recycled PET / 16% spandex |
| Mesh Panels | 92% polyester / 8% spandex |
| Under Short Inseam | 5 in |
| Skirt Length | Front 14 in, Back 15 in |
| Waistband | 4 in |
| Origin | Made in the USA |
Recently on Trailspace